The chief emitters both sides of the Tasman right now are diesel-powered utes and SUVs, and while electrification is coming to the latter, it's hardly begun for the former. A new Australian firm, ROEV, (pronounced Rove) is doing something about that, taking vehicles like Defender, Hilux and Ranger, and undertaking EV conversions.
In the late 1980's and 90's, the Australian Defense Force (ADF) drove a Land Rover Defender dubbed "Perentie", an Australian-optimised 4×4 based on the Defender and tweaked for ultimate reliability.
ROEV has taken an example of this, gutted it, including the diesel engine, and added an electric motor from Netgain with a battery pack by Tesla. The result is a reliable zero-emissions electric 4×4 ute with decent performance.
Noah Wasmer, CEO of ROEV and partner to British Off Road, commented that the new beast has the soul of a Defender, will go anywhere, and is "an absolute thrill to drive". And soon other Australians will be able to hand over their Defenders for conversion.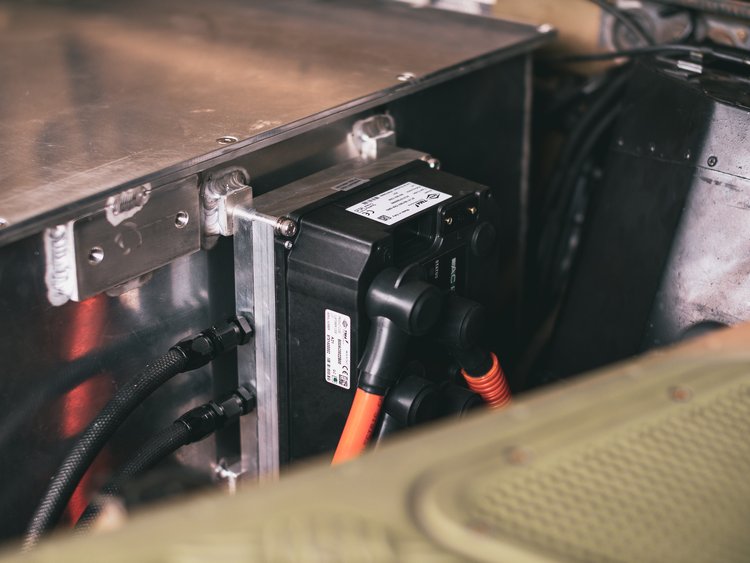 They've also converted a VW Kombi to emissions-free running and are now electrifying diesel utes, beginning with Hilux and Ranger. The idea is that not only does the vehicle emit no CO2 into the atmosphere but it can also power the home during blackouts, or power and charge tools at work. Making V2G (vehicle to grid) and bidirectional charging possible is a 100kWh lithium-iron phosphate pack (like Tesla Model 3 and Model Y) and a purpose-built software package to manage electricity flows. A 70kWh battery pack is understood to be in the offing as well, with range of around 300km. The larger pack will be good for 400km. Both 2wd and 4wd variants will be available, all with a single motor.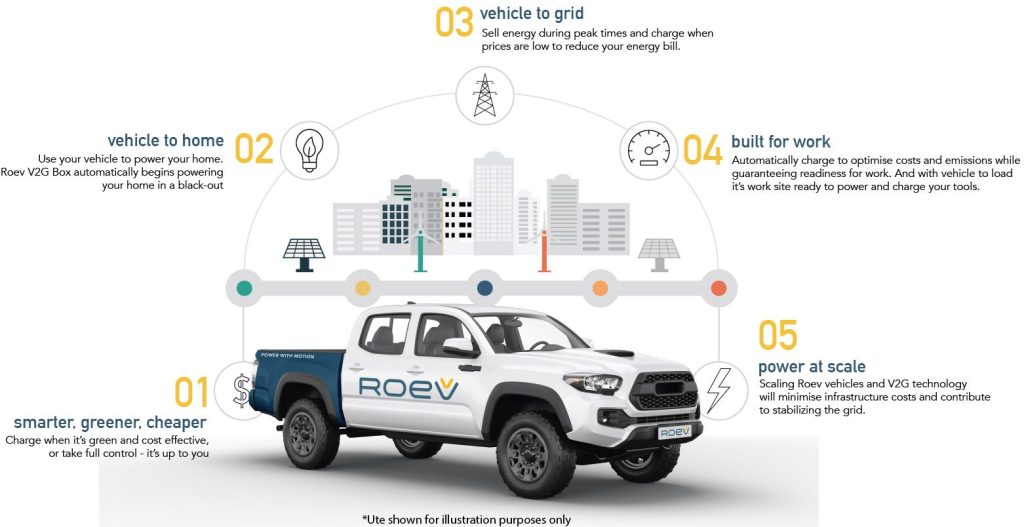 Given the relative lack of electric utes in our part of the world, undertaking conversions of existing vehicles not only has the potential to remove significant amounts of CO2 from the atmosphere but also support the larger energy grid needs with bidirectional charging.
Expect the converted utes to be available from 2023 – the firm wants to convert 1000 utes within a year, starting with fleets and government departments – with the view to ROEV developing its own electric ute thereafter. The estimated cost of the conversion is in the vicinity of $A50,000.