It may have taken three generations to get it right but Triumph has finally come up with a range-topping Tiger 1200 ADV that can really take it to the likes of the R 1250 GS and the Multistrada V4.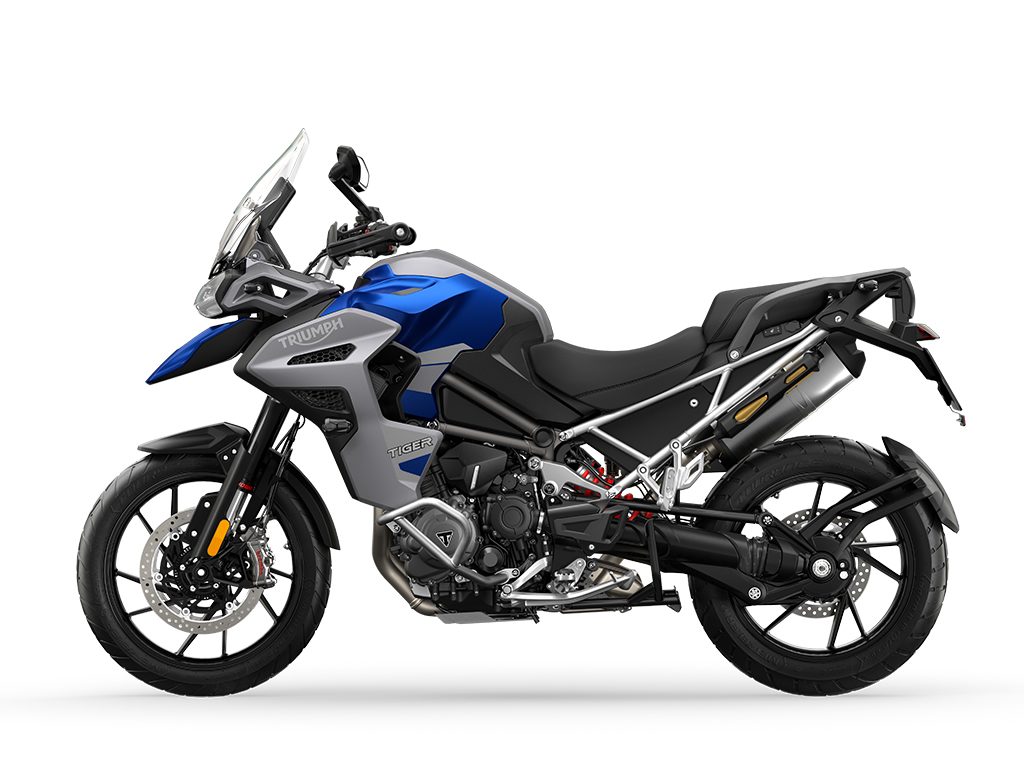 As with both of these other examples, there are two types of Tiger 1200, the GT optimised for the road and the Rally oriented for dual purpose action. There are four examples in total, a pair of each, Pro and Explorer versions of the GT and Rally models. The Explorers get the 30L tanks, in aluminium naturally, to keep weight in check. All have shaft drive, unlike the Multi, considered by serious tourers as not negotiable.
For the latest generation, Triumph started with a clean slate which was sensible, given that the old model wasn't exactly the cat's whiskers. So a new engine, new chassis, new suspension and brakes, the whole nine yards, as it were. Critically, the engineers have managed to carve out 25kg of mass, so the base model chimes in at 240kg which is just 15kg more than the middleweight Tiger line-up.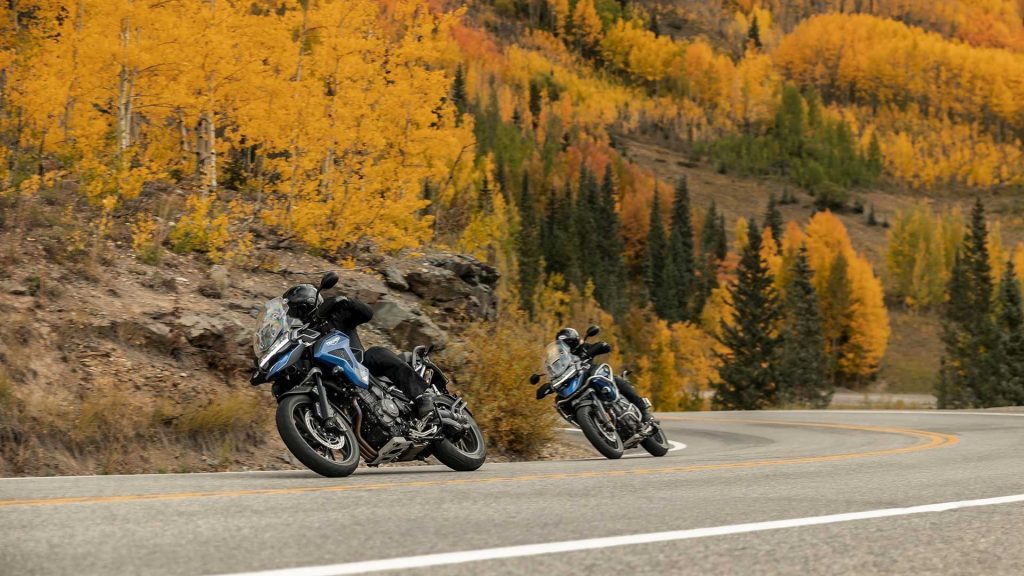 The engine, an 1160 triple, generates even more grunt than before, around half as much power and torque again as the Tiger 900 range. They've given it a T-Plane crank with a change to the firing order, with uneven firing intervals, to give it more basement muscle. This pulls cleanly from 2000rpm, around 60km/h, without affecting top end power, of which there's plenty, 150PS in all. That 110kW is delivered at 9000rpm and there's 130Nm of torque developed at 7000rpm. By comparison, the R 1250 GS makes 14PS and 8Nm less, and it weighs 17kg more. 
Of note for tourers, the smallest tank is 20L meaning a 400km range, while the largest is 30L which gives the biggest Triumph a 600km roaming ability before a refill is needed. You'd likely be wanting to stop for a break way before a refill, though this has a particularly fine riding position, and the seat and suspension are plush and long travel.
As is the trend these days, suspension is semi-active and therefore it can tell whether you're riding one up, two up or two up plus luggage, and it automatically sets preload to match.
On the half-hour launch ride we just left it in the standard Road position (I was on the off-road optimised Rally version with the 21-inch wire spoke wheel up front and Karoo dual purpose tyres). This soaked up the big hits of the huge potholes on the gravel roads that we couldn't avoid rather well, though the TC was less happy with corrugations, killing the power until things got slower and less messy. We didn't change any of the suspension or TC settings, only the easily raised screen which is quiet on the go. It allows you to hear the bark of the triple which can also at times sound like a big twin under the pump.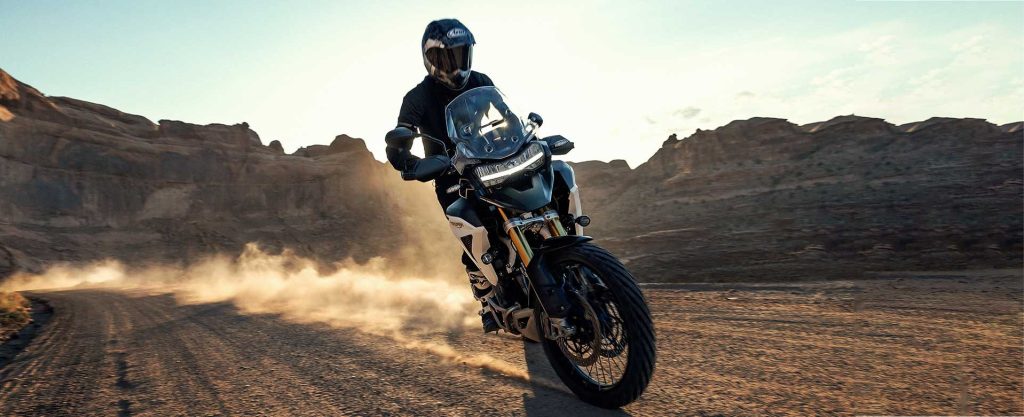 There's a bit of dive under heavy braking with the long-travel boingers (220mm vs 200 on the GT) but these stoppers are truly top shelf, Stylemas doing a stellar job of reining in the excess speed. The rear is strong too, in those situations where you really don't want to touch the front brake lever (both this and the clutch reach adjustable). Unlike the previous Tiger 1200 which felt heavy and a touch ponderous, this feels grounded, with a lower C of G, and while tall and not insubstantial at a standstill, it's nicely balanced and easy to 180 feet up on the go. With slightly wider bars, it's comfy to stand up on the pegs and steer from on high in rough going. Through the bends, it's a picture of ease, leaning over into corners and changing lines easily, much lither than its predecessor. 
There are all sorts of rider aids too, like a hill holder (handy starting off when two up with luggage) and cruise control, while comfort items like heated grips come standard (Explorers get heated seats too). There's also an up/down quickshifter which works beautifully in both directions, though to my mind using the clutch going down the box saves on wear and tear. One other item of interest, the top models get blind spot monitoring, a light on the lower side of the mirrors illuminating when vehicles are coming up alongside.
Because the launch ride took in a maze of twist and turn ridge runner type roads, we didn't really have the opportunity to check out the new engine's top end but it bristles with energy in the midrange. The open road limit uses just 3800rpm in top gear so by 4500 you're way over the odds. Torque effect from the new lightweight shaft drive unit? None that we noticed. And engine vibes? If the mirrors are any indication, none to speak of either. The riding position is first rate but this is a tall'un, the GT's seat height kicking off at 850mm, the Rally's from 875mm. Each is two-position adjustable, with the difference being 2cm. You can option a 20mm lower seat, one of the more than 50 accessories on offer. We found it easier to mount using the peg as a step ladder rather than trying to swing a leg over while standing alongside the bike. 
The list of standard gear is almost bewildering, and includes items like guards for hands, engine and sump, a seven-inch TFT screen with app for nav, sound and GoPro, LED and cornering lights, an IMU for cornering ABS and TC, a keyless ride system, back-lit switches for ease of night riding. And the list goes on.
Triumph is obviously confident of its engineering too, as there's a three-year/unlimited km warranty, and what the firm claims is best-in-class cost of ownership, with the first service set at 12 months/16,000km.
We're not privy to price as yet but understand the four variants range from about $35k-$38k, the latter undercutting the R 1250 GSA by a few thousand dollars. Expect a full test in an upcoming issue of NZ Autocar.