Yanks don't call 'em utes but rather pick-ups. And they make 'em big, ginormous even. Chevrolet, via Aussie outfit GMSV, is the latest to land in the super-sized pick-up market here, with its new Silverado range. We take the reins of the LTZ.
New Zealand's love for the ute has gone from being a relationship of necessity to an obsession in recent years. One might be tempted to paint a picture that our little two-and-a-bit island nation could gobble up full-size pick-ups like the Chevrolet Silverado en masse. But there are a few reasons why this simply isn't likely, the nature of our roads being one. However, the thirst for Rangers and the like has inspired a few consumers to peek over the fence at the shiny supersized world of American trucks.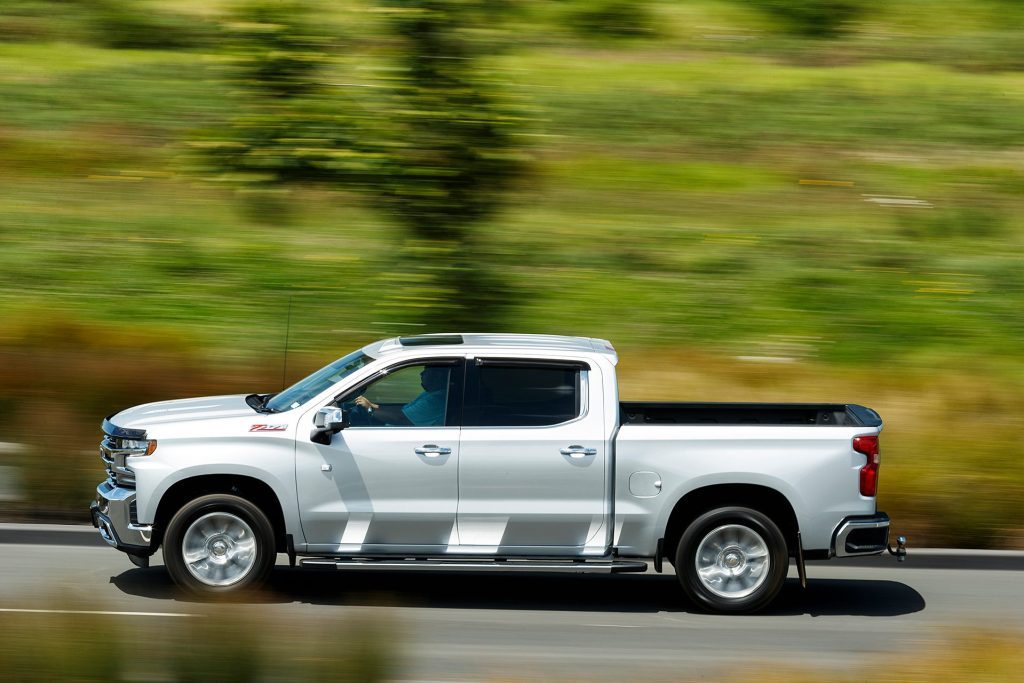 Two are offered here in OEM-approved, right-hook trim, the Ram 1500 and Chevrolet Silverado (with the Ram 2500 and 3500 en route). Ram has had the upper hand as far as frequency of releases goes, with the latest bowtie'd contender only just hitting Kiwi showrooms recently, a couple of years after it debuted stateside. We've been missing out too, this new Silverado being bigger, lighter, more economical and just laden with tech.
Its dimensions almost read like phone numbers, such is the enormity of this beast. It's 5885mm long, 2063mm wide, and 1920mm tall, with 3745mm between the wheels, a 2018mm by 1813mm tray, and a 2495kg kerb weight. A Kia Picanto comfortably fits within its wheelbase and a king size baby maker is just a few mill off fitting in the bed (not that we tried this but maybe a project for next time?). The upshot is that rear occupants get 76mm more legroom, the tray is 178mm wider, and it's an inch higher off the ground than the old 1500.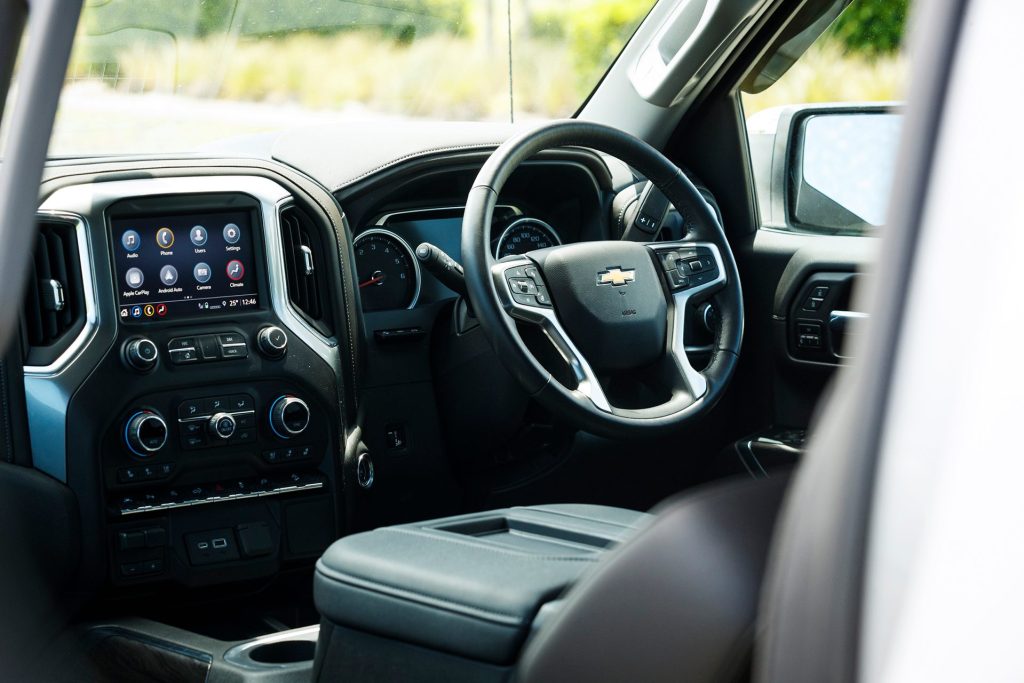 For the moment, there's two models of Silverado to choose from Down Under; the gravel-flavoured LT Trail Boss and the chrome-ified LTZ Premium (the Heavy Duty Premium is en route), with this tester being the latter. Chevrolet fancies the LTZ as a bit of a luxury option in an attempt to justify its $127,990 sticker price (this is set to increase to $132,600 in January, too). There are leather, heated seats in both rows with ice-cold blowers added to the fronts, six USB ports, a power-operated tailgate, head-up display, 360-degree views made possible with countless cameras, and wireless Apple CarPlay and Android Auto included as standard. And the (now improved) amount of room in the back seats would shame most German super saloons.
One minor tragedy is the lack of options here. While we get two different offerings the US gets nine, featuring a plethora of different engines — including a remarkable little 2.7-litre four-cylinder that produces 231kW of power and 568Nm of torque. Not that we're trying to sound ungrateful, of course, particularly when both of our options are equipped with GM's EcoTec 6.2-litre petrol V8, churning out 313kW with 624Nm.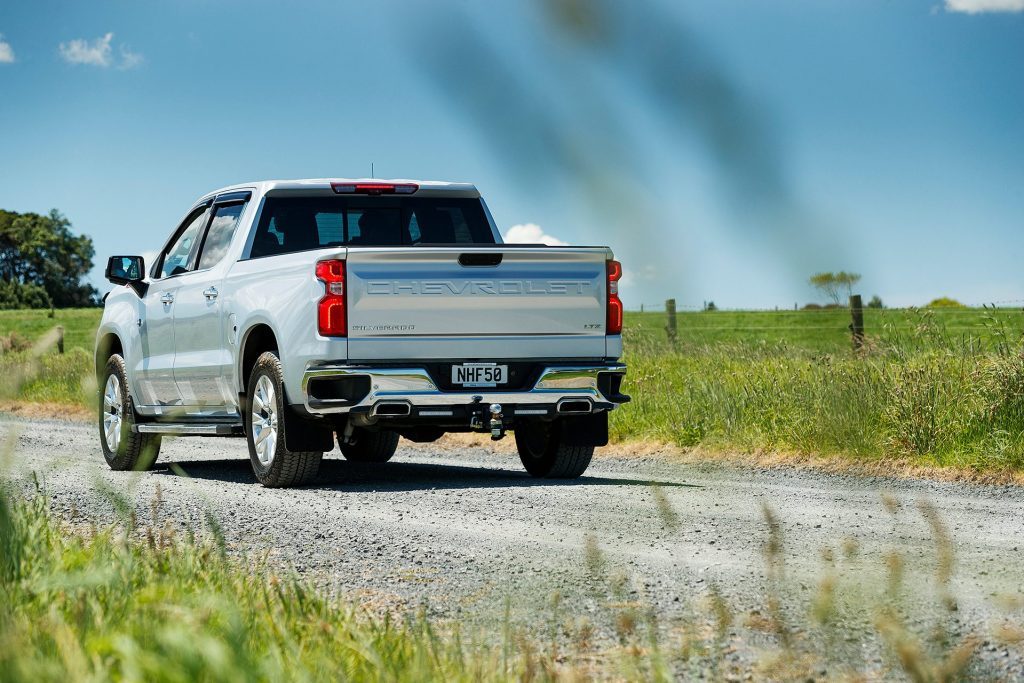 Those conjuring thoughts of roaring, flame-spitting eight-bangers should calm the hell down. This 6.2 is a torque and towing workhorse. The 'L87' does its best work at a more relaxed pace, with the 10-speed automatic seemingly happy to go with the flow. The transmission in our tester emitted a light whirring noise while coasting, but otherwise was excellent for daily commuting tasks, smoothly traversing from gear to gear in an attempt to keep the peace and economy in check. GM has done plenty to make the 6.2 civilised, and this is most evident with its Dynamic Fuel Management cylinder deactivation tech.
Displacement on demand has been a mainstay in American V8s for quite some time, but Chevrolet's latest system is one of the most comprehensive on the market. It makes use of 17 different firing modes to shut down up to six of the Silverado's eight cylinders on the fly if the driver's right-foot allows. And it does this imperceptibly. Chevrolet claims the 6.2 is capable of 12.3L/100km. We briefly equalled this figure in our testing, with economy eventually settling at 16L/100km over numerous days of hardly economical driving. It's no Prius, but those figures are pretty impressive when most typical utes average over 10L/100km with half the cylinder count and weight.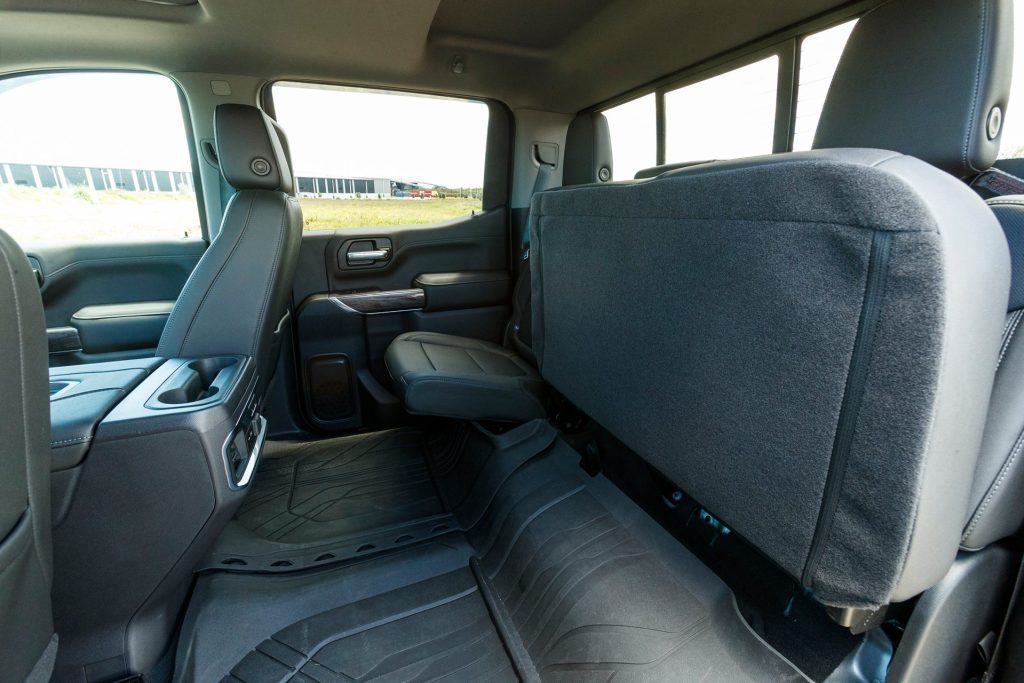 Thankfully though, when you're wanting to remind yourself that a great big V8 is lurking beyond the firewall, the L87 delivers, mostly. Its mood shifts at around 3000rpm from quiet giant to somewhat growly V8. It's plenty quick, too, defying the Silverado's weight and dimensions and capable of … erm … aiding rotation from the rear. Still, it's not exactly a screamer. Don't expect a hearty gravelling exhaust note — at least not without a bit of aftermarket tinkering. It doesn't pull terribly hard until you're deep into the rpms either (peak torque only arrives at 4100rpm). The 10-speed is less convincing at pace too. A pair of paddle shifters would've been welcomed for a bit more control.
The biggest attraction to the likes of the Silverado is towing capability. While most utes can only muster up to 3.5 tonnes, the Chevy can tow 4.5 tonnes. However, in order to get the max towing capacity you'll need to grab a 70mm tow ball. Nevertheless it's a critical selling point that few utes could ever dream of matching. Despite it's XL tray, the payload of the LTZ is only 712kg.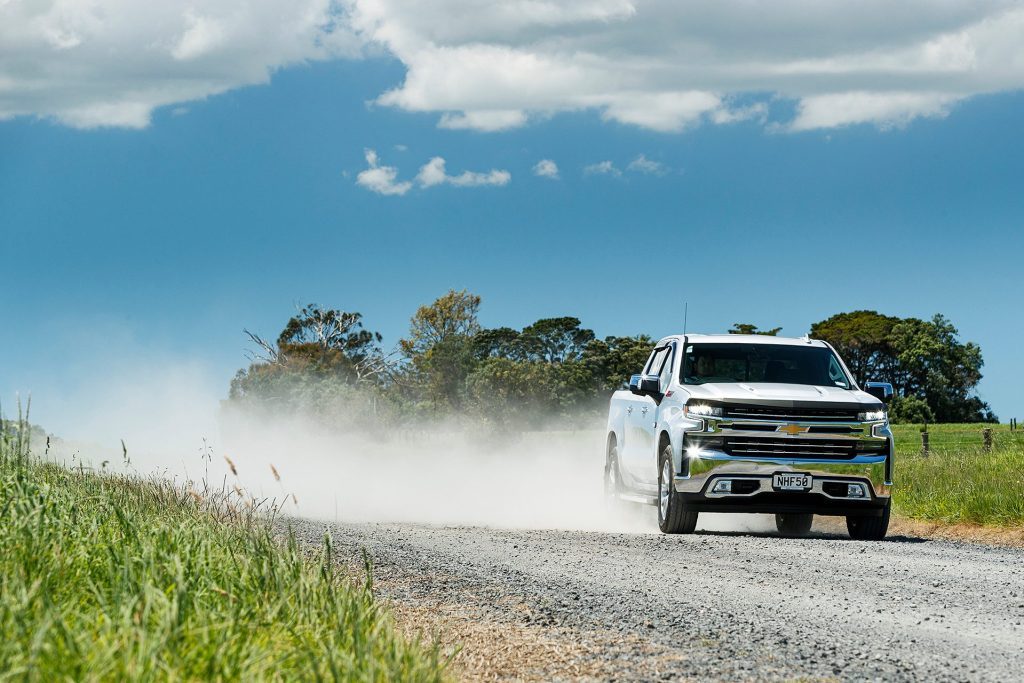 You'd think that driving the Silverado quickly would be a fairly daunting prospect but not so. This is a completely different beast compared with the last-gen Silverado 2500 I sampled years ago. And it is, for they share little in terms of suspension. This newer pick-up has vastly better steering feel and accuracy. The smaller dimensions could have something to do with it and the 10-speed's refinement over the old heavy duty six-speeder. Either way, if you can drive a mid-size double-cab, then you can drive one of these. No sweat.
The Silverado is imported Down Under in left-hand drive form before undergoing surgery at General Motors Specialty Vehicles' familiar Clayton address. It's a big job, one involving the chassis and cab to be completely separated. Some parts are reproduced in Australia using GM's own CAD data. Others are produced to a reportedly higher spec than their original versions. The net result is a cabin that looks and feels completely authentic to the model, with consistent tolerances throughout.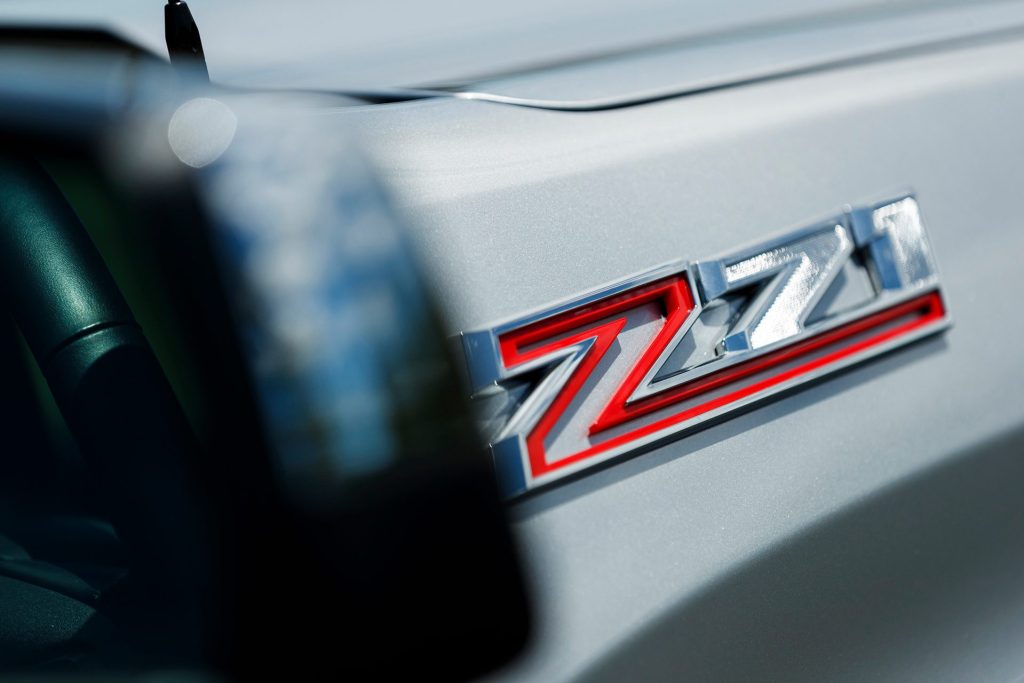 Those who've sat in recent Holdens will be familiar with a lot of the layout philosophy and features. The eight-inch screen looks the part and packs a lot of kit within, including the ability to toggle between 13 different camera views and GM's Advanced Trailer System (there's no built-in navigation, but wireless Google Maps can fix that). The safety tech suite is generously loaded too, with the most curious feature being the cross traffic alert's ability to vibrate the left-cheek side or right-cheek side of the driver's seat according to the direction cars are coming from.
Admittedly there's plenty of hard plastic around the place and some of the switchgear is a little cheap to the touch. But it's worth remembering that, even with that price, this is still based on a humble work truck. It's an eagle-loving bowtie grafted to the ginormous grille after all, not some glitzy Flash Harry mob.
Model
Chevrolet Silverado 1500
LTZ Premium
Price
$127,990
Engine
6162cc,V8, DI
Power
313kW/624Nm
Drivetrain
10-speed auto, AWD
Fuel Use
12.3L/100km
C02 Output
283g/km
0-96km/h
5.4sec
Weight
2495kg (claimed)