Kia is one step closer to debuting a fully electric three-row SUV for the market, having revealed its new EV9 Concept overnight.
Having teased the model earlier this month, the boxy new Kia debuted at the LA Auto Show, showcasing styling that takes what we've seen on the EV6 and runs with it.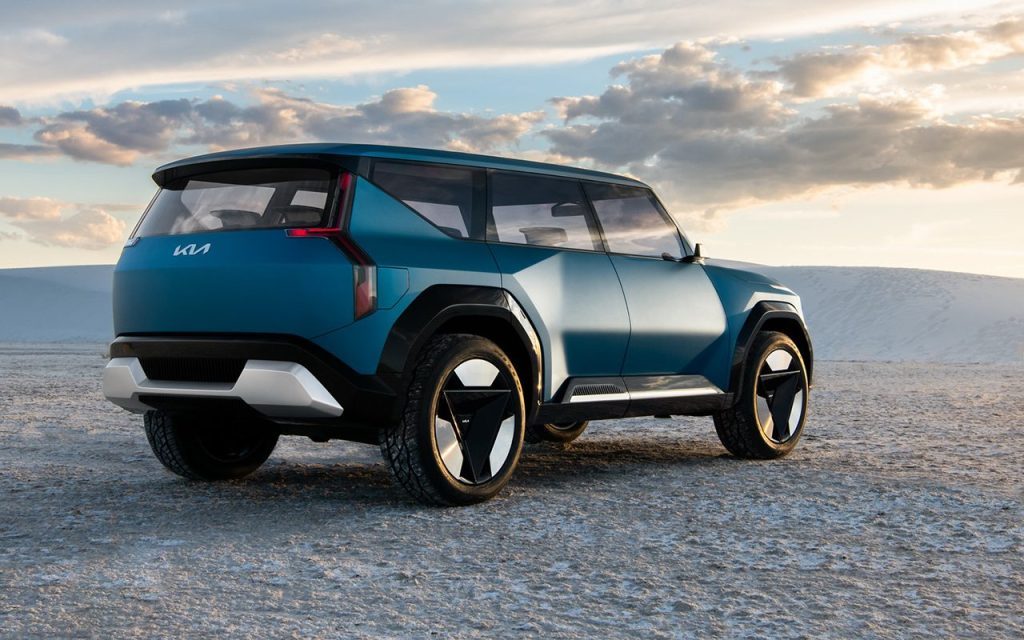 The EV9's launch coincides with sister firm Hyundai's reveal of its SEVEN, and the story of the two concepts is very similar. Both are destined for production, both get suicide doors, both make use of the same shared E-GMP electric platform, and both are likely to inherit a raft of changes before they show up in showrooms.
Like Hyundai, Kia were loath to include much in the way of mechanical details around the EV9. They did say the model's range is rated up to 482km per charge, and that it features "next-generation ultra-fast charging technology", which gives it the ability to be charged from 10 per cent to 80 per cent capacity in less than 30 minutes.
While it's similar in size to the SEVEN, there are some differences. Its wheelbase, for instance, is smaller at 3100mm (it's 4930mm long overall and 2055mm wide). The ethos of the interior is different, too, with Kia adopting a different interpretation of the 'lounge on wheels' mission statement.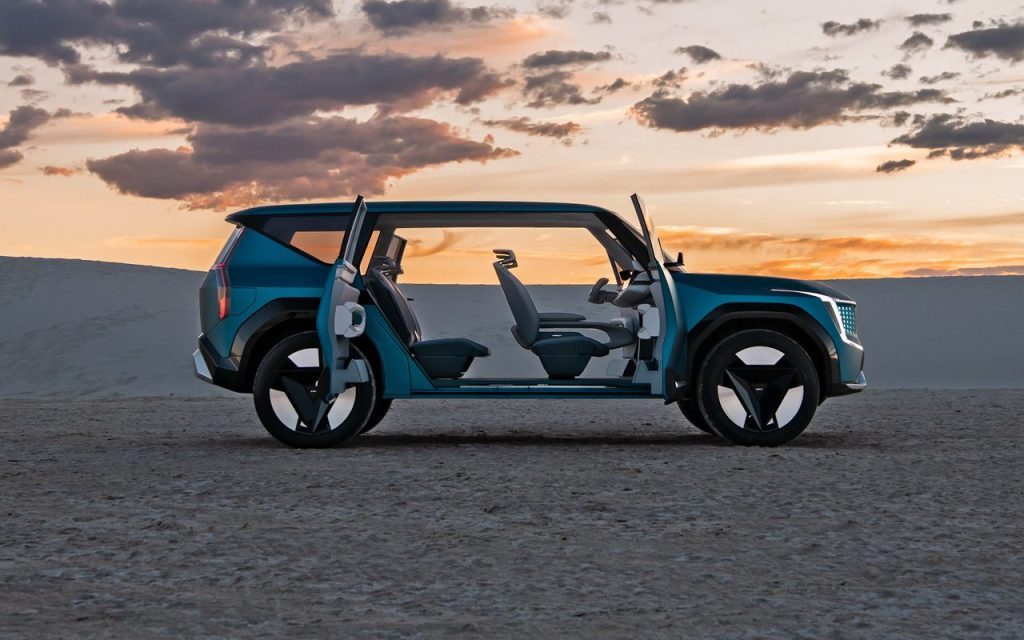 The EV9 adopts a semi-traditional three-row SUV layout, only the seats in the front and the seats in the very back can swivel. With the second row capable of folding flat to form a table, the EV9's cabin can resemble a cubicle in a train carriage on long-distance journeys.
The Kia also looks quite different on the outside, too. While the proportions are similar between it and the SEVEN, the philosophies are worlds apart. In this case, the EV9 resembles something that could've been designed in Minecraft, like a halfway house between a Soul and a Telluride.
Up front, the EV9 sports a digitised version of Kia's famed 'Tiger Nose' grille, framed by some curiously shaped day-time running lights, evoking what we've seen before on the Telluride somewhat.
The inside, meanwhile, is a swoopy smorgasbord of futuristic minimalism, with its 27-inch widescreen cluster and infotainment system, yoke-esque rectangular steering wheel, and the aforementioned swiveling chairs. Kia boasts that recycled wool and recycled plastic sourced from salvaged fish nets and bottles are used throughout.
As with the SEVEN, expect the production version of the EV9 Concept to feature plenty of changes compared to what Kia debuted today.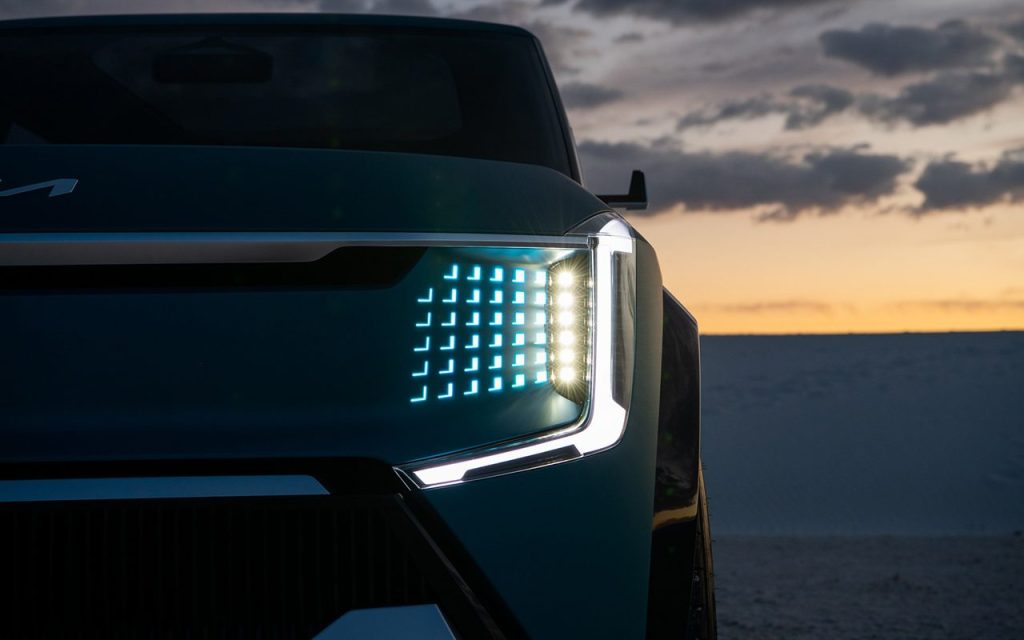 "The Kia Concept EV9 is yet another important marker for us in what has been an incredible journey since the start of the year," says Karim Habib, Senior Vice President and Head of Kia Global Design Center.
"Having made our intentions clear – to become a global leader in sustainable mobility solutions – today we are proud to show the world our all-electric SUV concept, which fuses an advanced zero-emissions powertrain, a cutting-edge exterior design, and a contemporary and innovative tech-based interior space."