Seller that is, at least in NZ. And the X5 has just been reconfigured anew, offering more space and pace, and added safety and technology features. We drive the base 3.0d, the most popular model here.
Now into its fourth generation, and 20 years old with 2.2 million sold globally, the X5 remains BMW's best selling vehicle in New Zealand. Nominally a five seater, you can add third-row seats if need be, though a dedicated seven-seater is on the way in the form of the X7. Surprised this is the firm's best seller here given the X5 3.0d kicks off at just over $135,000?
Don't be because across town it's the same story for Mercedes (its most popular is the GLS 350 d) and while it was pipped by the Q5 last year because of supply issues, for a long while Q7 has been the most popular Audi. These big rigs seem to resonate with wealthy Kiwis and it's probably because of their versatility more than anything. They can tow, they can go, they're big and roomy, they don't use much in the way of gas with their modern turbo-fired diesel engines, and their refinement is second to none.
Handling? Even that's more than okay, though who buying these cares that much anyway? They also pick up much of the the trickle-down technology that originates in luxury counterparts like 7 Series, S-Class and A8. Only saloons now seem to be out of favour which goes some way to explaining why X, Q and GL vehicles comprise over half of all sales for the German big three.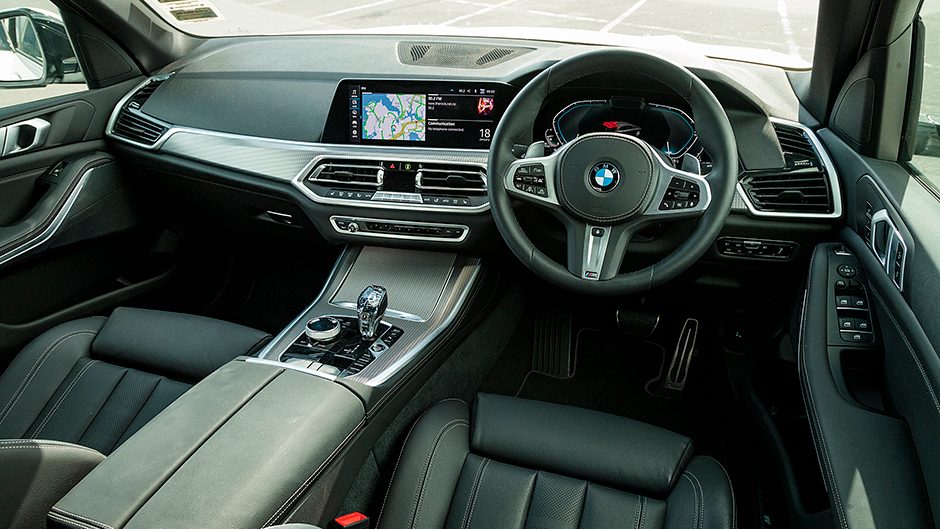 And even more for the likes of Porsche will its Cayenne and Macan. In its latest guise, BMW's biggest people hauler is still recognisable as an X5 but it's a little different with bigger kidney grilles (now with shutters for enhanced aeros), and a couple of wavy character lines emblazoned along its flanks. There are also smart new adaptive LED headlights (along with frickin' laser lights in our evaluation vehicle).
The new G05 Series replaces 2013's F15 and continues the theme of being adept on and off road, now with added refinement and driver assistance systems, along with increased primary dimensions. Not only is it 42mm longer in the wheelbase, but it's also 36m longer, 19 mm taller and 66mm wider, enough to fit three kiddy seats across the rear bench evidently. We don't have kids nor the seats so we didn't try.
It's equally impressive in the hold area, accessed by a pair of powered doors. The main (not too big) tailgate lifts up conventionally on its own while there's a small drop-down item that's also power operated and when lowered acts as a seat for viewing purposes.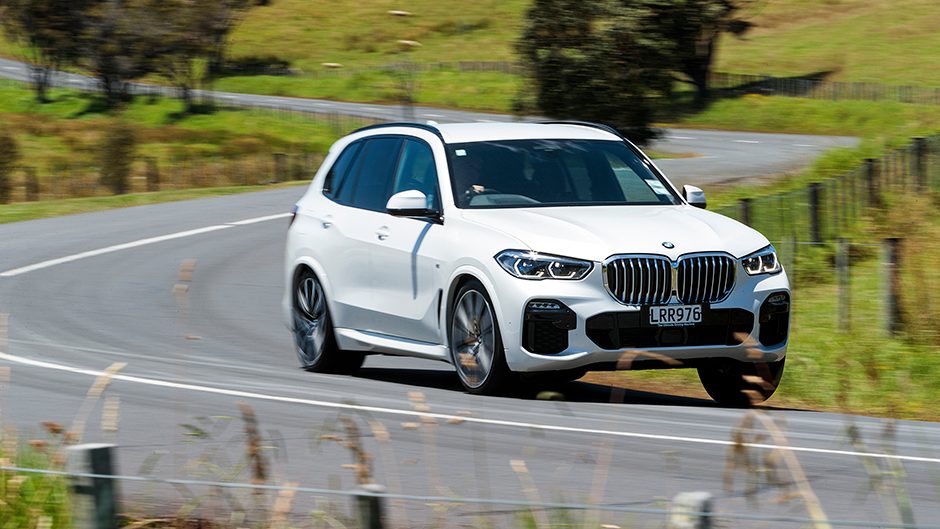 It simplifies loading too. We chucked an electric mulcher in the back and hauled it around to a friends, helping them dispose of a few pesky privet trees, the stinky damned things (trees, not friends). The tailgate system worked a treat for both loading and unloading. And it all folds away automatically at the push of a button.
About the only downside is that luggage capacity falls ever so slightly in its latest guise, down from 650 to 645L, expanding easily to 1860L (formerly 1870L) when the rear seat backs flop forward. That's less than rivals like Q7(770L) and GLE (690L), but it's still plenty spacious. Enough for a kids' party in the back if it's wet. Not that we did, just sayin'.
This new generation is just that, completely rethought, new chassis, new interior, upgraded engines. Initially it arrives with a 3.0d engine with variable geometry turbo. This model will be responsible for the lion's share of X5 sales, according to BMW locally and historic numbers moved.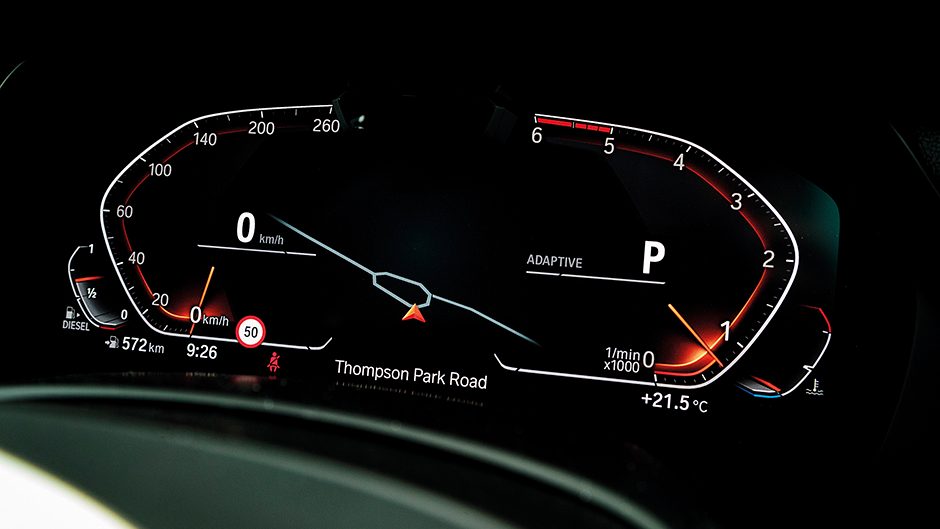 The alternatives are the $148k X40i six-pot 250kW petrol rated at 9.2L/100km with a claimed sprint time to 100km/h of 5.5sec. However, the base diesel is also pretty quick at 6.5sec quoted to open road speed, and has a combined consumption of 7.2L/100km (we saw 8.5 overall, 4.5 at a constant 100 on the flat) while torque tops out at 620Nm.
If you want the ultimate in compression ignition, look no further than the X5 M50d, its quad-turbo donk pumping out 294kW and 760Nm, sufficient to get it to 100 kays in a hair over five seconds. Pricing for this model kicks off at $177,900. But really, the 3.0d is all that anyone might rightfully need. It's effortless in that big torquey diesel way, hauling from way-low revs, so there's no real need to spin it out. Just how fast of a tow rig do you need anyway?
Besides, this offers the best performance:economy ratio of the lot, and is the least expensive of the X5s available. Little wonder it's traditionally the best seller. For 2019, expect a whole lot more new driver assist technology in the X5, along with an optional off-road system riding on air suspension and offering four driving modes ($7500). Just as well this is an option because as it stands the standard vehicle scales up at 2253kg.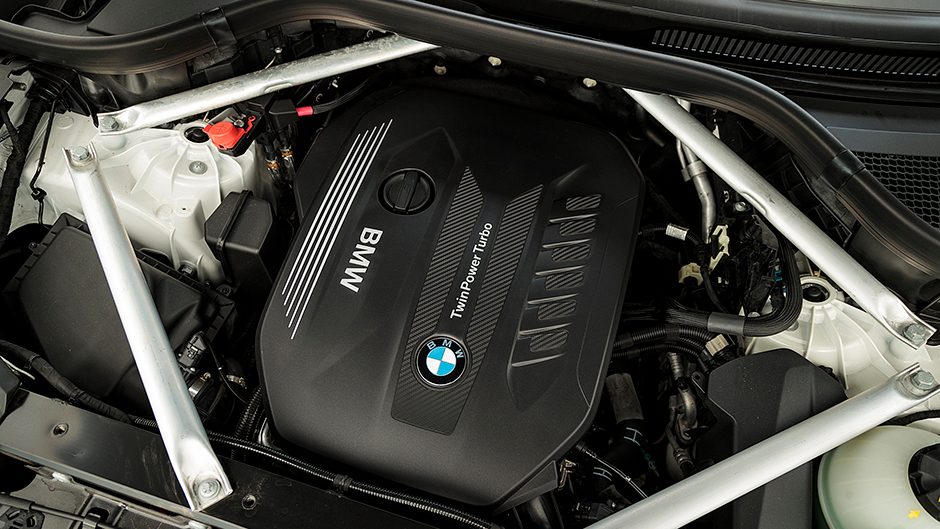 And while you can sense there's a fair amount of weight riding high when negotiating hill roads or the like, the astounding 48:52 weight split, adaptive suspension, generous contact patches and encompassing seats imbue this with cornering ability you'd not credit.
Our particular evaluation vehicle had a few extras, the main item being a $5500 M Sport package. This comprises sports suspension with adaptive damping, an aerodynamics package, M Sport brakes and exhaust system, an M Sport steering wheel and 22-inch light alloy wheels ($3000, 21s with the kit).
Rounding out the extras on this vehicle were laser headlights ($2500), metallic paint ($1190), an electrically folding trailer tow hitch ($2400), glass crafted interior elements like shift lever knob and iDrive controller ($1000), and a Comfort package comprising acoustic and sun protection glazing, along with a heat comfort package up front (heated armrests and steering wheel).
We'd say the M Sport package is worthwhile, for the brakes and sound alone. And the stowable towbar is a must for this type of vehicle too. There's a long list of standard specification, the major items of which include a head-up display, active cruise control (with stop and go), adaptive LED headlights, and Parking Assistant Plus. Along with self parking it allows the car to retrace its steps for 50m where the driver need only work the accelerator and brakes in reverse gear.
Other driver assistance functionality runs to lane keeping (easily cancelled), surround view, speed limit information, and cross and side traffic warning systems. And all new BMWs come with three years of free servicing as part of the five-year warranty programme.
We checked out the laser lights on a late night drive from the Bay of Plenty to the City of Sails. Even with a full moon up, the lights cut through the night, illuminating the road at least 600m ahead, and once we'd ensured the adaptive headlight function was operating automatically they 'dip' by essentially cutting out a car-sized slot of light on the opposite side of the road. The interior is more upmarket and modern too, with digital instruments and updated BMW ConnectedDrive.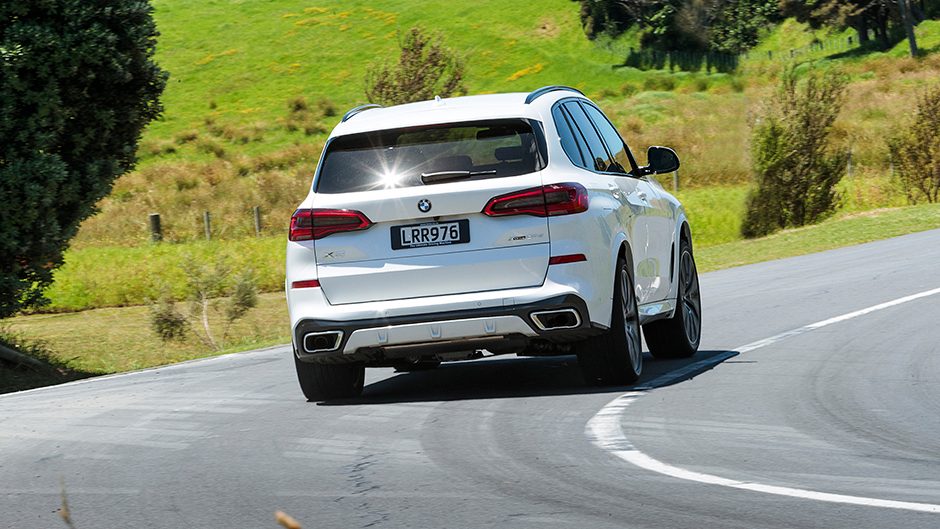 Re the latter, software updates over the air will be possible, and there's also Real Time Traffic Information. As to the drive itself, this is simply effortless. We had passengers aboard for an away trip and left the Driving Experience Control in Comfort most of the time, switching to Adaptive for winding roads, which offers improved roll control and a firmer steering tune. Yet on the straights it eases back again.
Sport mode amps everything, engine and transmission included. You can shift using standard paddles if you want, but the eight-speed auto is pretty trick so we left it to its own devices. There's so much easy going low-rev muscle to this engine that you never really need to take it much above 3000rpm. With peak torque issuing forth at 2000-2500rpm, using these revs out of town delivers more than acceptable performance.
In the urban sprawl it's often upshifting before 2000rpm, the turbo-assisted torque on the job from just over 1000rpm. Overtaking is done and dusted quickly too, 80-120km/h taking 4.7sec, the auto shifting in slick fashion. Efforts have been made at further refining interior noise levels, this model with the option of thicker acoustic glass. It's needed because the 22-inch rims carrying swathes of Continental's PremiumContact 6 rubber can be noisy over our worst chipseal surfaces, though for the most part progress is reasonably hushed, with few measurements in the 70s. And it's quick if you press and hold.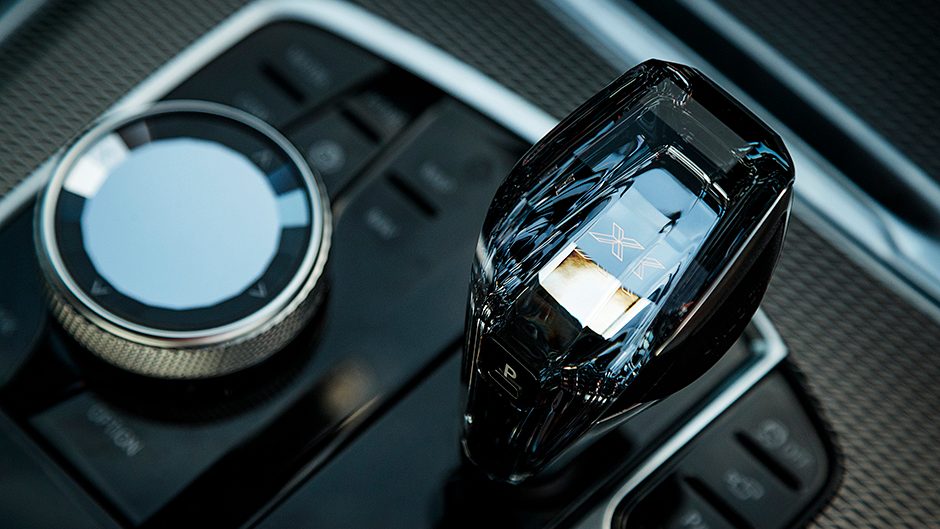 The former model needed around 7sec to hit 100km/h, while this one, with more torque and 5kW extra requires a claimed 6.5sec, and actually managed 6.2sec. It has an effortless gait on tour too, 100km/h a piffling 1350rpm in eighth gear.
And for the most part it's quiet inside, so is easy to hear your fave tunes through the HK surround sound system, remote volume to hand on the wheel. Comfort is good too, even minor aspects; approaching the vehicle with the key in your pocket and the comfort entry system automatically unlocks the vehicle, a nifty touch.
At lock up the mirrors flatten into the body, confirming it's secure. Enhancements to the new model are thoughtful and will be appreciated by X5 devotees, though it's a sizeable beast in town, as are the rivals.
BMW is now selling more X-badged vehicles than sedans, the SAVs responsible for 55 per cent of business last year. With new models like X5 we can't see that trend slowing any time soon.
| | | | |
| --- | --- | --- | --- |
| Model | BMW X5 3.0d | Price | $135,200 |
| Engine | 2993cc, IL6, T/DI, 195kW/620Nm | Drivetrain | 8-speed auto, all-wheel drive |
| Fuel Use | 7.2L/100km | C02 Output | 158g/km |
| 0-100km/h | 6.18sec | Weight | 2253kg |