It's compact for town use but big enough for small families and isn't averse to country rambles either. Meet the new entry point to the high-rise Lexus family.
Until recently the entry price to Lexus SUV-dom was $82,400 but with the introduction of the new UX compact range, a high riding Lexus can now be yours for just under $60k. When we say high riding, we really mean ever so slightly elevated, for this is more a crossover than an SUV.
With 160mm of ground clearance you wouldn't contemplate taking this anywhere near anything that wasn't classed as 'road' on a map. And the model we drove wasn't AWD either, though two in the seven-strong line-up are. Nor was it a hybrid, and you can get these in the new UX range as well (five of them).
So the model we drove was second in line, essentially a base version with an F-Sport badge. That adds $10k to the price ($69,900) for which you get adaptive damping, 18-inch alloys, LED headlights with autodipping, a custom drive mode, sports front seats with ventilation, partial leather trim, sports pedals and gauges, wheel-mounted paddles, head-up display and stylised bumpers and grille.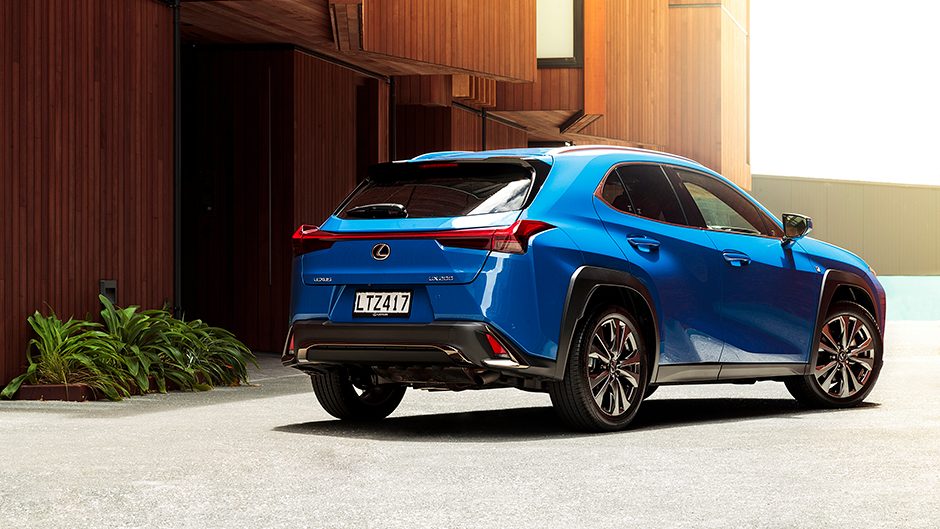 The name might sound a little like something from the stone age, but it's just another of the X SUVs from Lexus, baby sib to NX, RX and LX. It competes in the marketplace with the likes of Mercedes-Benz GLA, BMW X1 and Audi Q2. A few basics about the UX range first up. It is built on the same global architecture C platform as Toyota's CH-R and Corolla, with critical dimensions (LWH) of 4495, 1840 and 1540mm, the wheelbase being 2640mm.
Unlike some in the class, stretch room for adults in the cheap seats is quite reasonable. UX is aimed at what Lexus describes as "urbanites who appreciate hatchback-like handling" as opposed to SUV rock and rollers. To this end, the new platform features a low centre of gravity and it's lightweight.
There's the impression it rides high, perhaps generated by the asymmetrical plastic wheelarch protectors that look rather funky. But it's more hatchback than Outback. Style gurus might well like this, especially in profile, though some thought that the enormous hourglass spindle grille was a bit OTT.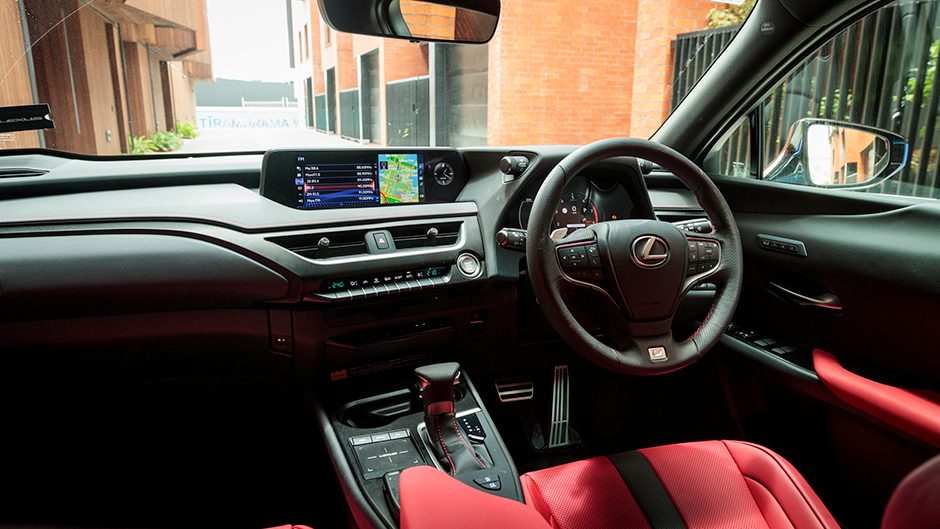 The overall shape reminds vaguely of a modernised and raised version of the CT200h. A novelty is the rear light design, poking up like the fins that used to be such a feature of Detroit iron from last century. As Golf is to small Audis, so Corolla is to the UX line-up for that's the nuts and bolts of it.
The engine is much the same 2.0L high efficiency unit, outputting just a few units more grunt. Both vehicles look pretty interesting, and drive well, but each is let down rather by a lack of hatch space, in the case of the UX just 272L. You have to look real hard through the Lexus release to not find that fact. But given the competition like X1 has 505L, Q2 405L and the GLA 481L, it's important that luggage space is not a major drawcard if the UX is on your list of potential buys.
The main reason the space is so limited is that the floor is set high, and when the rear seat backs are folded down, the resulting luggage space is essentially flat and user friendly. However, we'd argue that having four useable seats and reasonable gear space is more important.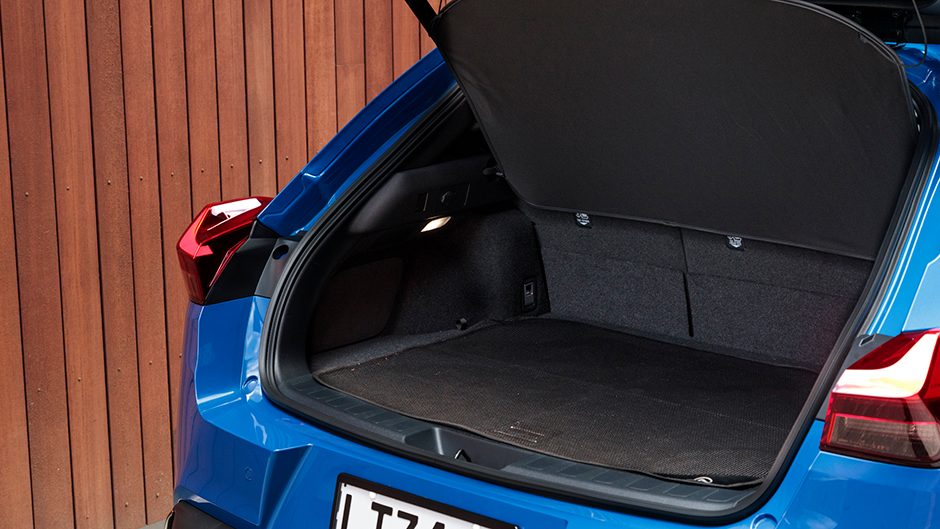 Oddly, beneath the floor is extra stowage space and support for the elevated floor. There's no spare wheel either because the UX uses the latest in runflat tyre technology. So there's probably around 100L of wasted space under there. Perhaps the generation that is intended to buy a vehicle like this doesn't need much luggage space and also doesn't want to load it or lift it from anywhere other than at waist height.
While we're on about that general area, we'd add that the lightweight fabric cargo cover is a pain to remove and replace, the hooks awkward to manipulate onto their catches. Failure to install correctly means the cargo cover rests any way but horizontally, impinging on what is already a restricted rearward view. We imagine some will take this out and toss it away in frustration.
Another minor annoyance is the mousey device used to drive the infotainment system. It's frustrating compared with the rotary dials of the opposition. I guess Lexus dares to be different, but if it's annoying to use and doesn't improve with time (as iDrive most certainly has) then the engineers should try something else.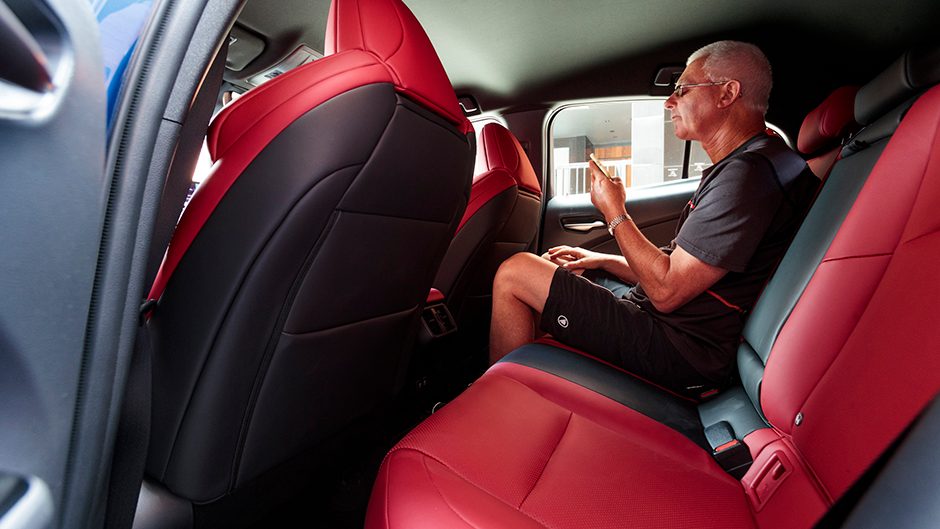 We rather like what Lexus has done with the radio controls though, resited them conveniently in the centre console where they fall nicely to hand, even if the module does have a somewhat designed-in-haste feel about it.
The rest of the cabin certainly doesn't; it feels nicely crafted from quality bits and pieces, our particular vehicle finished with red and black upholstery. Some of it is evidently real leather. And the driving position is good too, with the ability to brace both knees either side. As to motivation, you get a 2.0L naturally aspirated engine hooked up to a CVT that includes shift paddles.
The engine is good for 126kW and 205Nm, not big numbers for a car costing $69,900. We'd say you might play with the paddles a few times before not bothering again simply because the performance is easy enough to extract by throttle. Owners might also play with the Sport modes a few times before abandoning them too; the button to access these isn't especially well sited for frequent ease of use.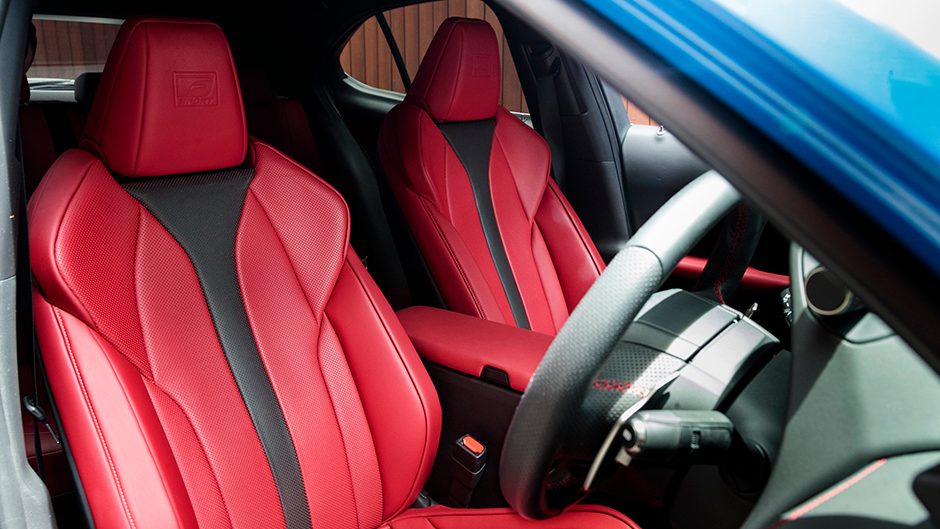 Besides, the default Eco setting works surprisingly well and gives the best fuel efficiency. Anyway, Lexus says the UX is aimed more at efficiency than performance, and strapping on a GPS-based data acquisition system confirms as much.
It barely hits 100km/h from standstill in 10sec (claim 8.9sec) whereas the $56k base Q2, for example, takes 8.6sec. However, it does partly make amends on the overtake, the stepless CVT helping it to a time of 5.99sec, only a hair behind the Audi. And that's one of the things the UX does really rather well, even if the four-pot makes a bit of a racket doing so, holding at 7000rpm while overhauling slower traffic.
Being a modern CVT it also shifts 'gears', moving from step to step as you accelerate with a bit of throttle vigour. All the while it's sipping fuel at a rate that's just into double figures if there's a rush job on. Take it easy and Lexus suggests 5.8L/100km is possible overall. Turbos would be up by about 50 per cent on either figure.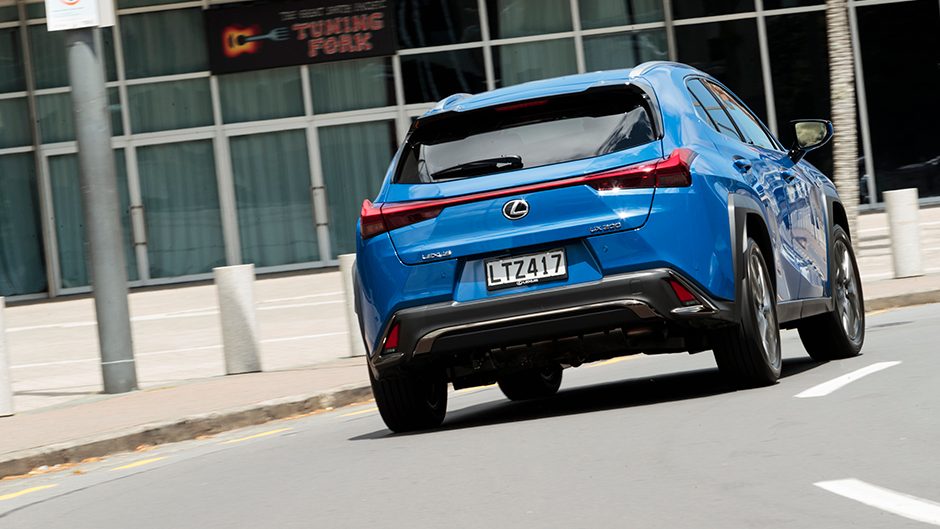 Course you'd get there a bit quicker but the UX has a further string to its bow; it handles much more like a hatchback than an SUV. In fact, it's on-road demeanour is really quite impressive. Bear in mind also we're talking about the front-drive variant here; the top two in the range are hybrids with AWD.
In fact, five of the seven run hybrid power trains. These are expected to comprise two-thirds of sales. F-Sport models come with adaptive damping, which helps imbue the UX200 with good roll control while maintaining a reasonably compliant ride. It dispatches corners with unbridled enthusiasm, the odd bump triggering a moment of TC flickering only.
Steering is well weighted, reasonably direct, and surprisingly talkative for an electric system. Bumps are handled well too. Considering the 60:40 frontal weight bias, it really does get down the road in accomplished fashion, and feels lightweight to boot. Much more than the general high riding dual purpose machinery with which everyone seems so besotted at present. It's quiet too, road roar well contained.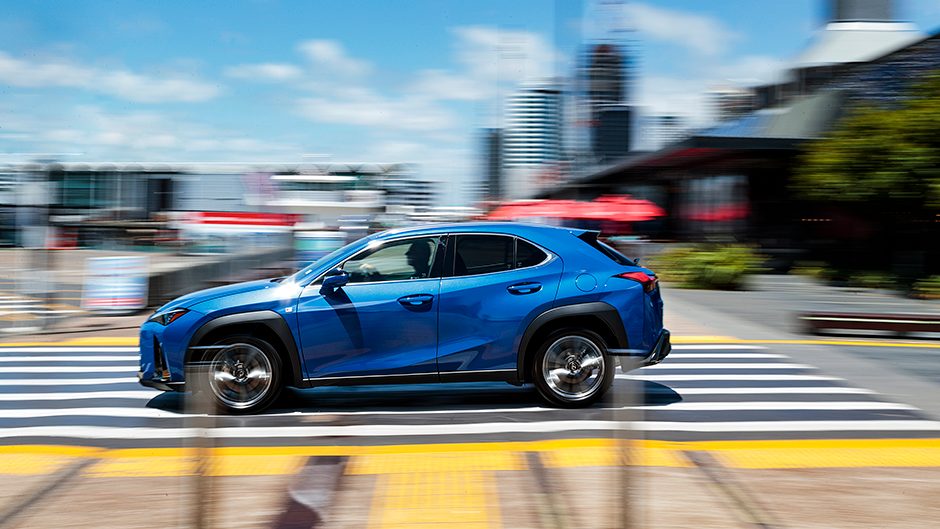 Paul Carroll, the Lexus head in New Zealand, reckons the UX was designed to "make the journey not just luxurious but also simply easy."
Sounds about right to us. Being a Lexus the UX comes replete with gear, including all the expected safety aids like active cruise and lane keeping, along with pedestrian and cyclist detection, and a surround view monitor.
Figure also on a colour head-up display with traffic sign recognition, configurable instruments, wireless phone charging, powered steering column, a smart key, sat nav, and seat heaters. Three different upholstery and trim colours are available for the F-Sport, along with 12 external choices. The four-year warranty includes full maintenance service coverage.
This is a bold looking, competent, and thrifty if not exactly hard charging addition to a growth sector. Hatch limitations aside, it should bolster Lexus numbers nicely for 2019.
| | | | |
| --- | --- | --- | --- |
| Model | Lexus UX F-Sport | Price | $69,900 |
| Engine | 1987cc, IL4, DI, 126kW/205Nm | Drivetrain | CVT, front-wheel drive |
| Fuel Use | 5.8L/100km | C02 Output | 132g/km |
| 0-100km/h | 9.81sec | Weight | 1515kg |