BMW has unveiled its ultimate bulletproof transportation solution in the form of two new models, the 7 Series Protection and i7 Protection. The latter is the world's first fully electric armoured sedan.
High-risk individuals will be pleased to know that both models are centred around BMW's new Protection Core, which is essentially a self-supporting body structure made entirely from armoured steel.
Underbody and roof protection, along with bulletproof glass have also been fitted, earning the 7 Series Protection and its electric sibling a VR9 protection rating. That means if either car is ever attacked with an explosive charge, the occupants inside are kept safe. Good to know.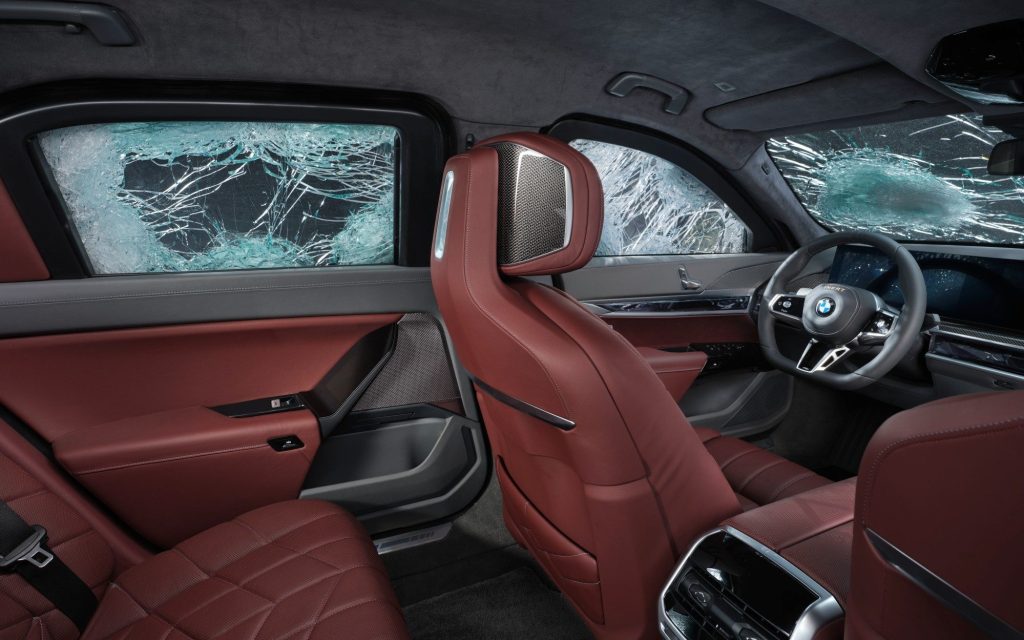 Both Protection models ride on a set of 20-inch light-alloy wheels wrapped in Michelin PAX tyres. These feature a runflat ring which allows both variants to continue driving at up to 80km/h even after a complete loss of pressure.
It's worth noting that the petrol-powered 7 Series Protection comes with a self-sealing fuel tank, ensuring no fuel is lost if it is pierced by a bullet.
BMW also offers some added extras for those who need them, including a fresh-air supply system, a fire extinguisher, flashing lights, radio transceivers, flag poles, and more. As standard, occupants inside the vehicle can communicate with those outside via an intercom system, should negotiations commence.
Of course, the base car is a 7 Series so there are plenty of creature comforts inside like a 'cool box' between the rear seats, a 28-speaker Bowers & Wilkins Diamond Surround Sound System, motorised doors, and roller sunblinds.
The driver is treated to some additional security assistance features too, such as a 'highly advanced' sensor system which helps them monitor their surroundings in all situations. A new rear-wheel steering function has also been fitted to the Protection models to reduce their turning circle and aid with handling.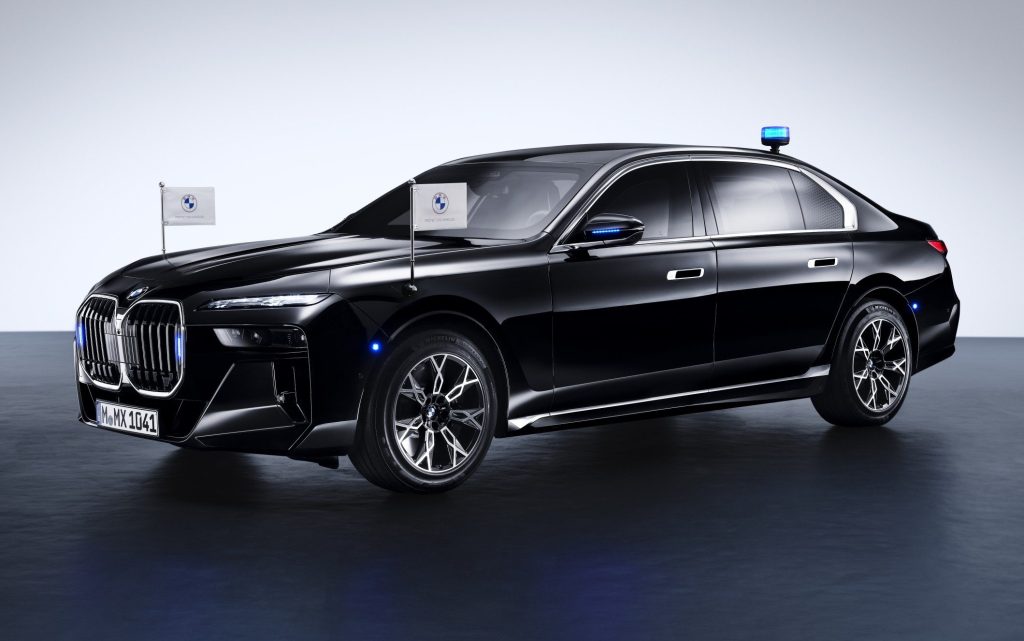 Those needing to make a quick escape from a sketchy situation may be disappointed by the fact that the performance of the i7 has been impacted drastically by the sheer weight of the additional protective measures. Its 0 to 100km/h sprint time almost doubles to nine seconds while top speed has also been limited to 159km/h. BMW has yet to let on about the all-important range figure.
The 4.4-litre twin-turbocharged V8 7 Series doesn't come off as badly though, taking 6.6 seconds to reach 100km/h from a standstill which is a little more than its usual 4.2-second sprint time.
For those who decide to get behind the wheel of the armoured sedan, BMW is offering special driver training courses at various intensity levels to help prove that no mission is impossible.