BMW launched the 8 series earlier this year, and now a four-door gran coupe follows. Capable of transporting four in comfort, this is also a smash hit GT.
If you happen to have a quarter of a million lying idle and you want to spice up your life, you now have the choice of a two-door or four-door 8 Series Coupe from BMW. The underlying CLAR platform (of steel, aluminium and carbon fibre) and powertrain are the same but the sportier of the two is the 850i xDrive, being shorter, lighter and quicker.
However, your rear seat passengers have to suffer the indignity of clambering in via the front doors whereas those in the Gran Coupe have their own openings, and more space once inside. Luggage capacity is about the same for the pair. Oddly, there's no real difference in price, so it's kind of what suits you the best. We've not driven the true coupe but imagine it is pretty dynamic, given how well the 5m-plus four-door gets down the road.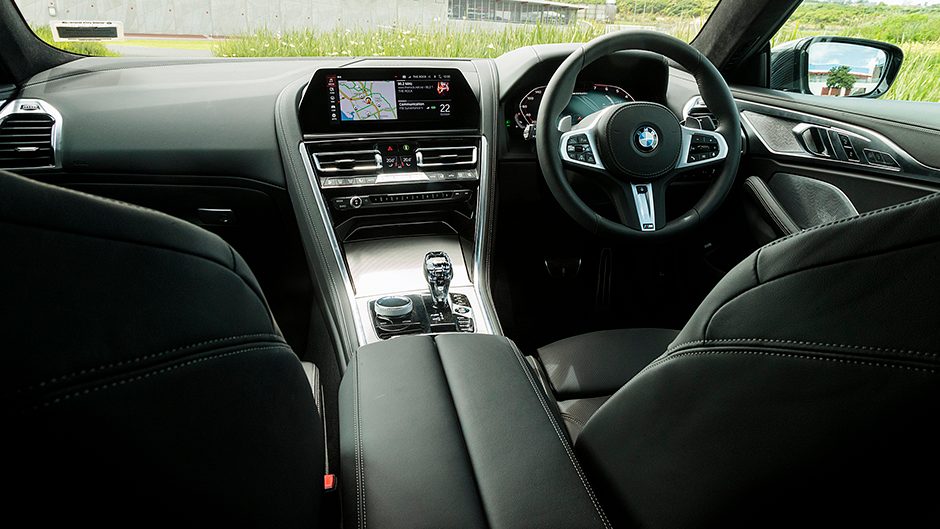 There are numerous reasons why this should be so, but suffice to say if you want something that's a special luxury-sport coupe, and can function merrily as an everyday drive, the GC should be considered. The four-door coupe is, as you might expect, a stretched two-door 8 Series – they're the same up to the A pillar – and while there are several variants overseas, here there's just the V8 model on offer, the 850i xDrive GC. At least until the M8 GC arrives, packing 460kW, and a zero to 100 time of three seconds flat. Until such time, this 850i is the alpha offering, and quite some quick thing it is too, especially given it weighs in at 2134kg.DESPITE THE 8'S BULK, IT IS SAID TO BE CAPABLE OF RUNNING 3.9SEC SPRINT TIMES TO 100KM/H.
That's partly because it is a substantial offering, with length and width dimensions of 5082mm and 1932mm. It's longer by 231mm than the two-door variant, the wheelbase extended by 200mm. It's a bit taller too, at 1407mm (+61 mm) and that of course means improved headroom all round. Even with the standard panoramic sunroof, there's enough head clearance in the rear for most. It would be even more substantial were it not for body panels made of aluminium, and the powered boot lid of CFRP.
There's plenty of visual aggression here, with the 3D look of the big kidney grille, a set of laser lights either side, and special aero effects to divert wind flow around those big 20-inch wheels which hide a sports brake set-up. It's a sharp looker both ends, the profile highlighting a cab rearward stance, for that hint of rear-drive performance. Which of course this is, only drive also goes to the front wheels, with a variable split according to the parameters of the xDrive set-up.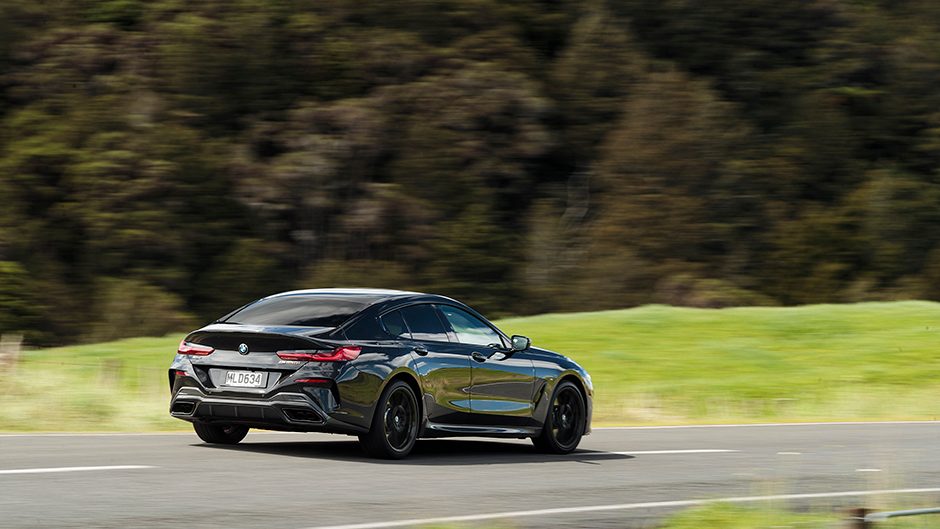 The weight distribution of 53/47 front/rear is decidedly uneven for a BMW but that's AWD for you. To help helm the big ship there's also integral active steering, BMW's nomenclature for four-wheel steering. Also standard are four drive modes, adaptive damping and active sway bars. It's laden and is quite the tech fest. Under that lightweight and surprisingly flexible hood lives a 4.4L V8 fed by a pair of twin-scroll turbos, the output processed by a sweet shifting, liquid eight-speed auto. Despite the 8's bulk, it is said to be capable of running 3.9sec sprint times to 100km/h. That's if the launch control plays ball, but even without it, it'll run four flat.
Impressive as this is, you can feel the weight of this substantial beast on the go. It prefers a few revs for best performance, and while not unhappy mooching in the 2000s area, it picks up strength from about 3000rpm in open road territory and goes a bit bonkers from about 4000rpm onwards. You get that with peak outputs of 390kW and 750Nm. In the Sport Plus mode, it also managed an overtaking time of 2.33sec, and it sounds quick too.
Oddly enough, these times virtually mirror those of the 12-cylinder Bentley Flying Spur, not that this is a competitor. That car is limousine one minute, transforming to a GT the next. But it ain't quite the GT that this BMW is, though it's interesting that both use active sway bars, adaptive damping, variable AWD and rear-wheel steering.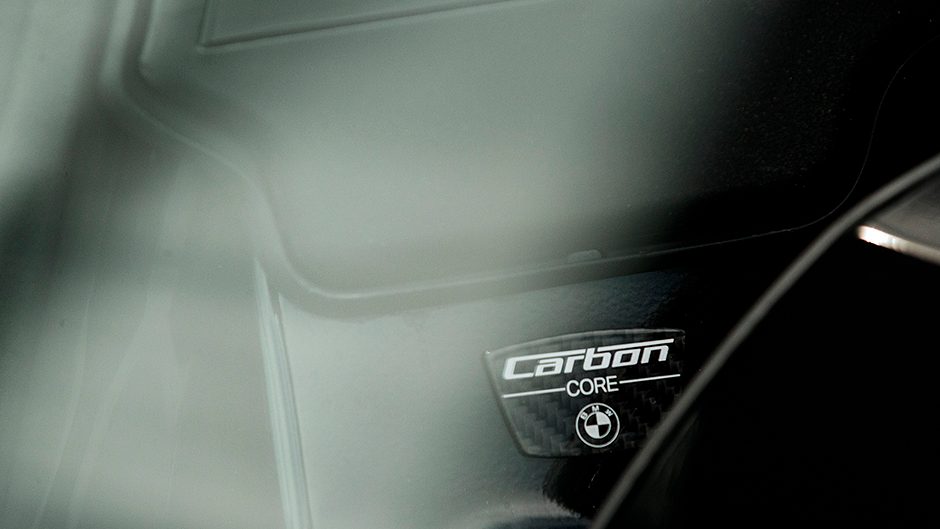 The main difference is suspension, air on the Bentley, steel springs for the BMW. And the German is also more compact, and lighter, if you can say that of a 2.15 tonne offering. Those countermeasures do work though, and in the turns the GC hangs tough, with some seriously quick midcorner prowess displayed through some of our reference bends. It runs low profile Pilot Sport 3 rubber, and yet tyre generated rumble is kept well under control, never exceeding 73dB.
With all wheels steering, it's hyped on the turn-in, making this biggun surprisingly biddable and playful on tight roads. You've four modes to shuffle between, more actually as the Sport mode includes the base setting, Sport+ and Sport Individual. Plus, there's an Adaptive mode, a half-way house between Sport and Comfort, and finally the default Comfort mode. Oh, yes, there's also an EcoPro mode.
On that, long term fuel use averaged 12.8L/100km, not a lot over the claimed average of 10L/100km. During acceleration off the line, instant fuel use signs off after some big numbers and then amusingly displays the infinity sign.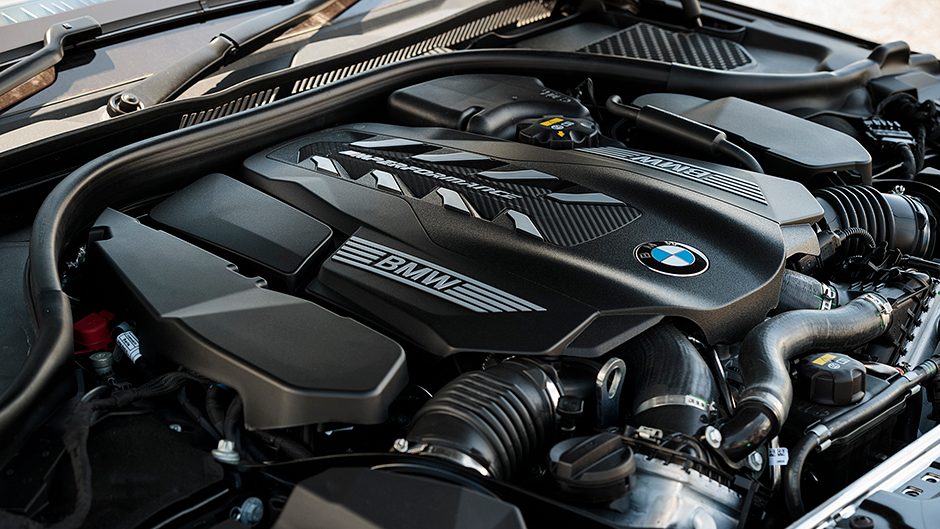 Anyhow, Comfort mode is ideal for town use, and the Adaptive for country but on your own it's one of the Sport modes you'd choose. As an aside, I mentioned to the AI assistant at one point that I was bored, and she asked whether I'd tried Sport mode yet!
Given the extra body control afforded, without adversely affecting ride comfort Sport is the go-to fun mode, liberating the exhaust at the same time, most especially in Sport+. It's more subtly intriguing than sledgehammer loud though.
The car itself is complex to run so you often need the AI assistance of Ms Bimmer to help you do simple stuff like change stations or turn on seat heating. Course you can use iDrive, the touch screen, writing pad or even gestures (not those ones) but voice control is a nice back-up because there's an awful lot to distract here.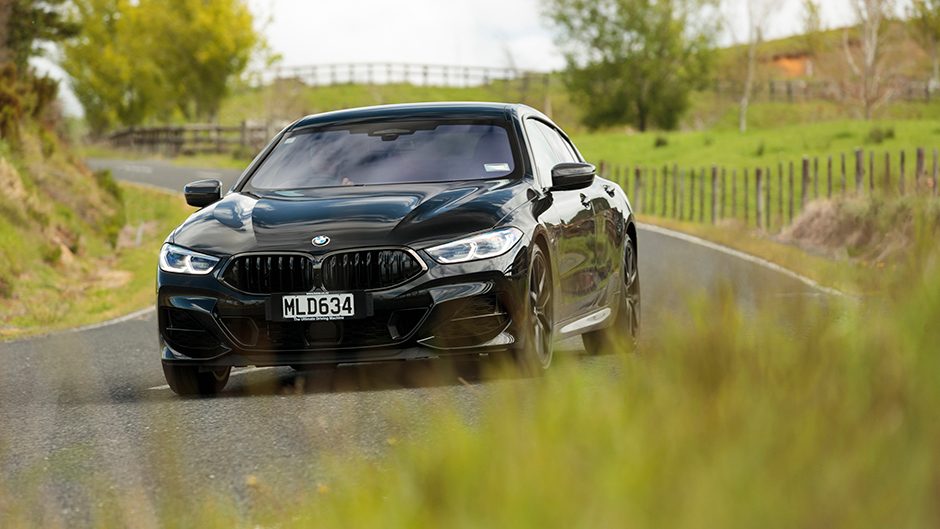 We like auto door unlocking when you approach the car but the master key is absurdly oversized. It also falls out of your pocket too easily and given how much this thing can do (five different submenus in the fob) we'd imagine it would cost an arm or leg to replace.
As to rivals, this comes up against the likes of Panamera (though is closer in performance to the much more expensive Turbo models), and AMG GT four-door (but is closer to the GT 53 on price). Audi's incoming RS7 Sportback will be its major competition.
| | | | |
| --- | --- | --- | --- |
| Model | BMW M850i xDrive Gran Coupe | Price | $257,000 |
| Engine | 4395cc, V8, T/DI, 390kW/750Nm | Drivetrain | 8-speed auto, AWD |
| Fuel Use | 10L/100km | C02 Output | 229g/km |
| 0-100km/h | 3.87 sec | Weight | 2134kg |