If you're a believer in the bigger is best philosophy, then this is the BMW for you. The X7 goes large on everything, but is big really better?
While the physical presence of BMW's seven-seat X7 is imposing, it's not the first thing people comment on. Rather it's the grille that gets 'em. BMW says it's the largest-ever rendition of the double kidney and it is intended to 'create an eye-catching first impression'. They don't qualify just what kind of impression they're going for but its blingy excess hints at the character of this biggest X.
It's surprising that BMW has taken so long to offer the X7. There were rumours of its development in the mid-2000s but after the GFC thoughts turned towards the i movement, though it hasn't quite caught on as BMW first hoped it might. Luxury lovers still like excess, particularly those in the US and China where this is squarely aimed, helping explain the styling.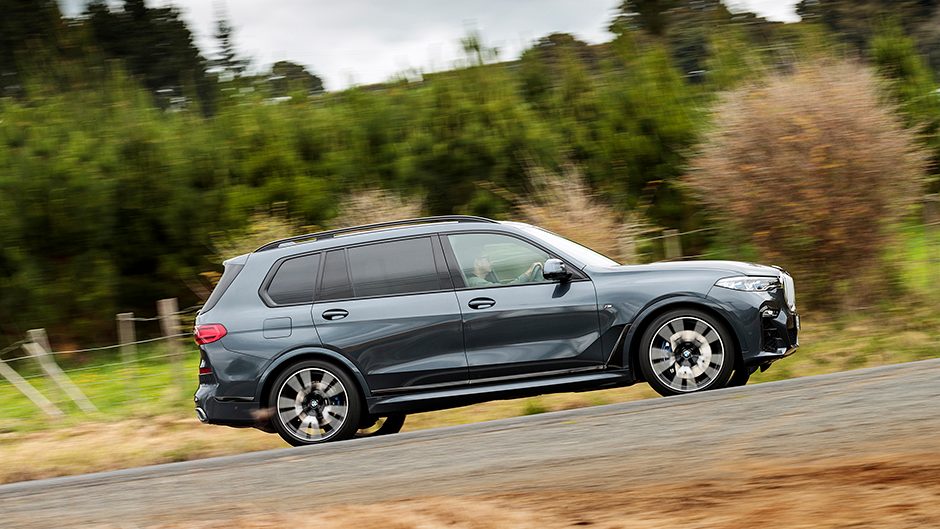 Sitting atop of the X line-up, the 7 heads off Audi's Q7 and Merc's GLS, both of which have been around for a while. And they are popular here too, the Q7 often Audi's best monthly seller while Benz's top-selling single model variant last year was the GLS 350d. The X7 range kicks off at $146,200 for the 30d, while the M Sport version that we sampled is $162,800. If you're not into diesel there's the 40i M Sport at $164,900 and the range topper is the 294kW, quad-turbo 50d M Sport at a tick under $200k.
Being designed for 'ultimate comfort and practicality', the brief for the seven seater X7 therefore demands XL dimensions. And it's a monster at 5151mm long, 2m wide and 1.8m tall, while being loaded with extras, as its 2450kg mass attests to. All seven seats are described as 'spacious', which is no PR-generated fabrication either, each pew being power adjusted. This brings convenience so with a single button touch you can stow or summon all the seats into positions. And when you want to raise the third row, you are not having to readjust the middle seats to ensure they rise easily; the electrics do it all for you. They just take their sweet time is all. The access to the third row is good, the middle row folding and tumbling forward with a simple touch of a button, but it takes nearly 15 seconds to do so. Helping with entry are big rear doors, though being so large they aren't so friendly in tight car parks.
We've no complaints on space however. The middle-row passengers enjoy limo-like legroom, and you can get a snooze-worthy amount of recline going on as well. Plus there are proper full size seats in the rear which don't skimp on comfort or leg and head room.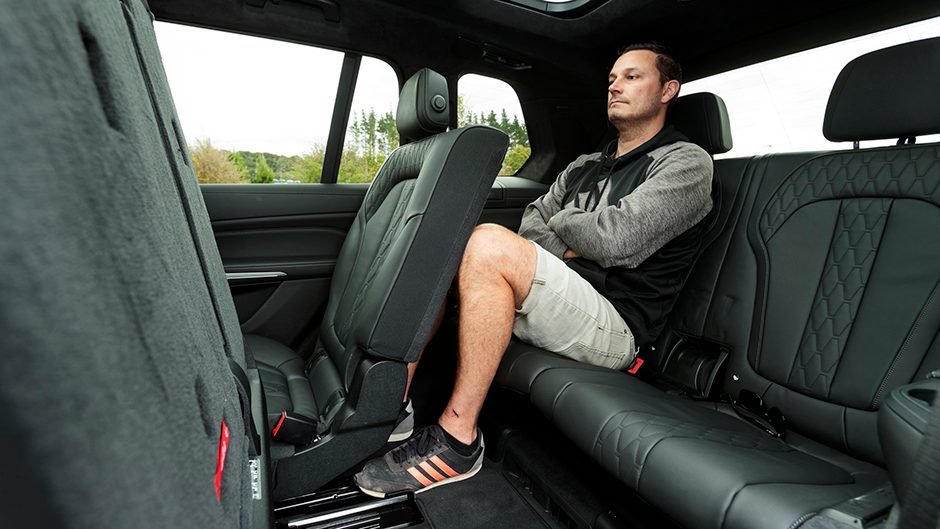 The cabin is outfitted with USB ports everywhere, seven in total, powered sunblinds for the side windows, and there's even a sun roof for those in the rearmost seats, along with a fifth zone of climate air con. And these are far from the cheap seats, the same fine leather cladding the pews and proper armrests, with hard plastic surfaces minimised. But it's so well appointed, do you really want mucky kids in the rear row? Ah well, a problem for the valet cleaners perhaps.
There is still some usable boot space left over with all seats in place (326L quoted), about enough to stash a border collie, while there's a generous hold (750L) with the third row stowed, good for three or four german shepherds. And there's a low load height mode button too, the standard fit air suspension lowering so when the dogs' hips go from all that inbreeding, it's not such a chore to throw them on board.
While the X7 persists with a split tailgate design, both the upper and lower sections are powered, with one button closing both for you. Those up front are not forgotten either, with a pair of BMW's fine Comfort chairs offered, these being sumptuously padded with all manner of adjustment; a perfect fit is almost guaranteed. There is a pair of 12.3-inch LCDs, one for the customisable dials, the other for the infotainment. This can be controlled by either Gesture Control (rubbish), the twirly iDrive controller (at times fiddly), touch (BMW admitting semi-defeat that knobs are annoying in more ways than one) and (not-so) intelligent voice control. The latter isn't the latest 'Hey BMW' version, so is not as intuitive as you might hope. There are plenty of 'connected features' too which we find are of questionable value. Better is the big, high-resolution head-up display.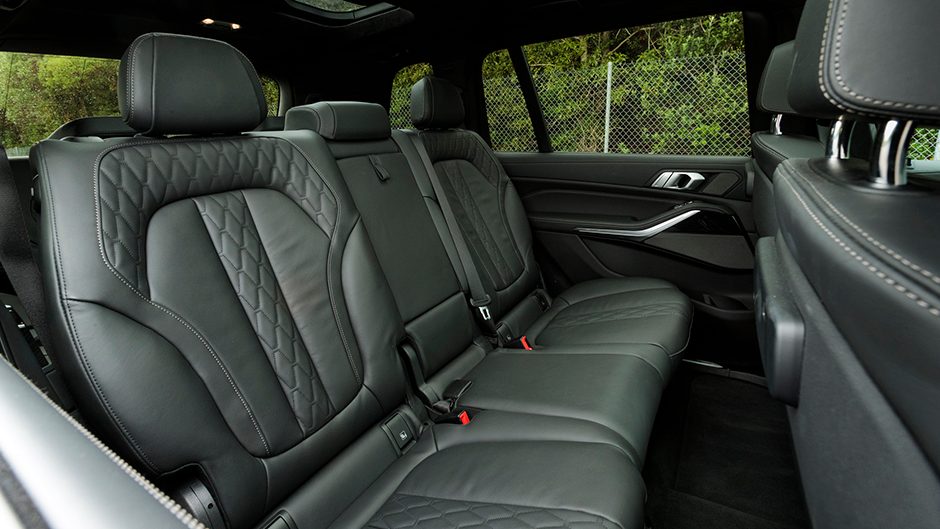 There is lots to download and digest here, so many menus and functions, it all takes a while to become familiar, and even then you'll likely use only a fraction of the available functionality.
The cabin is well crafted, as you'd hope, leather lined and soft in all places, and functional too with decent storage, well placed cup holders (heated and cooled) and a charge pad. While the large dimensions lend the X7 its ample interior space, it translates to it being a bit of a menace in the car park.
While the steering is light weighted, the turning circle is large and once you line the park up, it quite literally fills the entire space, not leaving much over to actually open the doors out wide. The multi-view parking camera is helpful with docking however. Once adjusted to the ample size, it's easy enough to pilot and this 30d variant offers all you'll need in a performance sense in a thing like this.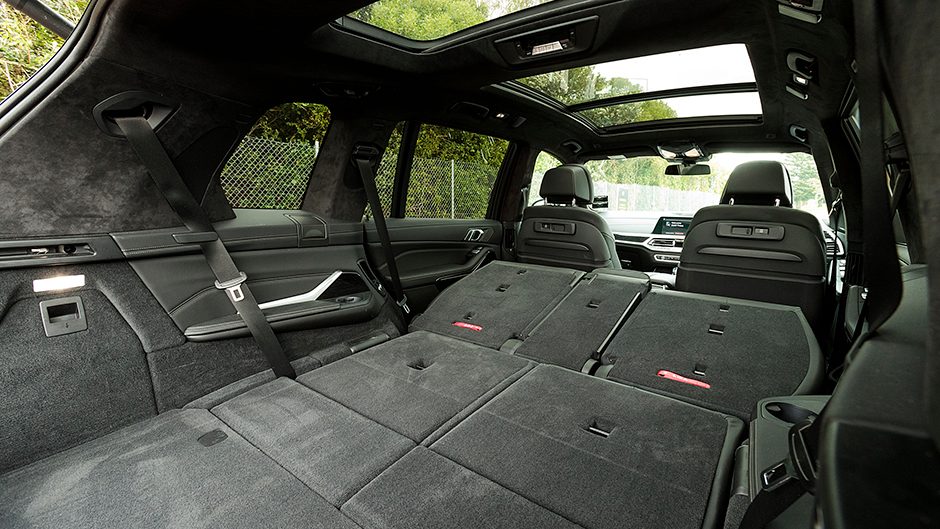 The twin-turbo inline six offers 195kW but it's the 620 Newtons that make short work of hauling it all about. It gets into the thick of the torque smartly, so there's no dallying. And it sounds good, even if it has a hint of digitisation to it. BMW says it's good for 6.7L/100km but you'll likely average in the 9L/100km range for a mix of urban commuting/motorway miles.
Like any BMW, there are various drive modes and it gets about town nicely in the default Comfort, the eight-speed auto refined but quick enough on the downshift when there's a hint you might require some extra squirt. The air-sprung ride in Comfort is endearing without being too wafty; it still has a certain amount of BMW-esque control to it but also isolates most of the bumps. However, equipped with oversized 22s, it can crash over the odd pothole. It's quiet though overall, not eerily so but refined.
It's also replete with all the driving aids and the active cruise has two modes. The full assist setting is quite bossy when it comes to following the lane, centreing you constantly, and the lane keeping function can be quite dramatic with steering corrections. However you can configure the lane keeping and departure functions to your liking, which the system will remember. Alternatively, you can go with regular active cruise, which is a smooth operator in stop-start traffic. The X7's idle-stop function can kick in before you come to a halt which isn't helpful when parking but it's quick to refire.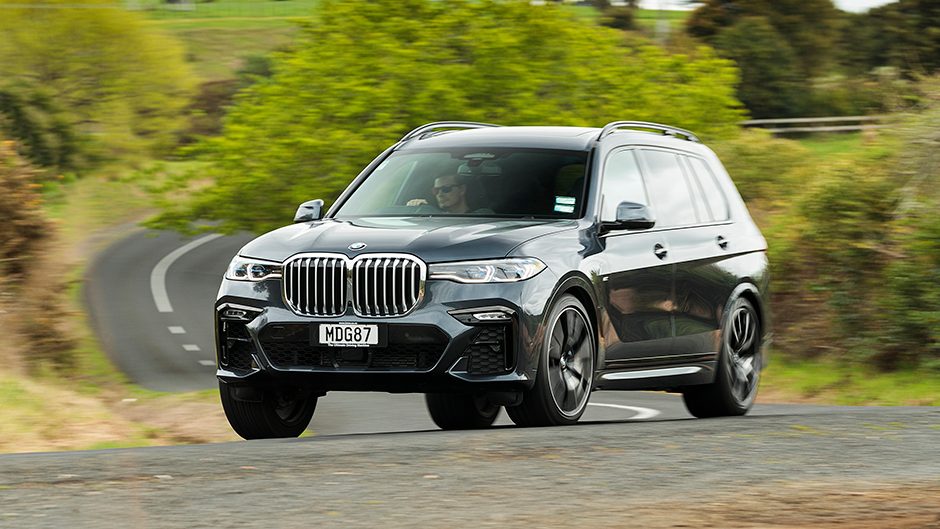 Like X5, the AWD system varies the torque split between the front and rear axles as your driving demands, and is more rear-biased when you're giving it a seeing to. The air springs are self adjusting to achieve a more even keel on the go, and as well as rising for off-road excursions, it rides lower in sport mode for better cornering control.
However, the X7 is a hulking seven-seater, long in the wheelbase and heavy, so it's not nearly as sporty as the X5. It takes a decent nudge to get the latter to squeal its tyres in a turn while the X7 took us by surprise at how easy it pushed up front. The ESP was quick in on the action mind you and when taking things a bit easier everything gels well enough for a big seven seater.
In Adaptive mode, the air springs lend it a decent ride but still with enough control to keep roll at bay. Sport mode adds extra tautness for even more control but a little less give in the ride sense. With massive tyres, it usually holds on well, save for that understeer when you're going mad. The auto does the job, smooth and slick, the steering is lightweight but firming in the turns to help keep it in line.
Given the reasonable appetite for these big SUVs in the luxury market, the X7 will still sell a few, but we feel the X5 is a better BMW, while a Volvo XC90 is a brilliant seven seater for a lot less outlay.
| | | | |
| --- | --- | --- | --- |
| Model | BMW X7 xDrive30d Msport | Price | $162,800 |
| Engine | 2993cc, IL6, TDI, 195kW/620Nm | Drivetrain | 8-speed auto, AWD |
| Fuel Use | 6.8L/100km | C02 Output | 178g/km |
| 0-100km/h | 7.85 sec | Weight | 2485kg |