BMW has been busy adding four-door gran coupes to its even-numbered line-ups. We drive the latest and smallest, the M235i xDrive.
Guess we should have seen this one coming. There are Gran Coupe versions of 8, 6 and 4 Series so why not expand that to the 2 Series as well? Er, because it isn't Gran in size like the others are. That said, it is compared with the 2 Series Coupe, adding 30L of luggage capacity, out to 430L, and 33mm of extra leg room compared with not much at all in the smaller car.
So in the 2 Series line-up there's now the wee coupe, a convertible and the 2 Series Active Tourer, along with this flash-looking newcomer, technically a sedan. Moreover, there are three 2 Series GCs to choose from, a 218i Sport Line, a 218i M Sport and the model you see here, the M235i xDrive. This has more aggressive styling front and rear than the others. It's a good look overall, though the heavy-handed bootlid spoiler didn't find favour with everyone.
Like the 1 Series and various Minis, the 2 Series GCs are all based on BMW's front-wheel drive transverse architecture, only this one has four-wheel drive. The 218 models use a seven-speed twin-clutch transmission whereas the M235i opts instead for an eight-speed auto. And the reason for that is its 2.0L four-cylinder engine, the strongest of its type BMW has ever produced. With a twin-scroll turbo, and VVT its peak power output is 225kW while torque spikes at 450Nm, from 1750 to 5250rpm.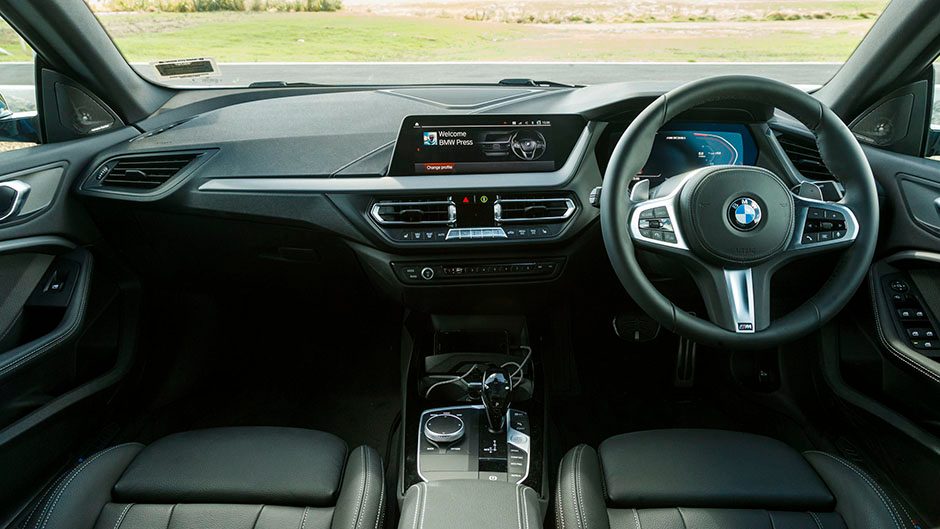 BMW quotes a 0-100 time of 4.8sec which we initially missed by a tenth on a warm afternoon. The day after was cooler and on the same piece of road it registered 4.76sec. It features launch control that's absolutely intuitive – just turn everything to Sport and hold on – while the transmission in Sport mode is another one of those modern day autos that thinks it's a twin-clutcher, shifting in blazing fashion. It can genuinely scoot this, especially with launch control active where the shifts are aggressive. The engine is brawny too, on song well before 2000rpm and pulling hard from there. So you can drive it forcefully at low, medium or high revs. Take your pick.
Snuggle down into the driver's seat, a bit of a squeeze going in, hit the go button and this feels a bit racy. There's not much in the way of lag, except for when you really don't need it, and even in D it's reasonably responsive. Like another competitor from nearby who shall not be named, you push the shift lever in a certain direction, in this case left to be different, and you've accessed Sport transmission. It makes things more interesting but thirst rises too. On that we found a 10.2L/100km average pretty respectable.
Naturally there are drive modes available that most people will play with initially and then leave in default Comfort thereafter. Sport is a bit stroppier, and sounds better. Dynamically, there's no advantage because the suspension is fixed. Adaptive dampers are a $2500 option. The M235i features sport suspension, lowered by 10mm. Occasionally, especially at urban speeds, the firm secondary ride characteristics make it feel jiggly but at highway speeds you'll relish the control and there's enough primary ride compliance to handle bigger or sharper bumps. With AWD and a fast reacting system that brakes inside wheels when sensors suggest understeer is imminent, cornering is fast fun, for the most part. At the ragged edge you'll encounter understeer because of the 58/42 forward weight bias. It therefore corners best by lifting off on entry and then quickly picking the throttle up again for a fast exit. We like the servo steering too which patters away nicely at the straight ahead and firms up in Sport mode. It's not quite go-kart quick like a Mini's but is sure lively. We just wish the wheel rim wasn't so thick and chunky. I'm pretty sure Trump would be with me on that count.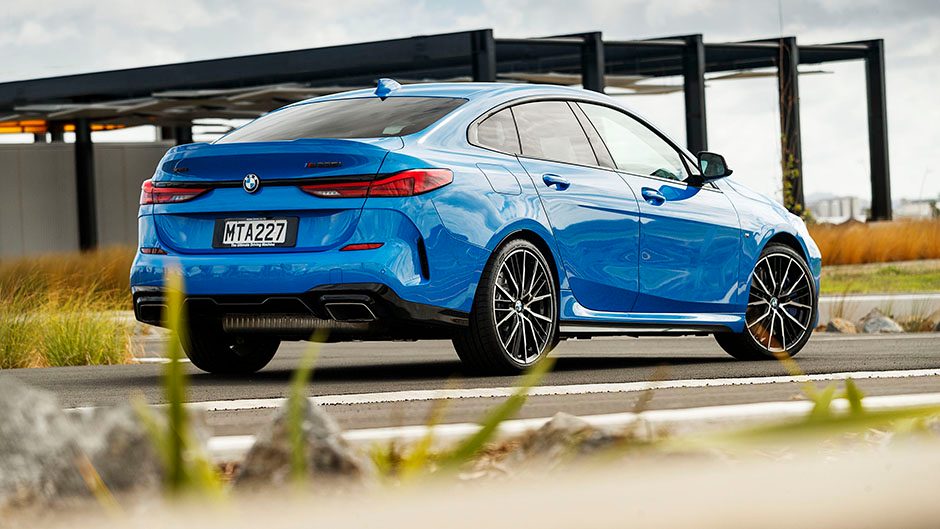 On the downside, this wears some nifty Potenza sports shoes and they are a tad vocal (db mean of 74.0) over new seal repairs, the price paid for all that grip.
Is this the same in a handling sense as the other Gran Coupes? Kind of not, because it's built on the FAAR platform which is for transverse, front-wheel drivers primarily. So there's not the delicate 50:50 balance that makes the regular rear-drive BMWs such fine fodder. Moreover, much of the time this is a front-wheel drive vehicle acting via a limited slip diff. It can shuffle up to 50 per cent of its snot rearward when conditions dictate. And occasionally you can sense that as the front's scrabble and tug at the wheel until the torque transfer gets underway.
Up front, the M235i is all sports with specially bolstered seats finished in nice leather, and instruments angled towards the driver. We're not quite down with the instrument layout – analogue speedo left, back to front tacho right – but in the case of the M235i you don't care so much because there's a digital readout of speed in the head-up display, along with what's happening when adaptive cruise is activated. Because of its Gran Coupe status there's not exactly a generous view out the rear but the frameless windows compensate somewhat. Handy standard features include a Qi charger, two zones of air, pushbutton starter in a sensible place, comfort entry that locks and unlocks automatically when you're nearby, H-K 16-speaker surround sounds, and a personal assistant to help when you just cannot fathom submenus and such. Being the top of the tree, this comes with adaptive LED headlights, a body kit, big air intakes, a colour-coded rear spoiler, and a special 'mesh' grille that reminds of a certain competitor's jewelled offerings.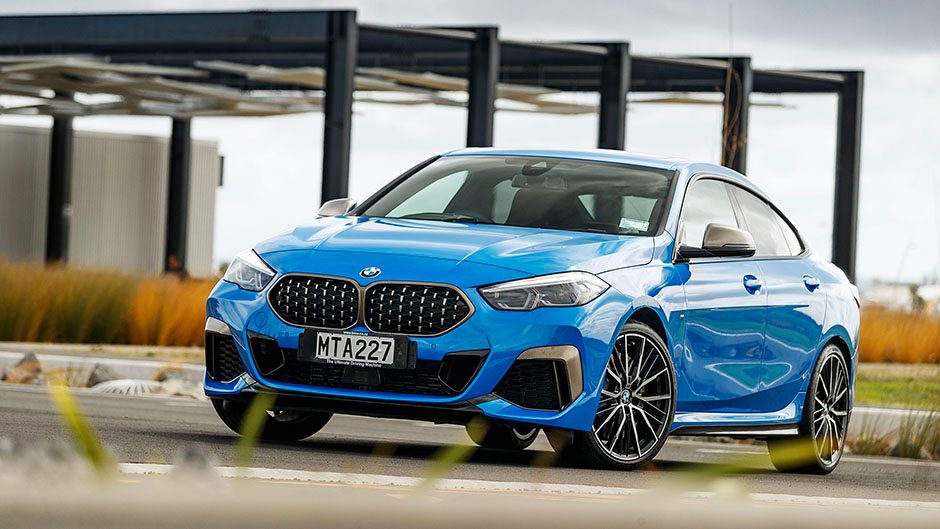 You pay extra for powered seating and heating, along with turning your smartphone into a smart key, part of a $1500 package. For $2900 you can get active cruise with stop and go, cornering lights, a panoramic sunroof and metallic paint.
So at just over $90k this ain't cheap but competes reasonably directly with the likes of the AMG CLA 35. That's a bit more expensive but otherwise quite similar. There's also the like-priced as-quick Mercedes-AMG 35 4matic sedan. However, for slightly less money you can get the tastier, bigger, better styled, better balanced, not quite as quick 330i rear driver from BMW and the purists would be there in a trice. Different buyer group perhaps, but just saying.
If you're wondering about the chances of an M2 GC, BMW has already ruled that out, despite the rumours.
| | | | |
| --- | --- | --- | --- |
| Model | BMW 2 Series Gran Coupe M235i xDrive | Price | $91,400 |
| Engine | 1998cc, IL4, T/DI, 225kW/450Nm | Drivetrain | 8-speed auto, all-wheel drive |
| Fuel Use | 7.1L/100km | C02 Output | 162g/km |
| 0-100km/h | 4.76sec | Weight | 1615kg |