Following my recent article on the NB generation of Mazda mx-5, I promised that I would take mine to the track to really put it through its paces. So I signed up for a drive day at the Hampton Downs club circuit, put on my Niki Lauda red race suit, changed my coolant, brimmed the fuel tank and headed on out.
Why the Club Circuit? If it's your first public track day at Hampton Downs, you must complete a Club Circuit 'induction day' before you're allowed onto the larger National and International tracks. This is so newbies get a chance to learn track etiquette and get some on-track experience at moderate speeds.
Since this was my first public outing at Hampton Downs in a car, I joined the other first-timers for a few laps to get a feel for the track layout. The Club Circuit is a small loop just 1.2km long and is quite technical with five corners, four really as one is a double apex jobbie. There's one left-hander, meaning four out of five corners are torturing your left-front tyre. According to their website, the average lap time is 42 seconds.
After the slow initiation lap, we re-entered the pits and prepared to go out again for the first session. With the hardtop on and a helmet, my six-foot frame only just fits inside the car. Any taller and going topless is the only option. Pulling out of the pits and back onto the track, I built a small amount of heat into the tyres before an attack lap. Turn one, lap one, it was immediately apparent my bargain tyres were not up to the task. It was Understeer City, population: me.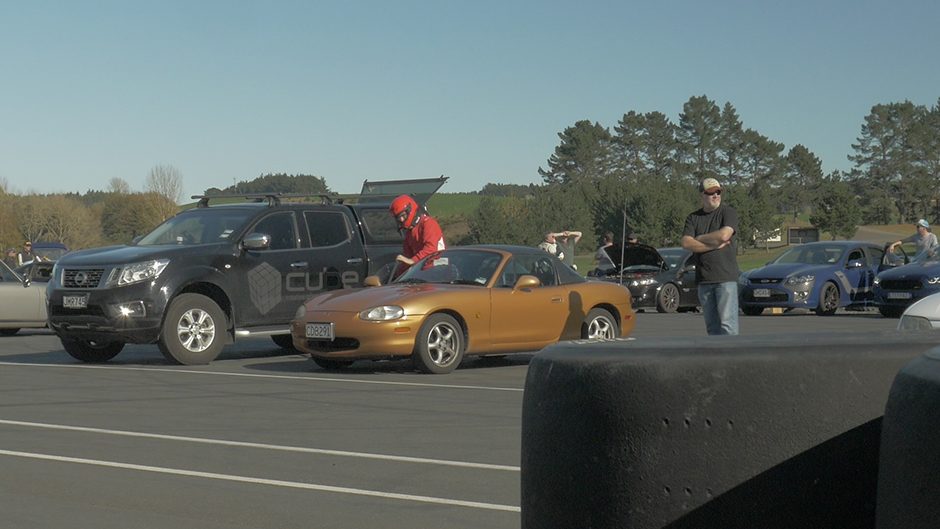 A friend had joined me for the day, driving his 1998 Toyota Levin, so naturally my only goal was to pass him. Unfortunately, that five-valve 4AGE made about ten more horsepower than the BP-4W under my golden bonnet so I had to hope my tyres were slightly better than his. We were both doing our first Club Circuit day so neither knew the best line to take around the corners.
I managed to pull off a pass by being a bit brave and sticking my car up the inside of his. Looking at some spectator footage, there was quite a decent gap between the two cars but it certainly felt heroic. I then proceeded to embarrass myself by getting into a spot of poorly managed oversteer.
Working up the pace, I noticed that the stock seats were not well suited to harder track driving. There's not much support anywhere, forcing me to lean against the centre console a lot during the four right-hand turns and keeping my core tensed. If you want to turn an NB into a track car, even a periodic one, new seats and a good set of tyres should be high on your list of mods.
Given the short length of the straight, the relatively low output of the NB didn't matter that much. I saw 120km/h regularly but not a whole lot more than that. The engine actually works quite well around the Club Circuit, with the 7500rpm redline being just enough to let third gear take the big sweeper on its own. The 1.8L has a bit more torque than earlier 1.6 versions which helps in corner exit, along with the improved top end power.
But the real gem of the powertrain is the gearbox. I mentioned how nice the 'box previously and around here it's just the bomb. It's easy to shift from second to third and on to fourth with the short throw and, despite my gearbox having done 230,000km before now, it felt as tight as ever. My shift technique could use some work though.
Each session is 15 minutes long and even with lots of traffic you still get around fifteen circulations before pulling in. That's heaps of time to improve your skills, as well as get it wrong a few times. Thankfully, given the pace is quite slow around the Club Circuit, a spin only really damages your pride.
As for the car, it's a great, cheap way to get into the track day habit. The NB MX-5 is perfectly fine on these smaller tracks; it can hold its own well despite being down on power compared with the Falcons and Boxsters you might see in other groups. With my less-than-ideal rubber, I managed to keep up with an E36 328i as well as pass a previous-gen Golf GTI.
Sticking on some better tyres and buying a more supportive seat will go a long way to improving the performance of the NB.
For more power, a turbocharger is the cheapest way, although that will still rack up a bill of at least $5k. You'd be better off improving the handling and your own skills first.