When Chrysler Australia slotted a 340-cube V8 into its charger, racing success at Bathurst seemed assured. We take a look at Colin Paulger's rare E55 charger 770 se.
The automotive world is full of great stories about what might have been achieved had not a change in management taken place at a crucial time. One of the greatest 'lost opportunities' in this part of the world occurred when Chrysler Australia suddenly axed plans for a race-ready R/T version of the V8-powered E55 Charger. But what did eventuate was the car you see here: Colin Paulger's beautiful 1972 VH E55 Charger 770 SE, which is more of a 'luxury tourer' than a potential Bathurst race winner.
Powered by a high-compression 340-cubic inch V8, the VH E55 770 SE is now as hard to find as any of the precious six-cylinder Charger R/T models. Chrysler Australia made just 125 E55s in VH form, and a further 212 with the fussier VJ grille, with all 337 built at the Tonley Park factory in Adelaide. According to Paulger, there are only two E55s in New Zealand, his Limelight-coloured example, and one originally bought in from Australia by Todd Motors as a demonstration model.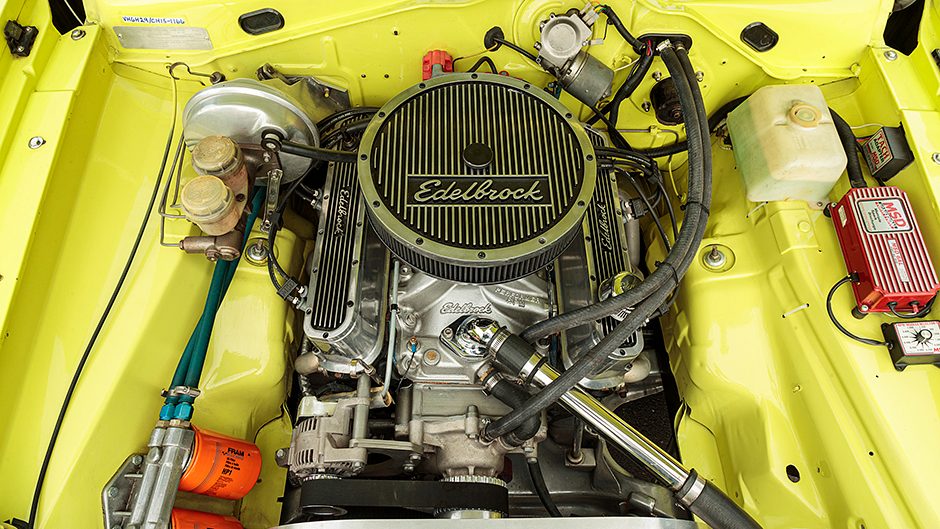 According to the company's archives, the Todd Motors car was a VJ, which makes Colin's VH E55 the only Charger of its type in NZ. To this rarity, add the provenance of the 'E55 R/T' legend, a story so credible that it refutes all the historic denials made by Chrysler Australia that they were ever considering building such a V8-powered Bathurst challenger. If they weren't, why was so much effort put into building a VG Valiant Pacer-based mule with the race-proven 340 cubic-inch V8/four-speed manual powertrain of various Plymouth and Dodge Trans-Am cars stateside?
According to Gary Bridger and Gavin Farmer's excellent book, Hey Charger, test driver Ken Hartland remembered that the prototype VG Pacer V8 was "bloody quick" as he checked out the top speed of the car on a long straight road in South Australia. "The speedo was bouncing around at the 140mph mark, and it was scary as the VG had the aerodynamics of a brick and air was getting underneath it and lifting the suspension up on tippy-toes – the steering was very light!"
Chrysler team racing drivers, Tom Naughton and Graham Ryan, also comment in the book that a V8-powered Charger R/T was due to be raced at Bathurst in 1973. "We could easily match the Falcons and Toranas across the top of the Mountain at Bathurst and almost match them going down Conrod Straight, but we were losing two or three seconds on the climb to the top (in the six-cylinder R/Ts) – that was our Achilles Heel. "If we'd had the 340 V8 as was planned for 1973, we would have been on even terms with the Falcons in particular."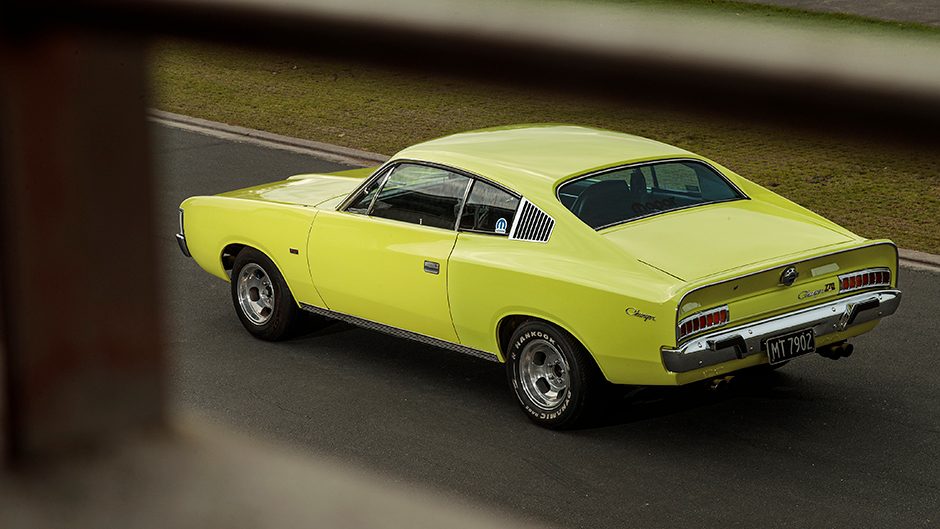 Former plant manager at Tonley Park, Colin Adey, has reported that as many as 350 of the 340c.i. V8s, a small number of 833 four-speed manual gearboxes, and stocks of Borg-Warner's heavy-duty 3.27:1 limited-slip diffs were imported for the E55 R/T project. The specs of the V8 engines suggest that they were imported with racing rather than road touring in mind. They had forged-steel crankshafts, crankcases reinforced with extra webbing, big valves with enlarged ports, beefed-up conrods, and ran a 10.5:1 compression ratio.
With three dual-barrel Carter carburettors and free-flowing exhaust headers, as fitted to the fastest Trans-Am Mopars, the 340 could have easily delivered 400bhp in E55 R/T form. Winning that 1973 Bathurst enduro could have been Chrysler's finest hour in Oz, but a change in managing director saw the penny-pinching William Ballthrop replace the long-serving David Brown as the head of Chrysler Australia in 1972. Ballthrop quickly implemented his Profit Improvement Program with head office approval.
Among the cost cutting measures of the PIP was the complete withdrawal of the company from racing activities. Many of those laid off said they 'got the PIP!'
So Paulger's E55 770 SE is a rare survivor of a boardroom coup that saw Brown, the 'godfather' of all Aussie Valiants and Chargers, replaced by a hatchet man. The 350 V8 engines already imported had to be used and most were hooked up to Chrysler's A727 three-speed auto and dropped into Chargers kitted out with a more luxurious interior – the E55 770 SE. With the oil crisis kicking off, a 2.92:1 diff was fitted, and a simple Carter four-barrel carburettor took care of air-fuel mixing duties.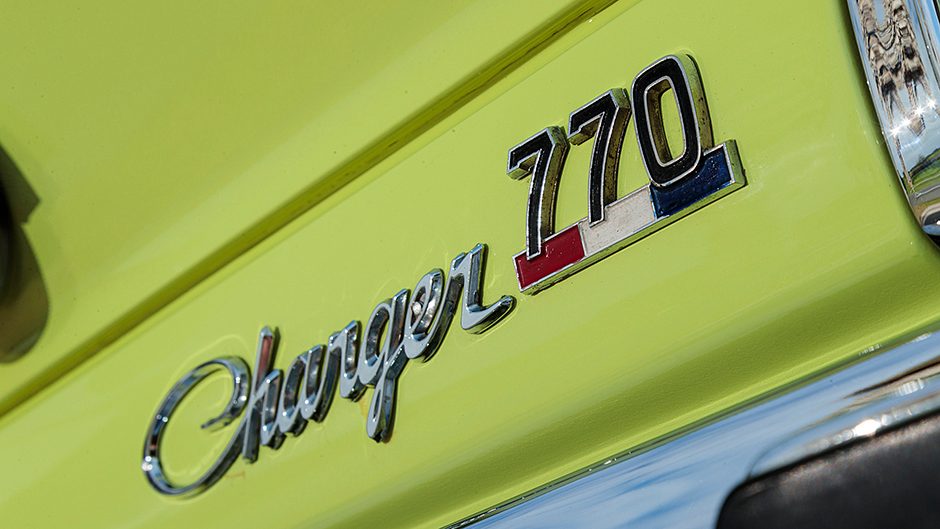 Power was a still-sufficient 275bhp, and when Sports Car World compared an E55 770 SE with an automatic Falcon GT fitted with the iconic 351 cubic-inch Cleveland V8 in November 1973, the Charger ripped through the 0-60mph sprint in 7.2 seconds to the Ford's 7.7. Both cars topped out at 127mph. Paulger opens the bonnet of his car, and the first impression is just how nicely the 340 fits inside the bay. This is no Triton V8-powered Falcon XR8, where Ford Australia had to hoist the engine up to fit it between the front suspension towers, and fashion a bulging bonnet to cover it.
The 340 sits as low as an inline six would in the Charger, helped by the packaging advantages of the torsion bar front suspension. Looking at how sweetly that V8 nestles up to the firewall in the engine bay, I have few doubts that the Chrysler race team could have made an E55 R/T handle with similar agility to the most successful Charger at Bathurst – the E49 R/T, which finished third and fourth in '72.
This 770 E55 was in "very poor condition" when Paulger bought it back in 1993. "The original Limelight colour had been covered over with a dark and dusty green, and the engine was very asthmatic. "It had been used as what you'd call a 'drifter' today, skidding round all the gravel roads of the Bombay Hills. "We had to replace the right rear-quarter panel, as it had obviously come into contact with a bank.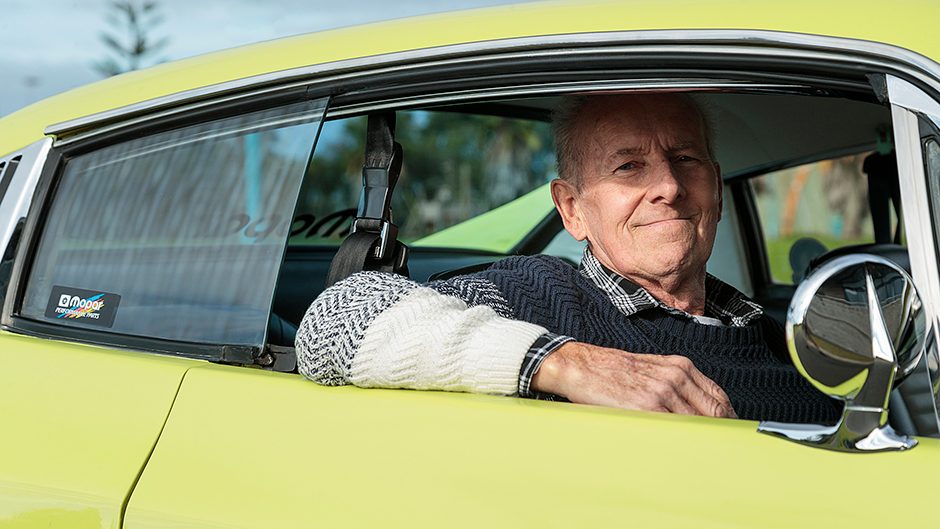 "Luckily my son, Andrew, is a good mechanic, as his skills would come in handy when we took it off the road for the next 12 years." Indeed it was Andrew, who owns his own E55 replica Charger, who inspired his Dad to buy this one. Paulger senior had owned various Valiants before – a VE sedan, a VJ Ranger, and a CM Regal.
He'd obviously bonded with the Pentastar brand. When restoring the car, the father-and-son team indulged in some judicious shopping through the catalogue of a Southern Californian mecca for Mopar enthusiasts, Bob Mazzolini Racing. "We got everything we needed from there."
Some aftermarket engine parts were selected to tune the 340, including Edelbrock camshaft, rocker covers, and carb. A set of freer-flowing Pacemaker headers were included in the twin-exit-pipe exhaust system fabricated by Andrew who also has worked on the magnificent prototype machines created by Alan Gibbs. The engine makes "around 320bhp" now, and there's a Borg-Warner diff equipped with a 2.7:1 final drive ratio.
This increases the open road cruising comfort of this E55, and helps its retired driver save on fuel. "The motor used to tick over at 2800rpm at 100kmh in top gear, and it now turns at 1900rpm. "So it generally travels between 8-9 kilometres on a litre of petrol." Despite the high final gearing, Paulger's Charger still logs satisfactory elapsed time figures when he occasionally takes it to the Meremere drag strip.
Andrew installed sub-frame connectors that reinforce the front and rear sub-frames of the E55, making it track straighter when it launches at the strip. "It'll do a 12.4 second standing-quarter." Yet it's clear that this is no racer when I settle into the comfy passenger seat of the 770, and Paulger takes me for a ride.
The seat foam is mattress-like, and the E55 rides pretty well for a car created with a hot-rod heart. Facing the driver is the machine-finished alloy dashboard panel – one of the classy touches given to 770-spec VH Chargers.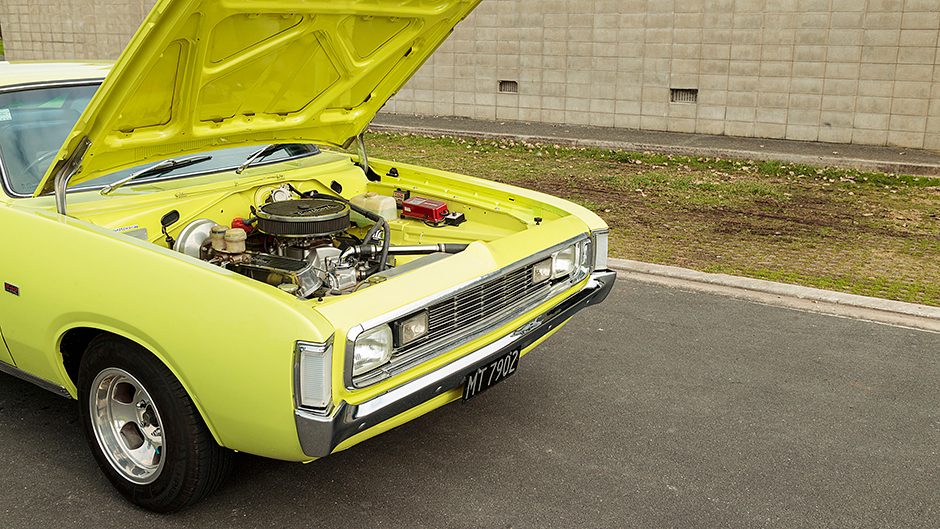 Paulger and wife Judith will fulfill a long-held dream of taking the E55 Charger on a tour of the South Island in October, joining a convoy of enthusiasts heading for a big Mopar convention in Invercargill.
It'll be one of the few times that Paulger will be on a run that includes a number of other Chargers, as it doesn't happen often. "The biggest problem is finding other Chargers." Not that he's too worried about it as he'll often 'gate-crash' events supposedly restricted to just American muscle cars.
"I just show up and no-one seems to mind – I do the same thing with events that are strictly for pre-1972 cars." Seems everyone instantly welcomes this ultra-rare Aussie muscle car.