The S3 returns with more visual aggression but retains its civilised balance of pace and grace. Is it worth almost $90k though?
Following on from its recent launch here, we happened upon a smattering of dry winter weather and could check out whether or not Audi's claim of the S3 "making perfection look effortless" is really true. Well, not literally, but effortlessly talented isn't too far from the reality. From our initial introductory drive, we were well impressed with how the S3 seemed to lap up wet roads without putting a foot wrong. In the dry it pretty much gobbles them up. No, it's not an RS 3, which is almost otherworldly in its abilities and pace, but this is a well balanced talent nonetheless.
First though, this S3 carries a sticker price of $89,500, $10k more than in 2017 and that seems like a fair wedge for a hatch, albeit a premium performer. Yes, there's room for two adults in the back seats but there's not a whole lot of lounging space.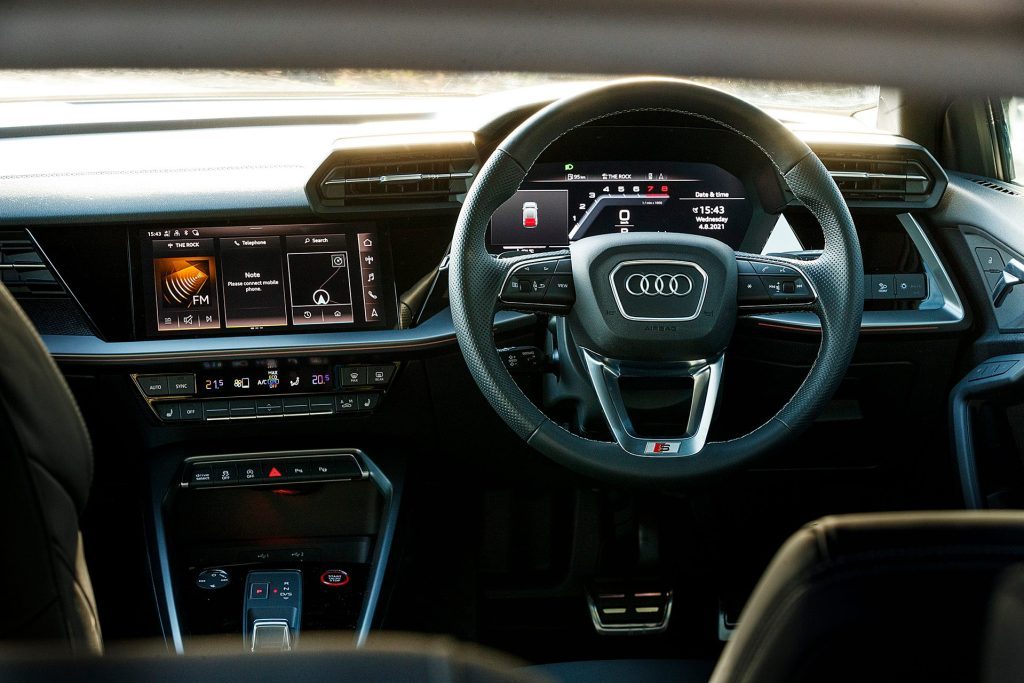 But then we figure the rear seats won't be used much by whoever buys this. And if they have stuff to carry, they can be unlatched to make best use of the almost flat load space which is roughly 1145L to the windowline.
Not that the driver will be necessarily aware of what's back there because they'll be having rather too much fun behind the wheel, concentrating on what's approaching ahead and how quickly it's seemingly closing in.
You really shouldn't feel hard done by if you settle for this instead of the RS 3. For sometimes whopper engines in small vehicles can be too much of a good thing. The S3 isn't like that. Audi set out to make the gap between Comfort and Dynamic settings more palpable and they've done just that. Of the Drive Select modes, Comfort offers just the kind of accommodating ride pliancy you so often don't get in a hot hatch. It's not infinitely configurable like some Golf-based VW product but really there's no need; just opt for the Comfort setting and let adaptive damping handle the rest.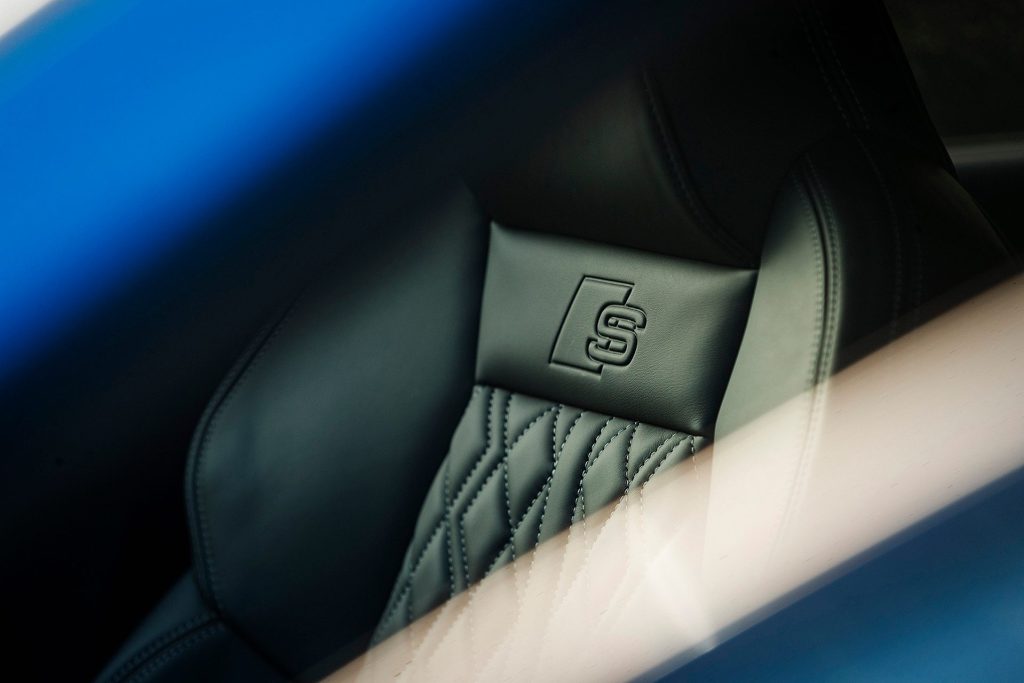 At one point during dynamics testing we put it back into Comfort and promptly forgot about that. Yet here it was, rounding up corners and zipping through them, holding speeds that were frankly surprising. Thank the Goodyear Eagle F1s in part for that, offering sensational grip. We only ran out of it once and it was clearly telegraphed before that happened. Naturally it is even more settled in the Dynamic mode but we left it largely in Auto where the mix of handling and comfort is just so.
All this handling wickedness seems a bit unlikely too because just before setting out we'd weighed the S3 on the office four-corner scales and it had settled at 1572kg, up 70kg odd on its forebear, but the 60/40 frontal bias was a surprise, given its all-paw status. That's probably why it prefers to have the front settled under brakes into a corner and then you can hit the gas a bit earlier than normal, knowing it takes a moment to overcome turbo lag, and then blasting out like a cannonball. Alternatively, you can just lift off before turning in and that works pretty well too. The sports suspension, torque vectoring by brake and progressive steering don't harm its chances either.
Brakes are as you'd want them; plenty of power and bite from the top of the travel and that's reassuring. Just a gentle press to set speed and then gently lift off to the apex.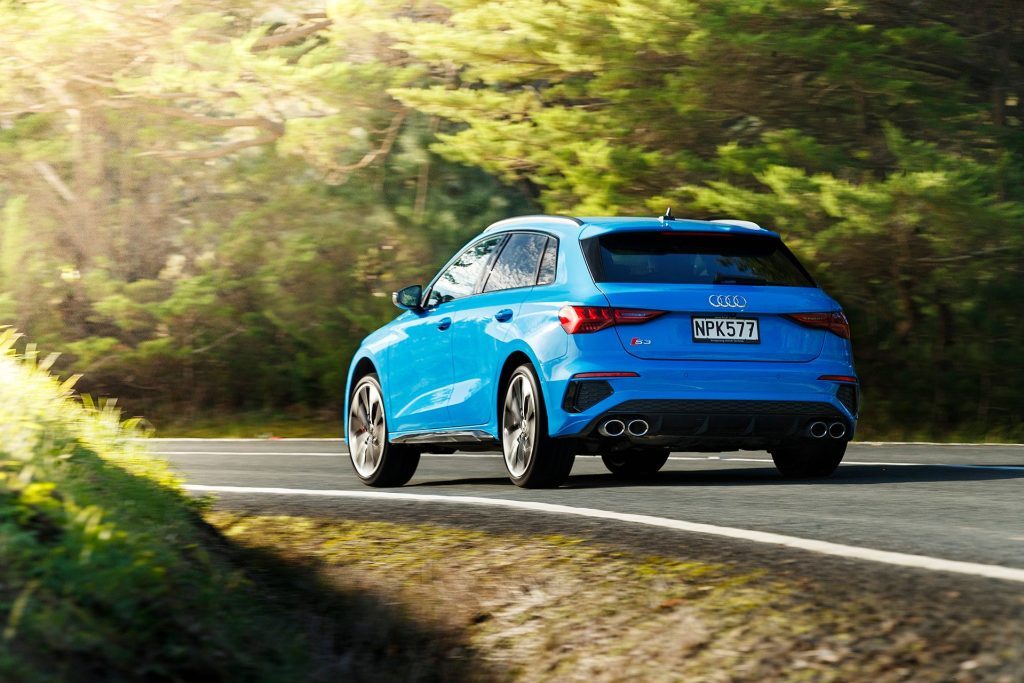 The incoming RS 3 will be the performance champ of the line-up (0-100 in 3.8sec) but you'd not complain about how the S3 goes, even if it doesn't produce quite the sonics. But then it doesn't empty its tank as quickly either. In the short term memory area, fuel use got up to a high of 12.5L/100km when giving it a bit of stick, and after a rezip around 10.8L/100km. That's pretty impressive given the sort of times it can run – it scrambles to 100 in 4.67sec – and how quickly and effortlessly it seems to inhale the road ahead and spit it out behind. The overtake is done in a whisker under 3.0sec, except last time we drove the S3, it was 0.2 quicker as it was almost 70kg lighter. Back then though, it was pretty noisy on chipseal, with a mean SPL of almost 77dB. Nowadays, it's way more refined, scarcely edging above 71dB over the same sorts of roads.
It's also a delight to run this car, by which we mean operate the minor functions. Like most Audis you can easily cancel the self-steering mechanism (lane keeping) by pushing the button on the end of the indicator wand, far less distracting than using a touchscreen. There's little of the haptic nonsense in the S3; you can change volume using the rotary device on the multifunction steering wheel but there's also a little touchpad low down in the centre console. Making a counterclockwise circle lowers volume. It's a similar situation for temperature; just push on or raise the little button below the touchscreen. In fact you can make all HVAC changes without going near that. Ditto for ESP settings. And yet the interior doesn't seem too button intensive.
As to what you get for the rest of your outlay, there's adaptive cruise featuring stop/go technology, powered and heated sports seats finished in quilted nappa leather, smart key, a self-opening fifth door, and a mild if not wild body kit. That comprises nostrils at the leading edge of the bonnet, quattro blister flared guards, 19-inch alloys, and paired pipes either side of the diffuser. Gloss black finishings are liberally applied both sides of the darkened glass house.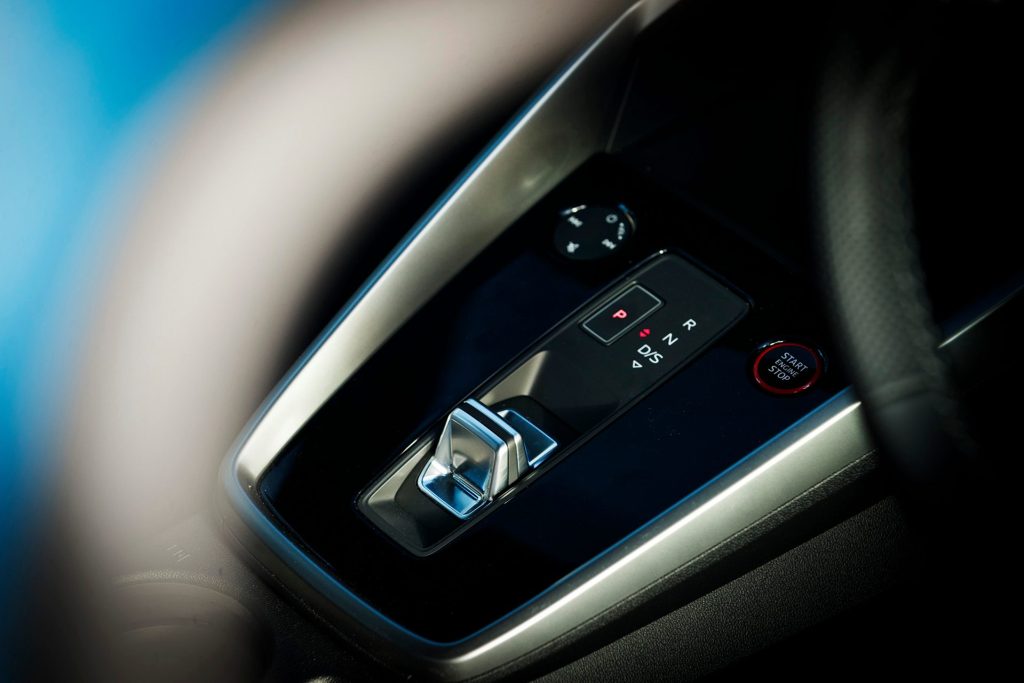 There's also a self-parking programme, nav and Qi charge pad, LED lights with high beam assist, sports pedals and compatibility with both smartphone types. It's all covered by a five-year/150,000km warranty, inclusive of three years of complimentary servicing.
Despite all this, cheap it isn't, undercut by BMW's as-quick M135i xDrive and Mercedes-AMG A 35, while the incoming 2021 Golf R promises much (235kW/420Nm) with Drift mode, for less outlay (probably under $80k). And then there's the more practical Cupra Leon AWD wagon with similar underpinnings for $65,900. So lots of choice in this refined pocket rocket AWD area.
| | |
| --- | --- |
| Model | Audi S3 |
| Price | $89,500 |
| Engine | 1984cc, IL4, T, DI |
| Power | 228kW/400Nm |
| Drivetrain | 7-speed twin clutch, AWD |
| Fuel Use | 7.4L/100km |
| C02 Output | 170g/km |
| 0-100km/h | 4.67sec |
| Weight | 1572kg |