With Formentor in the market and now the new Leon line-up, Seat offshoot Cupra is poised for improved market penetration. We check out the feisty Leon VZ Sportstourer.
Cupra is slowly making inroads in the New Zealand market, unsurprisingly because it is the go-faster, more glamorous arm of Spanish car maker Seat. And Kiwis do seem to covet sporty machinery. Evidently, the Spaniards are now selling as many Cupras here as Seats, no real surprise following the launch of the former's first in-house design, the sexy Formentor SUV. And since then Cupra has also delivered a pair of new Leons, both with strong 220kW-plus 2.0 turbo engines and twin-clutch transmissions, one a ribald front-drive hot hatch, the other this swift and sensible all-wheel drive wagon.
The latter is the more practical of the pair, naturally, is better specified and has a tich more top-end power. All of the extra 270mm of length goes into the rear overhang. It is selling here for $65,900 plus on roads which is not a whole lot more expensive than Octavia RS at just under $58k, given it has a performance advantage.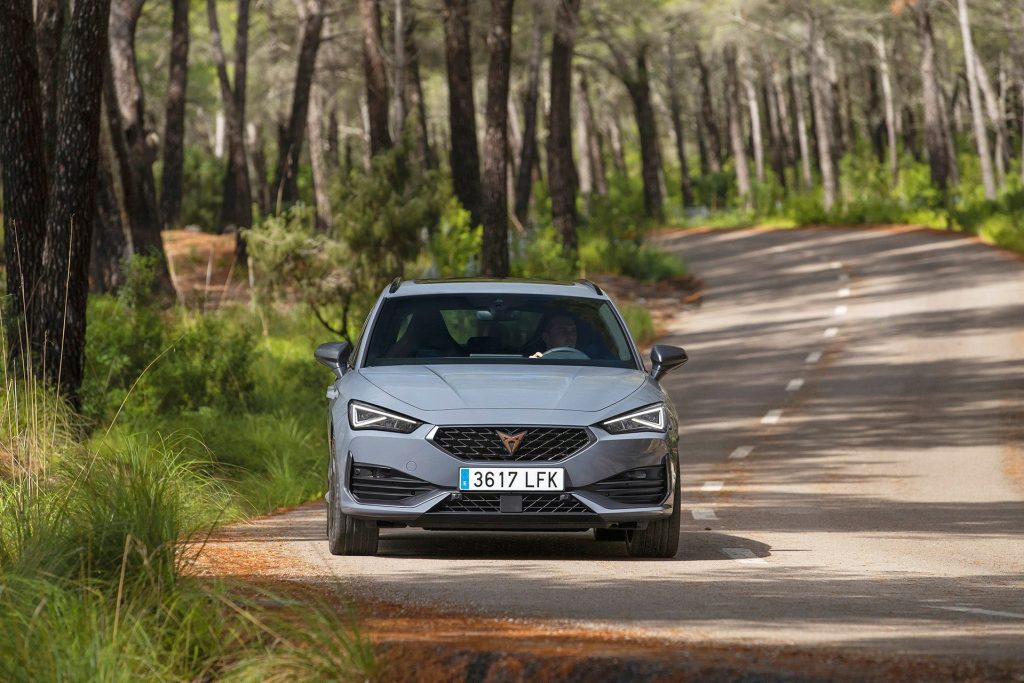 A quite substantial one at that. This is fired by a 228kW turbo-four, mustering 400Nm of torque from 2000rpm, and it scales up at 1640kg so has a healthy weight to power ratio of 7.2kg/kW. The Cupra Leon hatch variant is the quickest front driver we've tested, hitting 100 from zip in under 5.5sec thanks to its tricky front diff grounding the power so effectively. More effective still, however, is AWD and launch control, and we kind of wondered just how much a wet versus a dry road really mattered.
Under optimal conditions, Cupra reckons the Leon ST will get to the legal limit in 4.9sec, but when we went out the skies opened and the rain was unrelenting. We thought we'd give it a lash anyway. On the first run the GPS unit stopped the clock at 4.95sec which was promising. Thereafter we managed two runs in the 4.7sec area, the best a 4.70 flat. The Ventus Evo S1 rubber just went about its business, with not a hint of slip off the mark, ESP fully off and launch control holding engine revs at 3000. It was a similar finding for the overtake, just a whisker behind what we achieved with the similarly powered Cupra Leon hatch (2.97 versus 3.09sec).
Of course this is all done in the Cupra mode, which is associated with a rather appealing synthesised bark. The standard drive mode is Comfort and it's appropriately named, the adaptive dampers relaxed sufficiently to ensure easy progress over speed bumps and choppy road surfaces. All a bit surprising given the low profile rubber, but then that's the beauty of adaptive damping.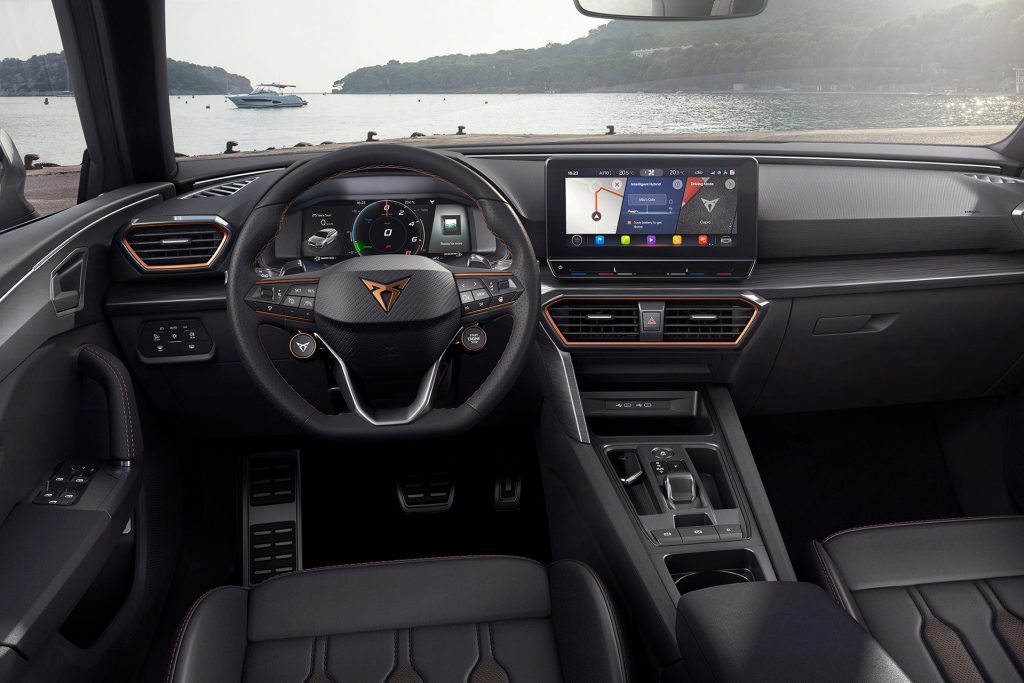 The engine response for urban driving is fine in this mode too, oozing along in that 1500-2000rpm band, but for open roads it's better in Sport, when the exhaust also starts to make its presence known. Individual mode is sweet in that you can set it up in Comfort suspension mode (with variable settings from soft through to firm) and Sport for the engine. That rather sweetly overcomes a minor delay when you need some punch as the turbo spools and the twin-clutch gearbox decides which cog is appropriate. Alternatively, you can just leave everything in Comfort and hit the Sport transmission mode, reverting to Drive after you've completed a passing manoeuvre. So many options then. On a trip up north on SH1 we recorded fuel economy of 7.5L/100km, just within the claimed combined figure of 7.6L/100km.
We rather admire the look of this estate though it's somewhat more understated than its cracking Leon hatch sib. It's also less exuberant to drive, not quite so hyper as the hatch, but isn't really fazed by anything much. Mess up corner entry speeds and it just scoots around anyway.
The interior is colourful, modern and just a nice place to be, although the sports seats aren't especially plush. But then pews that are meant to keep you locked and loaded often aren't. They're power operated (for $950), including lumbar support, and heated if that's your thing. Even the wheel is too, though in New Zealand we'd imagine only mainlanders would use this ever, and even then only for a few weeks of the year. One special feature that's rather a clever piece of design is the blind spot warning, incorporated in a hoop of ambient lighting that runs around the dashboard and into the door cards. At the corner inboard of the wing mirrors is where it flashes to let you know not to make a lane change on that side. In the middle of the dash and aimed towards the driver is the touchscreen that controls most functions. There's a quickstart guide in the door map pocket but it's not really needed; for car-related set-up stuff, just hit the car icon. For the rest, hit the triple red bar icon on the opposite side. And for HVAC stuff, there's a special area at the top of the screen. There are also sliders for volume and heat at the base of the screen. It's all quite simple really. At night, the lights do everything for you, and they illuminate the road ahead well, piercing through a 10-min patch of fog we encountered, and on full beam.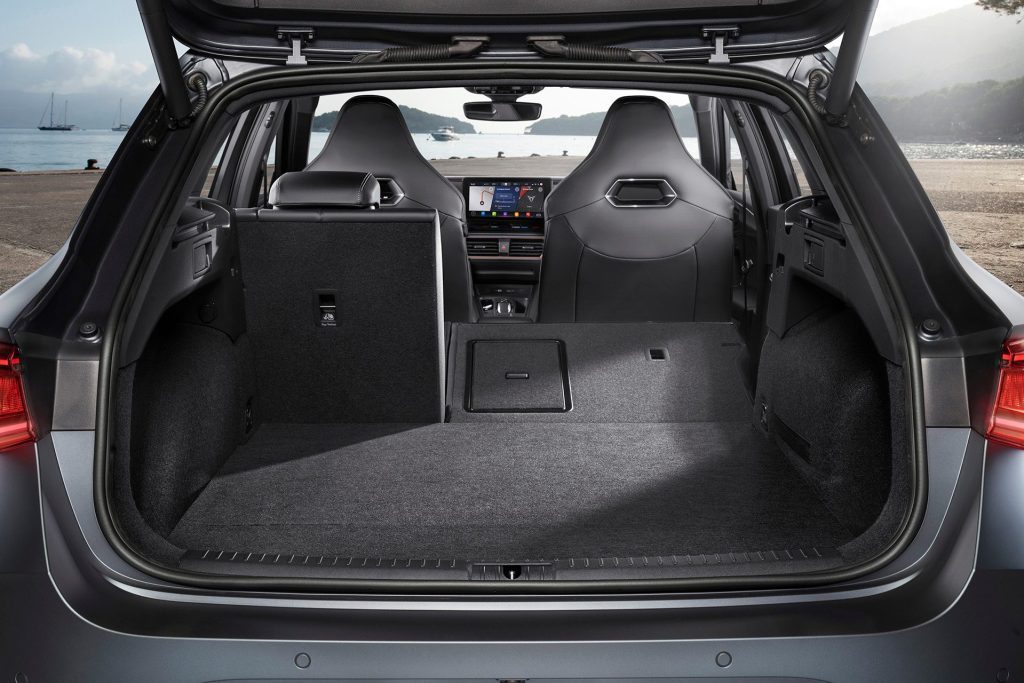 As for load capacity we folded the rear seatbacks over, and managed to fit in two bar stools, a load of groceries and a bevvy of bags. Moreover, the ST can tow as well, up to 1900kg braked loads whereas the front-drive hatch isn't rated to haul. Not that you'd want to in that little tearaway. The ST is more grown up, more sensible by comparison.
Being the wagon, it's a bit more expensive than the hatch (the latter at $59,990), while both are loaded with safety spec, sufficient to warrant an ANCAP five-star rating.
As to competition, there's not much. Skoda has no real info on its four-paw Scout yet, and that's more an SUV alternative anyway. And any Golf R estate will be at least $10k more. We should know more on its availability soon, when the R hatch dots down.
Cupra and Seat are on a growth curve here similar to that of Skoda when it first arrived back in the country in 2003, and is now an established brand. Expect a similar path for Cupra now that Formentor and the Leon pair have dotted down.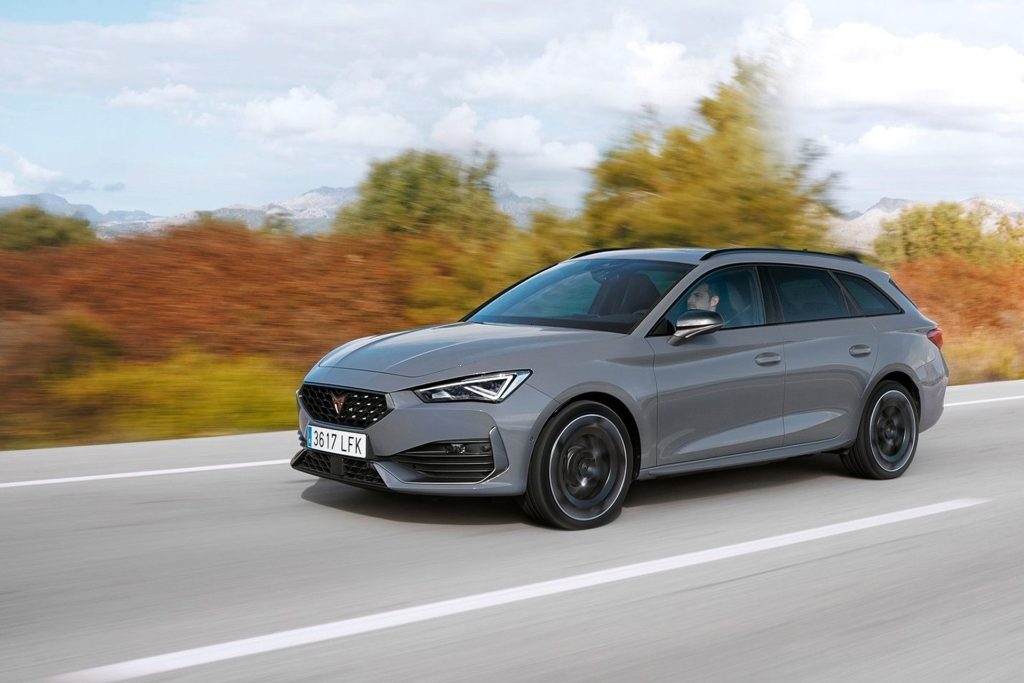 The other Leon
Also released at the same time as the Cupras, the Seat Leon lands here in FR spec wagon only, with an up-to-the-minute mild hybrid engine that makes it a mix of (quite) fast and frugal. Because of the declining trend in hatch sales, Seat Leon is now available in New Zealand as a wagon only and it has few competitors. There's just the single model, as mentioned, a well equipped FR Sportstourer variant, priced at $44,900 plus onroads. It's a new design featuring coast to coast tail lights (wraparound) and has boot space of 620-1600L, similar to that of Octavia wagon.
Powering it is a mild hybrid comprising a 1.5T 110/250kW engine mated to a belt-starter generator that allows coasting and engine off from 15km/h. It's quoted overall fuel use figure is 4.9L/100km (CO2 of 112-128g/km).
It's well kitted out with 10 airbags, adaptive cruise control, XDS electronic diff lock, a hands-free powered tailgate, keyless entry, triple-zone air conditioning, and a range of cost options. One is the $1600 Safety Assist package comprising wraparound LED ambient lighting with blind spot monitoring, auto-dipping, and exit assist. It also has a five-star ANCAP safety rating.
We drove this briefly at its launch and found it a slightly more compact, more biddable and less expensive alternative to Octavia Style. You cannot really separate them for performance, both perfectly acceptable, especially with the Sport transmission setting activated. This has fixed suspension which is well judged, keeping body movements reasonably in check while mopping up road irregularities with grace. It's quiet enough too on Turanza rubber which also gives it plenty of stick and confidence in corners. Interior space is generous and it's a good look up front, with a pair of 10-inch digital screens, one for infotainment, the other for instruments and trip information.
As to upcoming variants, there's likely an e-hybrid PHEV Sportstourer joining the Seat line-up in future, offering a combined torque figure of 350Nm. It should be capable of doing 58km on electric power alone.
Model
Cupra Leon VZ Sportstourer
Price
$65,900
Engine
1984cc, IL4, T, DI
228kW/400Nm
Drivetrain
7-speed DC, AWD
Fuel Use
7.6L/100km
C02 Output
174g/km
0-100km/h
4.70sec
Weight
1640kg