While the alpha model of the Q range is the alluring SQ8, the upgraded Q7 is still remarkably convincing.
We recently drove the SQ8 so it was of interest to jump aboard the facelifted Q7 to see how this compares. And we're thinking rather well. Neither is exactly inexpensive, and while the Q7 is fully $50k less than the top dog, in its latest guise technological updates make this more special than ever it was. And it's not like we weren't impressed when the second-generation Q7 dotted down a few years back.
With the facelift, it has moved ahead once again, though the price has also lifted by just over $10k. But when you see what's been added and why, you probably won't quibble, especially when you take the thing for a test drive. No elevated heavyweight (2300kg) should be able to do what this is capable of, and it makes the rest of the like-priced competition in the large luxury SUV class seem almost pedestrian.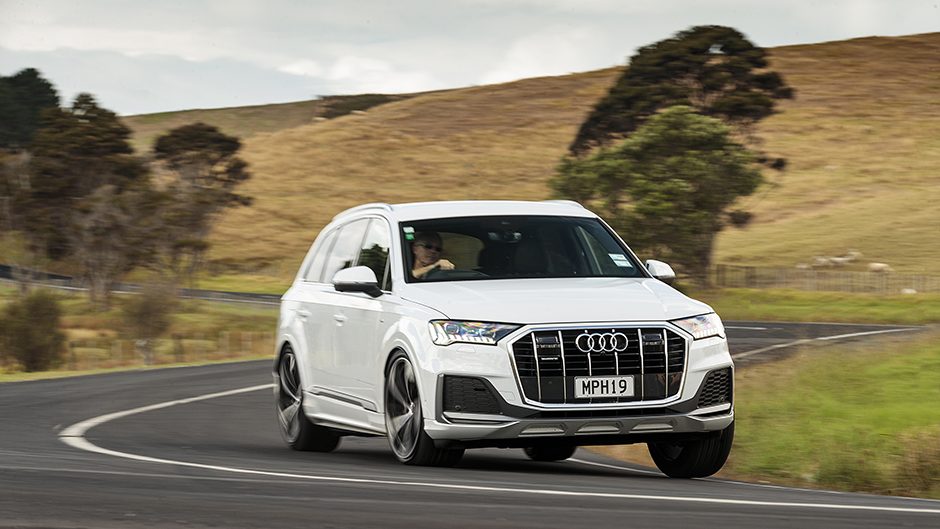 So what makes this such a step up on its forebear? A few technological additions, and these alone justify the price hike. For the Q7 now comes standard with active roll stabilisation (active roll bars by virtue of its mild hybrid 48v status), and rear-wheel steering. Those two aspects alone transform this big highrider from what was already polished to simply gleaming.
There's full air suspension so ride quality is covered off perfectly as well. Meantime the updated Q7 is also a cleaner design, both inside and out. It takes on the new family Q face comprising an eight-sided single-frame grille, while at the other end the tailgate opening, still powered by gesture control, is now bigger for easier loading. Back up front, the Q7 gets the full Monty for its headlights which feature not only LED operation but also laser lights for over half a kilometre of night vision on full beam. Inside, the MMI controls make way for a pair of haptic touch screens that oversee most everything. Once accustomed to it, you'll like it.
Other standard goodies include a colour head-up display and QI charging unit under the central arm rest. Lest we forget, in the rear, by which we mean via the fifth door, are electric controls not only for split folding of the rear seats but also unfurling of the two occasion pews from the boot floor. And when these are squirreled away, along with middle row seats,you've got a completely flat load space, good for 1925L of gear. With five seats in use, figure on 750L of space, up almost 150L on the SQ8's bay.
So what aren't you getting that the top Q model has? Primarily that burly triturbo V8 under the hood. The Q7 50 TDI makes do with a single-turbo 3.0L V6 diesel engine driving all four wheels via its quattro AWD system. It's no slouch though, despite its weight. With 210kW of peak power and 600Nm on tap from 2250-3250rpm, it's said to hit 100 in 6.3sec, a slight improvement on the 6.5sec of its forebear. And Audi is on the money; we got consistent 6.3sec runs or thereabouts, with a best of 6.15sec. Economy is rated overall at 6.8L/100km, a bit better than the V8, but out on the open road we saw low teens consistently, around 11. Stick her onto active cruise on the motorway and you will see low 7s, sometimes less. It's EU6 ready with AdBlue for low NOx running. In the garage with the engine on, you can scarcely smell it's a diesel. That's how far things have progressed.
The V8 in the SQ8 is state of the art, but this is hardly state of the Ark. Optimised in Dynamic drive select mode and with the transmission in Sport, this feels almost as much of a marauder as the big dog. An 80-120 overtake requires just 4.5sec so it never feels wanting, except perhaps at take-off where the big turbo takes a moment to get into its stride. The lag can be reduced by selecting the S for Sport transmission setting. Some will likely leave it in this most of the time, for gearing in the top few ratios is nice and tall. It's not needed around town though, and the waft from the Comfort drive select mode makes mincemeat of speed bumps and the like. Stick it in 'Auto' and you can take them at an even faster clip. As it happens, this is probably the best open road chassis setting too, just the right mix of ride compliance and body control.
As we said of the SQ8, this corners like it has no right. Only the Q7 is probably a bit better in this regard. It doesn't carry quite as much weight, down 100kg, and it's better distributed, at 53:46 front:rear. On some reference corners, this barrels through as quickly as a rear-drive sports car. Our particular tester was on 22s (add $5400). Twenties are standard though they're not as low in profile. Despite the generous 285 aspect, the Q7 is quiet riding on coarse chip, with no dB readings above 70, and the average being 68.7. So this is quite the long distance mile muncher. Feel like bringing the boat along for the ride? It comes standard with an electric swivelling trailer hitch, and can haul 3500kg braked.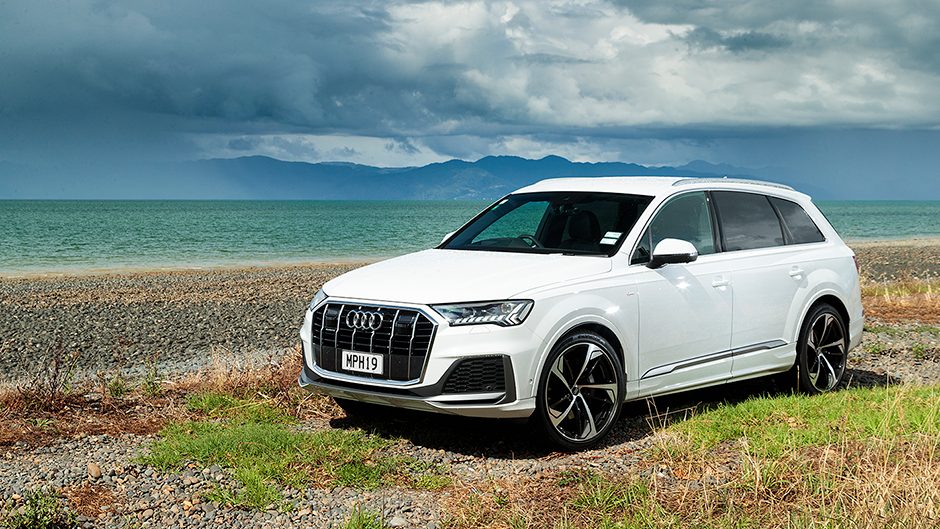 On interior practicality, even with all seven seats in use there's almost 300L of space still available. And you can mix and match luggage capacity and seating positions because the middle row is on sliders.
Standard kit is replete, right down to Isofix fittings for five child seats. However, some things are relegated to the options list like four-zone air ($2250), privacy glass ($1300), and power closing doors ($2000). More exotic cost options include ceramic brakes front and rear ($24k), night vision assistant ($6k), and B&O Advanced 3D sound ($17k).
It may not look quite as horn as the SQ7/8 but the updated Q7 is a serious piece of kit. If you don't need seven seats and want something that looks sexier, there's always the Q8 range in petrol or diesel for $152,500, both with adaptive air suspension and all-wheel steering.
| | | | |
| --- | --- | --- | --- |
| Model | Audi Q7 50 TDI | Price | $144,900 |
| Engine | 2967cc, V6, TDI, 210kW/600Nm | Drivetrain | 8-speed auto, AWD |
| Fuel Use | 6.8L/100km | C02 Output | 180g/km |
| 0-100km/h | 6.15 sec | Weight | 2313kg |