We've all seen the coupe, now it's time for the drop-top. Welcome all to the Aston Martin DB12 Volante, a 'Super Tourer' that blows wind in your hair.
If you're already familiar with its hard-roofed sibling, you'll know that the new model is essentially a re-bodied DB11 with a wider mouth up front, a new set of headlights, and a completely refreshed interior.
There really aren't any drastic changes with the Volante, considering it was developed in conjunction with the coupe, but the lack of a roof means that key structural elements like the rear suspension upper mounting points and lateral connections had to be strengthened in order to make up for the loss of torsional strength.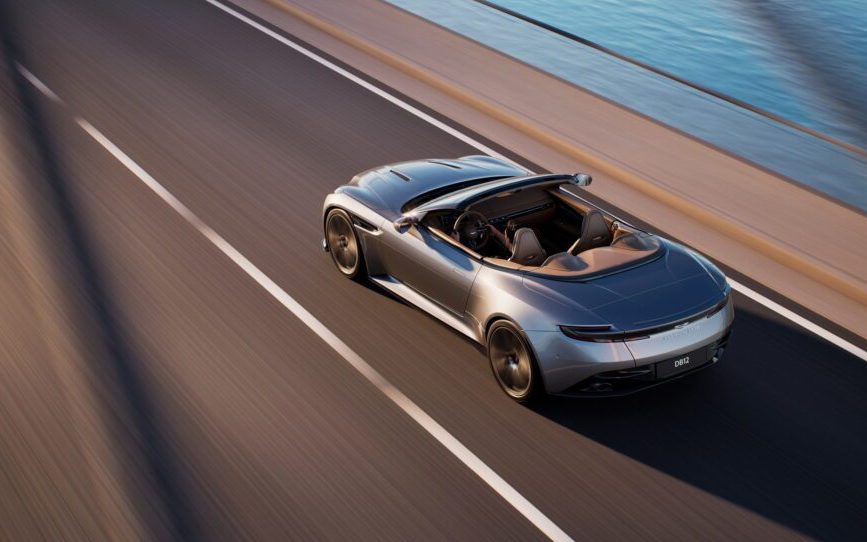 A cross brace was also fitted in the engine bay for the same purpose, alongside a host of other underbody components that mate to the car's bonded aluminium structure.
The new 'K-fold' soft top roof is operated electrically, meaning you don't have to worry about frantically trying to piece it back together in the event of a freak rain shower. It takes 14 seconds to open and 16 to close, and can be used at speeds of up to 50km/h before the car tells you off.
Another trick up the Volante's sleeve is the remote operation of the folding roof via the car's key, so long as you're within two metres of it.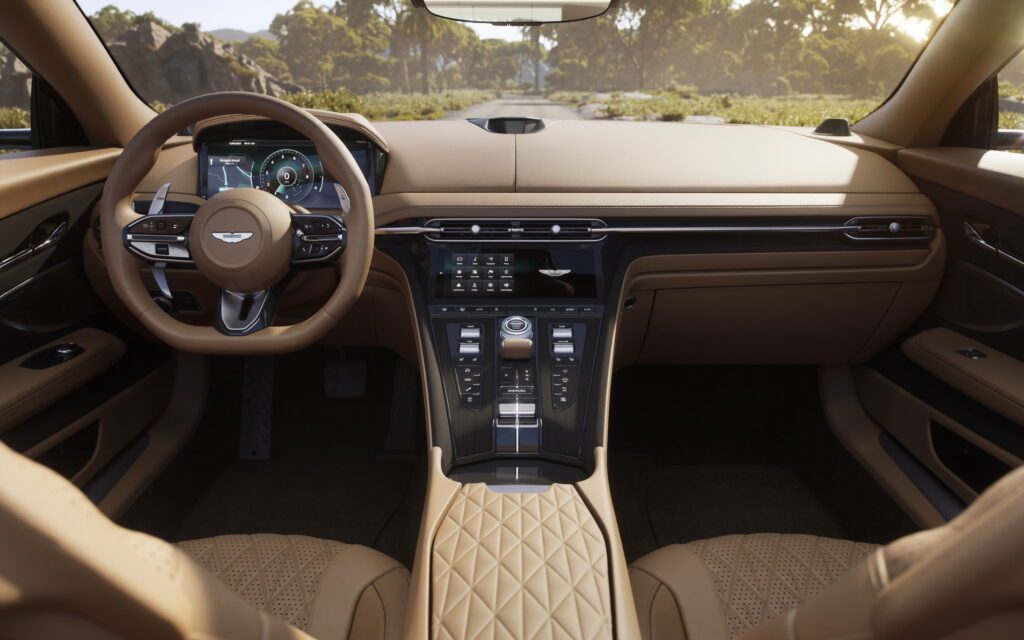 Once lowered, you'll be greeted with a few new interior features that can't be found on the coupe, including wood veneer or carbon fibre seatback panels that are matched to the door trim inlays.
Also inside is a fully digital gauge cluster running Aston's new software, as well as a 10.25-inch touchscreen that supports wireless Apple CarPlay and Android Auto connectivity and an 11-speaker Bowers & Wilkins surround sound system.
The engine bay holds a familiar sight, with the Mercedes-AMG-derived 4.0-litre twin-turbocharged V8 making an appearance alongside an eight-speed ZF automatic transmission. Power and torque come to 500kW and 800Nm respectively, enough to see the convertible accelerate from 0 to 100km/h in 3.7 seconds and reach a top speed of 325km/h.
Production of the new Aston Martin DB12 Volante is set to begin in the coming months, with customer deliveries expected by the end of this year. Before then, the drop-top 'Super Tourer' will make its public debut at The Quail: A Motorsports Gathering in Monterey, United States, this coming weekend.
New Zealand deliveries of the DB12 coupe will commence by the end of 2023, but nothing has been said about the local availability of the Volante just yet.