Just one day after Mazda unveiled its new CX-50, the Japanese marque's next SUV has also been unveiled to the world … albeit in a less formal manner.
Video of Mazda's new CX-60 has been published online via spy imagery taken while the model was on a commercial video shoot, courtesy of Japanese YouTube channel CSK Review. The CX-60 notably features no camouflage, giving us a very clear view of what the model will look like.
Unlike the rugged-looking CX-50, the CX-60 looks more like a conventional entry to Mazda's crossover line-up. It features all the hallmarks of Mazda's 'Kodo' design language, with a bodykit that evokes certain Remuera tractor vibes.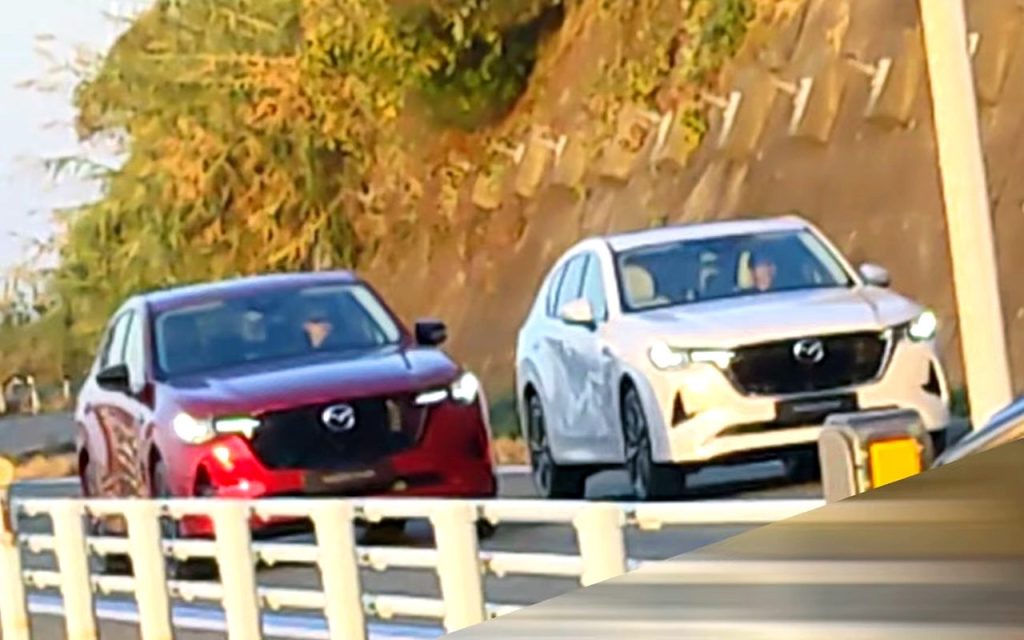 The images show a second CX-60 in Mazda's signature Soul Red hue. It swaps the chrome bezel and highlights for piano black, perhaps indicating some form of sportier variant. Although it's unlikely to be hiding any extra mumbo under the bonnet.
Speaking of, the CX-60 is likely to come with Mazda's familiar 2.5-litre four-cylinder petrol in naturally aspirated and turbocharged formats. It's also tipped that the CX-60 could be one of the first models to come with Mazda's new mild-hybrid inline six engine.
There's no interior images to be seen, although one suspects it'd look similar inside to the CX-50. Of note, Mazda have already confirmed that the CX-60 will be a two-row, five-seater wagon, and not a seven seater.
The big thing here, though, is that unlike yesterday's CX-50 the CX-60 is a model destined for the New Zealand market.
Earlier this year Mazda's local arm confirmed that it would be adding the CX-60, CX-70, CX-80, and CX-90 to its repertoire over the coming years. The CX-60 is the only five seater of the bunch, with the remainder all boasting three-row seating. 
"The European market, where electrification is already in-full-swing, will primarily see the introduction of plug-in hybrid models with straight-four gasoline engines combined with a motor drive," said Mazda during its grand SUV announcement earlier this year.
"The straight-six new generation Skyactiv-X gasoline engine and Skyactiv-D diesel engine will also be introduced in combination with a 48V mild hybrid system. The aim being to achieve both high output and high environmental performance."