Let's be honest, the last time you saw a compact van such as the Volkswagen Caddy Runner whizzing past you, it more than likely was a delivery vehicle for a boutique coffee brand, a fashion house, or a printing company.
The new compact van market is a hugely niche segment in the New Zealand market and is currently dominated by European players, namely Volkswagen, Peugeot, and Renault.
Let's be honest, the last time you saw a compact van whizzing past you in the city, it more than likely was a delivery vehicle for a boutique coffee brand, a fashion house, or a printing company.
New Zealand Post saw the demise of it's beloved compact Holden Combo van in 2013, and the lack of electronic stability programme (ESP) saw the boxy-looking Suzuki APV shuffle off the market at the end of 2015 leaving the Europeans an opportunity fill the gap.
For the 2017 model year Volkswagen Commercial Vehicles New Zealand introduced a new entry level Caddy variant known as the Runner with a 62 kW 1.2-litre turbocharged petrol engine and five-speed manual transmission priced from $29,990.
The 1.2-litre Runner offers a competitive entry price-point into the four model Caddy family, it's higher priced siblings the Caddy Van, the Caddy Maxi Van, and the Caddy Crew Van offer a more powerful 92 kW 1.4-litre turbocharged petrol engine. Both of these petrol engines are Euro 6 compliant, and the 1.4-litre models offer a six-speed manual or seven-speed automatic transmission.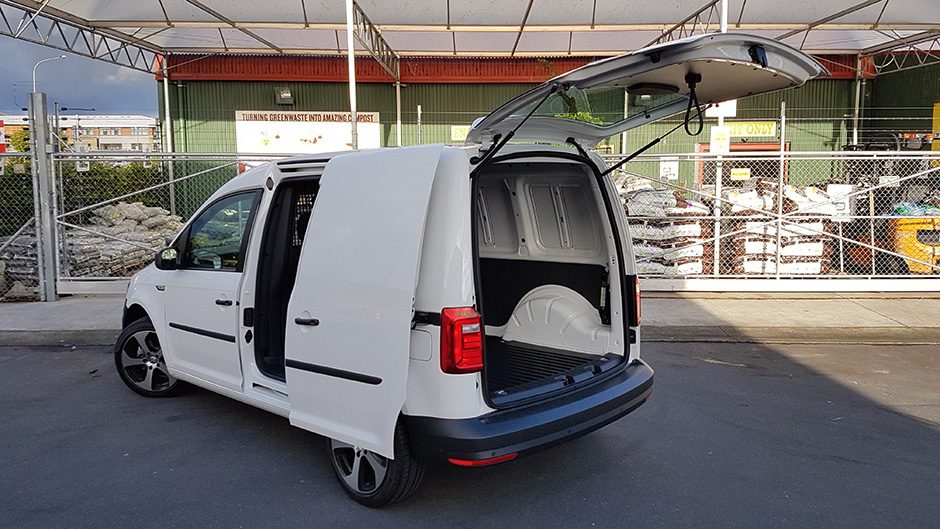 Built in Poland the Caddy Runner has a 3.2 cubic metre capacity while it's bigger sibling the Caddy Maxi Van offers a 4.2 cubic metre capacity. It sits on an older VW Group platform related to the Golf V and Touran MPV which provides car-like handling and comfort levels as well as a decent cargo capacity.
Bluetooth telephony in the Caddy Runner is now controlled by buttons on the leather wrapped multifunction steering wheel, and there is also a USB power outlet integrated into the radio head unit to charge cellphones and other electronic devices.
There are four beverage holders in the centre console and the driver's seat has height adjustability, while the steering wheel can also be adjusted for reach and rake, allowing driver's of all shapes and sizes to be comfortable while on the run.
The Caddy Runner has all the necessary basics for a tool of trade delivery vehicle such as daytime running lights, hill start assist, Electronic Stability Programme, front airbags for the driver and passenger, central locking, manual air-conditioning, rear park distance control acoustic sensors, power windows and electrically adjustable and heated exterior side mirrors.
Both the cabin and the rear compartment offer a hard wearing and easily cleaning rubber floor.
Trailer hitch preparation is standard, there are six lashing eyes in the rear compartment floor, and there's a full bulkhead partition for the Caddy Runner which offers a payload up to 730 kg and a towing capacity of 1400 kg with a braked trailer or 650 kg without brakes.
Should buyers want more features such as side and curtain airbags, anti theft alarm, forward collision alert with city emergency braking, cruise control, seats with lumbar support, rear view camera system, and a sliding right hand side door, these items are all available as additional cost options.
Our test vehicle was shod with the 17-inch Canyon black diamond turned surface alloy rims shod with Pirelli tyres for a not unreasonable $1800.
Volkswagen counts Noel Leeming, The Order of Saint John, IHC and Driving Miss Daisy amongst its corporate fleet customers, but there are many more individual business customers running around in the Caddy.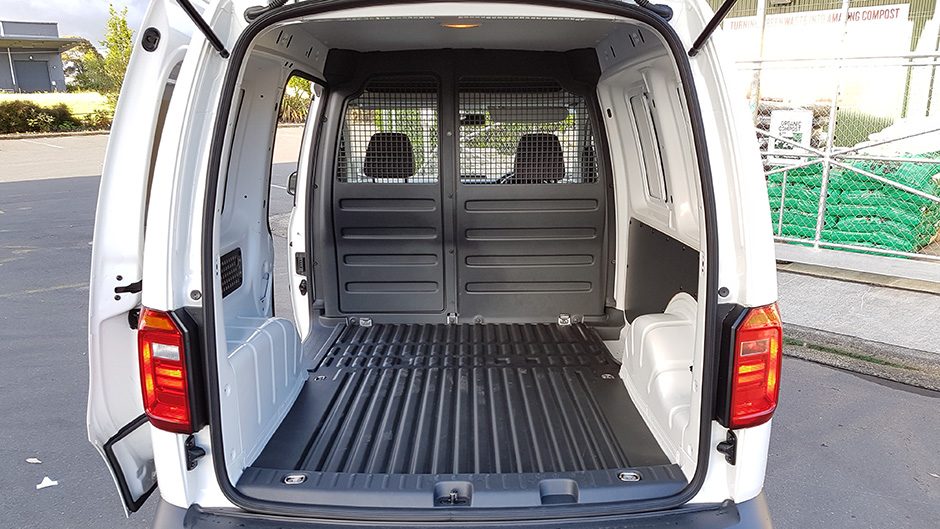 Cleaning companies, lift and elevator service companies, electricians, plumbers, builders, laboratories, and parcel delivery companies are also potential buyers for the Caddy Runner.
The sales split between the short wheelbase Caddy Van/Runner and the long wheelbase Maxi Van/Crew Van runs about 70:30 depending on customer requirements according to Volkswagen Commercial Vehicles.
The petrol only Caddy family enjoys about 60% market share in the small van segment and its direct competitors are the one-size-fits-all Peugeot Partner, and the Renault Kangoo family.
Peugeot continues to offer the Partner solely with a 1.6-litre turbo diesel engine and five-speed manual transmission, while Renault offers the compact Kangoo van with a 1.2-litre turbocharged petrol engine with a six-speed automatic or the long wheelbase Kangoo Maxi as a full Electric Vehicle EV or with a 1.5-litre turbo diesel engine with a six-speed automatic.
As a daily driver the Caddy Runner is a very pleasant working companion, the 1.2-litre engine has more than enough grunt to keep up with city and motorway traffic thanks to the slick shifting manual gearbox.
The steering feel and overall handling of the Caddy Runner, not surprisingly feels Golf-like, but the suspension is tuned for carrying weight rather than outright performance and when unladen the ride can feel a bit stiff, especially over speed bumps and the like.
The one caveat of the Caddy Runner, and this applies to other panel vans as well, is that there is a greater blind spot for the driver to be mindful of, particularly when reversing out of an angled on street car park, or in a parking building. Changing lanes on the motorway also calls for greater care and attention.
Overall, thanks to the competitive buy price and the excellent fuel consumption, not to mention no hassle paying for road user charges as it's a petrol not a diesel, the Caddy Runner offers fleets a work ready workhorse that's fun to drive and frugal to run.
| | | | |
| --- | --- | --- | --- |
| Model | Volkswagen Caddy Runner | Price | $29,990 |
| Engine | 1197cc, 4-Cylinder, 62kW/160Nm | Drivetrain | 5-speed manual |
| Fuel Use | 5.5L/100km | C02 Output | 0g/km |
| 0-100km/h | 0.00 sec | Weight | 1272kg kerb weight |
| Service | 10,000km intervals, 3 year / 100,000km warranty | Load | 3.2m3 volume, 1779m length, 1244m height |
| Vitals | 2034kg GVM, 730kg payload | Vitals | 1400kg towing capacity |