The minimum accessory spend on a brand new Ute at a dealership is around $2500 to $3000 for a tow bar, a deck liner, monsoon shields, and maybe tinted windows.
However, there are new light commercial buyers who want to go all out and create a vehicle that is uniquely theirs, and manufacturers such as Isuzu Ute now offer a catalogue of factory-backed genuine accessories which allows them to do so.
The Military Green D-Max LS 4×4 manual on test here was created by Isuzu Ute New Zealand as display vehicle for the National Agricultural Fieldays at the Mystery Creek events centre in Hamilton in June, and it was also recently seen at the Equidays event.
Transforming the D-Max from a completely standard Black LS 4×4 double cab manual to the "Duck Truck," as it was nicknamed, added $19,246 (including GST) to the vehicle's list price of $56,990, making a total on the road price of $76,236.
Wrapping the Duck Truck in a matte military green finish was priced at $3,599.50, the black front bull bar cost $3,910, and the four 20-inch XD Monster wheel rims fitted with Nexen Rodian 265/50 all-terrain tyres were $4237.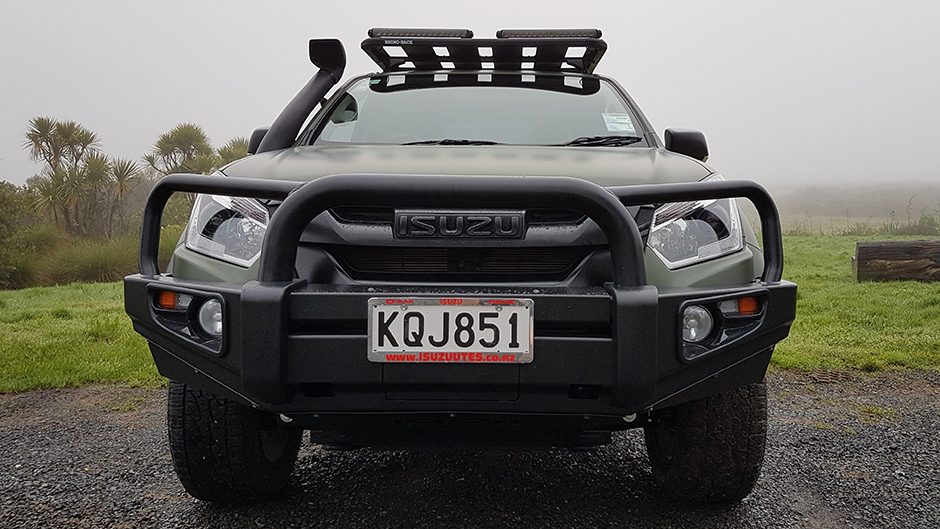 No practical four-wheel-drive workhorse is complete without a tow bar ($1426), a factory snorkel ($1207), a deck liner ($574), and the all important deep dish rubber mats ($132).
Aesthetic details included the black badging set ($138) and the black painted grille, fog lamp surrounds, and mirrors ($603), while the Pioneer platform ($1555) was complemented by two Hella 470 light bars ($1017).
Being a Japanese manufacturer, Isuzu Ute is constantly making improvements to the D-Max range of pickups and the MU-X SUV, and more often than not the local distributor doesn't find out until the vehicles arrive in country.
More than a year ago Isuzu Ute added more specification to the D-Max LS double cab including a Shark Fin antenna, a touch screen with reversing camera, and there was an upgrade to 8-speakers from the previous six-speaker setup, as well as new and different fabric for the seat upholstery.
The LS specification also provides Bluetooth, cruise control; leather wrapped steering wheel, ABS, ESC, keyless entry, and a surround sound stereo, as well as projector headlamps with daytime running light.
The tailgate of the D-Max received a distinctive swage line running across the top of it, as well as a new locking function, and an integrated reversing camera lens within the tailgate handle.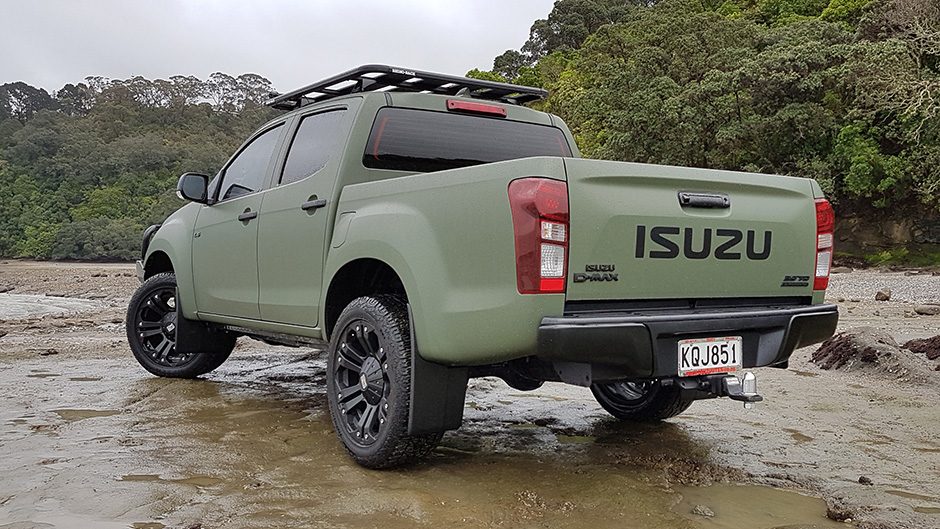 In March 2017 a newer and mildly facelifted D-Max arrived in the form of the RT87 series with restyled headlamps and front grille, an improved Euro 5 compliant engine as well as improved specification
The biggest running change was under the bonnet and installing more noise insulation material into the cabin was also part of the RT 87 series upgrade for all double cab D-Max models.
The Isuzu 4JJ1 series 3-litre turbocharged inline four-cylinder engine became Euro 5 compliant, running both exhaust gas recirculation (EGR) as well as a diesel particulate diffuser (DPD) in the exhaust system, which traps particulates and converts nitrous oxides to carbon dioxides and water.
To gain the Euro 5 compliance, Isuzu changed the fuel injectors, altered the design of the pistons and the injection cycle, and added the DPD unit into the exhaust system.
These changes torque increase from 380Nm at 1800rpm, to 430 Nm at 2000rpm, and for better response and economy both the manual and automatic gearboxes now have six forward gears rather than the five found in the predecessor vehicle.
All high-riding 4×2 and 4×4 D-Max models now offer a braked towing capacity of 3500kg.
Hill descent control also became a standard feature across the entire D-Max range and the LS received a new Panasonic 8-inch touchscreen head unit with built-in GPS navigation and a USB power outlet for passengers in the rear seats.
Inside the cabin the rear seat squabs flip up to allow storage of bulky items such as toolboxes or portable devices that owners wouldn't necessarily want to store in the tray.
On the road the 2017 RT87 series D-Max LS is noticeably quieter and noticeably more responsive than its predecessor, however the addition of the Pioneer platform above the Duck Truck's passenger cabin did add a lot more wind noise at motorway speed.
This particular truck will absolutely appeal to an audience that wants a comfortable workhorse which isn't afraid to get its boots dirty.