Volkswagen Commercial Vehicles (VWCNZ) clearly has the entry level Toyota Hiace and Hyundai iLoad models in its gunsights and has specified the Transporter Runner to offer the market a competitive price point in addition to German built quality and safety.
Just like the Caddy Runner, the new short wheelbase Transporter Runner has a more basic specification and does without items such as side window glazing, a security alarm, cruise control, a bench seat for two passengers, and alloy wheels, although such rims were fitted to the vehicle on review as an optional extra.
The Runner is priced at $39,990, some $12,000 less than the standard Transporter model at $51,990. By comparison the entry level six-speed manual Hyundai iLoad retails from $39,990 and the five-speed manual Toyota Hiace van is priced from $43,190.
It must be noted that both of these competitor vehicles come with side window glazing as standard, where as the Runner is solely offered as a panel van.
The most significant difference between the Runner and it's pricier Transporter siblings is a detuned 2-litre turbodiesel engine producing 75kW of engine power and 250 Newton metres of torque, as well as a five-speed manual transmission instead of a six-speed version.
VWCNZ also offer a 103kW and 340 Newton metre version of the 2-litre turbodiesel as well as 132kW and 400 Newton metre version for the Transporter range with the choice of manual or DSG transmission as well as the option of all-wheel-drive if required.
Dual side sliding doors and a lift up glazed tailgate, rather than dual opening rear barn doors, are standard on the Transporter Runner.
We noticed the dual side sliding doors do require a reasonable amount of force for them to close and latch securely.
Inside the cabin of the Transporter Runner there is a single seat for the driver and passenger, and it also does without a full bulkhead, allowing easy walk through access into the rear compartment.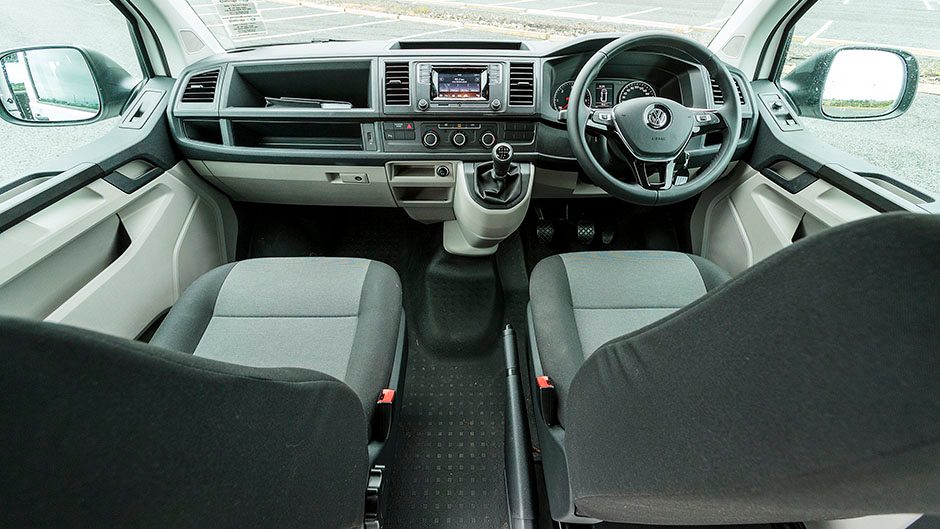 However, if a two person bench seat, and a bulkhead is required for delivery or other work duties these can both be optioned at the additional cost of $500 and $700.
The Runner is equipped with a 5-inch touch screen for the media centre rather than the larger 6.33-inch screen found in the more expensive Transporter models.
It provides an auxiliary and USB port for charging as well as Bluetooth audio and telephony functions.
A leather wrapped multifunction steering wheel with radio and cellphone controls as well as adjustment for height and reach is standard fit in the Runner too, as well as electric front windows and electrically adjustable and heated side mirrors.
The semi-automatic air-conditioning system does a decent job of clearing a misty windscreen quickly when the vehicle has been parked outside overnight.
Thankfully there is a standard fit reversing camera, but you have to swipe the touchscreen with a finger to clear the gridline overlay to get a clearer view of what is behind you. This issue is just a bit unnecessarily fiddly, especially when in a hurry.
Standard safety features include electronic stability control, multi-collision braking, daytime running lights, while side airbags if absolutely desired are a $750 option.
The Runner arrives with trailer hitch preparation as standard and braked towing capacity is 2200 kg rather than the 2500 kg capacity enjoyed by its siblings with more powerful engines.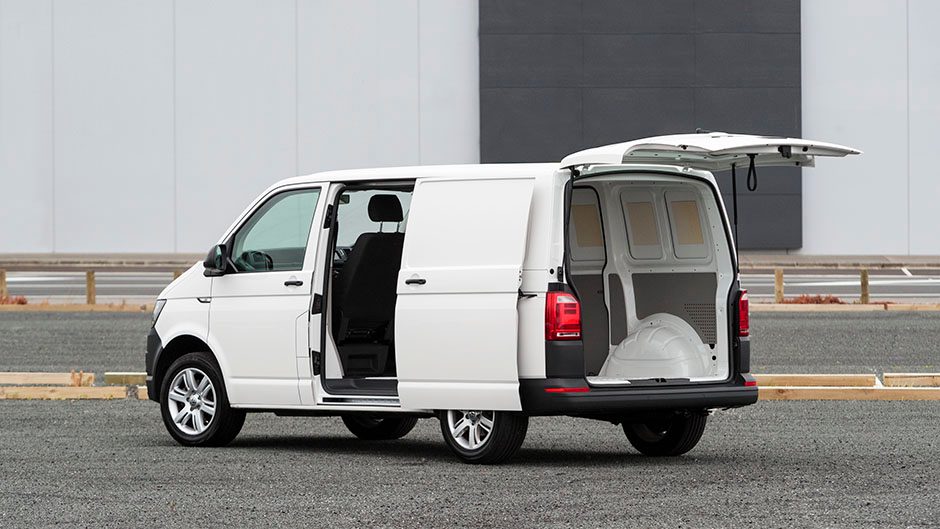 Payload capacity in the Runner is 1045 kg, and there is 5.8 cubic metres of cargo space, competitive with the 6 cubic metres offered by the Hiace, while the iLoad offers just 4.4 cubic metres.
For those buyers wanting more payload capacity, VW offers an $2800 optional suspension package that increases payload by 400kg thanks to harder springs and shocks allowing for a 3200 kg gross vehicle mass.
Despite having a less powerful engine, and one less forward gear than its sibling Transporter models, the Runner is still great fun to drive in the urban environment and there's more than enough grunt to create a bit of front wheelspin under acceleration on wet roads.
Around the city, it is more than agile enough to keep up with other traffic and thanks to a tight turning circle and a very responsive steering feel, it is very easily maneuvered in and out of tight spaces and car parking buildings.
For urban work the five-speed gearbox is perfectly acceptable thanks to a good choice of gear ratios, though on longer motorway runs a six-speed would offer better fuel consumption and maybe a slightly quieter drive, but the Runner's levels of noise, vibration, and harshness are more than acceptable.
Despite the lack of side glazing the Runner has excellent levels of visibility, and thanks to the front parking sensors the driver knows exactly how much space there is available in beyond the front bumper when parking.
Combined fuel consumption is quoted at 7.4L/100km and we managed to better this with an overall figure of 7L/100km, while oil service intervals of up to 40,000km or two years means the Runner spends more time earning and less time in the maintenance workshop.
Overall in comparison to the Toyota and the Hyundai, the Runner is a compelling offer for people who don't get carried away by a long list of optional extras and want a no-frills workhorse offering comfort, safety, European design, excellent driving dynamics and very competitive price tag.
| | | | |
| --- | --- | --- | --- |
| Model | Volkswagen Transporter Runner | Price | $41,990 |
| Engine | 1968cc, 4-Cylinder, 75kW/250Nm | Drivetrain | 5-speed manual |
| Fuel Use | 7.4L/100km | C02 Output | 0g/km |
| 0-100km/h | 0.00 sec | Weight | 0000kg |
| Service | 40,000km intervals, 3 year / 100,000km warranty | Load | 5.8m3 volume, 2572m length, 1410m height |
| Vitals | 2800kg GVM, 1045kg payload | Vitals | 2200kg towing capacity |