Commercial vehicles such as the Isuzu NLR 250 tipper which can be driven on a car licence are becoming more popular as the local building boom continues.
Competitive tension in the new commercial vehicle marketplace is no bad thing, and market leader Isuzu Trucks has seen its share of the new light-duty truck segment (3500kg to 9000kg GVM) segment drop this year thanks to a resurgent Fuso Trucks brand offering built-to-go tipper product at sharp price points.
At the end of September 2017, Isuzu was sitting on 355 registrations of light-duty trucks, following behind Fuso on 420 units, but the company remains the market leader in medium-duty and heavy-duty truck registrations.
But the light-duty truck market has grown from a total of 1293 units year to date in September 2016 to 1672 in September 2017, and this is reflective of several economic and environmental factors.
Business confidence mixed in with increased housing and infrastructure developments as well as greater and more stringent requirements for health and safety in the workplace, have seen a greater demand for new light-duty trucks which have a greater and better capacity for payload and towing than many light commercial utes.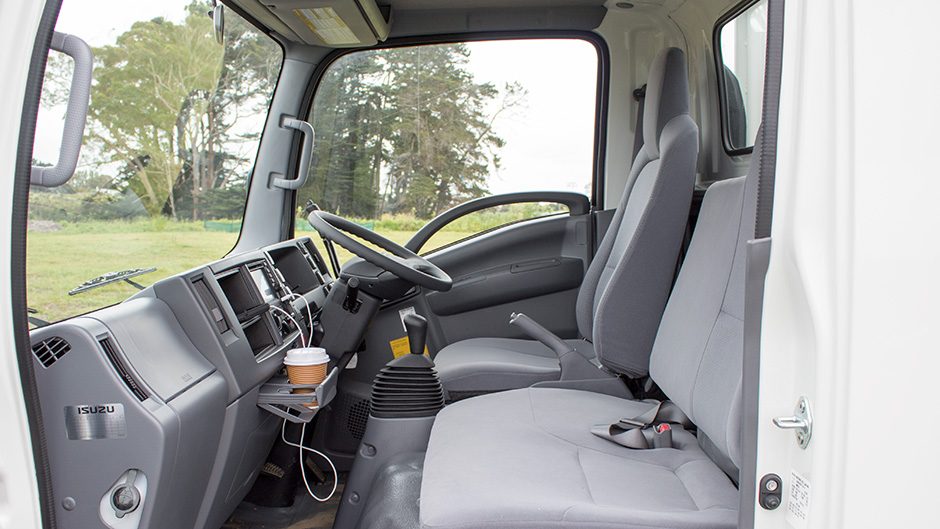 The Isuzu NLR 250 Tipper ticks many boxes for corporate fleets as well as private buyers due to it's compact size and that it may be driven on a class one driver's licence, and that it comes from the factory fully kitted out and work-ready.
Built for a long working life as well as compliance with the ECE-R29 crash test requirements, the NLR 250 cab is an all-steel construction which also see high tensile steel used on the cabs underframe with side impact beam reinforcement for the doors.
The NLR 250 has distinctively shaped halogen multi-reflector headlamps with integrated indicator signals as well as additional turning signals mounted on the front doors, and the front bumper is made from polycarbonate mounted to a steel frame.
Both doors have a wide 70 degree opening with heavy duty non slip steps to make entry and exit safer, particularly when the driver has muddy boots on.
There's no need to worry about wearing dirty footwear inside the cabin, thanks to to the heavy duty vinyl floor covering.
Driver safety and comfort is critical in a working vehicle and the NLR 250 Tipper comes equipped with driver's seat that offers mechanical suspension rated to 130kg, and the steering column is also adjustable for height and reach, with a soft-feel urethane steering wheel.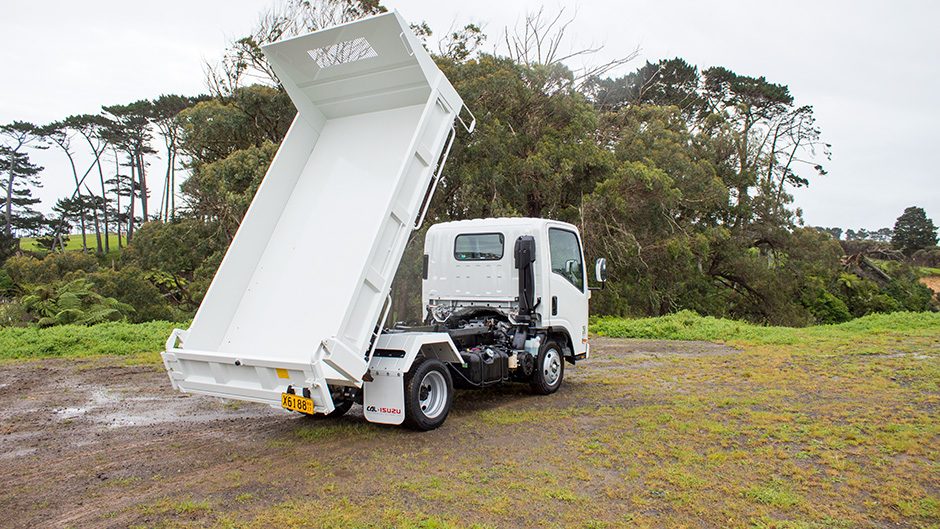 While the driver and the outboard passenger both receive three-point seat belts, the centre seat only comes with a lap belt.
There are SRS airbags provided for the driver and passenger and the driver's seat belt also receives a pretensioner device as well.
A reversing buzzer is standard and activates the moment reverse gear is selected.
We found the cab was well set up as a mobile office with overhead storage shelves above both the passenger and driver's seat, as well as twin cup-holders, storage pockets in the doors, and there are five DIN sized compartments for additional communication devices if needed.
The NLR 250 is supplied with a standard fit 6.2-inch colour touch screen that provides all media functions as well as bluetooth, voice dialling, and text to speech functions. It also provides a USB power outlet, while GPS navigation as well as external camera with up to a four-way screen are optionally available with this head unit.
We also liked the enormous fluorescent interior light that provided great illumination on a dull grey day.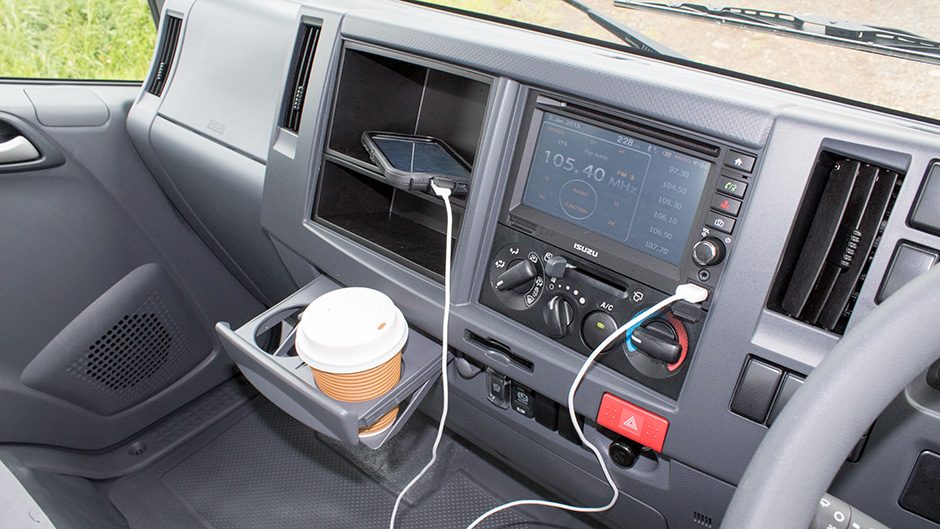 Underneath the cab lies the trusty Isuzu 4JJ1 – TCS 3-litre four-cylinder turbocharged diesel engine which is Euro V compliant thanks to cooled exhaust gas recirculation (EGR) system and a diesel particulate diffuser, which can be manually regenerated if need be by a switch in the cab.
The evergreen high-compression direct-injection common rail 4JJ1 engine offers 110kW of power and 375 Nm of torque because it has an electronically controlled variable nozzle turbocharger with an air to air intercooler, you can spot the vertical air intake mounted behind the cab.
Our test vehicle arrived with the five-speed manual transmission but a six-speed AMT with full automatic and sequential modes is also available for NLR 250 buyers.
In the manual NLR 250, first gear is found on a dogleg down to the left, with reverse directly above it.
In reality, first gear is only really needed when the tipper is fully laden or when taking off a very steep incline, in normal use, second gear will suffice for getting away from standstill.
The NLR has an independent coil-sprung front suspension with stabiliser bar, while the rear suspension is a traditional taper leaf spring set, and there are double-acting shock absorbers on both the front and rear suspensions.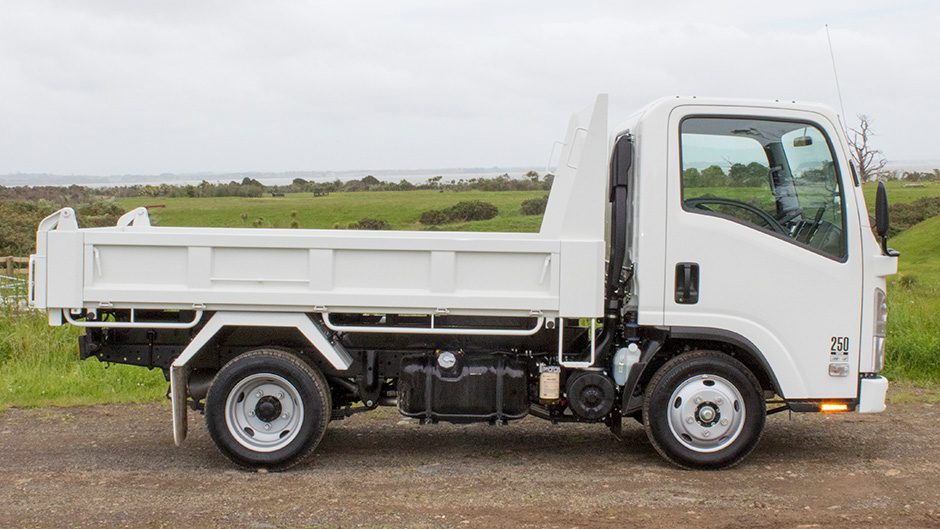 There are automatically adjusting front disc brakes on the front axle of the NLR 250 while the rear axle boasts vacuum-assisted drum-style brakes with hydraulic dual circuit control, and electronic brake distribution (EBD).
Our manual test vehicle was also equipped with the hill start aid as well as anti-lock braking (ABS) and anti skid reduction (ASR) also known as electronic traction control.
Isuzu Trucks quotes a gross vehicle mass of 5,500kg for the manual NLR 250 Tipper and a gross combined mass of 9,000kg, which equates to a 3500kg payload.
The tipper body with an auto release tailgate on the NLR 250 is also constructed entirely from steel with a 3mm thick deck plate, while the rest of the body including the drop sides are 2.3mm thick.
It also has an auto release body lock-down hook, a shovel rack, rope rails, and non-slip side steps for greater convenience and safety.
Isuzu Trucks reckons the tipper takes 20 seconds to lift and lower and the bin has a two cubic metre volume. Operating the tipper unit is quick and simple, pull the lever back towards you to raise the bin upwards to unload, and then push back to lower and lock back into place.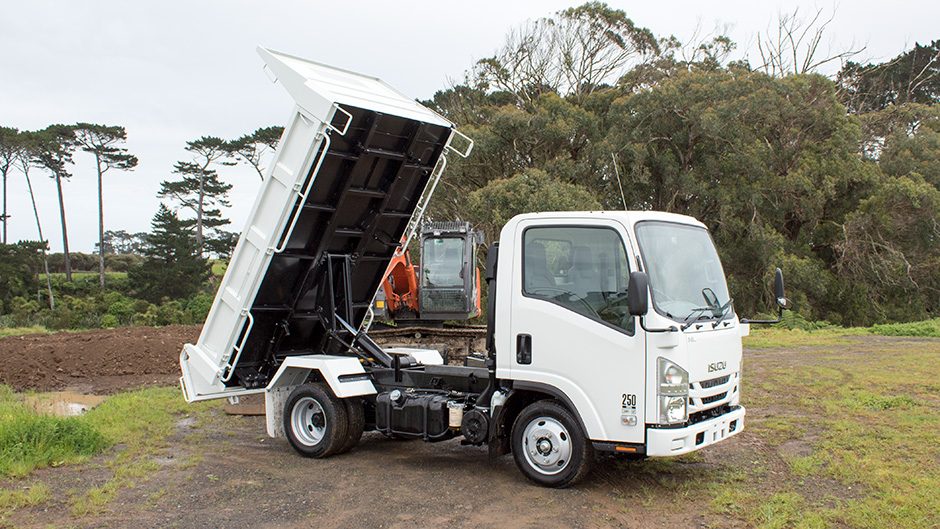 The test vehicle supplied by Isuzu Trucks New Zealand was brand spanking new with minimal km on the clock which meant the diesel engine was still factory fresh, and hadn't yet developed all of its horsepower but it still had the gruff turbo diesel rumble that the venerable 4JJ1 provides.
The NLR 250 was still easy to jump into and drive off with minimal fuss, and because there was no load on board we didn't use the exhaust brake which is activated by the left hand combination stalk that also operates the windscreen wipers and washer.
Despite being set up to carry heavy loads, the unladen ride quality was better than expected, the truck only felt a bit stiff and harsh when encountering some road corrugations and larger than normal potholes.
On the motorway it sits mostly happily at 90km/h in fifth gear at 2330 rpm, and around town you only need to use second, third, and fourth gear at low urban speeds.
The gearshift was a bit notchy as would be expected of such a new vehicle and the brakes were also a bit sharp to the touch, but overall thanks to its compact dimensions and lusty powertrain the NLR 250 tipper is a great working vehicle that has loads of character and is fun to drive.
| | | | |
| --- | --- | --- | --- |
| Model | Isuzu NLR250 Tipper | Price | $41,990 |
| Engine | 2999cc, 4-Cylinder, 110kW/375Nm | Drivetrain | 5-speed manual |
| Fuel Use | 0L/100km | C02 Output | 0g/km |
| 0-100km/h | 0.00 sec | Weight | 2645kg kerb weight |
| Service | 10,000km intervals, 3 year / 100,000km warranty | Load | |
| Vitals | 5500kg GVM, 3500kg payload | Vitals | 3500kg towing capacity |