Renault New Zealand is targeting new markets with its Renault Master 4×4 double-cab truck which offers softer off-road ability and seating for up to seven people.
The first Master 4×4 off-road transporter touched down just in time for the National Agricultural Fieldays at the Mystery Creek Events centre in mid-June, and created a great deal of interest on the Renault New Zealand stand.
In Europe, Renault is the commercial market leader and the local distributor wants to replicate that success here by dipping into the catalogue of products on offer from the factory which it believes will suit local needs and applications.
The Master 4×4 has an interesting back story, it started life as a rear-wheel drive L4H1 cab/chassis with a six-speed manual transmission, but was then sent by the Renault factory to Oberaigner Automotive in Germany to have the on demand all-wheel-system installed.
A Group Renault certified-partner, Oberaigner Automotive is a specialist engineering company which provides the all-wheel-drive system for the Master cab/chassis variants but only those with rear-wheel-drive and six-speed manual transmissions.
Because the installation of the four-wheel-drive system and low ratio transfer case is carried out by a factory approved and certified partner, the full three year 100,000km Renault warranty is upheld for the Master 4×4, including the full componentry of the all-wheel-drive system.
The Master 4×4 also retains the standard factory-fitted rear differential lock, but the chassis is raised by 65mm for greater ground clearance when off the beaten track.
Least potential fleet and commercial buyers get the wrong idea, the Master 4×4 is durably built and well specified for hard work but it is not a bush-bashing tough-truck, but rather one that offers additional traction when faced with slippery surfaces and slightly rugged terrain.
According to Oberaigner the Master 4×4 is not suitable for heavy off-road use, instead it says the all-wheel-drive system is intended for short-term use on unpaved surfaces such as mud and grass or where the vehicle is being driven through ice and snow.
Oberaigner says the Master 4×4 is designed primarily for use on building sites, road construction and dirt/grass/gravel roads or wherever more traction is needed that is beyond the ability of the Eaton rear differential lock.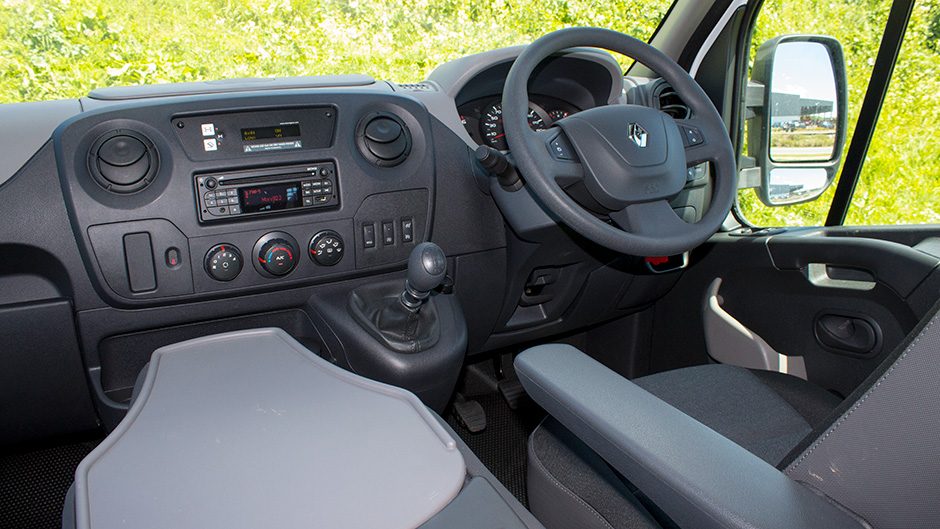 It is the local body sector (think parks and recreation!) as well as the construction and infrastructure fleet vehicle markets that Renault New Zealand was eyeing up when it saw the specifications and ability provided by the Master 4×4.
Our test vehicle offers some impressive numbers, particularly the ability to seat up to seven people in comfort with three-point seat belts all around.
The Master 4×4 has a 4322 mm wheelbase chassis, a GVM rating of 4.5 tonne, the payload capacity is more than two tonnes and it has a braked towing capability of three tonnes.
When fully laden with cargo and occupants, Oberaigner says the Master 4×4 can ford through 300mm of water but a very slow pace of no more than 10km/h.
It's not a small beast at almost seven metres in length and 2.5 metres in width, including the side-mounted rear-view mirrors, and while it feels like a truck when you leap into the driver's seat the Master 4×4 is a comfortable work day companion.
As workplace it's designed to be a mobile office, and one of the best features is the front passenger bench for two people features a fold down centre seat, with an integrated table that is perfectly sized for a using a laptop or eating lunch.
There are overhead storage shelves for books and papers, as well as cupholders and bottle holders in the side door pockets but more importantly there is also 90 litres of storage space underneath the seats which is useful for hiding valuables out of sight when the vehicle is unattended.
Bluetooth telephony is available through the Audio system with a remote controller found to the right of the steering column.
It's also nice to drive too.
The dashboard mounted manual gear stick offers nice short throws between the gears, and there's a lift up collar to engage reverse. The Master offers a light clutch and the brake pedal offers the right amount of feel and response, even if the driver is shod with heavy work boots.
Underneath the bonnet is a 120kw / 360Nm twin-turbocharged version of Renault's 2.3-litre inline four-cylinder diesel engine which is also used in the Nissan Navara, and the forthcoming Renault Alaskan and Mercedes-Benz X-Class double cab pick ups.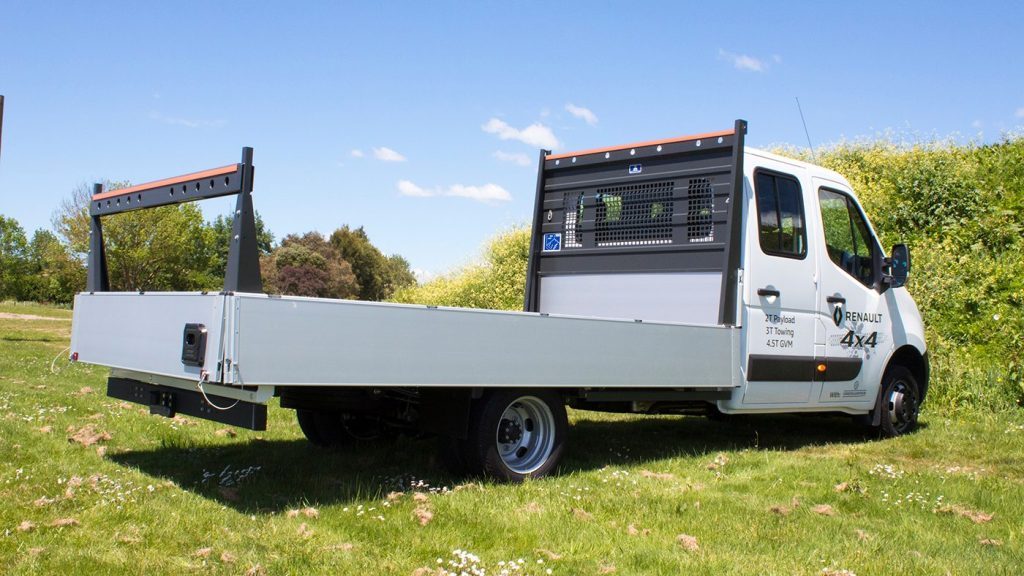 The Master 4×4 demonstrator vehicle is currently stationed at Renault dealership in Hamilton, so we took it for a tiki tour around the back of Te Rapa which is currently undergoing a massive industrial redevelopment.
On road the Master offers responsive steering, a very comfortable unladen ride quality, and lithe handling which beggars belief given the size of the vehicle and its capacity for payload and towing.
It's also perfectly capable off the tarmac as well, although it's a mountain goat, the Master 4×4 will cope with soft and wet ground, and easily drives into and out of places fully laden which a 4×2 vehicle would struggle to reach.
Engaging the 4×4 system takes a press off a button, but the transmission needs to be placed in neutral first because this is not a shift on the fly system.
Press the 4×4 button first and then secondly, the low range button and the systems engage in milliseconds.
To disengage, reverse the process and the Master 4×4 reverts back to rear-wheel drive instantly thanks to the on-demand electronic engagement system.
While it wasn't raining on the day of the photoshoot we still needed to use the 4×4 system to cross some dodgy looking paddocks.
While this was child's play for the Master 4×4, drivers need be cautious of their surroundings because the normally amazing turning circle is quite reduced when all-wheel-drive is selected.
Engaging all-wheel-drive also disables the electronic stability programme allowing greater levels of wheel spin which is sometimes necessary to get traction in mud and sandy conditions.
Although the Master 4×4 adds another safe, efficient, and capable light-duty truck to the New Zealand market it does come at a higher price than some competitors.
The Master 120kW six-speed manual L4H1 double cab chassis has a GST inclusive price of $69,990.
Adding the Oberaigner 4×4 system is another $25,000 including GST and the Scattolini-supplied dropside aluminium tray is a further $7975 including GST.
Adding on-road charges of $1950 for registration, fuel, 10,000km RUC and Auckland delivery, the Renault Master 4×4 as seen here has a retail price of $101,990.
Renault NZ will also supply single cab/chassis versions as well as vehicles without the factory-fitted tray should buyers wish to use a local supplier instead.
| | | | |
| --- | --- | --- | --- |
| Model | Renault Master 4×4 | Price | $101,990 |
| Engine | 2299cc, 4-Cylinder, 120kW/360Nm | Drivetrain | 6-speed manual |
| Fuel Use | 6.9L/100km | C02 Output | 0g/km |
| 0-100km/h | 0.00 sec | Weight | 2223kg kerb weight |
| Service | 40,000km intervals, 3 year / 100,000km warranty | Load | |
| Vitals | 4495kg GVM, 2272kg payload | Vitals | 3000kg towing capacity |