Lotus has experienced a rebirth under Geely, with a brave new electric future. But it still has a traditional sports car left in it. We check out the Emira.
The buzz about Lotus lately is more of a hum as it commits to an all-electric future.
The first examples of the new Lotus Eletre electric SUV have started to arrive locally and Lotus, now owned by Geely, has recently rolled out the Emeya electric four-door.
There's a smaller BEV SUV due in the near future too. This makes the Emira somewhat of a swansong for Lotus as a maker of mid-engined, gas-burning sports cars.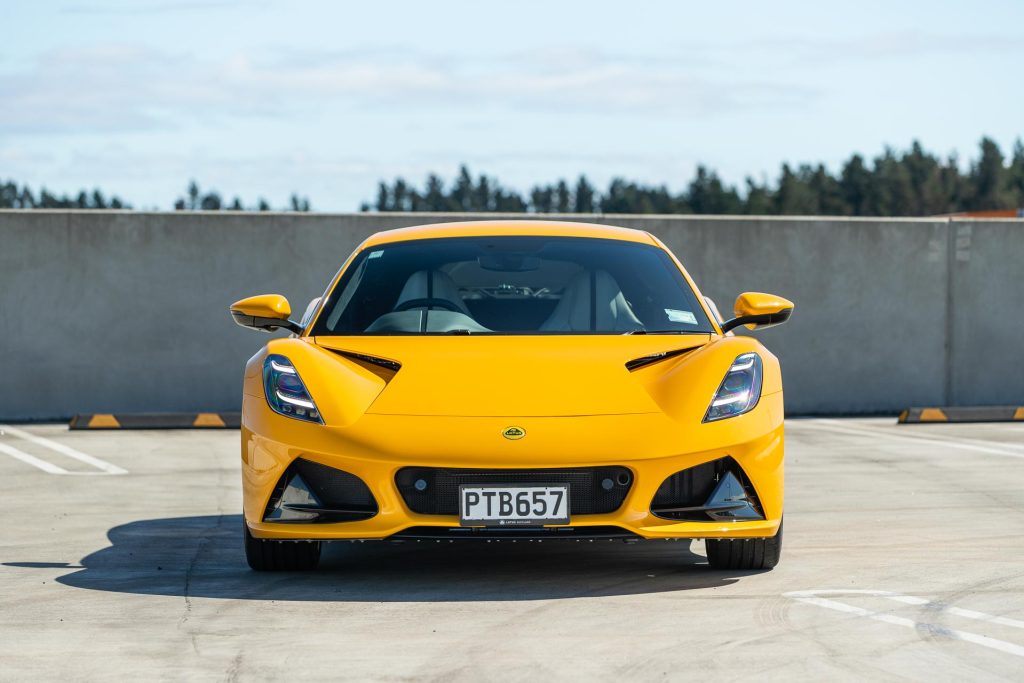 The low lying Emira uses a new version of the tried and true 'bonded aluminium' chassis with double wishbones all round, and there's an engine in the middle. So very Lotus then.
This is the First Edition model with the supercharged V6 and it's married to a six-speed manual gearbox. You can opt for an auto, a torque converter six speeder but given this is a last-blast effort, best to keep that third pedal.
Even if the manual isn't the smoothest operator, it's such a rarity, you just gotta.
Styled to go
Before we get into the nitty gritty, first those curves. The Emira is a striking machine, a beautiful amalgam of curves and function. They've kept the apertures and wings to a minimum, yet there's some clever aero going on.
There's no front bonnet on this, the radiator mounted centrally with elegantly formed vents sending the warm air up and over the roof onto the discreet rear spoiler. They say it generates downforce at speed too.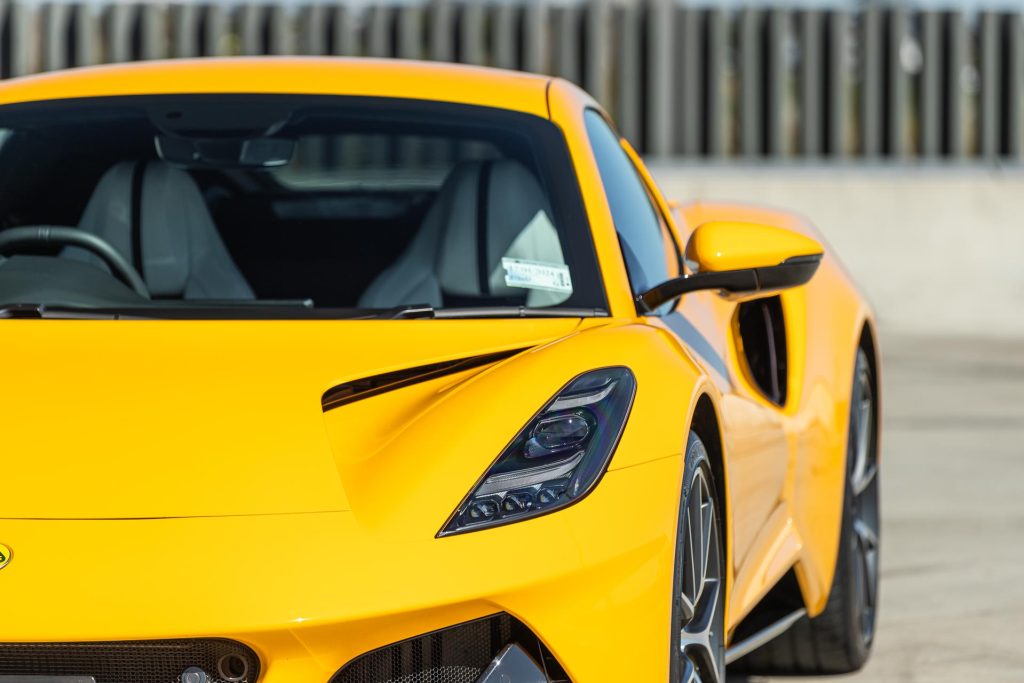 The look is exotica lite, only the lack of overall length and a short wheelbase rob it of a true supercar stance. And yet, you'll get as many stares for much less cash spent, if that's what you're chasing.
On that, the Emira First Edition goes for $189,990, with a $3600 premium for the auto. There's also $6900 in gas tax under the current regime but that might all be over by year's end.
Eventually the four-banger will arrive too, at $177,990, which is only offered with an eight-speed dual-clutch transmission.
There aren't many options to choose from, just paint and trim colours really, and what suspension tune you desire.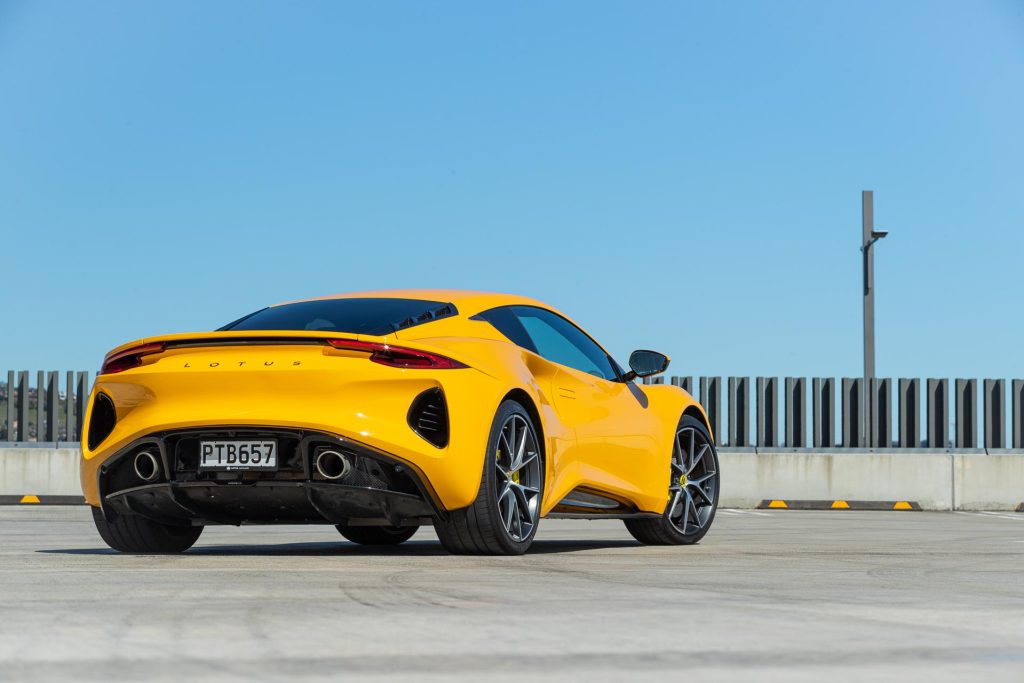 The Emira uses Eibach springs and mono-tube Bilstein dampers, and can be had in either Sport (firmer spring and damper rates with track work in mind) or Tour (a softer tune optimised for the road) varieties.
Most local buyers have opted for the latter, which is what our tester came with. There are no adaptive dampers offered, though you can switch up the powertrain response via Normal, Sport and Track settings, the latter tempering the enthusiasm of the stability controls.
And said ESP is about the only driver aid on the list, apart from ABS; no active roll control, RWS or torque vectoring, just an LSD, a balanced mass and competent suspension.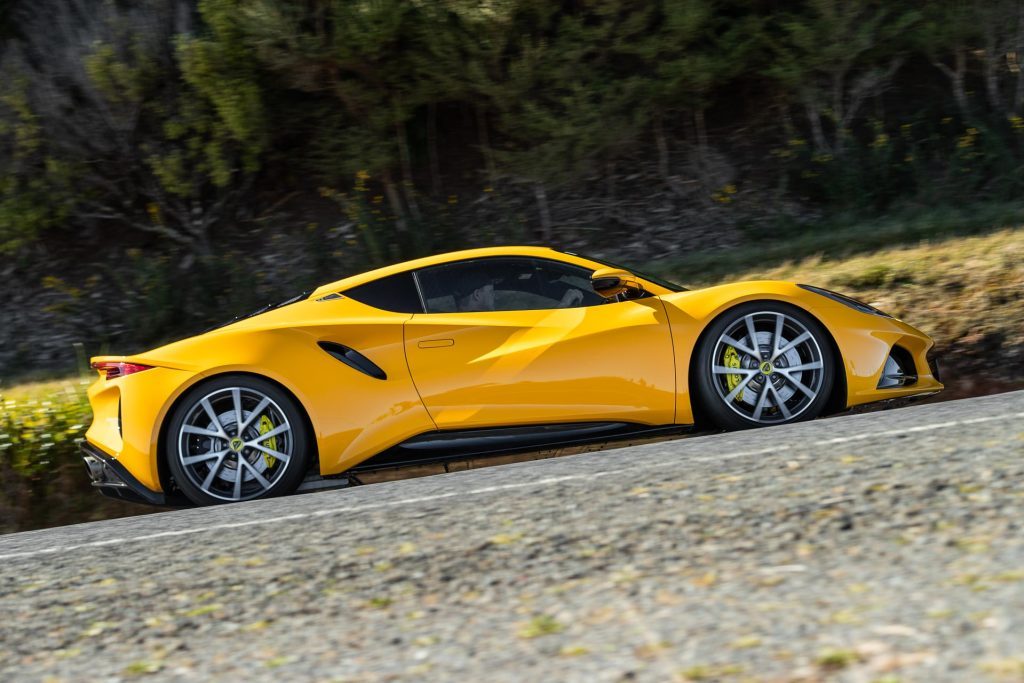 Reasonably wide tyres are there to help too. Even the steering assistance is hydraulic.
Lotus discovers modernity
While the mechanicals are traditional Lotus, the interior concept isn't. There's a thoroughly decent feel to the cabin, not quite German level quality but the finishing is sound and the leather classy.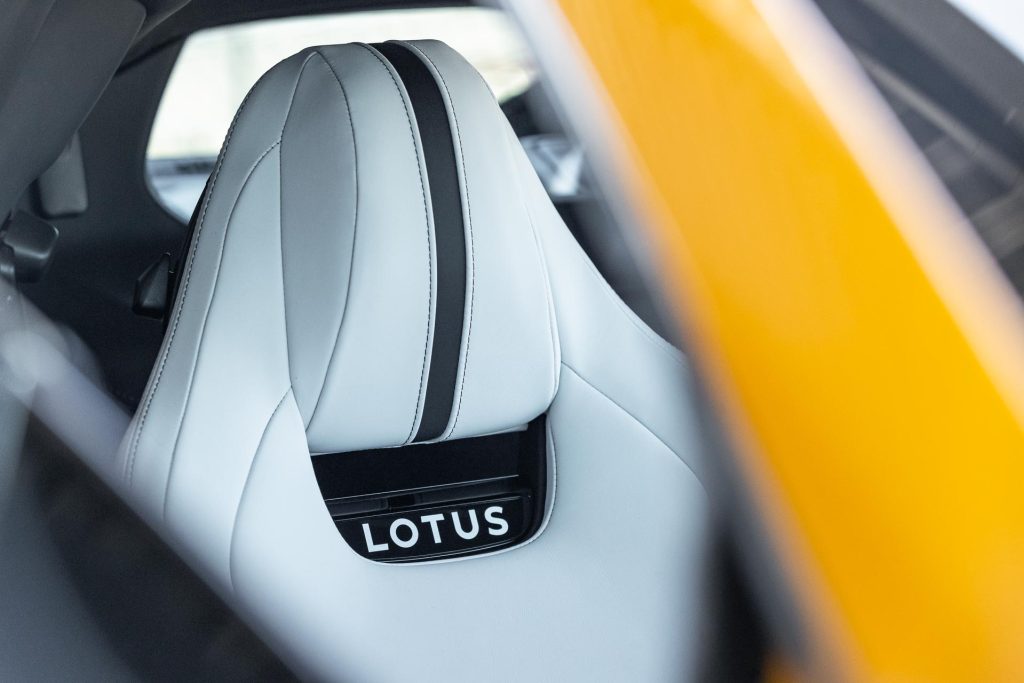 The infotainment system comes with up-to-the-minute connectivity, a quick response and pleasing graphics. There are a few familiar switches and vents used (thanks Volvo) but that's okay. Emira is relatively easy to get into, for a Lotus.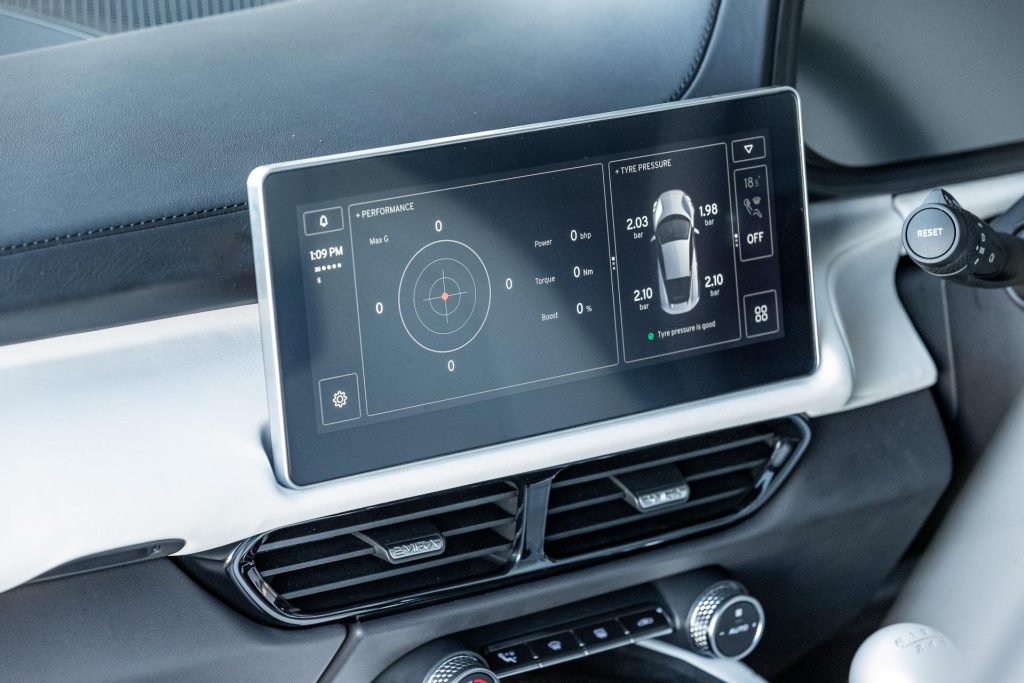 There's still a sill to negotiate but it's not that wide. The seats are okay too (heated and powered), though some extra padding would be good for longer stints behind the wheel.
Said wheel is sawn off along the bottom (making it feel a bit odd when turning around) and houses haptic control buttons that again aren't too vexing in operation but aren't quite perfect either.
There was also a wee A/C issue with our car, but we won't mention that, surely an easy fix.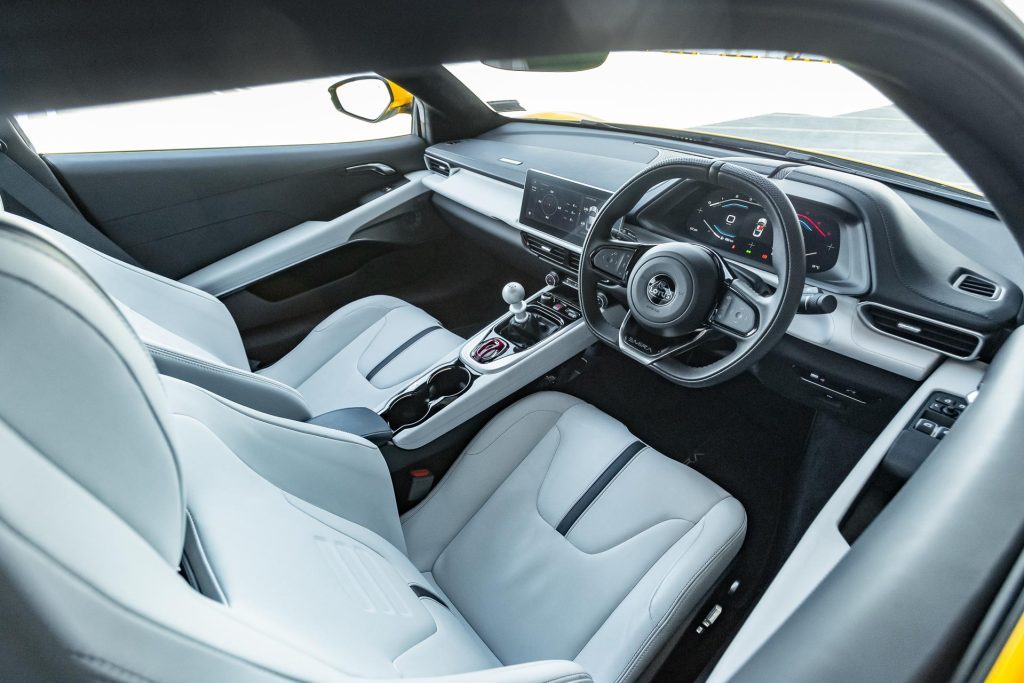 While there is no froot (because we don't call it a trunk), Emira has some useful storage in behind the seats and a handy boot in behind the engine compartment. Two up touring this should do easily then.
An everyday manual?
Some will like the safety flap over the starter button, adding a little drama to firing up the six. The engine makes some interesting noises, some of them not so emotive but, for its humble origins, it does a good job in the back of a sports car.
You'll want to commute in Sport mode, the added exhaust noise with burbles and burps adds to the satisfying induction sound, entwined as it is with the supercharger howl.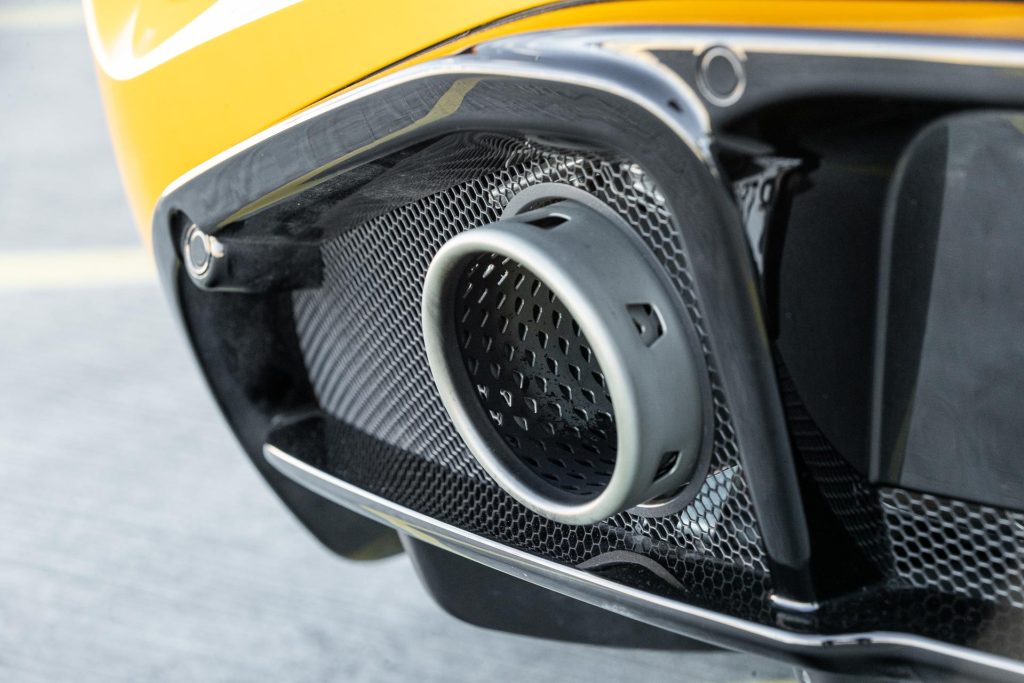 Like the steering, the clutch is on the heavier side, and with a quick revving V6 with its single mass flywheel, smooth take offs are at first a little difficult. There is a hill holder, thankfully.
Jumping out of a softly sprung SUV into the Emira, it's evident this has a sports car ride, even with the Tour suspension.
But then your derrière adapts, and it's not all that bad. It's low riding, and there's no front-end lifter, so you'll be taking it very easy into every driveway you encounter.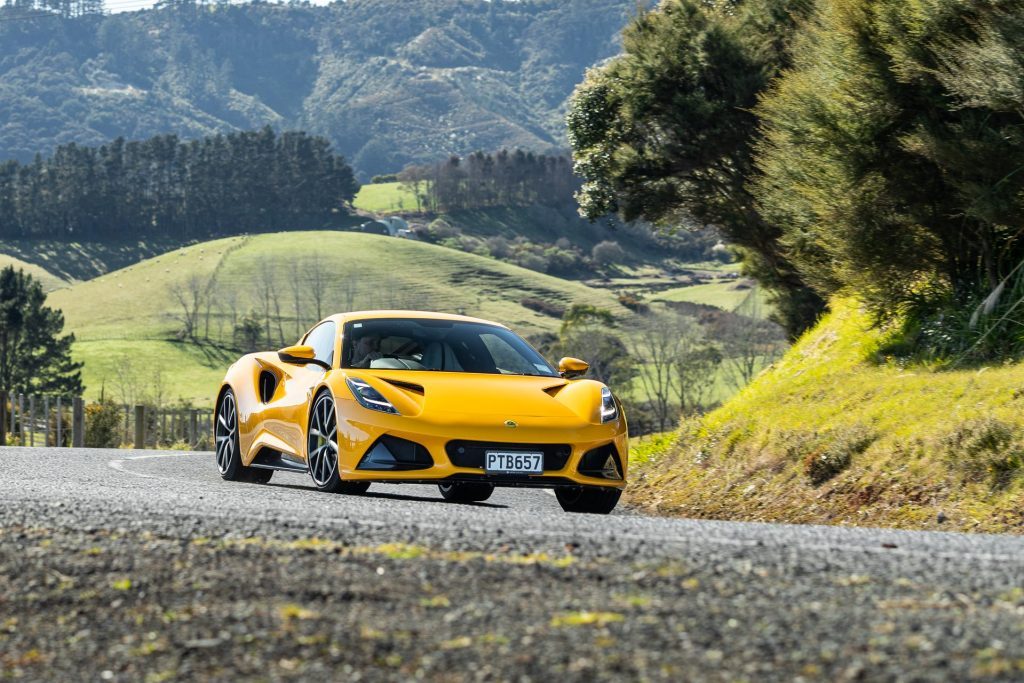 The outward view is decent; you can see the tops of the guards in front and the supercharger atop of the engine in behind. The rest of the view is filled in by the reverse camera.
For gas use, it's listed at 11.7L/100km while the long term figure for this machine was registering in the 15s.
For the drivers
Yeah, you can drive it around civilly enough but it aches for a proper drive. Gas the throttle and the supercharged six develops its power deliberately, really pulling from 4000rpm onwards.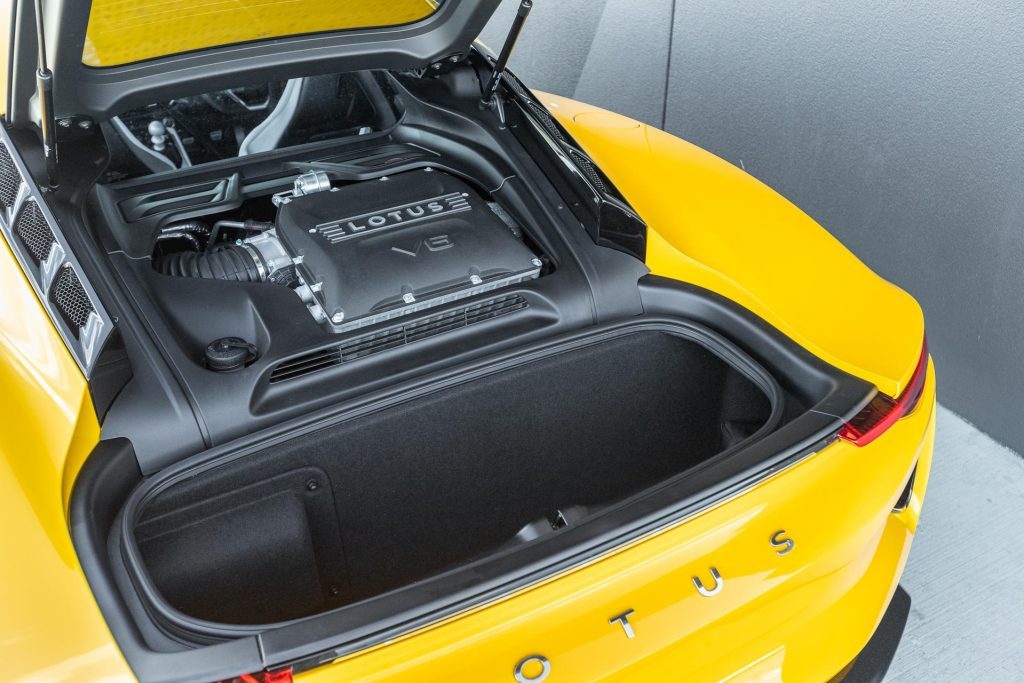 But then you need to be ready with a gear change when the shift light starts blinking or else it runs hard into the limiter. The six-speed manual has its moments; it click clacks its way around the gate with short and deliberate throws but its flow could be slicker.
Somewhat peculiarly, the first to second shift is hardest to really nail, yet you can coax it to slip from second to third like a champ. And there's no auto blipper; it's a driver experience after all.
The shift is not something you gel with immediately; it's tricky to be smooth initially but you get there eventually. And once mastered, the blipped downshifts are all the more satisfying… until you fluff the very next one.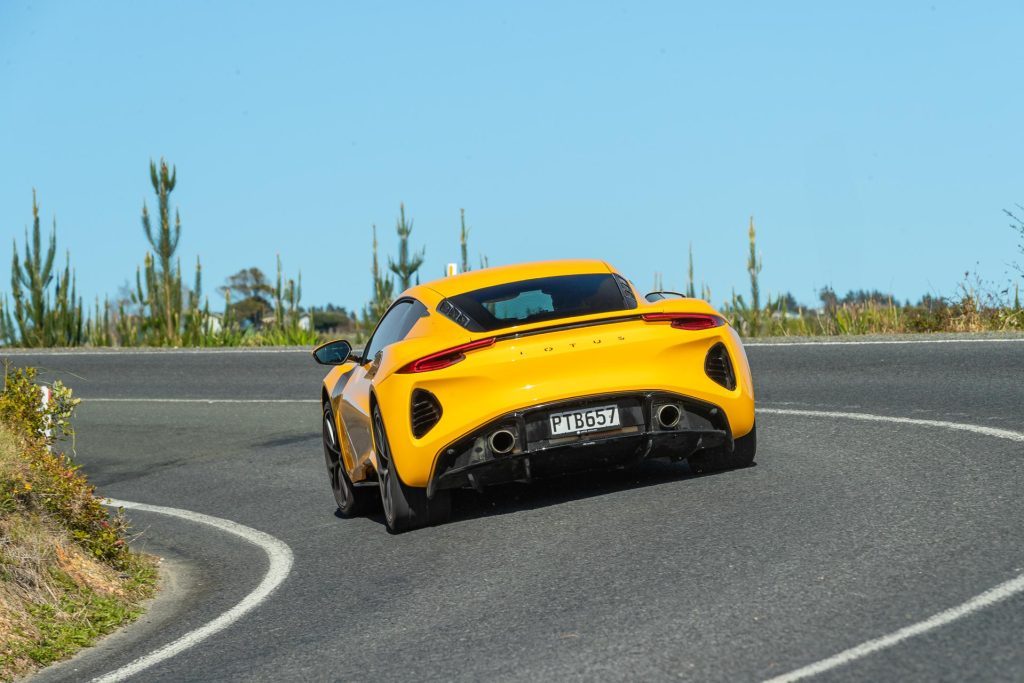 However, while you can revel in endless downshifts when heading into bends, you also don't have to. This Emira is handy when it comes to corners.
With balance and grip at both ends, and a broad spread of torque, it can haul out of bends in third gear smartly if you're more in a touring mood.
This Emira isn't tied down too tightly, so there's a degree of roll as you round into bends, yet then it locks on its line. The suspenders flow with the bumps rather than trying to bash them into submission, so it gels with our old highways.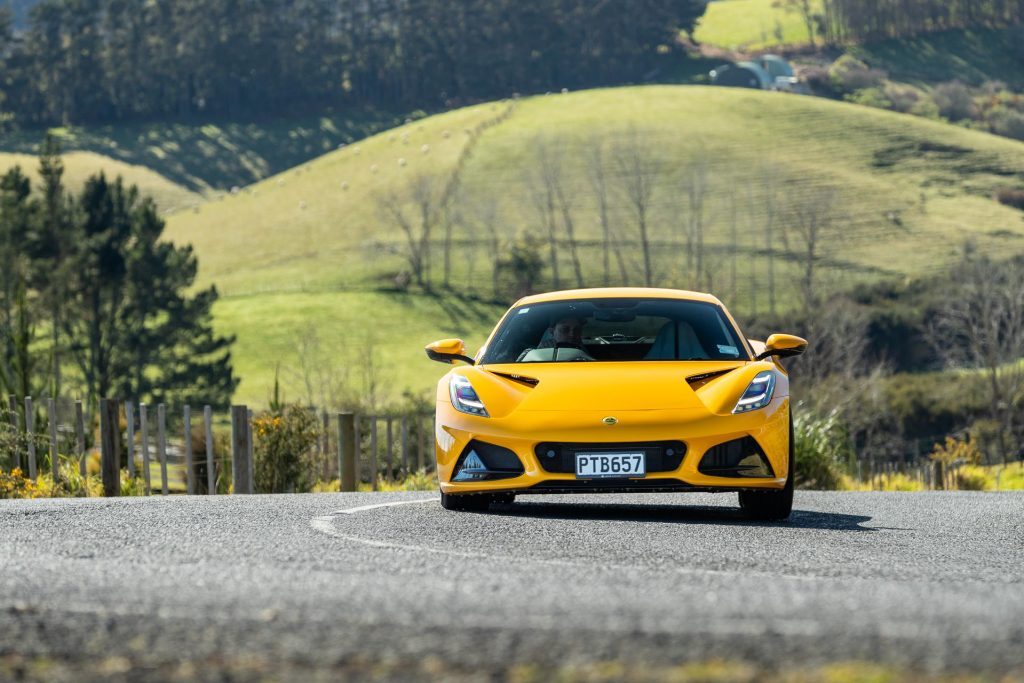 The steering lets you know about every surface change below the front wheels, and there's a bit of rack rattle in lumpy bends. While it's not super fast (a surprising 2.75 turns between the stops) it takes little encouragement for Emira to change directions, and that steering heft helps in longer curves.
Traction is not an issue on the way out, the engine delivering in a linear fashion and the rubber sticking the power nicely. The brakes too are solid performers.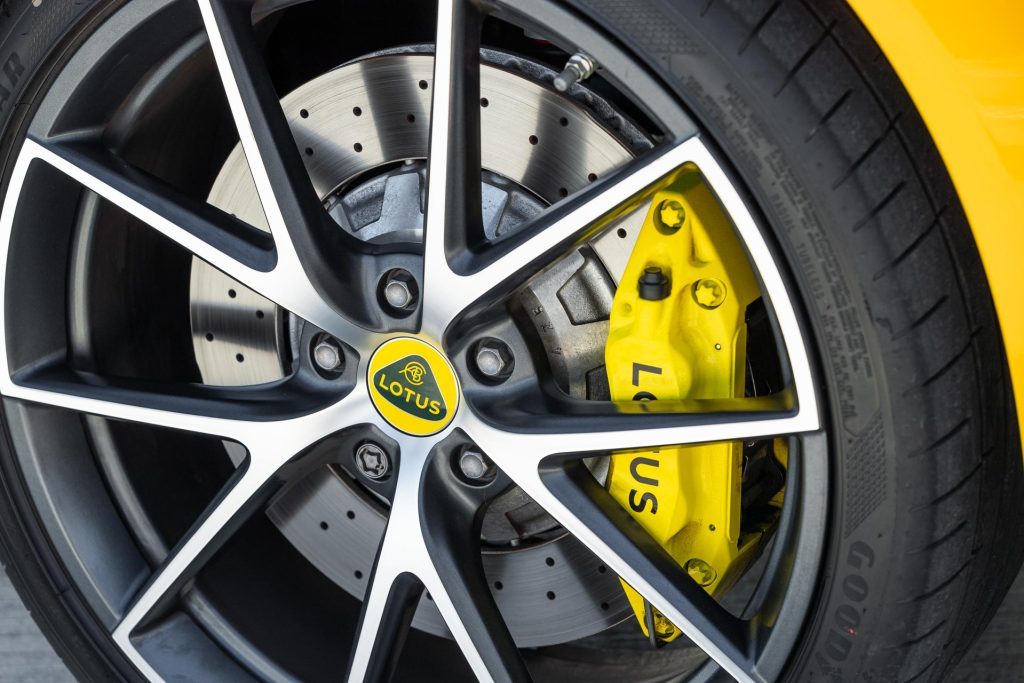 Best not be too heavy on them though as that can induce too much dive and then the front end becomes interested in following the contours of the road.
The pedal feel however is delicate enough to avoid such capers, and you can balance it just right for the entry.
Looks good, goes well
Lotus has done enough here to hook those keen on the concept. The look is one thing, but the nod to practicality makes this more than just an occasional machine.
Emira isn't as honed and refined as a similarly priced 718 Porsche Cayman, which is the better car objectively.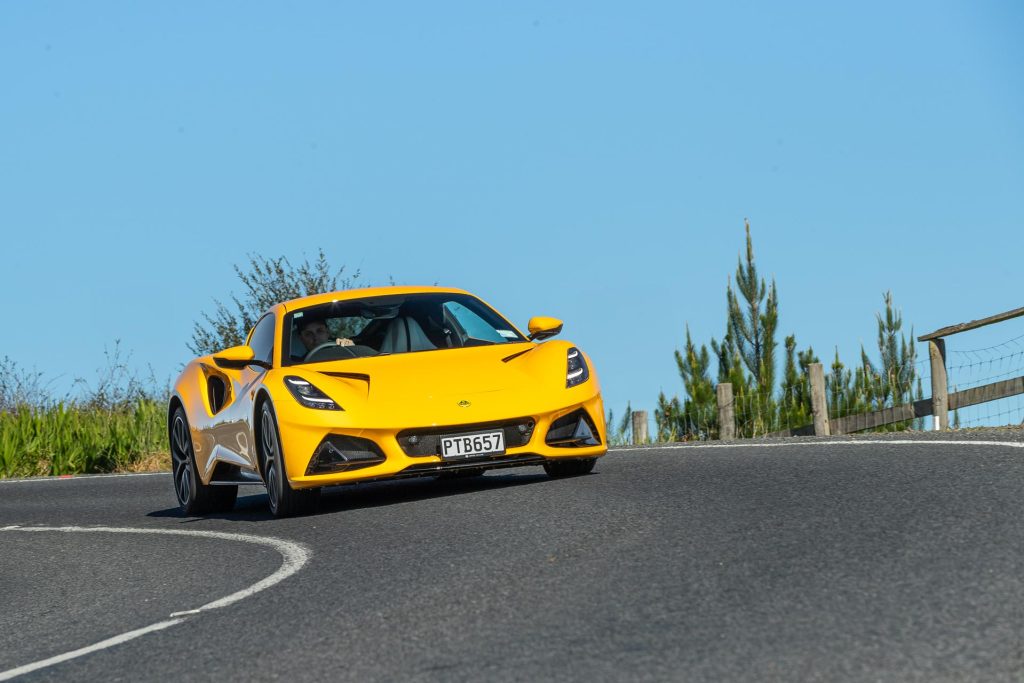 This is more of the mechanical experience with no digital helpers finessing it along. It's a car you need to work at which, as Lotus likes to say, makes it 'for the drivers'.
| | |
| --- | --- |
| Model | Lotus Emira V6 First Edition |
| Price | $189,990 |
| Clean Car Discount | Fee – $6990 |
| Engine | 3456cc, V6, SC, EFI |
| Power | 298kW@6800rpm |
| Torque | 420Nm@3500rpm |
| Drivetrain | 6-speed manual / FWD |
| Fuel Use | 11.7L/100km |
| C02 Output | 268g/km |
| 0-100km/h | 4.9 sec |
| 80-120km/h | 2.90 sec (81m) |
| 100-0km/h | 32.34m |
| Stability systems | ABS, ESP |
| Tyre Size | F-245/35/R20 R-295/30R20 |
| Luggage Capacity | 151-208L |
| Tow rating | Not rated to tow |
| Fuel Capacity | 52L |
| Service intervals | 12 months/15,000km |
| Warranty | 3 years/100,000km |
| ANCAP rating | Not rated |
| Weight | 1446kg |