The 718 Cayman is entering the twilight stages of its model life so now there's a new-look model to reinvigorate interest. How's it go?
Once a champ, always one it would seem. Seven years on from when the Boxster and Cayman were relaunched as the 718 series, we've once again driven the entry level hardtop Cayman version with the 2.0-litre flat four.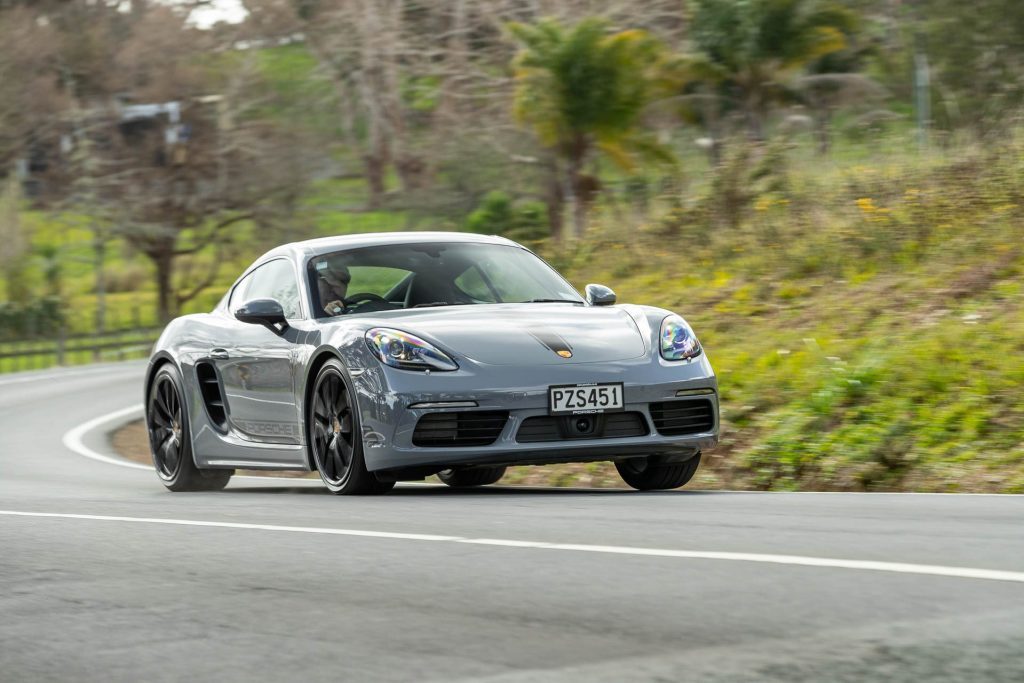 Mechanically speaking it is the starting point of Cayman ownership, although our particular tester had the seven-speed PDK (twin-clutch) auto transmission fitted ($4990). The pure base model comes with a six-speed manual trans.
This really is a dress-up special, known as the 718 Cayman Style Edition. And despite its modest displacement, this is still a car that's 'for the sport of it' as the company would say.
Stylish it is too, without question.
This model features gloss black 20-inch wheels – the entry-level Cayman runs on 18s – a black stripe down the middle of the bonnet, gloss black tail pipes and Porsche lettering in high gloss silver.
The attractive Arctic grey colour you see here is a $4140 option while there's a striking Ruby Star Neo available as well, a 911 colour from back in the day. Looks pink to me, appropriate though in the days of the Barbie movie.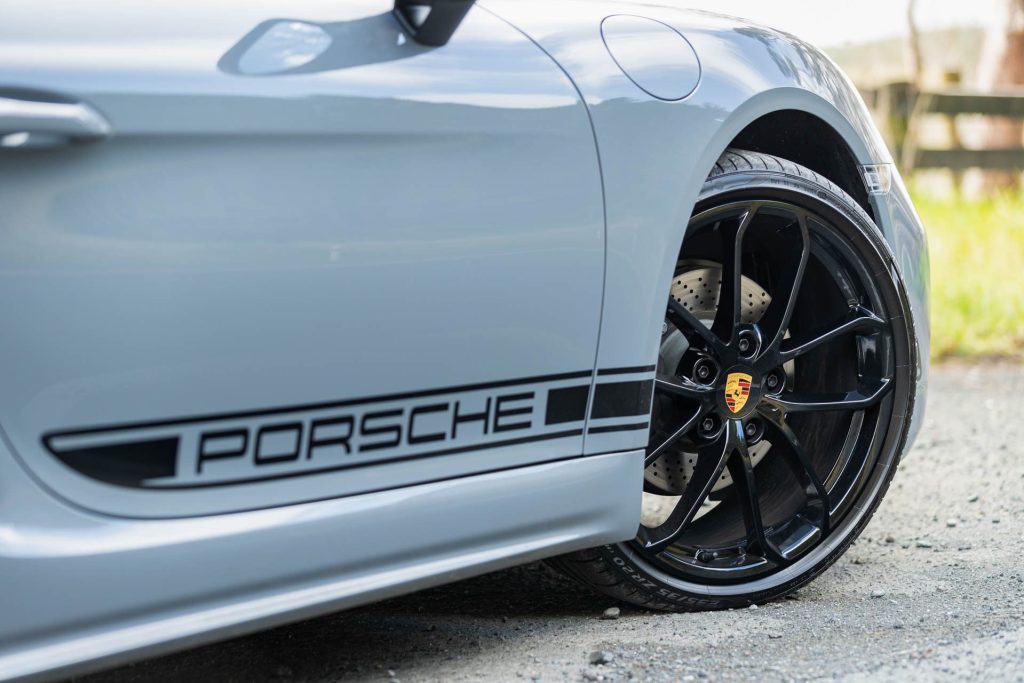 Anyhow, inside is a bit different too, though you'd have to be a Cayman expert to notice; the black leather finish extends to the dashboard and door cards while the seats and floor mats have special 'crayon' stitching. There are also illuminated kick sill panels in stainless steel, and the Porsche crest features on the wheel hubs and backrests.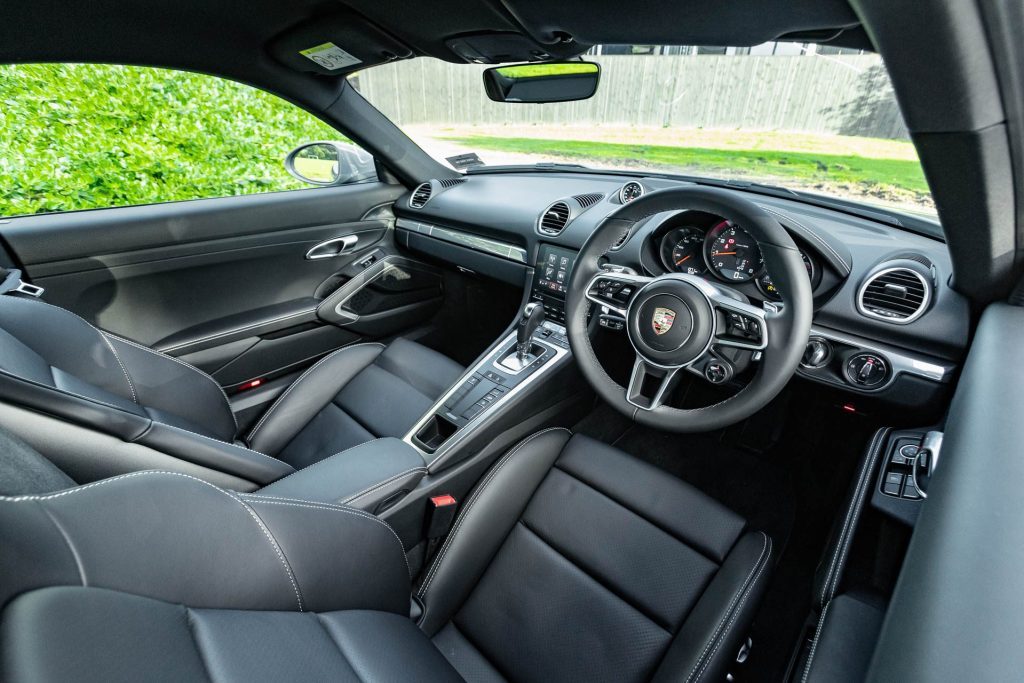 Style comes at a cost
After a price rise, the RRP is now $141,900. Ours featured options like adaptive cruise control ($2170 – should be standard), a Sport Chrono package with mode switch ($3930), and 18-way fully adjustable sports seats ($2400).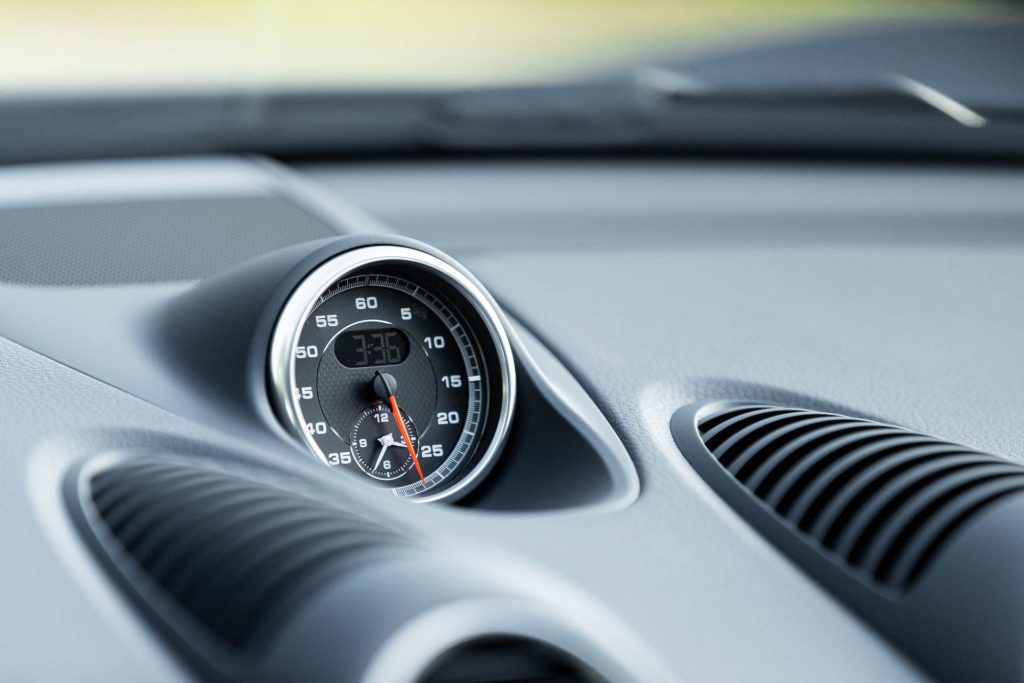 The grand total is $154,540, which seems a fair old ask for a two litre two seater. Spend another $10k and you could be driving the 257kW/420Nm S with PDK. That's rated to run 0-100 in 4.4sec and 80-120 in 2.8sec. How would the Style variant compare?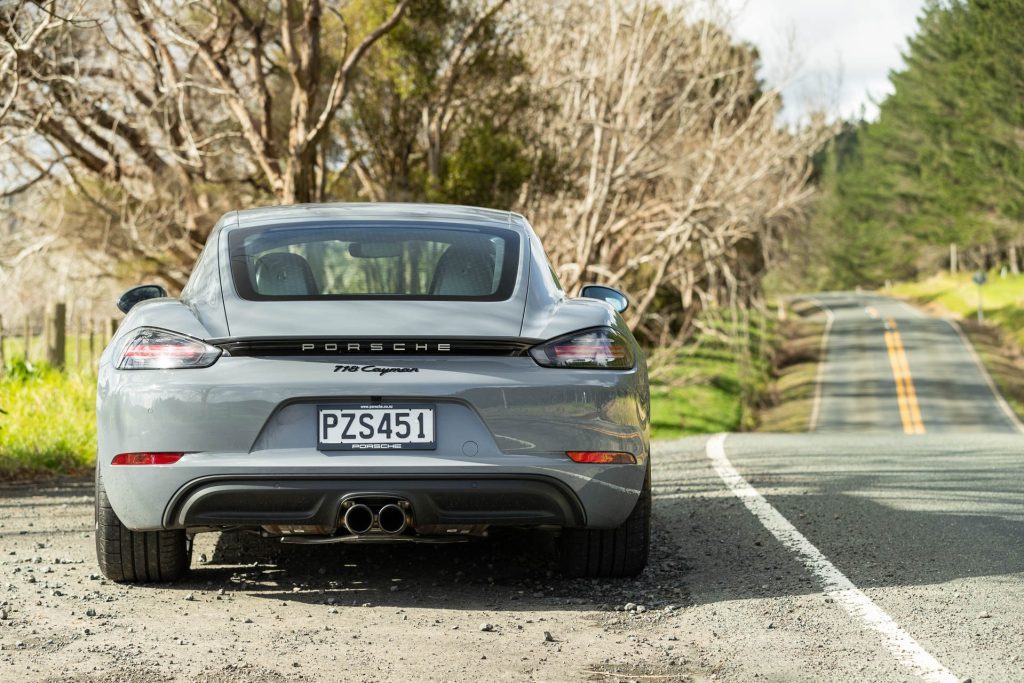 The 2.0 engine features variable valve timing and lift and creates 220kW at 6500rpm (it revs to 7000rpm) while torque peaks at 380Nm from 2150-4500rpm. With PDK transmission and Sport Chrono package (launch control) Porsche reckons it makes it to 100km/h in 4.7sec.
The worst we got was 4.6sec, the best 4.43sec, accompanied by a 2.90sec overtake. That's only a whisker behind the Cayman S claims.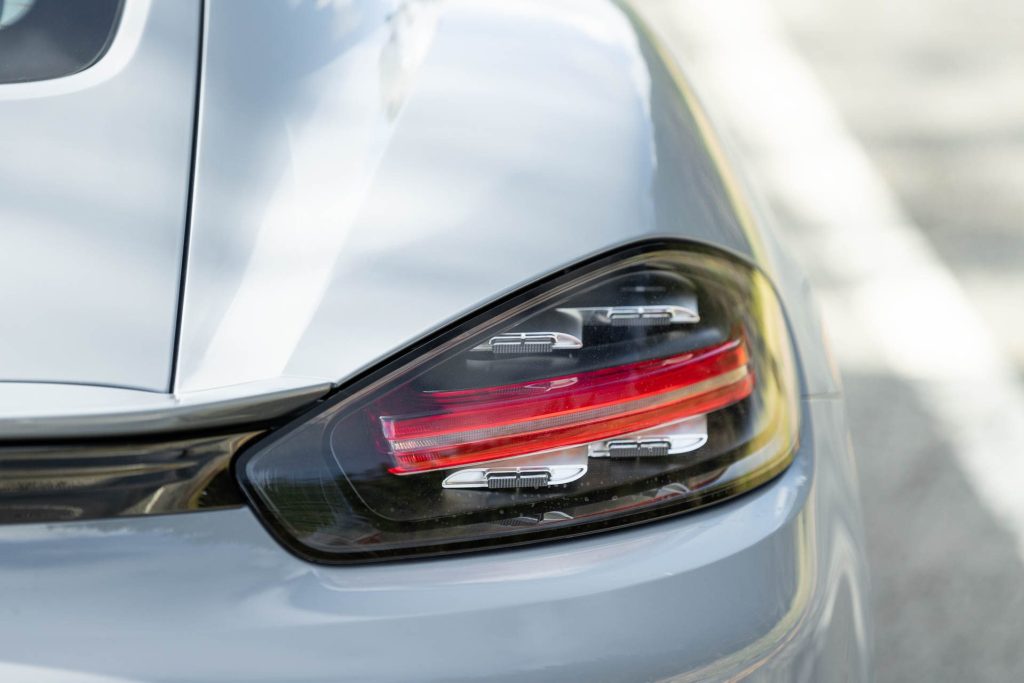 And you'll get better fuel efficiency with the 2.0 version we'd imagine; the long term average was sitting on 11.0L/100km while the official figure is 7.8L/100km and the Clean Car fee is $2185.
Overtaking strategy
The boost button is interesting. As a push-to-pass aid it spins the motor to high revs and seems to lack overtaking oomph. Changing from Normal to Sport mode is better; that adds fewer revs but just enough to put the engine in the meat of the torque curve where it pulls away more convincingly.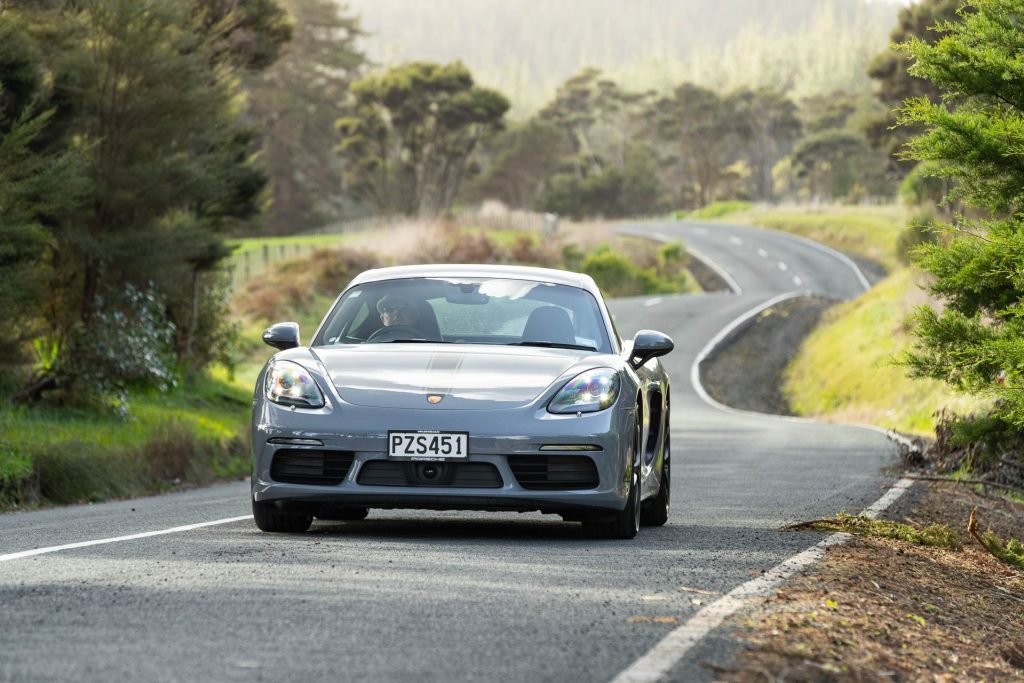 However for sprint times the boost function is best. It launches from 6500rpm which in most front-engine rear-wheel drive cars would result in bulk tyre smoke. Not in this mid-engined machine, however, with 57 per cent of weight over the rears. The 255/35R20 PZeros ground the power in heroic fashion.
Porsche's flat engines remain at the pinnacle of ICE power in my view. The atmo flat sixes generated excellent midrange torque and sounded fine. It's the same for the smaller turbo fours, only they're not as interesting sonically.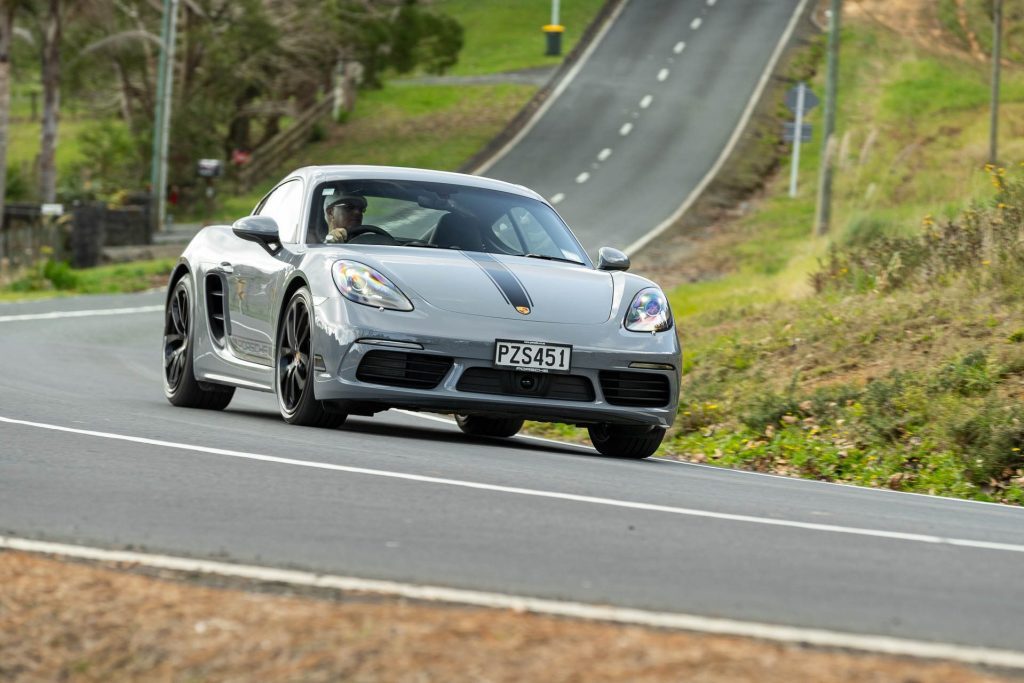 Much of it is drowned out by tyre din (75.2dB). Performance is good in the 2000-3000rpm range, while 1000rpm further up it is enough to satisfy in a sporting way, and it just continues to build from there. Beware using higher revs too much because you will be fair flying on the open road.
Even using middling revs it would be easy to fall foul of the law. My word this is a quick 2.0 but then there's only 1365kg to push….
PDK shines
Is the PDK box worth the ask? Without question. There are few twin-clutch transmissions that come close to Porsche's for smoothness, speed and smarts. Even in the Normal drive mode setting, the box holds gears precisely as you'd want it to for twisting sections of road.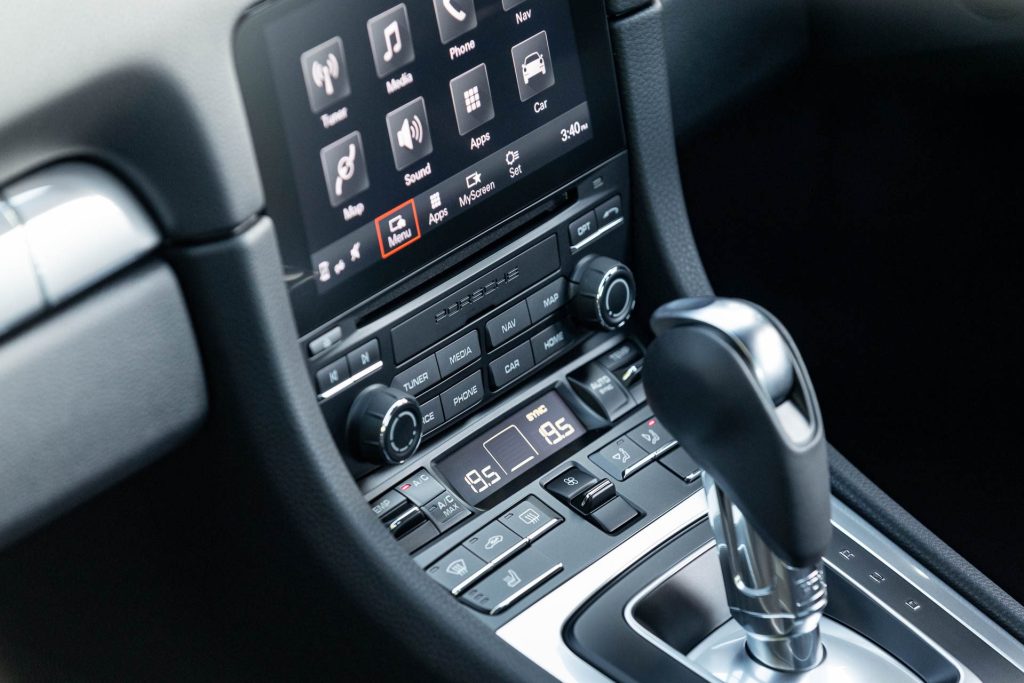 There are gorgeous paddles provided but you'll seldom use them; perhaps on track. Up the ante to Sport and there's a definite lift in vigour but Normal is fine for everyday use.
And on things stupendous, the Cayman brakes are the most astounding antidote to that easy speed. They're always a bit special in Porsches, well, in the sports cars at any rate, and even in what must be considered the brand's base car they're better than in most anything else that's track ready.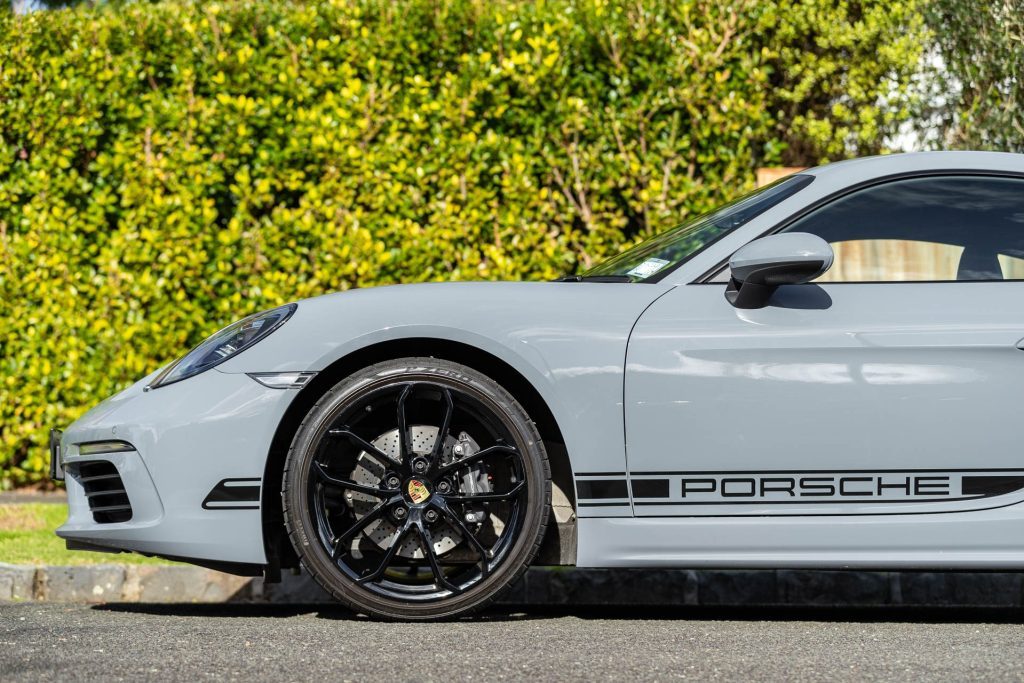 Four-piston aluminium monoblocs at each corner grip onto 330 drilled discs up front and 299mm vented discs at the rear. What makes them so effective is the uneven weight distribution you get from a mid-engined machine (43/57).
In most regular cars the dramatic weight shift under emergency ABS braking unloads the rears which therefore contribute less to stopping power. In mid- and rear-engined machinery the weight split under braking is nearer to 50:50.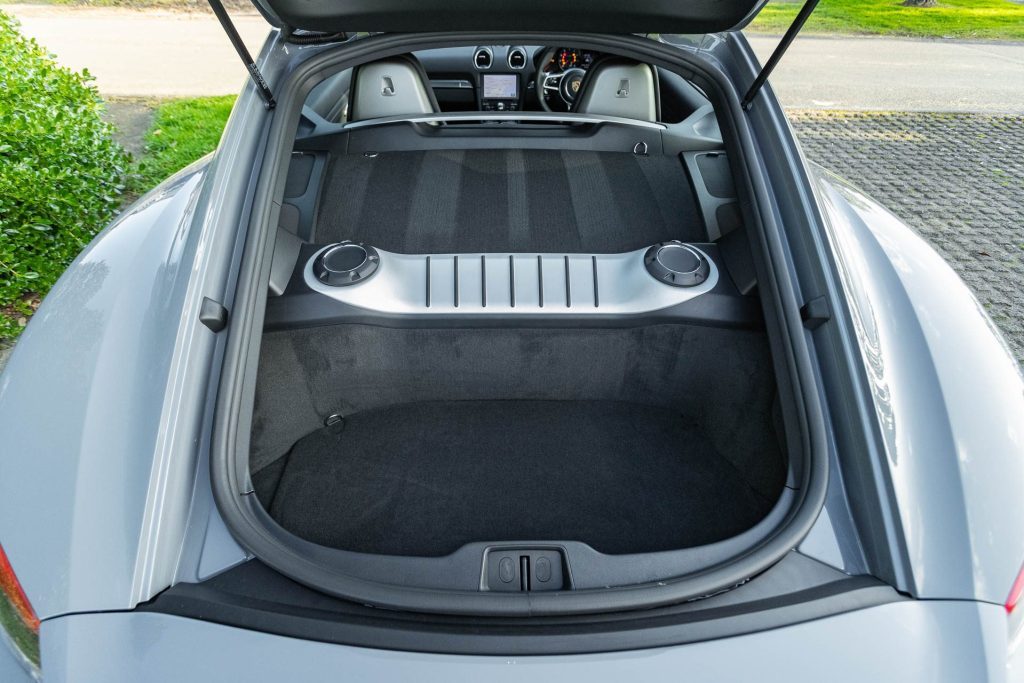 The upshot is that 911s have always been the best stoppers numerically and the Cayman's not far adrift. An optimised stop from 100 in 31m is only a couple shy of the 911's best.
And if you plan on track work with your Cayman you can option up carbon ceramic stoppers if you want. But you really don't need to.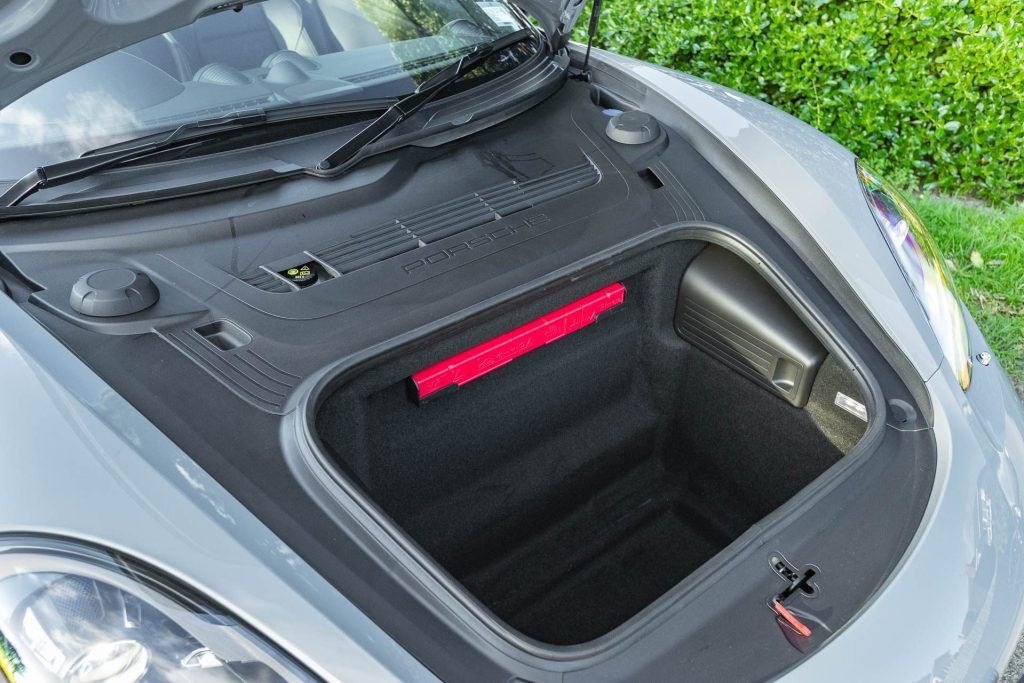 Corners carved
Last but not least, the handling. Oh lordy. Even with fixed suspension this is simply dazzling in the bends. The steering is just so, not too fast in its gearing but with that lightweight front end, it seems to rip into the turns, and the low ride height, wide tracks and sterling rubber see it round up corners like few can.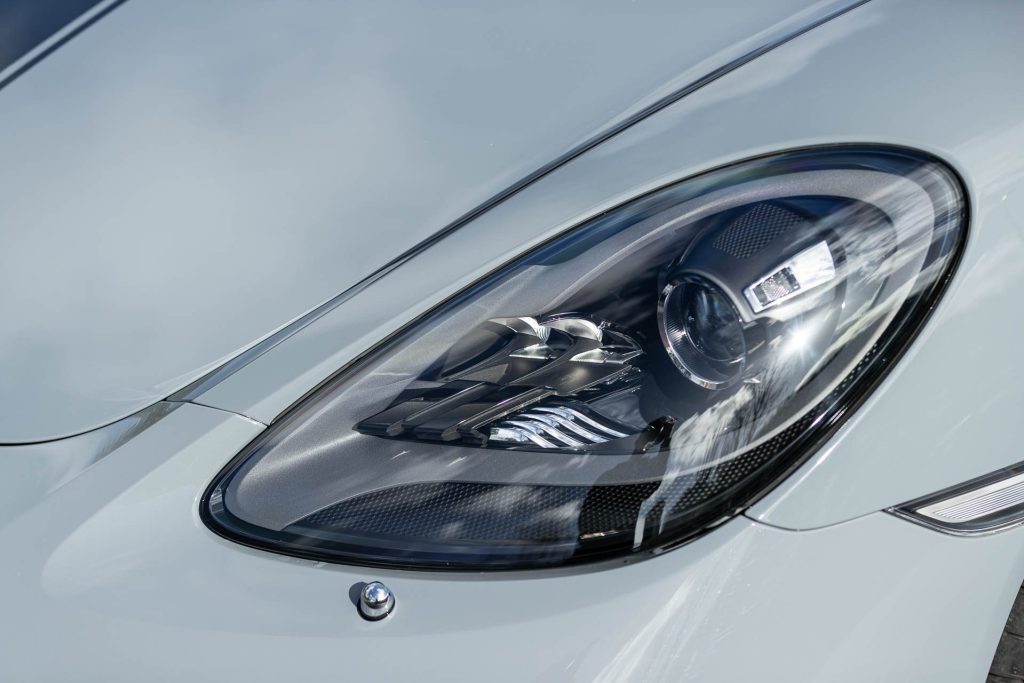 Even driving it enthusiastically, you'll encounter only the mildest of understeer. So it's still a cornering weapon and yet the ride is also reasonably resilient; you could comfortably use it as a regular daily drive car. I mean, wouldn't you want to, unless you're averse to low riders; it's not that easy on the egress front.
As to the button intensive interior with a small touch screen? It all still works just fine. Easier to run than more modern cars. And unlike some two seaters, this has a pair of useful luggage repositories, front and rear, for a total of 334L.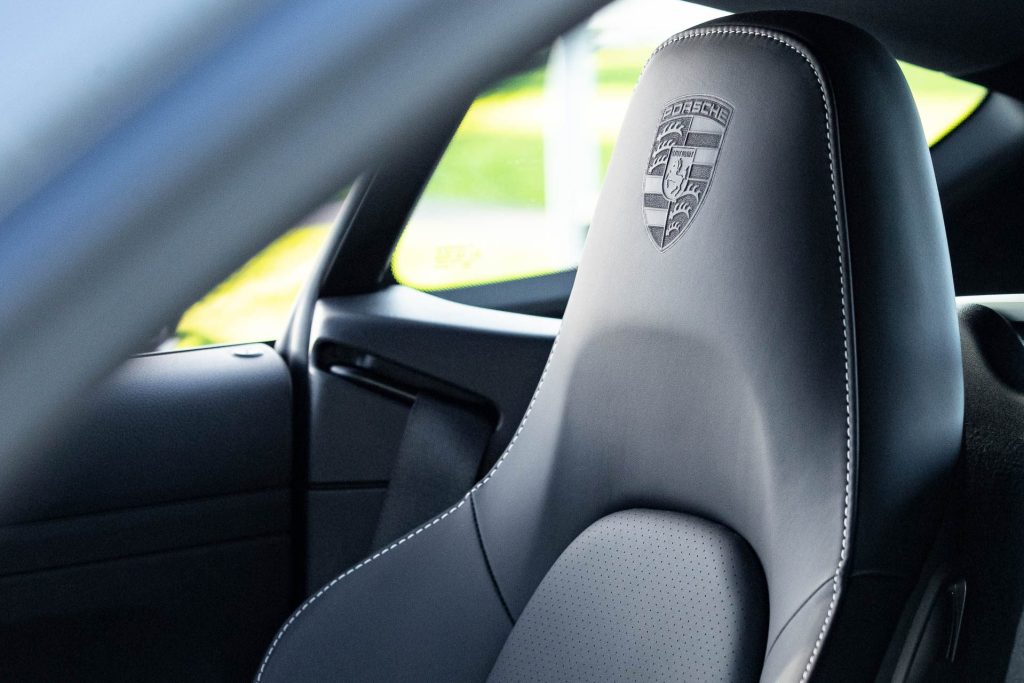 The Cayman and Boxster duo have a few years left in them yet, probably around four, two of which include an overlap with a 718 EV pair. Expect these to arrive in 2025, and to be available as a rear-drive entry point and an AWD performance model.
Meantime, if you can afford this exclusive toy, a Cayman may still be one of the best ways to get your kicks at the end of the golden ICE era. Precisely for the sport of it.
Model
Porsche 718 Cayman Style Edition
Price
$146,890
Clean Car Discount
Fee – $2185
Engine
1998cc, Flat 4, T, DI
Power
220kW@6500rpm
Torque
380Nm@2150-4500rpm
Drivetrain
7-speed twin-clutch / RWD
Fuel Use
7.8L/100km
C02 Output
178g/km
0-100km/h
4.43sec
80-120km/h
2.90sec (81.3m)
100-0km/h
31.02m
Stability systems
ABS, ESP, TV
Safety
AEB, ACC, BSM, LDW,
RCTA, ALK, AHB
Luggage Capacity
f-150 r-184L
Tow rating
Not rated to tow
Service intervals
12 months/15,000km
Fuel Capacity
64L
Warranty
3 years/unlimited km
ANCAP rating
Not rated
Weight
1365kg (claimed)