Summer might be a distant memory for some but it certainly arrived while we had one of Harley's finest, riding in what seemed like 30 degrees and verging on uncomfortable in leathers.
However, I'm not one to ride motorcycles without a modicum of protection. Jandals, tee-shirts, shorts and no gloves seem like a recipe for becoming skint. 
As it happens I was having too much fun on Harley's Low Rider ST to care about the heat. We rode the Low Rider S in 2020 but back then it had the 114ci mill. It now gets what the ST has, the big dog 117 (1923cc), just like in the Street Glide ST (168Nm at 3500rpm) we rode recently, only it's pushing less weight here.
There's still a solid 323kg but it doesn't ever feel top heavy like the Glide did. And that's because the fairing is smaller and it's not filled with speaker drive units and myriad instruments. The fixed windshield does a pretty good job of keeping the weather off you too, though there's a hint of buffeting, despite the pressure equalisation slot just above the headlight.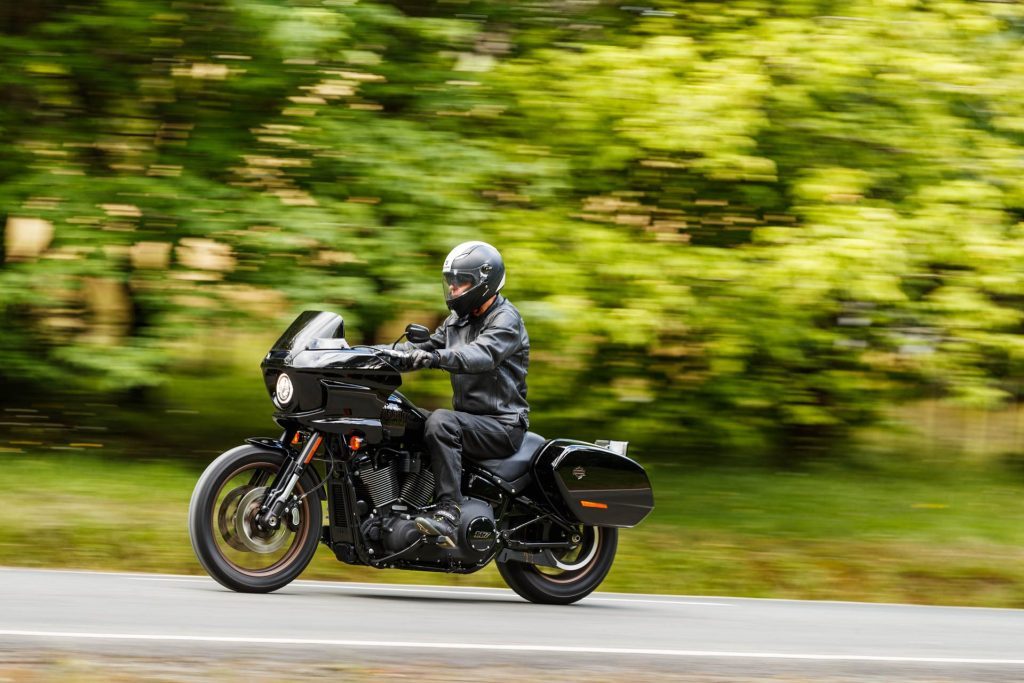 Like the Street Glide, this is a bagger, and that's big news for Harley at present, on account of how they won the racing series for big Berthas last year. I like baggers because the hard luggage is just big enough to carry a useful amount of gear, 54L all up without making the bike cumbersome.
Magic motor
What makes this such a good thing? A combination of aspects really. The sound is well pitched if hardly high on the dB count, although you can change that easily enough. The motor is a beauty, a real beefcake and the neat handling belies its 323kg weight. The ride comfort is sweet too.
The bottom line kicks off at $39,495, $10k above the Low Rider S we rode back in 2020 (which, with the 117 engine, now starts at $34,750). Select the grey colour and you're at $40k.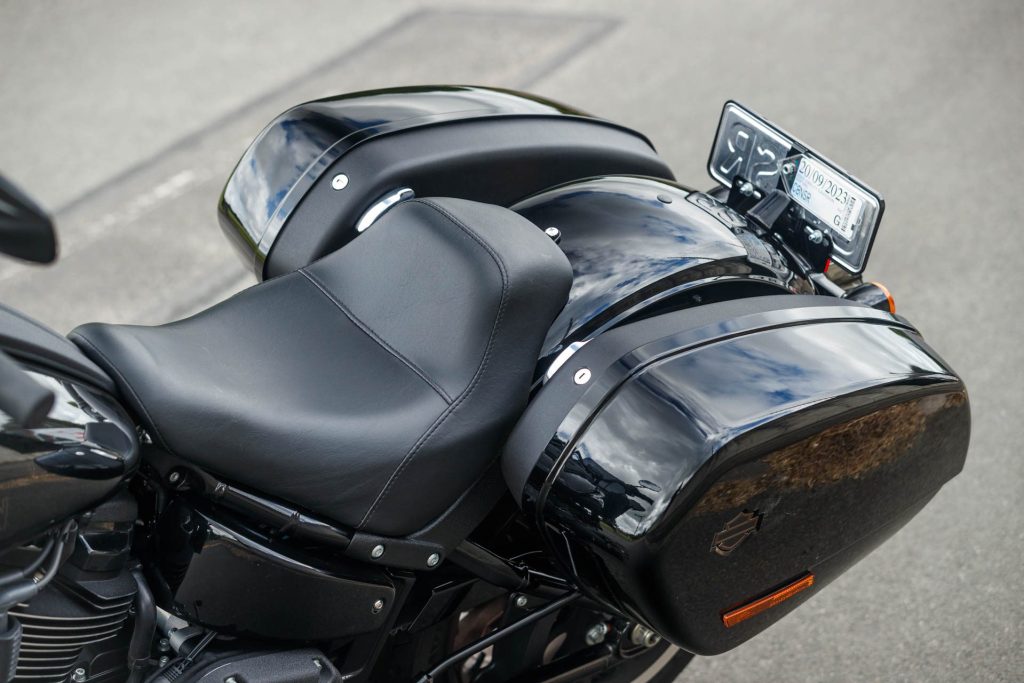 The windscreen, panniers and the bigger engine are all useful items. There's a nice transmission to go with the 117 mill too, a bit crotchety when cold but once the oil warms to its task the upshifts are pleasingly clunk free, especially if you short shift and let the motor rev back some before engaging the next gear.
Downshifts are just as smooth providing you match engine speed to road speed before selecting a lower ratio. Not that you will need to often; the engine grunts away smoothly from 1500rpm and is particularly solid in the 2000-3000 area. It's a bear from 3000 onwards, a big angry one at that.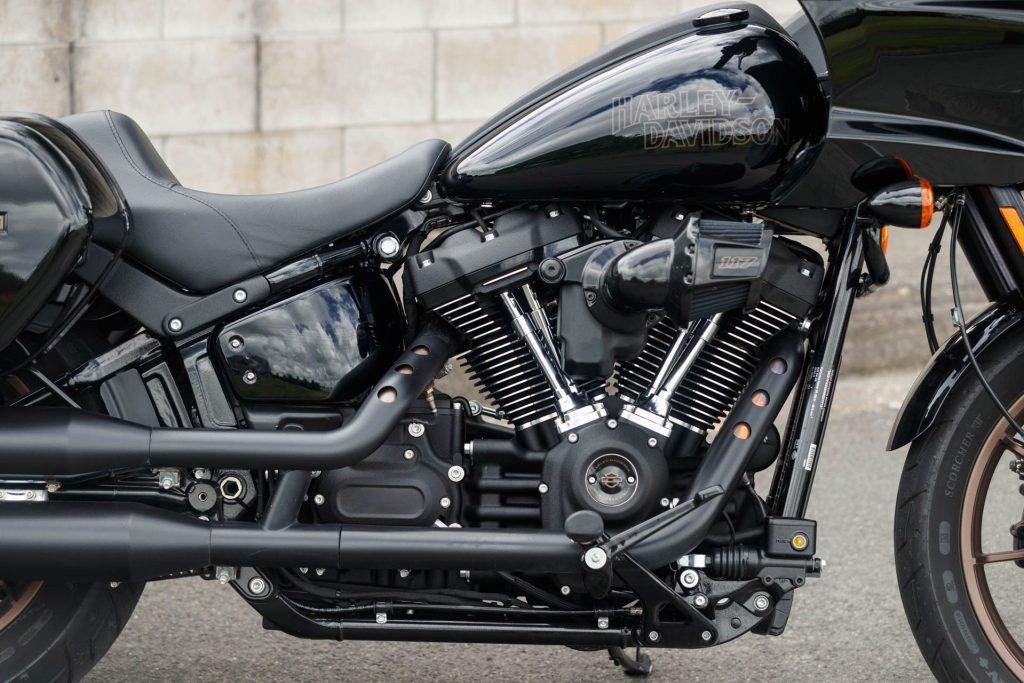 Quick considering size
This feels somewhat quicker than the Low Rider S and that's apparent in both parameters we check, with a sprint time of 3.6sec and an overtake dusted in just over 2sec. It was lifting the wheel a few inches or so when power shifting into second! There's no TC but it never threatened to break loose on max attack getaways. A quick, stroppy bagger then. Respective figures for the LR S were 4.0sec and 2.6sec. Vibes aren't that noticeable, until you're doing about 110km/h (2500rpm), and the mirror images start to blur about this time.
This stops well too, and while the dogleg lever is not adjustable you don't need a slugger's mitts to activate the front brake. It does a good job on its own and with the rear along for the ride a 100 to zero stoppie takes 37m or thereabouts. The back brake does require some muscling into action.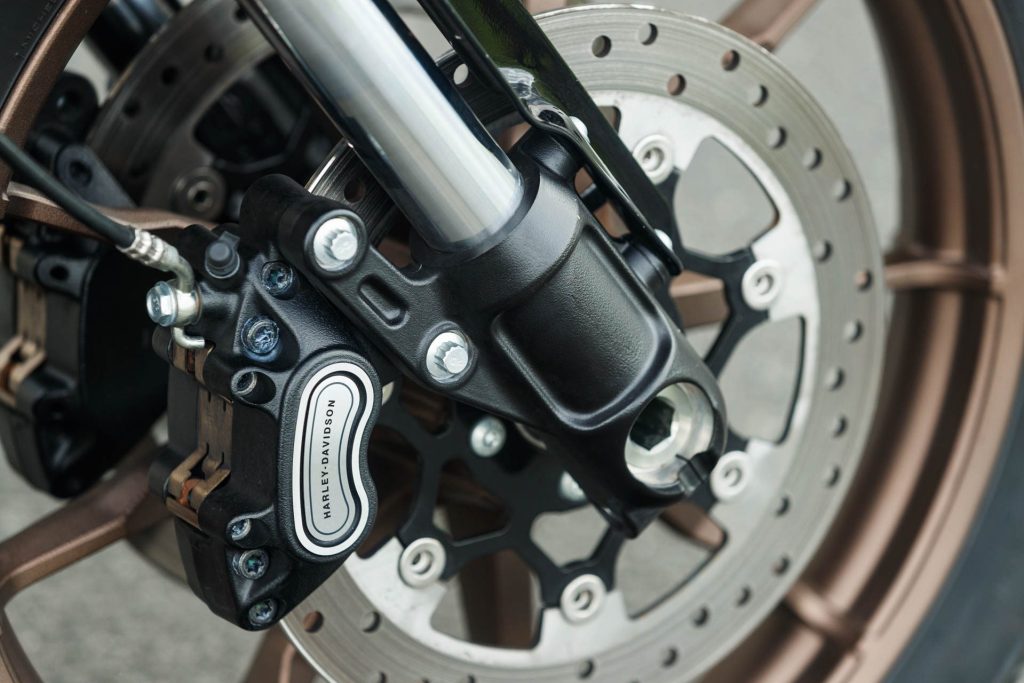 Hardly corner shy
It takes to the corners like you'd not imagine given its bulk. While its long wheelbase and raked out forks (28 degrees, 145mm of trail) mean it is hardly a super quick steer, it leans eagerly and feels oh-so-planted in corners, especially more open and faster turns where you can use up all the 31 degrees of lean angle either side.
Actually, we'd say a little more than that because our bike didn't have the peg feelers attached. In general riding it scarcely touches down but the rubber pegs will eventually scrub if you're determined or go in a bit hot. However, that didn't happen often, the scrubbing that is. On the whole, this is a big cruiser that really doesn't mind getting down. And it's rather comfy too, soaking up the irregularities of our rumpty roads real well. The rear shock is preload adjustable.
You sit low in the high-backed single seat and while the feet seem raised up on the mid-mount pegs, it's an okay riding position that seems to last the distance. Foot pegs and a pew for your pal are available from Harley's accessory catalogue.
A small digital readout sits in the handlebar riser's top clamp and shows speed, revs/gear in use, fuel left, distance to empty and trip data. There's no average or instant fuel consumption figure but we managed roughly 4.5L/100km, not bad at all for a big donk. Harley quotes 5.0L/100km overall.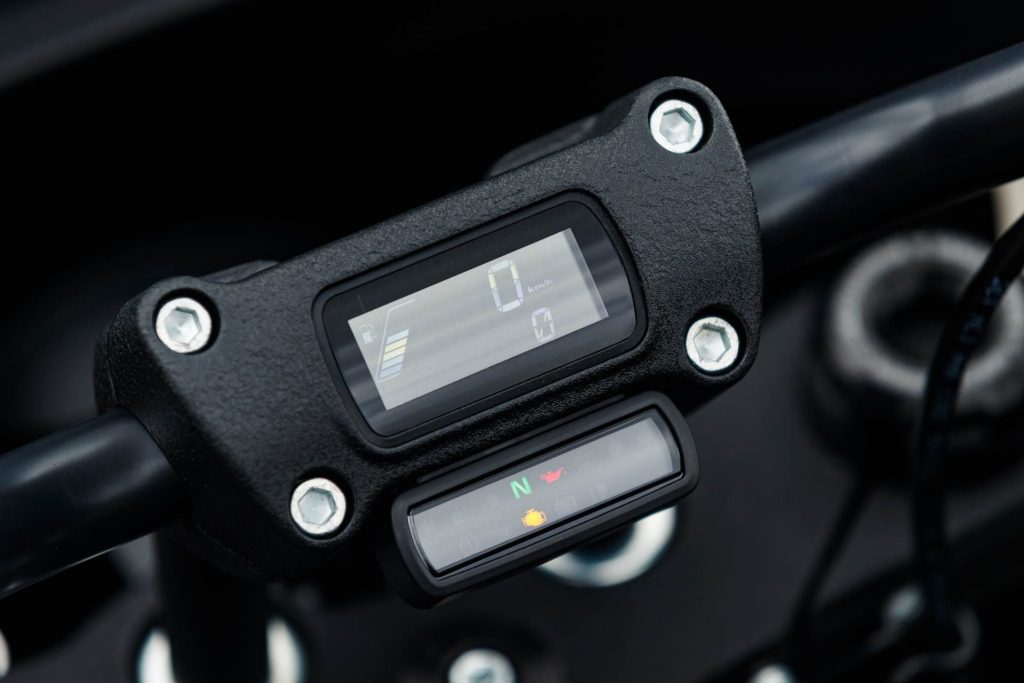 Just the ticket then?
This features the firm's proximity key, so it's just a matter of flicking the ignition switch to on and hitting the go button. You can park the thing on just about any incline and the side stand then does the rest, though at times the bike seems to lean over alarmingly. An ignition lock is activated the old fashioned way, by locating the fob and sticking the key in the lock.
Easier to use is the standard fit cruise control; push in to activate and push down to set. It also accelerates or slows quicker than many such systems. On a long haul cruiser like this, it's a godsend. So are self-cancelling indicators, from a safety standpoint.
Some of my fave Harleys are from the Softail range and this FXLR ST, to use its proper name, is up there amongst them. For it's easy to ride and does pretty much anything you ask of it willingly. Plus, it offers reasonable weather protection and looks the part with its modern fairing, blacked out features and bronzed alloys. Don't need the baggage or fairing? Then save $5k on the Low Rider S instead. Either way, these are hot items. A perfect tonic for that looming midlife crisis.
| | |
| --- | --- |
| Model | Harley-Davidson Low Rider ST |
| Price | $39,490 |
| Format | Air &Oil cooled / Fuel Injected / V2 |
| Engine | 1923cc |
| Max Power | 77 kW @ 4750 rpm |
| Max Torque | 169 Nm @ 3500 rpm |
| Cylinder Head | OHV / 8v |
| Gearbox | 6-speed |
| Drivetrain | Belt final drive |
| Front Suspension | 43mm USD forks, no adjustment |
| Rear Suspension | Monoshock, preload adjustable |
| Front Brakes | Four-piston calipers, 300mm twin discs |
| Rear Brakes | Twin-piston calipers, 292mm disc |
| Safety Systems | ABS |
| Tyre Size | F – 110/90ZR19 / R – 180/70ZR16 |
| Tyres | Michelin Scorcher |
| Wheelbase | 1615mm |
| Seat Height | 720mm |
| Rake/Trail | 28 degrees / 145mm |
| Fuel Capacity | 18.9 L |
| Measured Weight | 323 kg |
| Weight Distribution | F – 151 kg / R – 172 kg |