The almost all-black Harley-Davidson you see here is essentially a hopped up Street Glide, the ST presumably short for Street or maybe Stroppy.
This is a performance bagger then, coincidentally launching just after Harley took out the King of the Bagger race series in the US. These racing versions aren't your average cruisers either, designed to get around tracks like Laguna Seca, for heaven's sake.
Anyhow, the ST's powered by the biggest engine that Harley does, the Milwaukee-Eight 117 (1923cc) featuring less restricted breathing and high performance cams. This is the mill that powers the top-end CVO Harleys and with better air flow the big easy-going air/oil-cooled V-twin pumps out 105hp (77kW). Alongside that is a wholesome 168Nm of torque at 3500rpm which is what really drives this beast.
They've also removed a bit of weight but only a few kaygees and in the scheme of 370kg overall, it's hardly significant.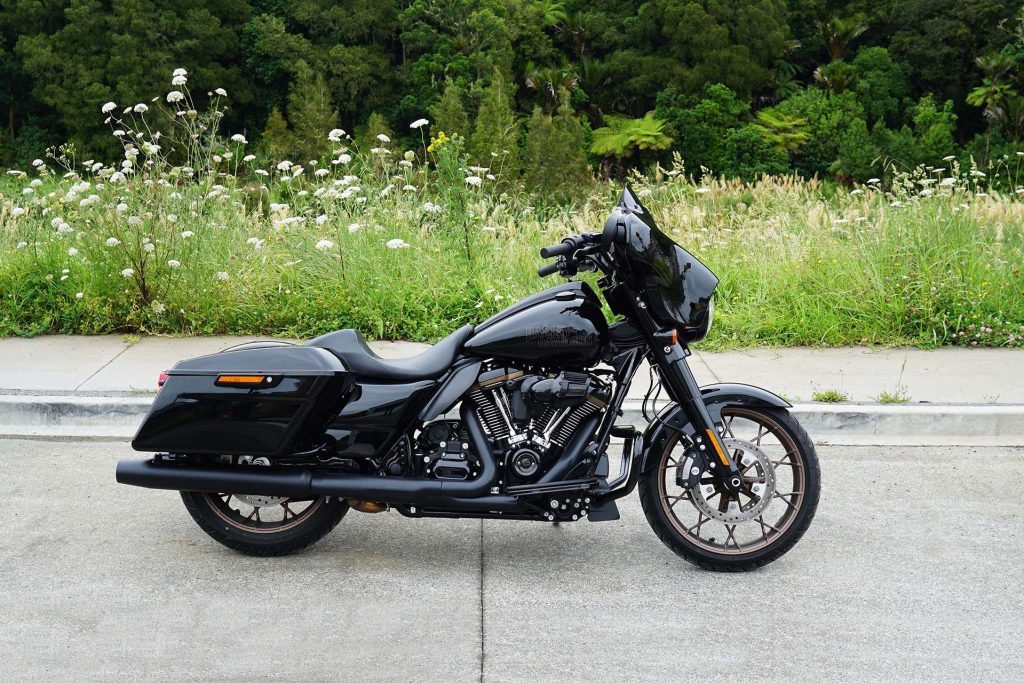 Unchanged are the linked Brembo brakes under ABS control, an infotainment system with colour touch screen and navigation, cruise control and LED headlamps. There's also the batwing fairing that keeps a surprising amount of weather off the rider, without creating much in the way of buffeting. Your legs are more open to the weather however, and they can cook a bit in heavy traffic. On the right side, the knees of taller riders will run into the intake tract behind the air filter. 
You'll not want to hang around in heavy traffic for too long, as the clutch pressure can be tiring, and there's a fair amount of weight carried high, so you need to have your feet down, prepared if everything comes to a halt. Surprising as it may seem, this can lane split okay, the panniers not too big (right sized really) and the bars not too wide (these dictate lane splitting readiness on any machine).
The other difference is that this stands a bit taller, with extra rear travel. All of which means it can get through more corners without touching down and it's said to sharpen steering response as well, both of which we can confirm. You'd be surprised how far you can lean this over before the running board makes contact with the tarmac. And while it feels large and a little unwieldy when manoeuvring under your own steam, once underway the long wheelbase and stability take over as the dominant theme. It can take to hill roads with more enthusiasm than you might imagine but this is happier in open, faster territory.
It can hike too, quicker than the Sport Glide, despite being substantially heavier. A sprint time of 4.3sec was matched with a 2.8sec overtake. And while that's rather surprising performance for a bagger, it's the way it does the day-to-day stuff that impresses equally, pulling well in the 2000-3000rpm range (2250 in top equates to 100km/h, 2500 a relaxed if illegal 120km/h) while using 2500-3500 it's pretty stroppy and 3000-4000rpm, few cars will keep up with you away from the lights. Gas it and the intake howl is almost as satisfying as the classic Harley exhaust note. It's louder than most unmodded new H-Ds too, despite passing noise tests.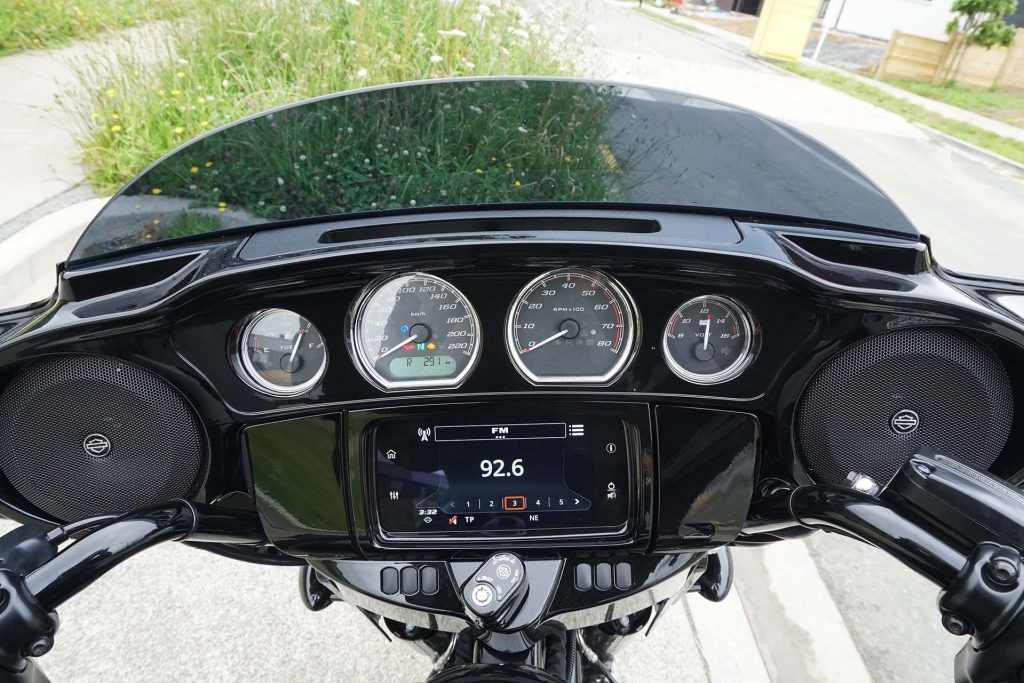 Extracting the output is pretty easy as the gearbox doesn't graunch into first, cold or warm, upshifts are clean, especially when shortshifting before 2000rpm, as you do in town, and there are no engine modes; it's down to how fast you twist the wrist.
More brakes wouldn't hurt. On their own the fronts require a decent amount of lever pressure for barely adequate retardation but when the rear chimes in we achieved a best emergency stop of 41m. Figure on cornering ABS and cornering TC on this machine too, both great safety features on a big bike.
The ask for this is $48,995, a fair wedge for something with just a single seat. But there's a whole lot of standard kit too, as mentioned, like the Boom Box infotainment system comprising a touchscreen, two fairing-mounted speakers, and a hidden radio antenna. Within the batwing fairing are four instruments. Trip information doesn't include fuel use figures but there's a petrol gauge. For those wondering, the answer is 6.1L/100km, and with a 23L tank that's roughly 350km of travel before you need to search for the next servo.
Although Showa suspension is largely unadjustable – you can remove the left pannier to alter rear preload only – the ride quality is pretty decent and the riding position great but the seat could do with more padding.
A couple of other points; the horn is the loudest I've encountered on any single tracker, suggesting don't mess with me. And there's a rain indicator that tells you when it's raining, in case you missed that while out riding.
All in all, this is a surprise. You'd not think something this hulking and top heavy would be quite so precise on the move. And that motor that moves mountains is pretty special
Model
Harley-Davidson
Street Glide ST
Price
$48,995
Engine
1923cc, air/oil-cooled,
fuel injected, V2
Power/Torque
77kW/168Nm
Transmission
6-speed, belt final drive
0-100km/h
4.27sec
80-120km/h
2.80sec (78.97m)
100-0km/h
41.36m
Safety systems
ABS, TC
Seat height
710mm
Weight
369kg (claimed)