It's the low, raked chrome-heavy look of the Fat Boy that first draws the eye but there's a lot more to this Harley.
Why would anyone call a bike Fat Boy? Because that's what Harley did when it first came up with the concept in the late 80s.
People thought it had something to do with the infamous atomic bombs, Fat Man and Little Boy, used at the end of WWII but actually it was because of the width of the machine when viewed from front on.
Anyhow, it wasn't this feature or the name that made Fat Boy an iconic bike. It was the fact that it co-starred with Arnie in Terminator 2, soon after its release.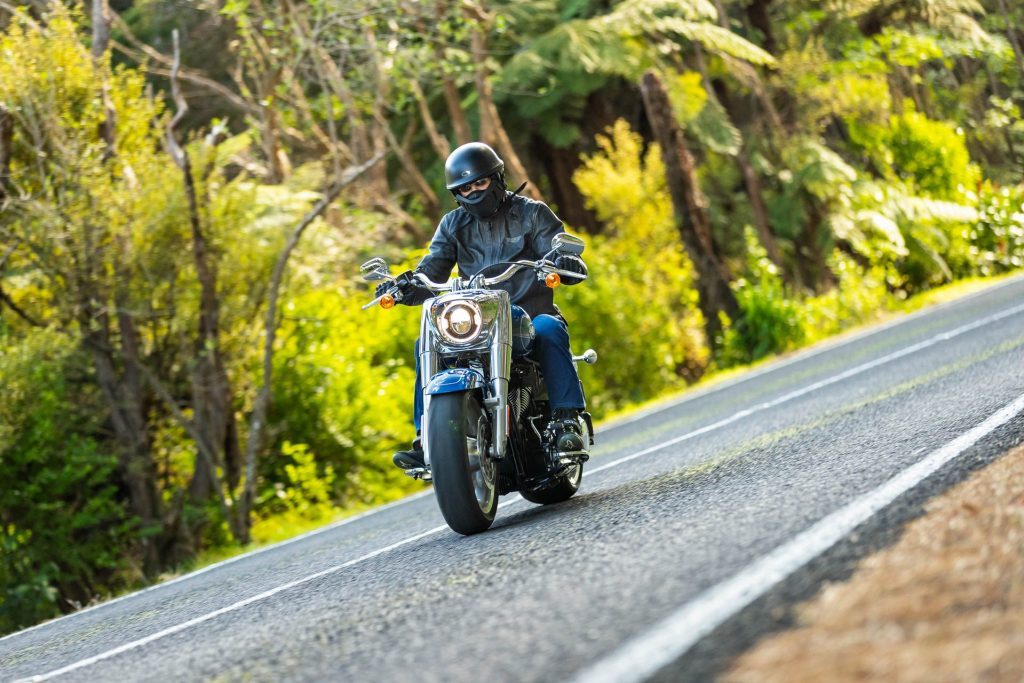 And so its reputation as a bad boy started right there and then. Who doesn't remember the Los Angeles River scene with the Harley jumping off a 5m ramp into the concrete river bed? Classic.
When we collected it, the FB was sandwiched between a Pan America and a Street Glide at Auckland's Harley HQ. It looked laughably small against these two taller machines but that's on account of the fact it rides so low, with a 675mm seat height, and has no fairing of any sort.
On its own it is substantial, not quite as stretched as the FXDR 114 muscle bike but with forks raked out to 30 degrees it sure is long. Originally it came out with solid wheels.
It still has that look about it, even if the wheels are no longer completely closed off. And there's still the sizeable dish in the front wheel.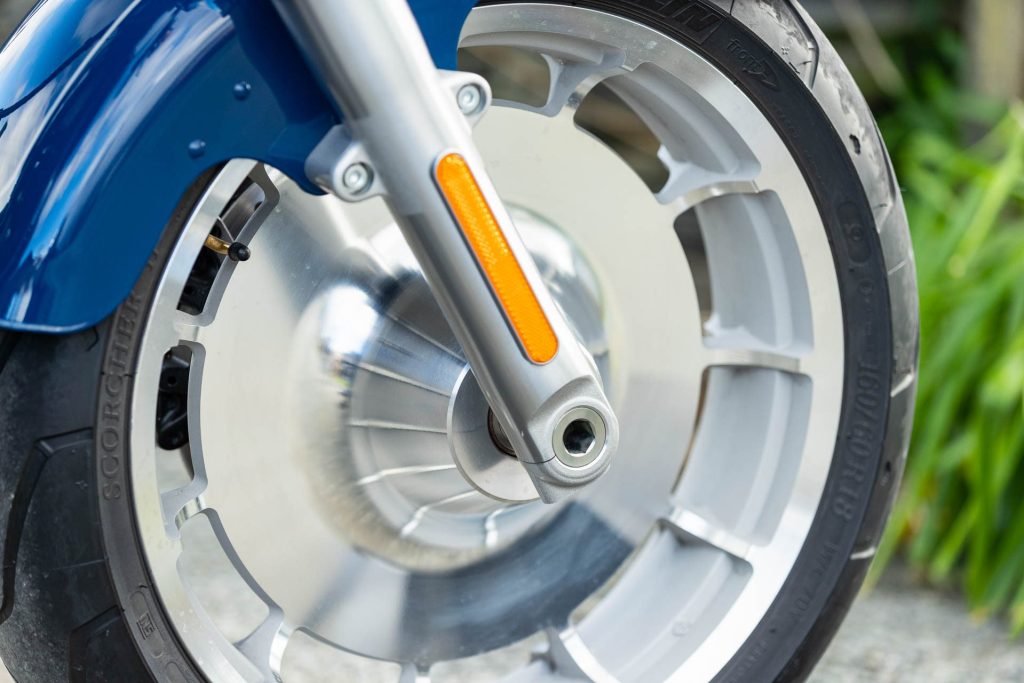 Blingy boy
And then there's the chrome. Where there's next to none on the FXDR hot rod, this is awash in it. The Fat Boy is a tricky bike to photograph on a sunny day because it gleams from all angles.
You need proper eye protection when riding it under cloudless skies, as the squared off headlight nacelle and handlebars, the risers, and other brightware reflect the sun laser-like into your eyeballs.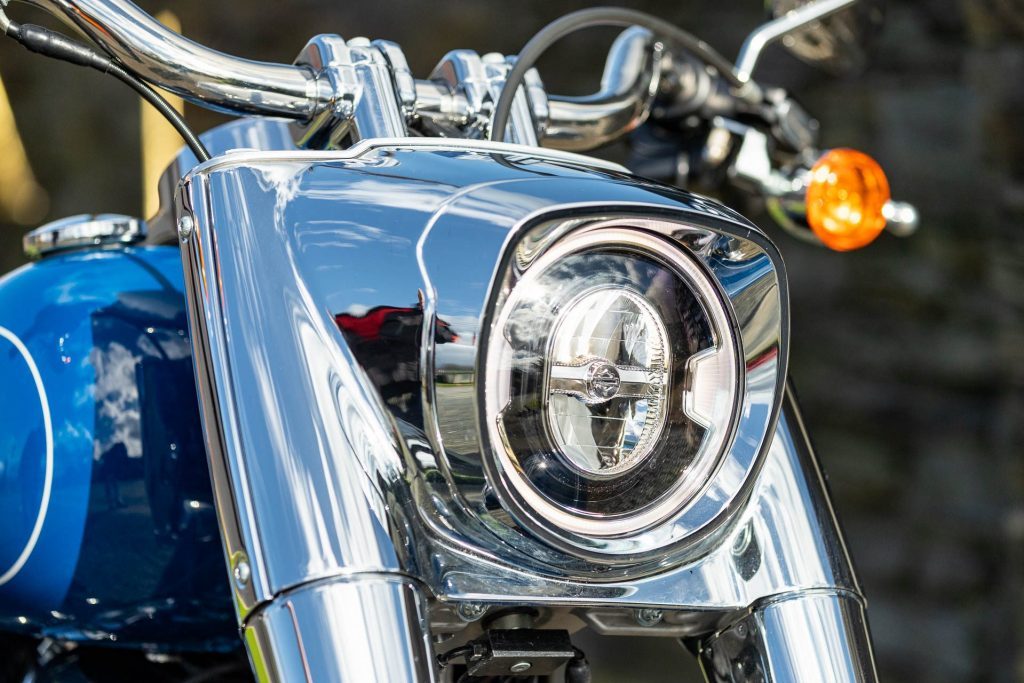 But what a sight this is to behold, glinting in the sun. Harley says it has a 'steamroller' stance, which we guess is because of the generous tyres.
The wheels are gorgeous, dubbed Lakester, whatever that means. So yes, the wheels are visual distractions but so too is the M8 114 (cubic inch) motor which is very much the centrepiece of the machine.
Lots of rubber – mixed blessing?
Then there's the hardtail look at the rear, as if it has no suspension. It's a member of the Softail group, meaning it has a monoshock hidden up under the seat. Better yet, the suspension unit has external preload adjustability.
At pick up, the rear end was rock solid, the knurled knob wound up tight. So we unwound it fully and off we went.
We were warned that with the meaty rubber, 240/40 at the rear, and 160/60 up front, this might tramline a little and be tricky to turn.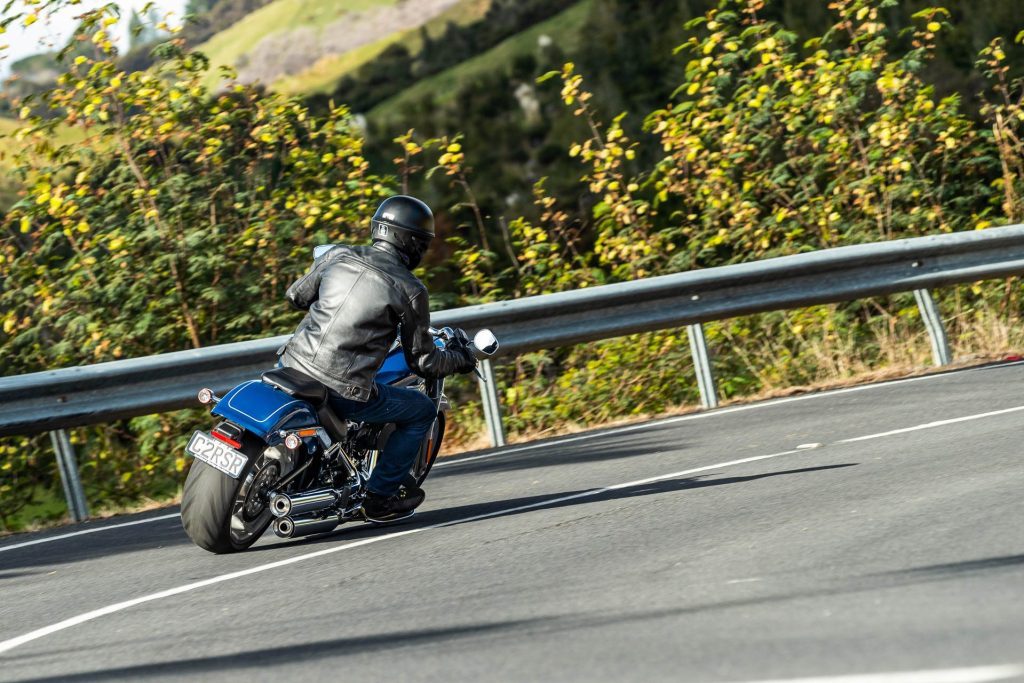 Initially at slow speeds it didn't seem to want to change direction that easily and that kind of never goes away but tramlining wasn't an issue. While the wide tyres are mainly about the look, is it only that?
Perhaps not. It may weigh in at 318kg but it ain't slow, with 100hp and 160Nm. A claimed 0-60mph time of 5.0sec seems conservative. With plenty of revs up the launch is clean and it managed a best 0-100km/h time of 4.5sec.
The 80-120 uses third gear alone and takes under 2.7sec.
It's also abrupt away from the lights, without even trying hard. And it pulls well from 80km/h in top too, 100 being a car-like 2200rpm. The peak torque figure of 160Nm arrives at slightly over 3000rpm so this is very laid back.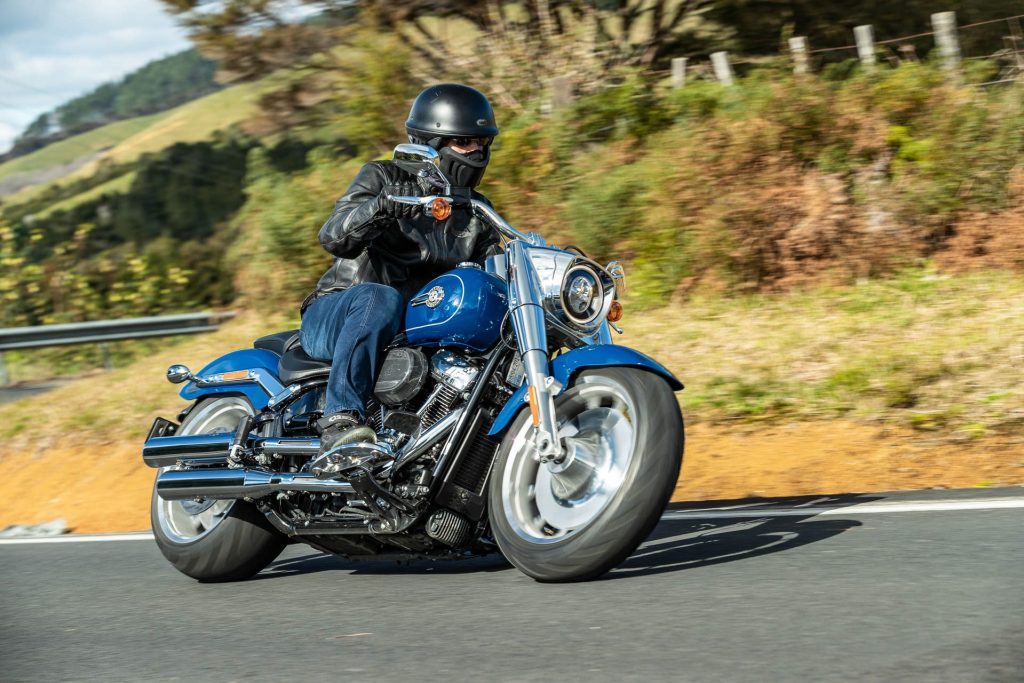 Vibes aren't an issue either, even at idle where there's just a smidge of engine rocking. Oddly the left mirror was clear at 100km/h, the right one not so much.
Added rubber means better braking, right? Mos def. Despite only having a single disc up front, admittedly with a four-piston caliper, the effect of the 240/40 tyre plus the rearward weight bias means a big contribution from the aft end, contributing to a best emergency braking distance of 35.4m, second only to the FXDR's record of 33m and change.
Which just goes to show that you don't need twin discs up front for good stopping power, and that heavyweights like Fat Boy (318kg) can be contenders when it comes to serious retardation.
Looks good and rides the same
Those wide tyres and the long wheelbase conspire against agility in tight hill country roads – be sure to set corner entry speed correctly – but in more open turns this feels fine.
There's not a lot of ground clearance and with the extended length it doesn't take much of an effort to have the floorboards skimming along the tarmac.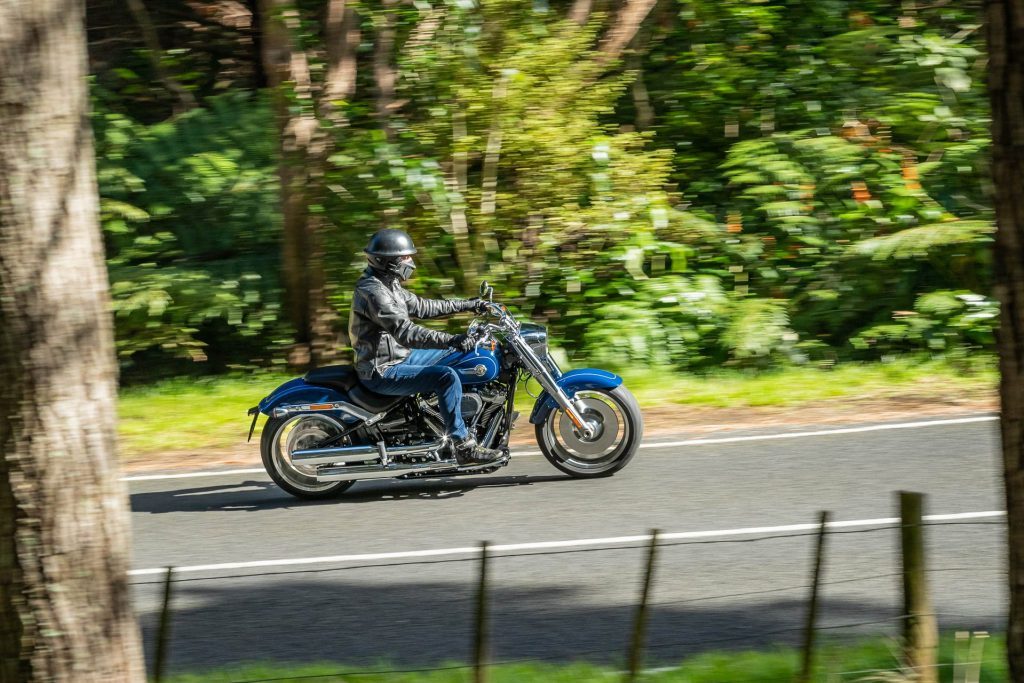 The maximum lean angle either side is 26.5 degrees. We found the bike has a tendency to stand up in bumpy corners too, which you can counter by just holding the bars firmer.
Anyhow, this is largely forgivable because the Fat Boy rides so very well. The rear end in particular deals to lumps and bumps like they're simply not there.
Ride comfort isn't always a given with cruisers, style often taking precedence but in this case you get both. The riding position is easy going too, the 'bars not too high, with just the right amount of leverage, and footboards allow you to move your legs around.
A two-tier seat has the pillion perching on a mean slither of foam. This is more for a singleton and the occasional short jaunt with a friend.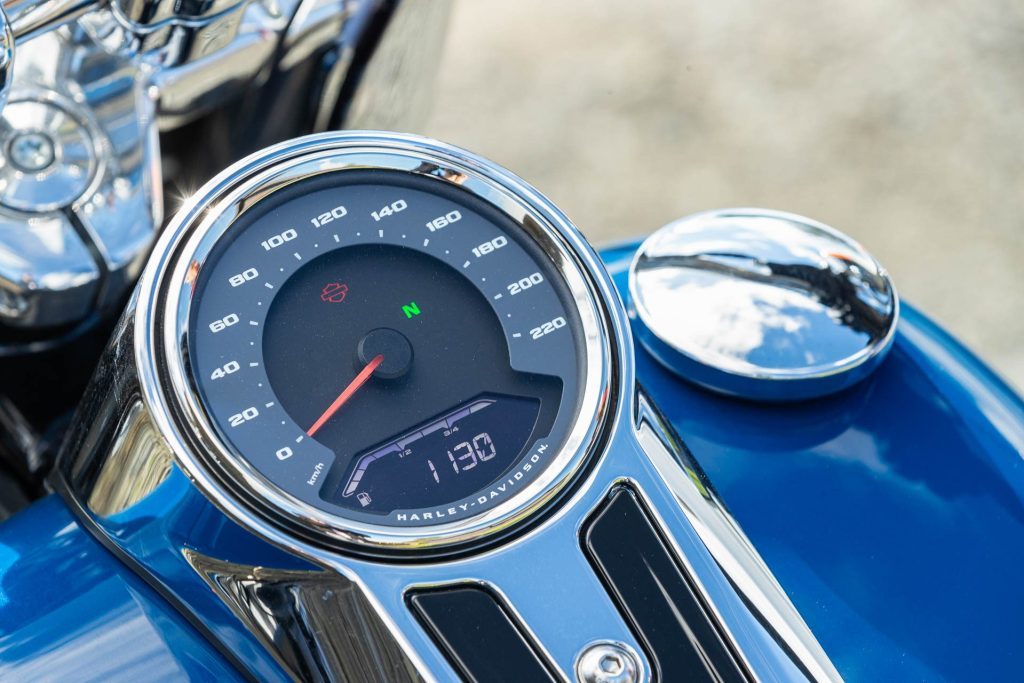 A few other things; there are no ride modes or traction control, so ABS is about the only electronic safety feature. A single instrument suffices with most relevant data present, 'cepting fuel use (claimed 5.5L/100km).
For 2023 Fat Boy gets manual cruise control as standard and full LED lighting. With all that rubber aboard, you're aware of road noise over chipseal, an unpleasant addition to wind noise, though the V-twin rumble compensates to a degree.
More exhaust loudness wouldn't hurt, a complaint that applies to most new Harleys.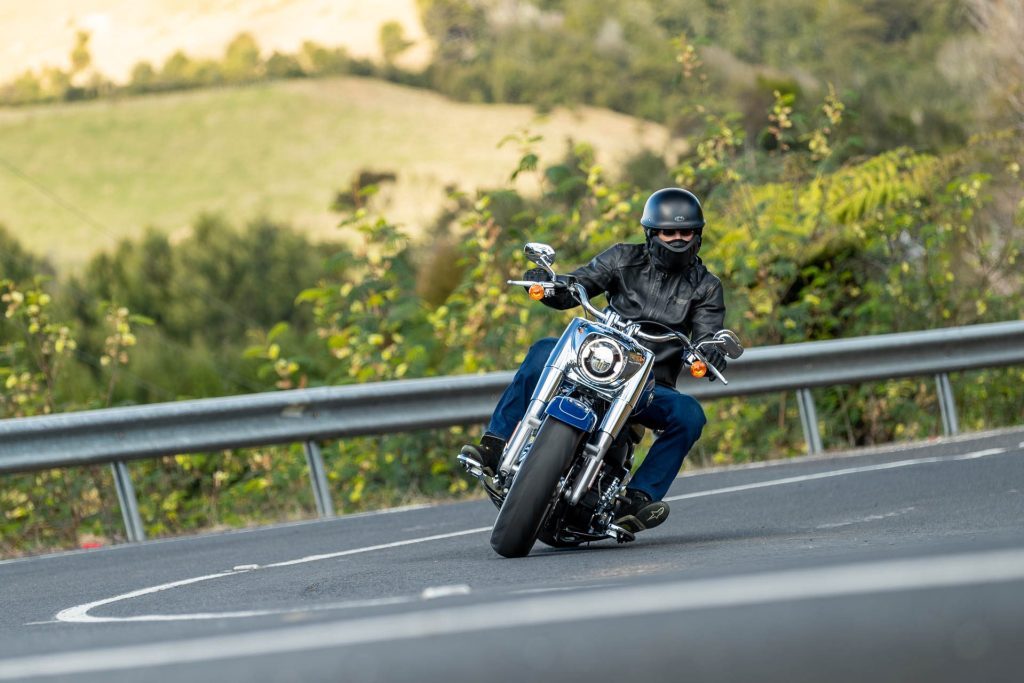 The parts division will see you right but then you're already paying $40,750 for this blue Fat Boy and the two-tone red 120 Anniversary edition with gold highlights adds a further $2k. Still, if it's good enough for Arnie…
| | |
| --- | --- |
| Model | Harley-Davidson Fat Boy 114 |
| Price | $40,750 |
| Format | Air/oil cooled / Fuel Injected / V2 |
| Engine | 1868cc |
| Max Power | 70 kW @ 5020 rpm |
| Max Torque | 160 Nm @ 3250 rpm |
| Cylinder Head | SOHC / 8v |
| Gearbox | 6-speed |
| Drivetrain | Belt final drive |
| Front Suspension | 49mm USD forks, no adjustment |
| Rear Suspension | Monoshock, preload adjustable |
| Front Brakes | Four-piston calipers, 300mm disc |
| Rear Brakes | Twin-piston calipers, 292mm disc |
| Safety Systems | ABS |
| Tyre Size | F – 160/60R18 / R – 240/40R18 |
| Tyres | Michelin Scorcher |
| Wheelbase | 1665mm |
| Seat Height | 675mm |
| Rake/Trail | 30 degrees / 104mm |
| Fuel Capacity | 18.9 L |
| Measured Weight | 318 kg |
| Weight Distribution | F – 148 kg / R – 170 kg |