It's the most important newcomer from Harley-Davidson in ages as the firm rebuilds for the future. Enter Pan America, a full bore ADV to take on the big fellas.
Harley Davidson is emerging from dark times after a sales and share price slump. The company needed new direction, though an electric revolution was risky, untimely and not the answer. LiveWire as a sub-brand will no doubt have its day when ICE powered bikes are legislated out of existence.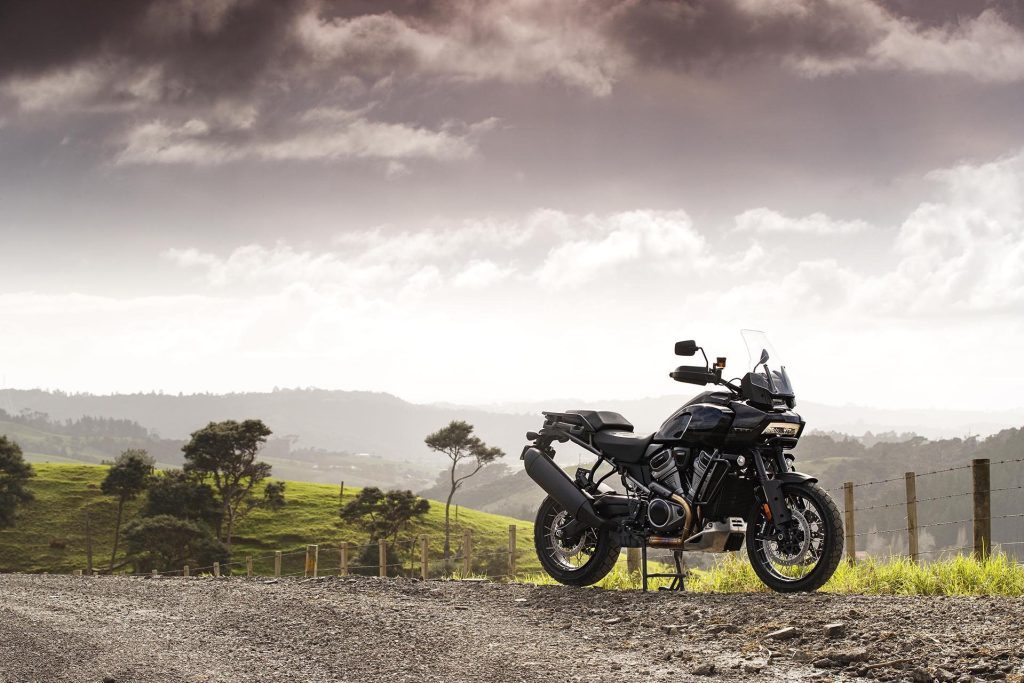 Meantime, the latest restructure has culled some slow sellers and introduced new ones, like Pan America. This represents the company's take on a fully featured adventure bike with serious ICE power. Okay, so H-D was late to this sector but given it had only ever made cruisers previously you can cut it some slack.
Pan Am makes quite the impression. It's big, bold, technologically up to speed and doesn't weigh too much thanks to the engine being a stressed member, minimising the frame structure.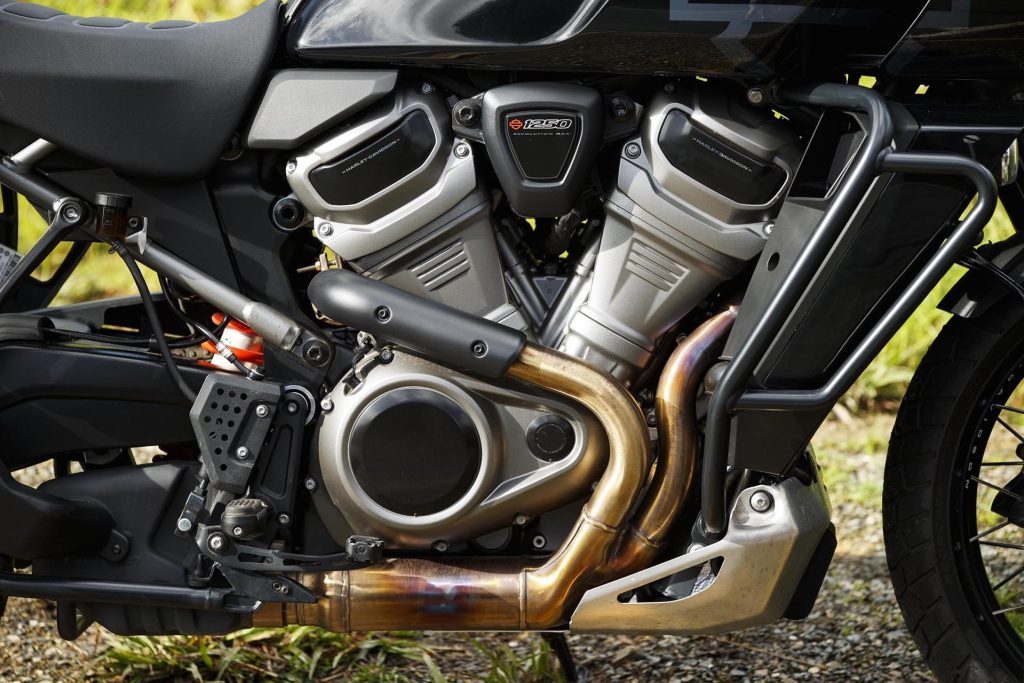 It's a full-sized offering too, up against the likes of R 1250 GS, 1290 Super Adventure, and Multistrada V4 Essential, amongst others.
It features a spanking new engine, a V-twin it goes without saying, sporting variable valve timing, a bit radical in the bike world but not unheard of; Ducati, Suzuki and BMW got there first.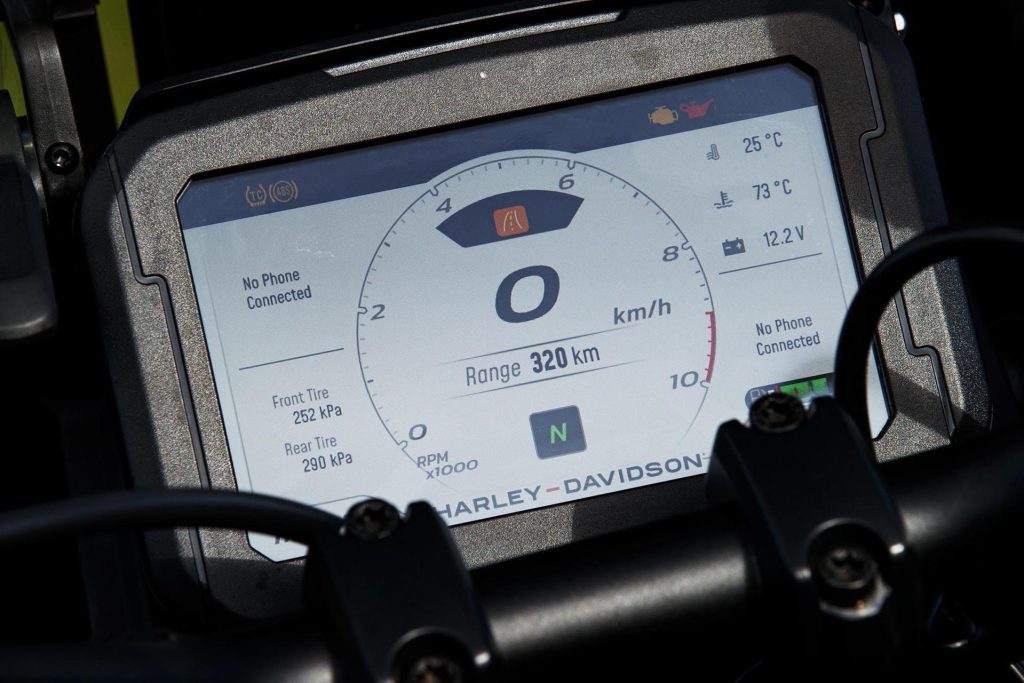 Because it is a two-wheeled equivalent of a full-sized SUV, it has sold well; evidently it led the field in the US last year, with over 2500 going to new owners. Not bad for something brand spankers and looking utterly different from its cruiser kith and kin. Like most in the sector it's tall and gangly but, like SUVs, these major on practicality and comfort, not necessarily windswept lines built for almighty speed.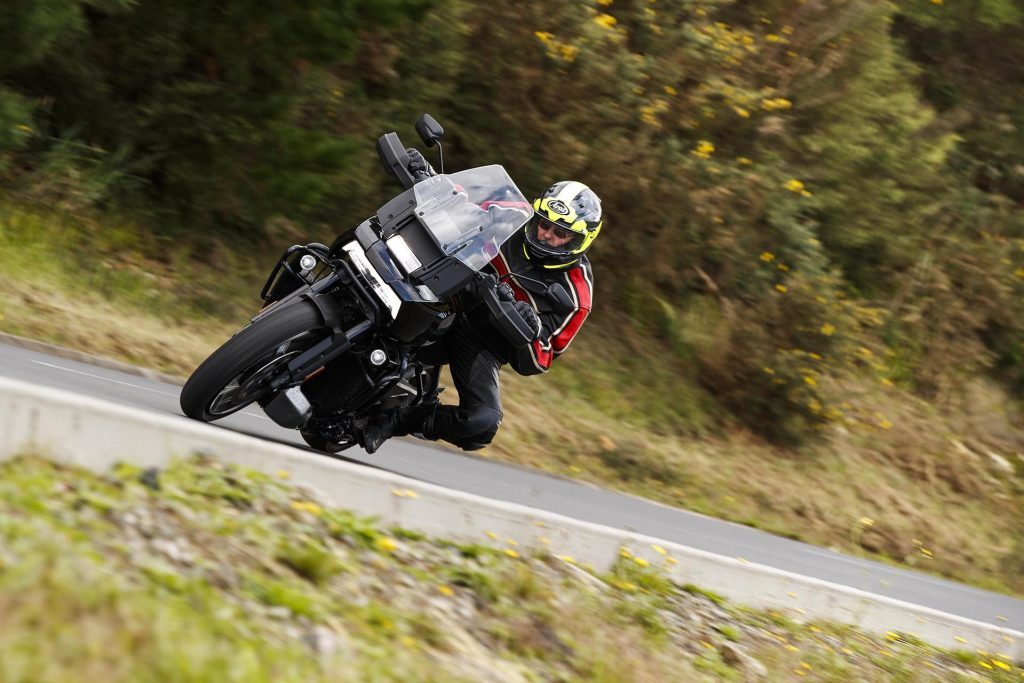 In a swivel away from the usual low revving, stump pulling V-twin lump the company utilises in its cruisers, the Revolution Max 1250 engine in the Pan Am is more of a performance twin, forgoing the locomotive shunting effect at low revs – it's not really happy below about 2500rpm – and instead letting rip up top, the party ending at around 9500rpm. And in concert with a fairly restrained overall weight of around 270kg its peak power of 112kW and torque max of 128Nm (at 6500rpm) imbue this with performance that's truly competitive. It outsprints most in the sector (3.5sec) that we've tested in the rush to 100km/h, and its best overtaking time of 1.63sec is only a sniff behind its lightweight relative with which it shares an engine, the Sportster S.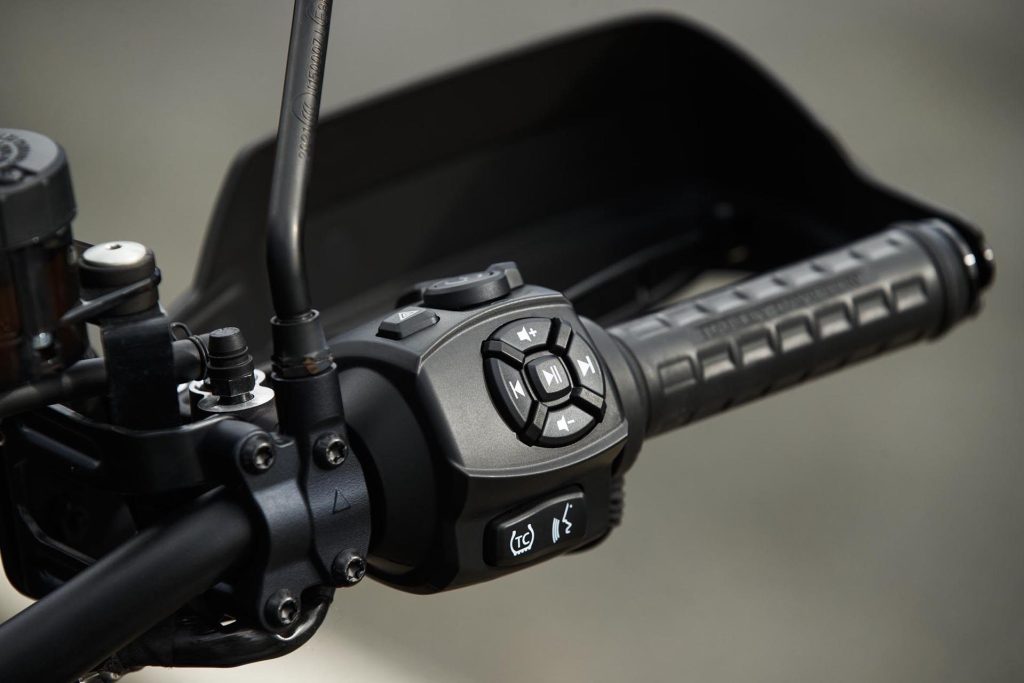 To my mind, the Pan Am gets most things right, not bad for something that's straight off the drawing board. Okay, so there's no shaft drive, it's big and the weight feels to be carried high, making it tricky to manoeuvre on uneven ground. Once underway though, it's not like that, and you can do feet-up U-turns easily enough.
We found the side stand hard to retrieve from its home position and its flexy nature means the bike leans over alarmingly at times. It can then be tricky to haul back to upright. A centre stand comes standard but if you're a beanpole you'd not bother wrestling with this.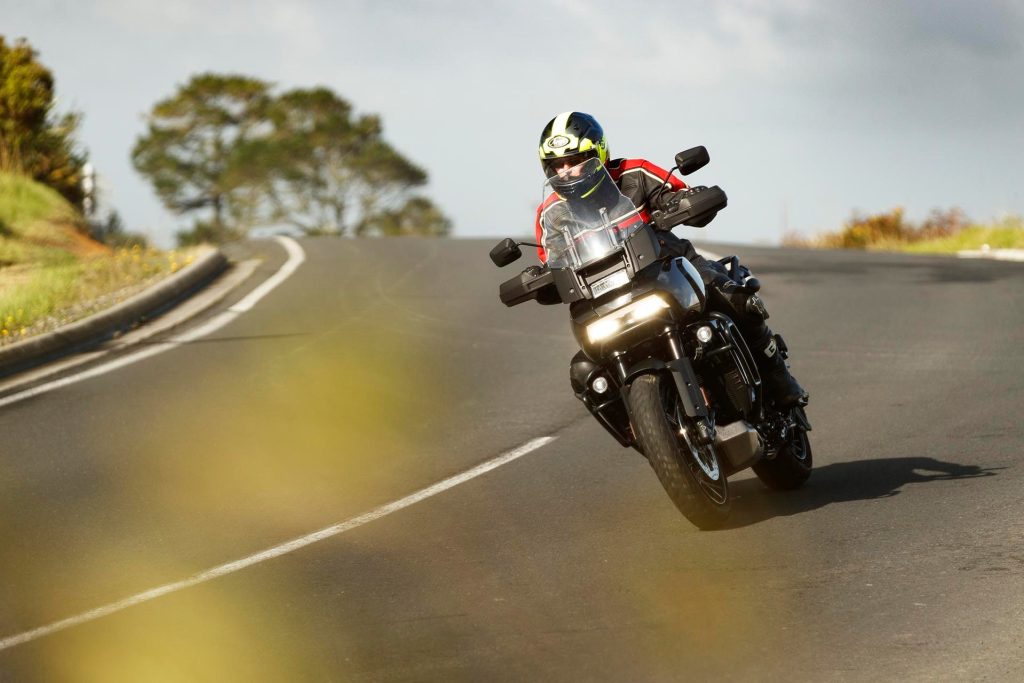 Those are the main issues as we see them. Pan Am features lots of good new tech, like electronic boingers for they generally ensure better comfort than regular springs and dampers. Sport is firm, more like a track setting while Street goes almost too far the other way, but you can configure a nice balanced in-between setting easily enough, once you know how.
There are also various off-road settings which we didn't try. Would you take something this substantial off road if you weren't that experienced? Nope, I didn't and likely as not most owners won't either. These are bought mainly as long haul tourers because of their generous power, comfy adaptable suspension, huge tanks and luggage/people carrying capabilities.
On the Sport setting the engine responsiveness is just right, even if suspension is overdamped. The Street setting is closer to the comfort you're after but then the engine response feels blunted. Balanced mode for ride and Sport for the engine are ideal, so consign these to configurable mode A and leave it at that. And maybe the Street setting for urban riding (mode B).
Another nice aspect of the suspension is that it is self adjusting; add a passenger or panniers and the rear automatically firms up.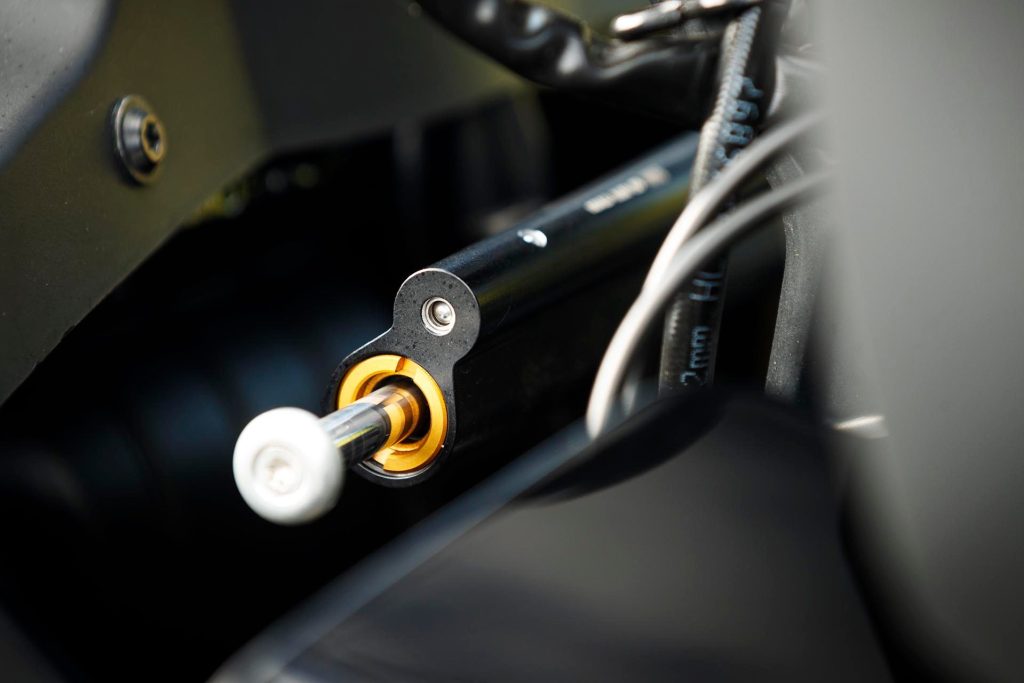 It has another trick too called Adaptive Ride Height. This is a $2215 ask and comes as a package that includes the sexy laced spoked wheels. At a stop the suspension is set about an inch lower, not quite enough to prevent it from still being imposing to swing a leg over.
Practically speaking this rocks. We like the riding position, the seat is about right for padding, quite plush and you can locate yourself against the leading edge of the pillion seat. Your friend along for the ride fares well too, getting a roomy seat with hand holds and there's a luggage rack in behind.
Controls seem well thought out, and cruise is easy to use. You appreciate the self cancelling indicators but after lane changes when you need to manually turn off trafficators, it's something of a hit and miss affair. Precision is key.
We were impressed with the adjustable fairing. How seldom we get to say that. Okay, so it wobbles a bit on the go but in the second to top setting it is tall and upright enough to keep most of the wind blast off and it's reasonably quiet. Set thus, you can ride visor open without too much wind noise. Mention of wind, this seems almost immune to it, no matter which direction it's blowing from.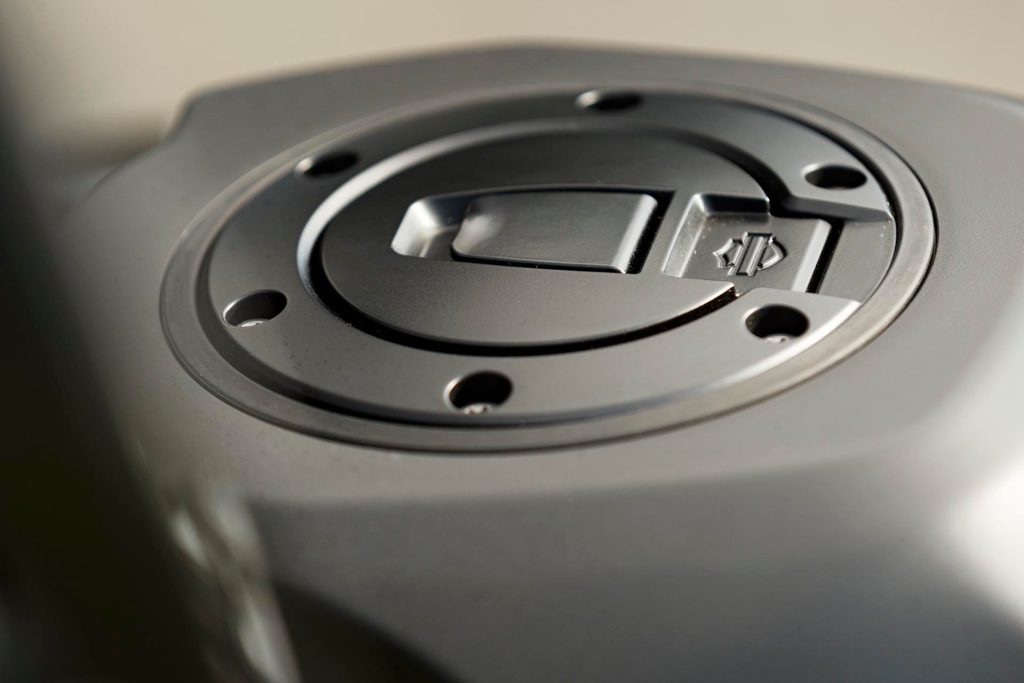 This doesn't steer that quickly but it is fully cooperative, leaning easily enough and holding a line just so. Through winding roads you can generate a nice flow and the tyres work well, at least in the wet/dry/wet conditions we encountered in late Autumn.
It may not be the lightest in the sector, but it has sterling Brembo radial-mount monobloc brakes that are more than a match for its weight and performance, the twin discs with four-pot calipers producing a best stop in the 37m area. That's right up there with the best in the sector.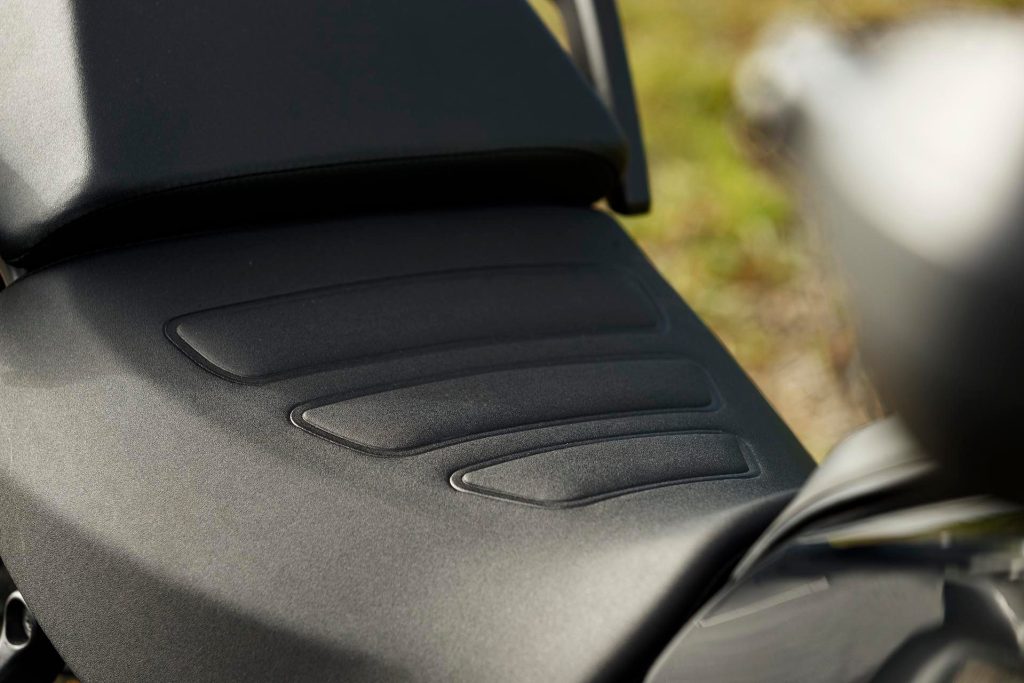 We thought the tranny in the Sportster S a trifle notchy and this feels that way too, requiring a bit of effort to shift in either direction. The clutch is made of stern stuff though, taking rapid launches in its stride. A quickshifter is an optional extra.
The tank is a generous size on this but it needs to be, for proper touring. There's plenty of info on the TFT screen, though fuel use on the go is omitted. Distance to empty is handy though, and a range of 400km plus is possible from its 21L tank, meaning an average of somewhere in the fives, which H-D should be happy with (officially 5.5L/100km overall). That's partly because when touring the engine's turning a relaxed 4000rpm in top (equivalent to 110km/h indicated, 105 real).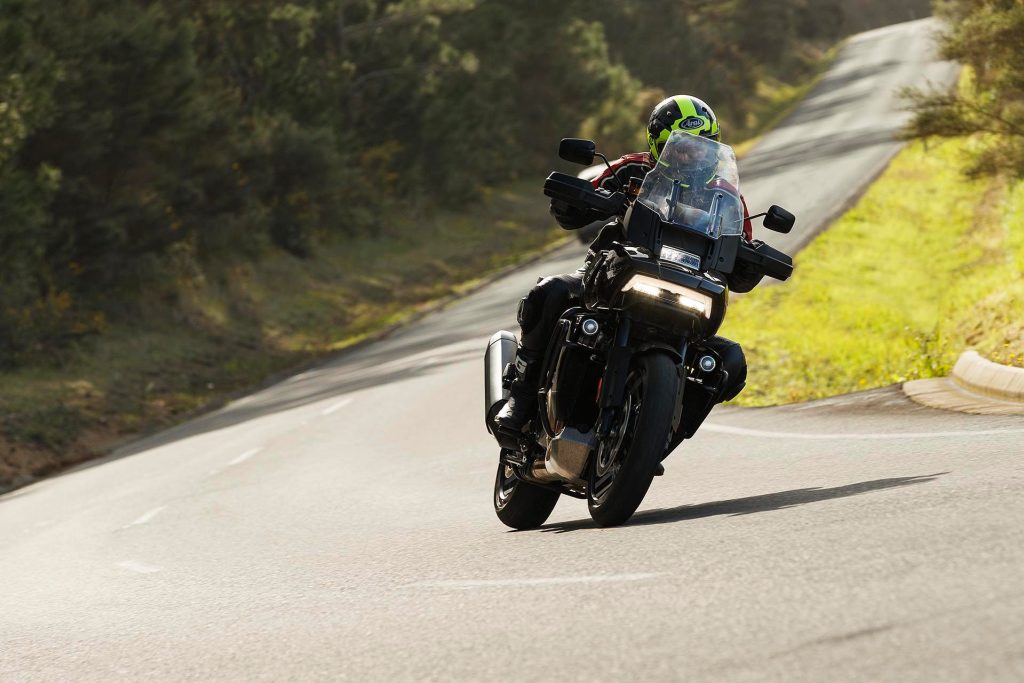 We checked out stability at speed too – rock solid – and I guess in the interests of safety it has a governed top speed, limited to around 220km/h.
There's lots more to this replete bike, including connectivity (we didn't because our new and very comfortable Arai Quantic helmet isn't wired), heated grips and LED headlamps.
Plus the usual H-D proximity key. It was a surprise to need a key to lock the ignition, but it's well sited so can be done from the seated position.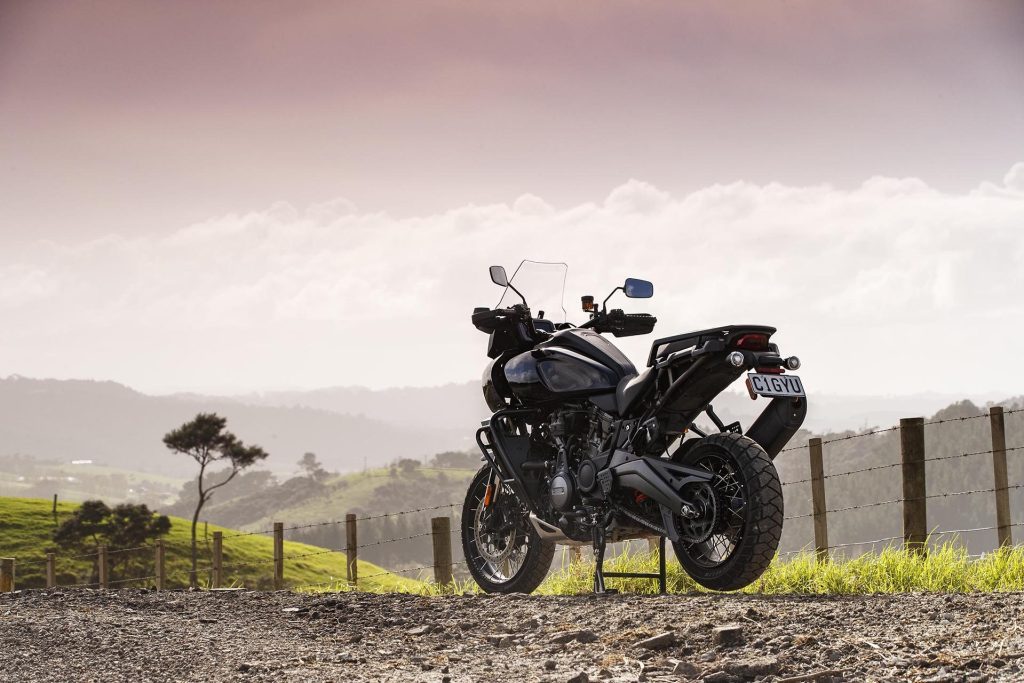 At $35,750 ride away pricing, Pan Am undercuts the BMW R 1250 GS at $37,990 but is more costly than KTM's 1290 Super Adventure at $34,899. It will also come up against Triumph's new incoming Tiger 1200, price unknown. Formidable rivals then but for H-D to offer something competitive on its first attempt at an adventure bike should not be overlooked. And if it all seems a bit grand, there's said to be a 975cc variant on the way, sharing an engine with the new Nightster cruiser.
Model
Harley Davidson Pan America
Price
$35,670
Engine
1252cc, liquid-cooled,
fuel injected, V2
Power/Torque
112kW/127Nm
Transmission
6-speed, chain final drive
0-100km/h
3.56sec
80-120km/h
1.63sec (55m)
100-0km/h
37m
Safety systems
ABS, TC, wheelie control
Seat height
830-850mm
Weight
254kg (claimed)