Alfa Romeo's overall strategy has changed tack somewhat under the guidance of parent company Stellantis. The Tonale is a new offering for the Italian, one with a more attainable price point as Alfa seeks a broader customer base. Will it revive its maker's fortunes locally?
You would have thought that a manufacturer like Alfa Romeo, having been around since the dawn of the automotive era, would have done everything by now. Yet, Tonale is a new chapter in the 112-year history of the Italian car maker. It is the brand's first foray into what has become the most popular segment in many parts of the world. We talk of those compact SUV types that have gobbled the share of the once popular hatchback. It's not Alfa's first modern high rider, which would be the Stelvio. But unlike its larger bro, which sits on a bespoke platform that adds to its price, Tonale leverages the wares of its Stellantis parent company. So it rides on a common architecture, shared with the likes of the Dodge Hornet. This allows Alfa Romeo to plough into more affordable territory, with the entry-level Tonale Ti starting at $59,990 here.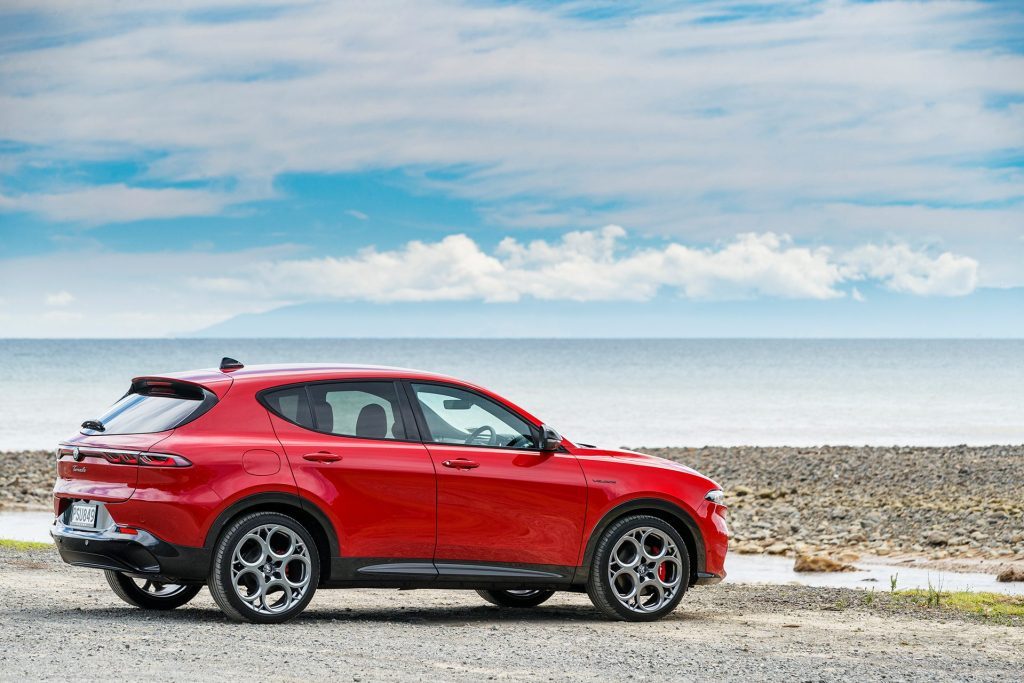 What? An Alfa Romeo for Qashqai money?
Well, almost. The top Nissan Qashqai, which we also feature this month, now retails for $56,990, so it's not far off. And it's even closer once you factor in the Tonale's $1253 rebate thanks to its electrified powertrain. There are two models at launch, the aforementioned Ti and the higher-spec'd Veloce, starting at $66,990. There's the one powertrain, a 1.5-litre turbo with a 48V hybrid system. A plug-in is coming in 2024. Locally, Alfa Aotearoa sees the Tonale as its first opportunity for volume sales in many years. In 2022, with just Giulia and Stelvio to peddle, Alfa dealers sold 104 cars. In total.
Alfa NZ reckons the more attainable entry price will be a hook for buyers, and it hopes that a move to a five-year, 100,000km warranty with five years of road side assistance will help alleviate any brand anxiety regarding reliability. It's also adding five years of WOF cover to the package, and is working on a fixed cost service plan for Tonale to further entice new owners to take the plunge.
So the Tonale is a hybrid eh?
Yes, one that uses electrical gubbins to help ease fuel consumption but doesn't need charging. The main power unit is a 1.5-litre four-cylinder petrol, with a variable geometry turbocharger (a rarity on a petrol engine) while it runs on the Miller cycle. This helps reduce those pesky pumping losses, aiding efficiency. It's helped out by a 15kW electric motor (though Alfa calls it an 'electric machine' as it is both a motivator and generator) that lives in the casing of the seven-speed dual-clutch transmission. It runs a 48V system, so is classed as a mild hybrid, while it stores energy in a 0.8kWh battery that lives under the centre console. System output is 118kW at 5750rpm with 240Nm available at 1500rpm. As to fuel consumption, the figures from the Rightcar website are 6.2L/100km and 143g/km.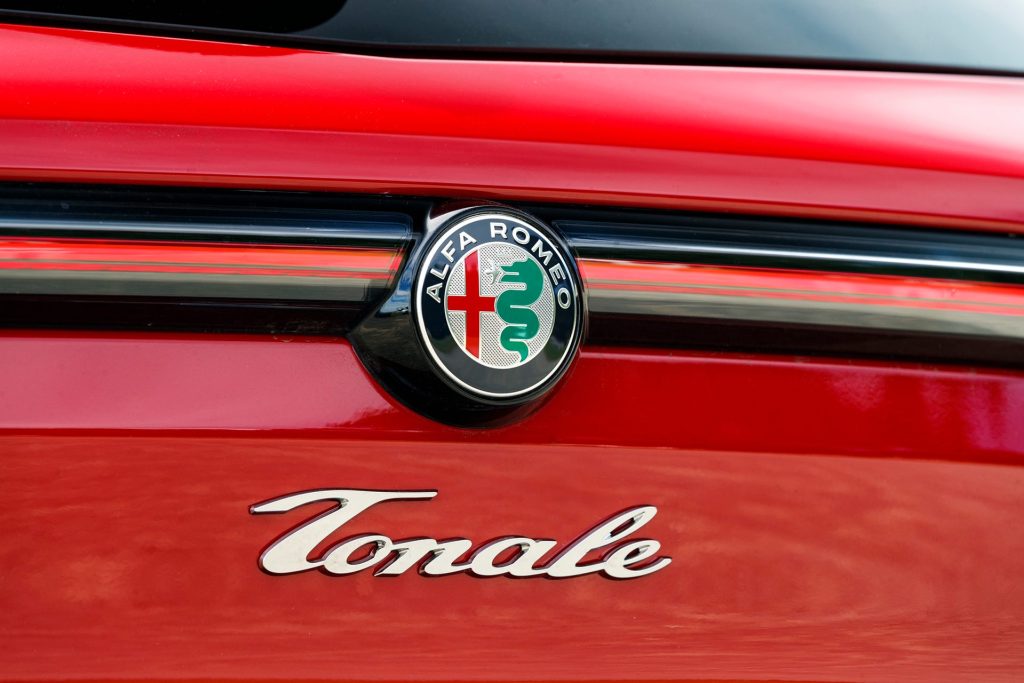 How does the hybrid system work?
There's nothing tricky about it, no hybrid drive modes or EV buttons as such, as it sorts itself out. The motor can handle low speed traffic and car park ambling up to about 20km/h or so, while it also helps the Tonale off the mark initially before the engine joins in. The 1.5 is the main source of motivation, while the hybrid bits allow for extended stop/start, i.e. the engine will turn off before you come to a stop while it might also cut out when coasting or on light throttle loads. With its belt starter generator, engine restarts are fast, no cranking required.
In general operation, it churns out good torque down low for easy commuting. The take up is quick thanks to that BSG, and it pulls cleanly. The transmission's shifts could be faster, while there's the odd jolt when that instant torque of the motor hits. One other thing; when the engine switches off during light loads, there can be a slight delay in requests for acceleration as the engine rejoins the party.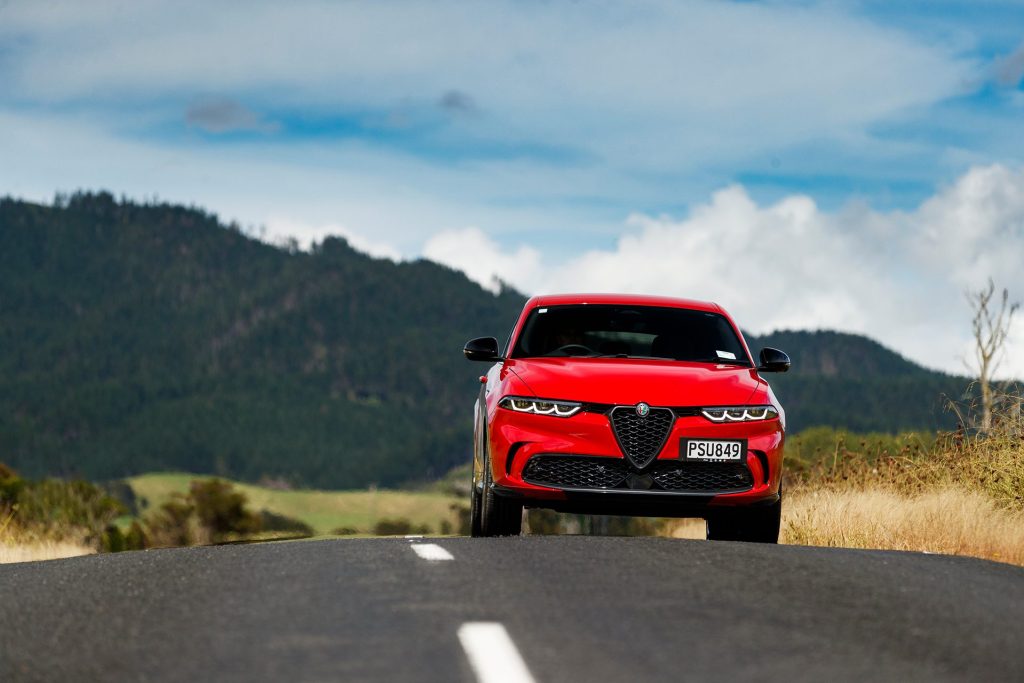 Rambling round the burbs, the steering is light and the assistance sound, though the turning circle is a little wide (part of the Alfa DNA). As to the ride quality, well it is an Alfa Romeo, so it'll never be plush. On the optional 20-inch wheels it's not perfect but neither is it bad thanks to the Veloce's standard fit adaptive dampers. Those 20s likely amplify the road rumble too. But boy do they look good!
Of the myriad driver assistance features, the smart cruise and lane keeping are handy on the motorway, although there is an easily accessible button to neuter the latter when the road becomes more interesting. And as to fuel use, we ended up on 7.6L/100km, though we spent more time bimbling around town than on highway/motorway running.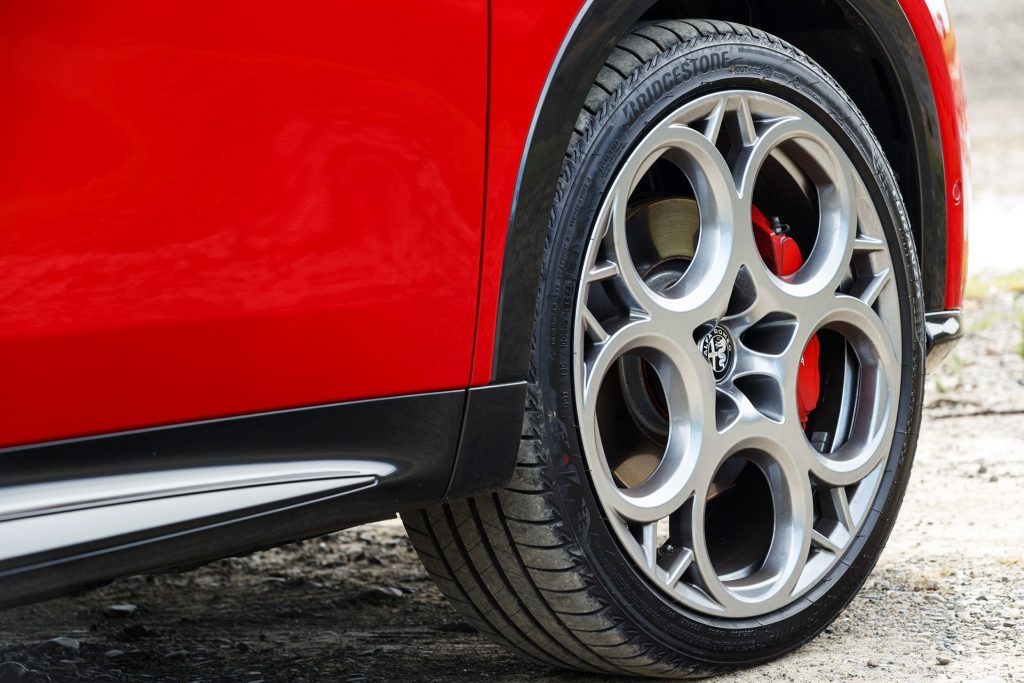 Does it drive like an Alfa should?
It's certainly interesting. Alfa's DNA switch (which translates to Sport, Normal and Eco) is easily accessible on the centre console, and clicking it to D enlivens things. As stated, Alfa's aren't usually renowned for their ride decorum but Veloce is fitted with Active Dual Stage Valve Suspension, the adaptive dampers firming to the action. Should the road get too bumpy, you can hit the damper button, setting them back to their 'soft' mode. This adds some give when you still want that added response from the powertrain. Progress in D is on the firmer side, though an Alfa person would refer to it as 'well connected'. It turns better when set this way, the soft mode not quite responsive enough. The steering is a little lacking in that typical Alfa connectedness; a touch more heft would help along with a more positive character just off centre to assist with that initial turn-in. We found the Tonale likes a firm approach in the bends. Pitching it in late and hard gets it turning in spirited fashion, the front end biting nicely and the rear unloading a smidge to help resist understeer.
The little powertrain is willing, once you give the trans a good paddling; it's a little reluctant to drop gears otherwise. Perhaps this is why AR fitted it with such tactile shifters. With just 110kW, it's not very Veloce, squeaking to 100km/h in just under nine seconds while the overtake requires 5.9sec. The brakes initially feel a tad soft but they firm progressively the harder you push, and are free of any snatchiness.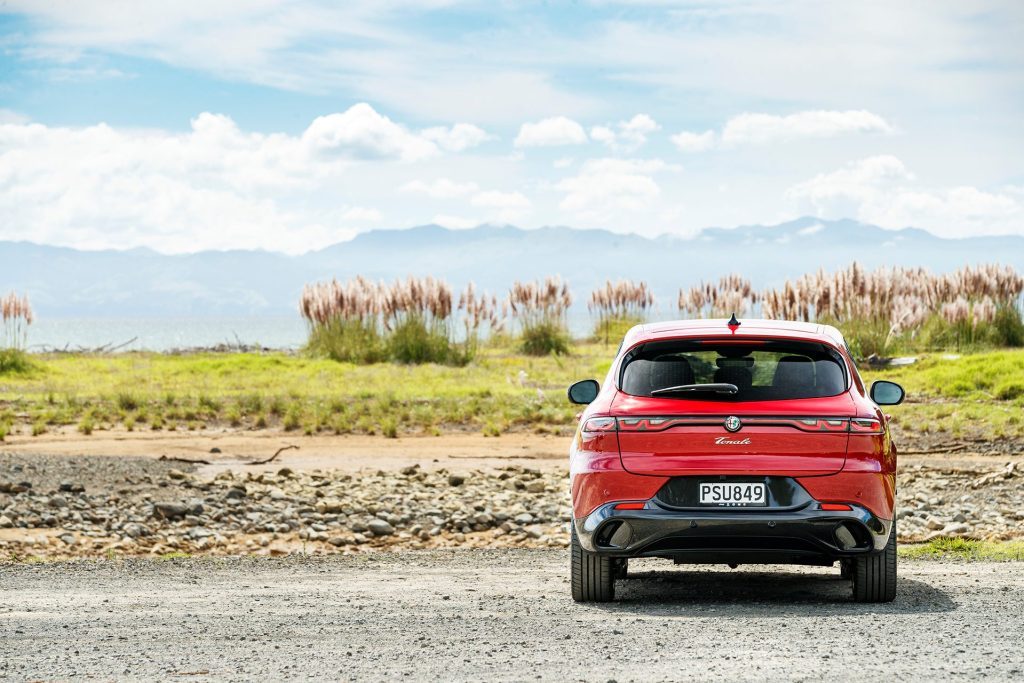 How does it fit for size?
The boot is a practical shape with good space on offer. Its floor is set high but underneath it you get a (temporary) spare. The rear entry is okay, so too the accommodations. While there is good headroom, the window is small and the all-black interior doesn't lend itself to a spacious feeling. There are the usuals like 60/40 split folding (easily transformed for a flat load space), Isofix for the wee nippers and USB ports for the teenagers.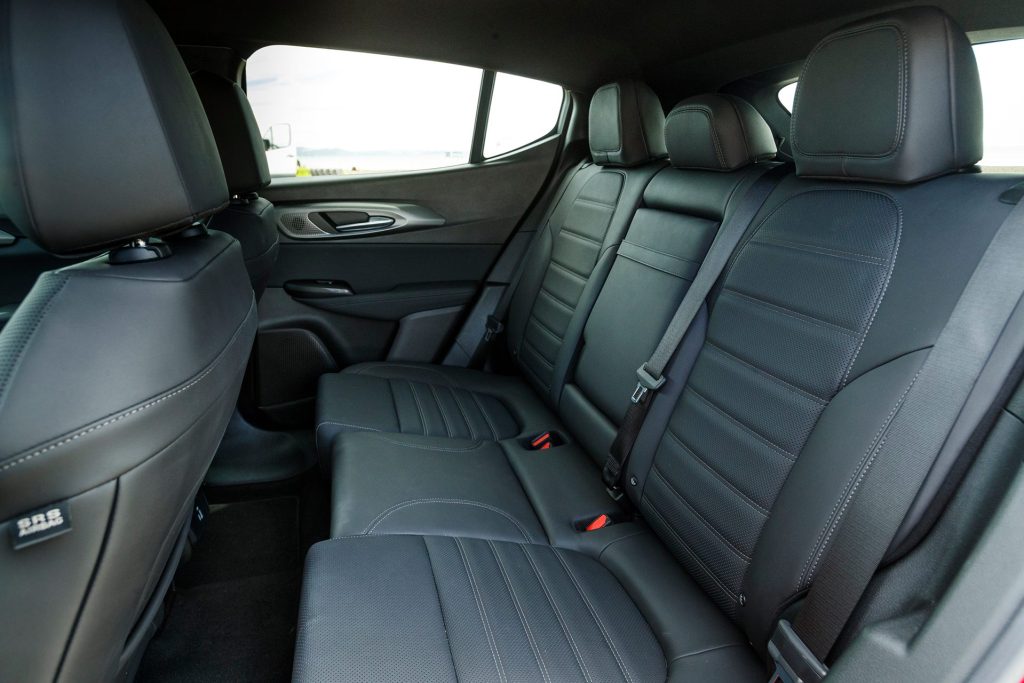 Up front, everything plays the part for a 'premium' appearance, the Veloce with more alloy finishes and few hard surfaces. There's nothing Italian about the driving position, the seat well formed, though you might find the edge of the centre console encroaches on leg space, your left knee hard up against it.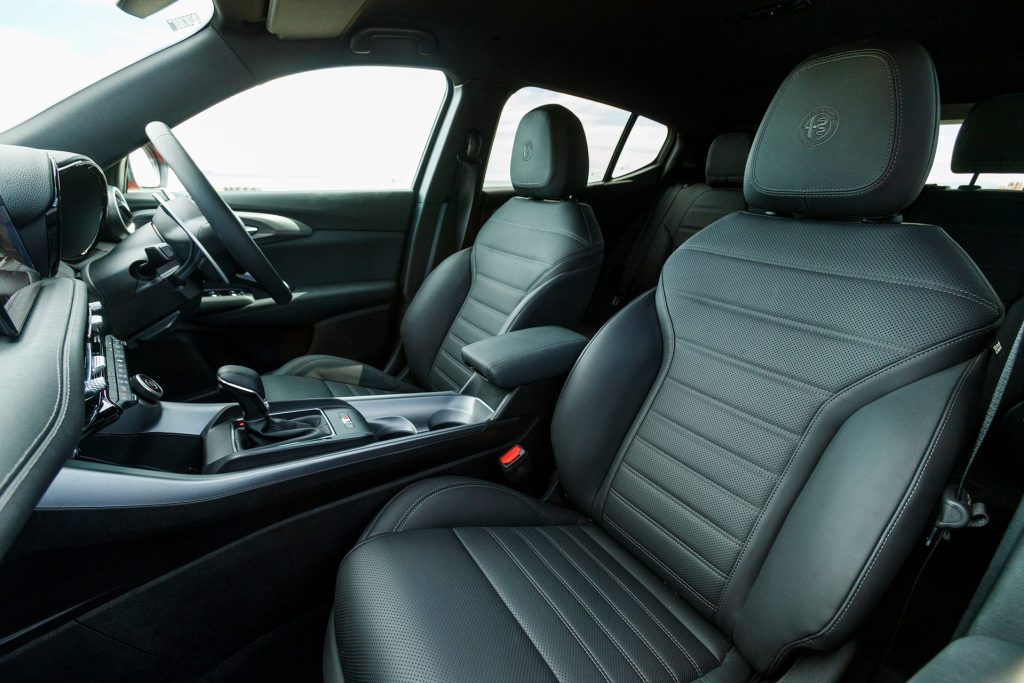 This has a traditional looking instrument binnacle but inside is a screen offering different displays. We couldn't go past the classical dials with their elegant looking needles. You can adapt them to relay more information to help keep tabs on fuel consumption, the driver aids or what the hybrid system is up to. While there is not an abundance of storage, you get a charge pad and USB ports. The 10-inch touchscreen brings wireless Apple CarPlay and Android Auto and an attractive interface. Its resolution is crisp, which helps the surround view camera do a good job. The system's response could be quicker, some of the touch points larger, but there is room to customise the set-up. There are real buttons for the ventilation, which even blows decent cold air, not always a given in Alfas of yore.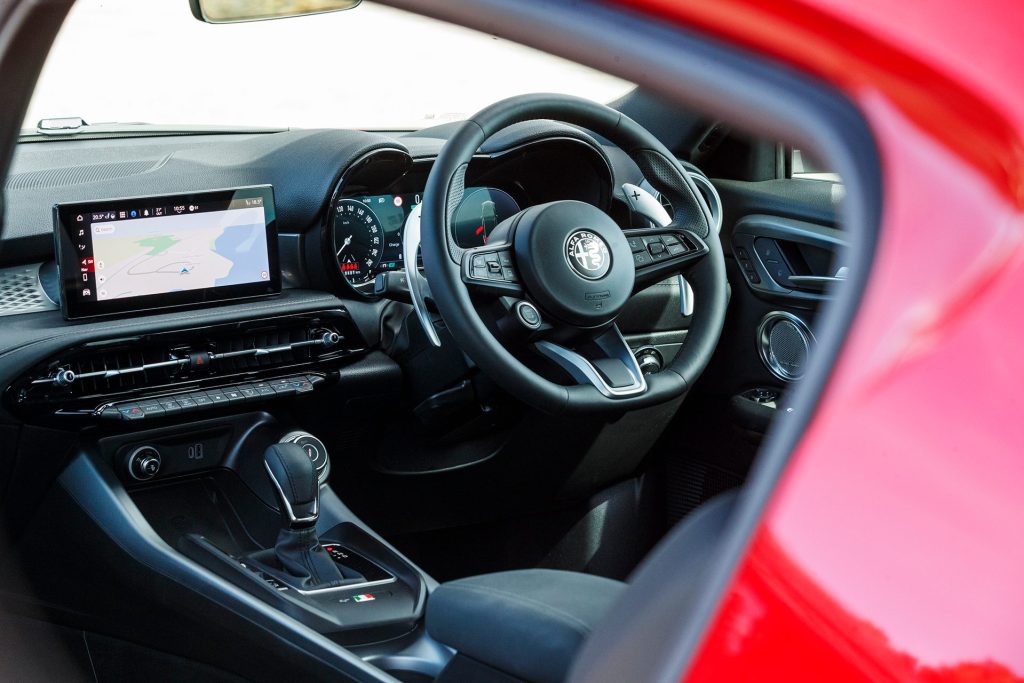 Should you take the plunge?
With the rise and rise of prices from the more mainstream brands, the Tonale's positioning means this Alfa Romeo can now join the shopping list of more people. And judging by most reactions, people would buy it on looks alone. But it's also practical, well made and an easy drive. And for all you Alfa haters, no, we didn't experience any warning lights or electrical gremlins.
Model
Alfa Romeo Tonale Veloce
Price
$66,990
Clean Car Discount
Rebate – $1,253
Engine
1469cc, IL4, T, DI
Power/Torque
118kW/240Nm
Drivetrain
7-speed twin-clutch, FWD
Fuel Use
6.2L/100km
C02 Output
143g/km
0-100km/h
8.92 sec
80-120km/h
5.94 sec (168m)
100-0km/h
34.90m
Stability systems
ABS, ESP, TV
Safety
AEB, ACC, BSM, LDW,
RCTA, ALK, AHB
Luggage Capacity
500-1,550L
Tow rating
750kg (1500kg braked)
Service intervals
12 months/15,000km
Warranty
5 years/100,000km
ANCAP rating
5 stars (2023)
Weight
1,525kg (claimed)