We've sampled a few different vehicles for family getaways over the years, usually a large SUV or double cab ute. But going camping requires more cargo room, and space for those pesky kids, who keep growing. Is a van a better solution? Most don't really cart both cargo and passengers. However, Volkswagen's latest PHEV Multivan does.
While it's primarily configured to ferry people, the flexible nature of its seating proved perfect for this task, swallowing all the gear and the kids, safely and comfortably.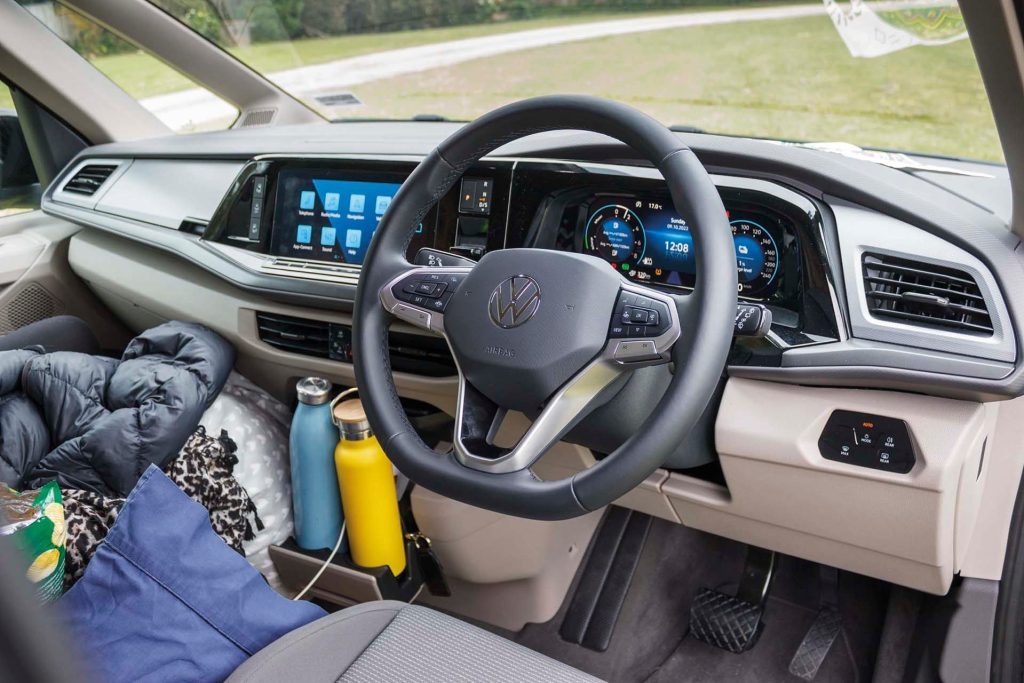 The PHEV version of VW's Multivan is the latest seventh-gen model, with different styling to the conventionally-powered 6.1 variant. The PHEV features five individual seats in the rear, whereas the 6.1 has a three-person bench seat in the third row, so this has a more flexible arrangement, and you can remove seats to fit the purpose. These all run on a track system, so you can easily slide them forward and aft to suit, or remove them altogether. This is a straightforward task as you don't need to locate a certain position on the rail in order to lift them out. Rather, just clip two levers, pull and they simply remove. They are reasonably chunky, so make sure you've had your spinach but they snap back into place easily, no cussing required.
Loading up all the necessary camping contraptions can be a bit of a packing puzzle, but by removing a couple of pews, and positioning one in the rear and a pair in the middle, we managed to fit the kids and piled everything in around them. And so this proved to be the most versatile family wagon we've yet encountered for such a task.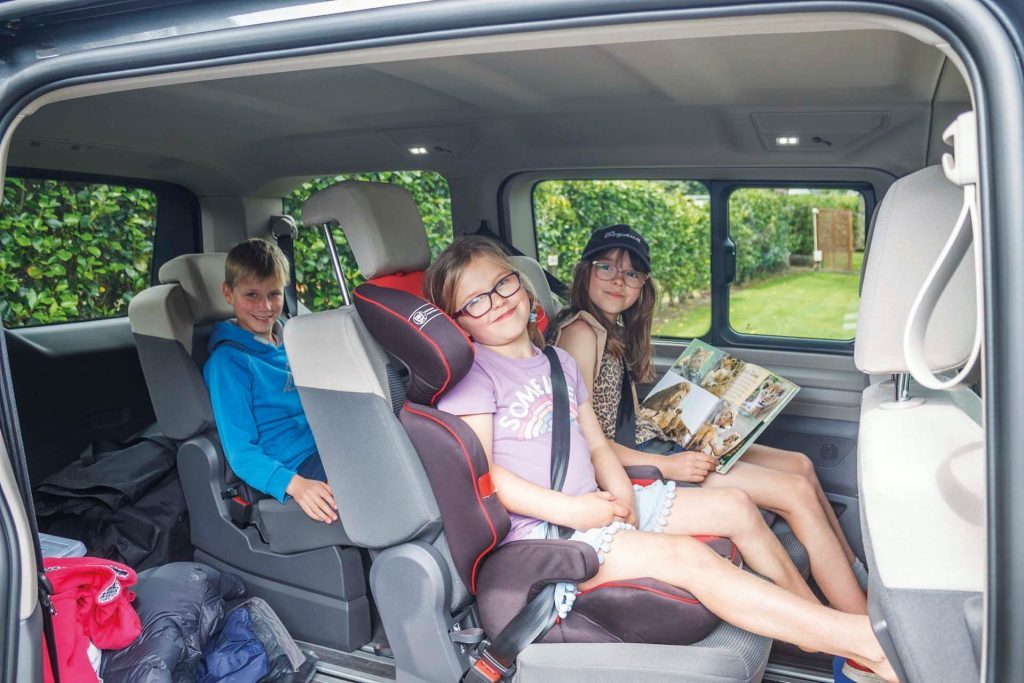 And kids love vans, perhaps because they can all have their own space. Plus, they like the powered sliding doors. Up front there's great visibility from the on-high driver's seat out through the panoramic-style windscreen. The seats are well formed, complete with fold-down armrests, and remain comfy after three hours behind the wheel.
The PHEV powertrain consists of a 1.4-litre turbopetrol boosted by an electric motor to deliver 160kW, with the 350Nm of torque available from 1000rpm to 4100rpm. And it's this grunt that gets the Mutivan along so well. When charged up, the 13kWh battery will provide up to 50km of electric travel (but somewhere between 35 and 40km would seem more realistic). As with most plug-in hybrids, this is better suited to urban buyers, who can charge it up every night to make the most of the emissions-free running. Otherwise you won't have a hope of meeting the 1.1L/100k overall consumption claim. The long term fuel use over 4000km was sitting at 6.3L/100km for this Multivan, while we managed 5.9L/100km for the duration of our road trip. The one thing we forgot to pack was the charge lead, and so we could have trimmed that figure had we charged it while away.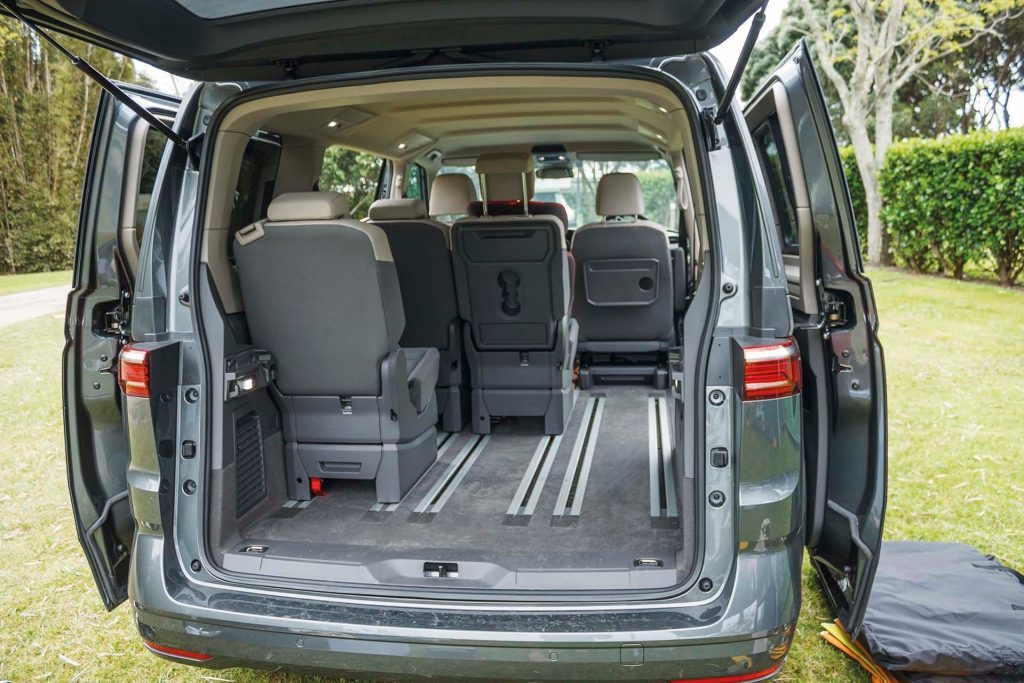 It's alright to drive too. It's a front-driver with a multilink rear end and so the ride, even when fully laden, remains quite plush over bumpy highway roads. It steers well, for a van that is, and the roll is well contained. In its hybrid mode, with just one per cent battery charge showing, it will still manage to EV when it can (on a light throttle on flat stretches). And the electrically boosted torque is always available. The 1.4 works hard climbing hills, but when you roll back down, it's in charge mode, the regen working away to convert the kinetic energy back into energy. With a six-speed twin-clutch, it's churning about 2200rpm at 100km/h, but the engine is quiet and provides enough thrust for the occasional overtake. The brake regen works well too, slowing competently and smoothly for curves on the highway.
The Family model, featured, misses out on active cruise, but gets most other driver aids and safety features. Some other spec items miss the cut but generally speaking it's the nice-to-have stuff, and so you don't really want for much here. The new VW infotainment system we still find a tad frustrating at times, while on a few occasions during our time the sat nav thought it was on holiday too, refusing to work. Other points to note – this hybrid can tow up to 1600kg and is covered by a five- year/150,000km warranty.
The Family is the only PHEV Multivan to make it under the $80k rebate cut-off, and while it misses out on a few bits and pieces, there's nothing major that would tempt us to opt for the $96,500 Life or the $106k Energetic, neither of which gets a rebate. VW's Multivan has never been cheap – even the conventional models start at $89k – but this Family PHEV model sure is versatile, and delivers a low emissions solution for the family, if you remember the plug.
Model
VW Multivan
Family PHEV
Price
$78,800
Clean Car Discount
Rebate – $5750
Engine
1395cc, IL4, T,
hybrid motor
Power/Torque
160kW/350Nm
Drivetrain
6-speed twin-clutch, FWD
Fuel Use
1.1L/100km
C02 Output
12g/km
0-100km/h
8.8sec
Weight
2143kg (claimed)