MPVs may not be in vogue but VW's new Multivan shows just how smart, savvy and green modern examples can be.
With Volkswagen taking on the likes of Tesla and believing it can give the electric American a run for its money, expect more and more electrified product from the German. The four-strong ID line-up for New Zealand has been announced and the company is working towards only selling electric vehicles by 2030. Moreover, VW NZ reckons within a couple of years its electrified range will be outselling its ICE powered machines.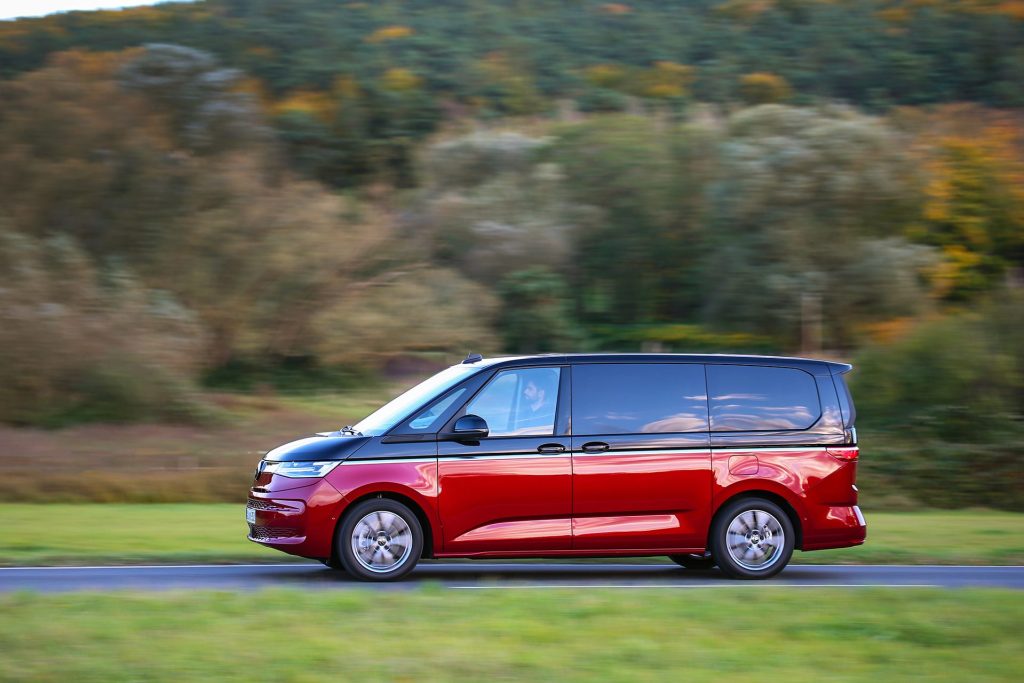 No surprise then that the latest addition to the commercial side of things, the T7 Multivan, is electrified only, a PHEV. A diesel AWD variant will be added next year for those who need real towing ability, up to 2500kg braked. The PHEV is rated at 1600kg braked.
This is like no people mover the company has produced before because it has Golf underpinnings, utilising the modular MQB platform. And that means it also comes with modern safety and convenience items. Moreover, it replaces three previous MPVs, Touran, Sharan and Caravelle.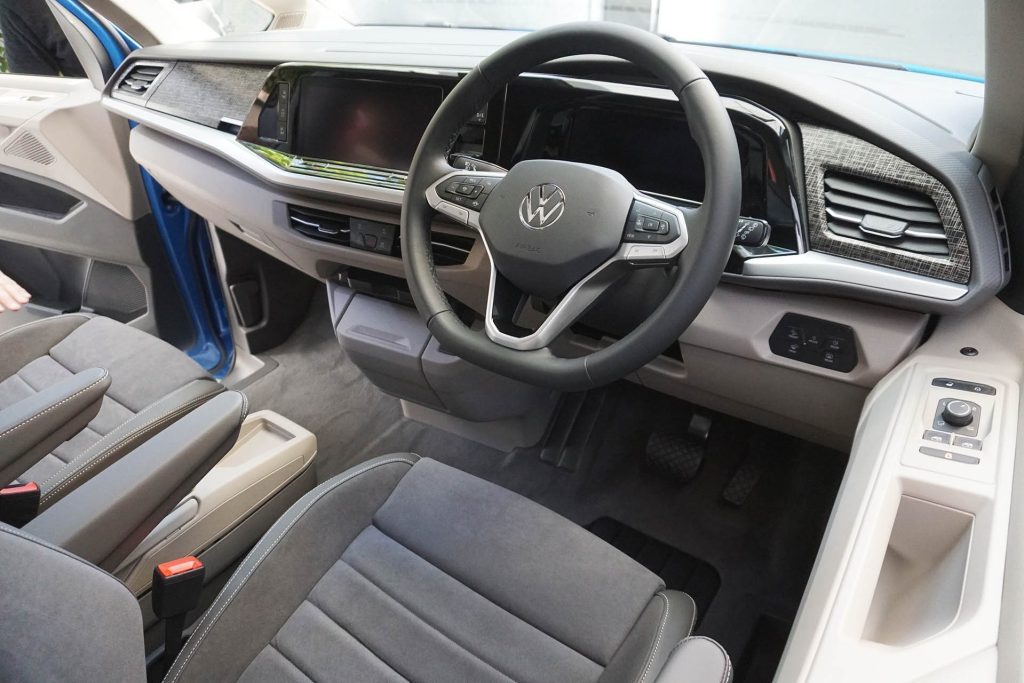 The best part though? The entry level Family model goes out at $78,800, just beneath the $80k cut-off point to be eligible for a rebate. And that $5750 rebate makes the asking price $73,050, for which you get a vehicle that has at least 40km of zero emissions daily running. It is therefore rated to use fuel at a combined WLTP figure of 1.7L/100km (37g/km of CO2). Naturally, it won't be as abstemious out of town where you will normally be running its 1.4L 110kW/250Nm turbopetrol. Expect around 9L/100km, or into the 8s if you're amongst those whose open road speed limits are now 80km/h. Bear in mind, this is a vehicle that's almost 5m long (4973mm), a huge 1900mm tall, has seven genuinely comfy seats for occupants and weighs in at 2200kg.
Moreover, we got those fuel use figures when the engine was not only acting as primary motive power but also as a generator. For when the 13kWh battery is expended you can replenish it on the go, and then use it up in EV mode once you're back into the burbs. Don't even bother thinking about using EV only on the open road; you will drain the battery in double quick time.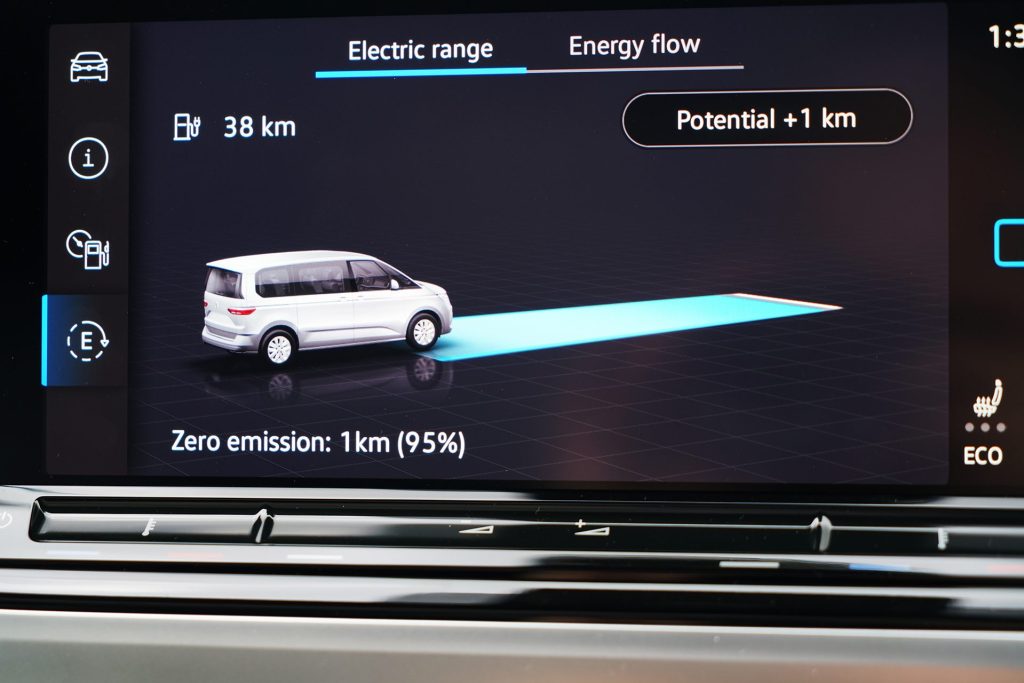 Naturally it is more cost effective charging the battery at home where it takes around six hours to resurrect your town running allocation.
This makes the vehicle genuinely thrifty; we had it for a week, used the hybrid aspect for 250km, and EV mode and recharging the rest of the time, returning it with over half a tank left. So if you're a townie and can recharge at home easily, then the 1.7L/100km claimed combined fuel use figure should be doable.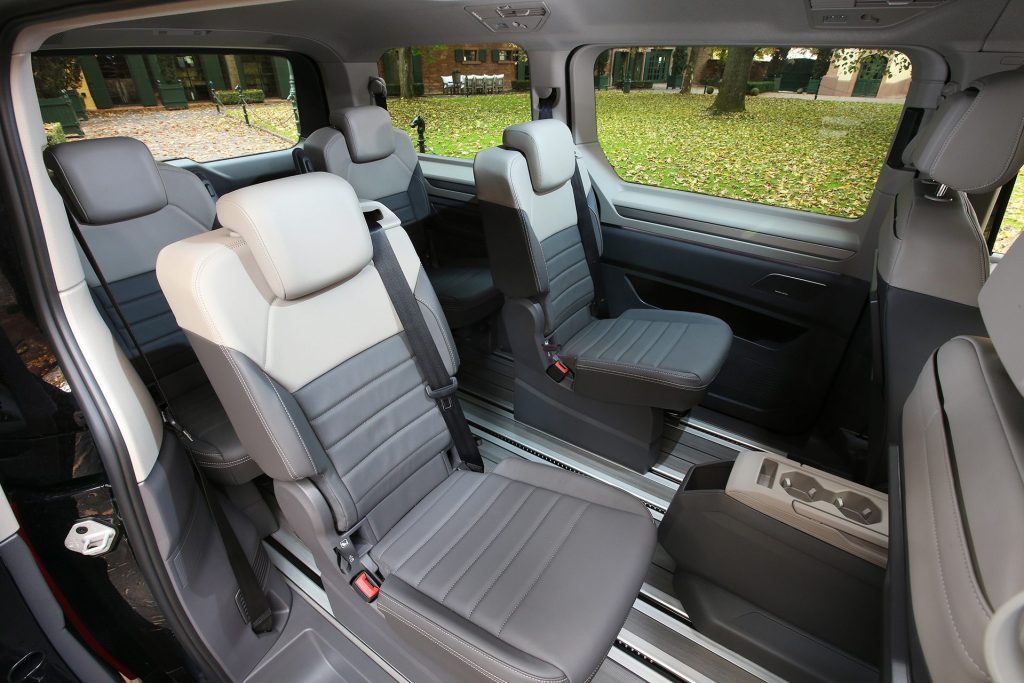 In town we only ran it in the EV mode, and it goes surprisingly well for something this sizeable. No problems keeping up with the traffic, and the 85kW/330Nm motor pulls well up to 100km/h, all largely in silence. There's regenerative braking too, and in its default setting it is fine for single pedal driving, slowing you appropriately for intersections or roundabouts, the brakes only needed every so often.
This is a PHEV and the motor and engine together create system power of 160kW and 350Nm. That doesn't suddenly turn it into some kind of tyre shredder but there's a reasonable turn of speed, enough that it takes the fear factor out of overtaking (80-120 takes 5.6sec). Even in sopping wet conditions we met the 0-100 claim of 9sec comfortably, perhaps because three of the rear seats (60kg in total) were missing.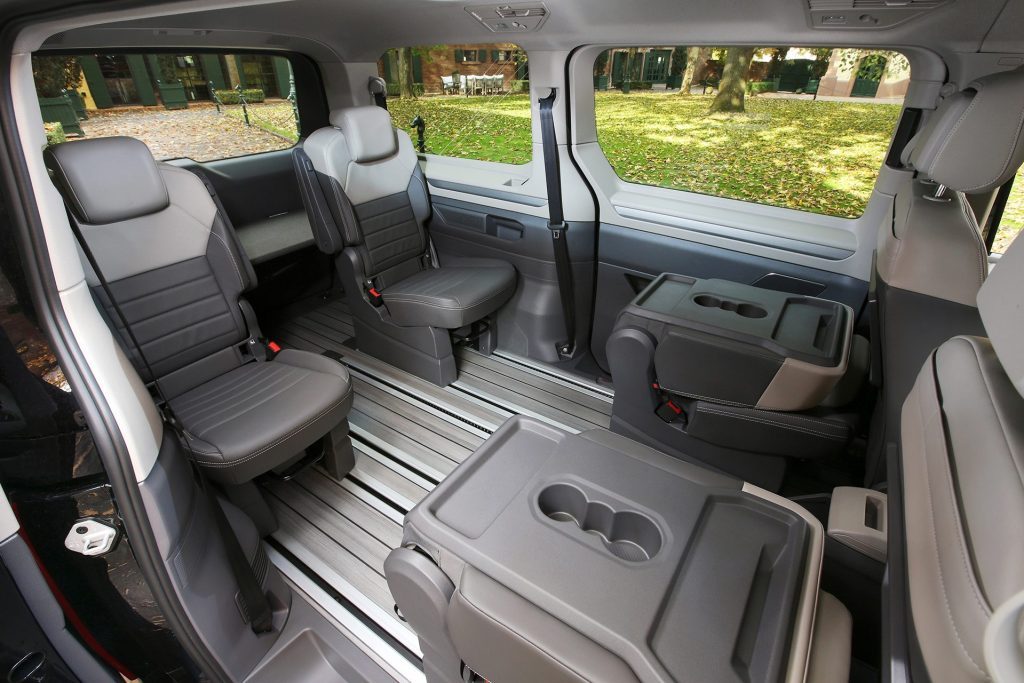 Most of the time you really don't even hear the engine running because, being a turbo, it's slogging away at lower revs, 85km/h equivalent to 2000rpm in top (sixth). It's a DSG box so shifts almost imperceptibly. And the paddles? Surplus to requirements. Just select S on the little dash-mounted shift-by-wire toggle for a bit more vim. But you won't much because this is more a cruiser than a bruiser. The only drive modes as such are hybrid or EV, the former allowing you to replenish the battery on the go, which takes the better part of 100km if it's empty.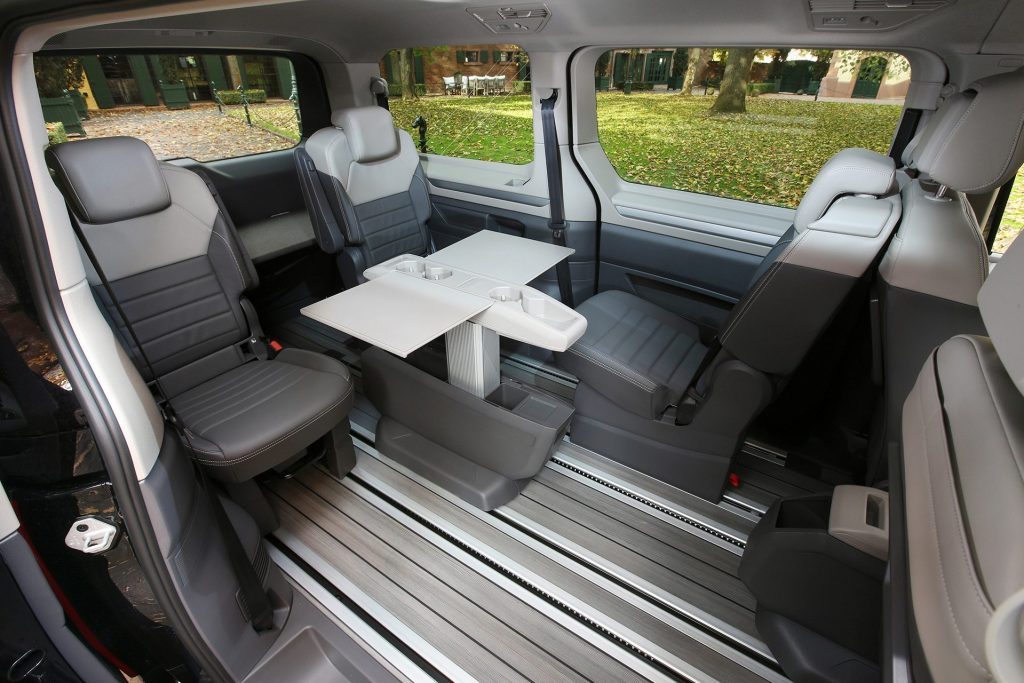 There's no adaptive damping here and it's not missed, the suspension damping firm enough to control body roll in corners and the springs ensuring not too much in the way of road damage makes its way to the occupants. They're well ensconced anyway, each with their own individual seat that slides, and the middle row examples about face should occupants want to interact with each other. Given this is a family vehicle, it's likely that function will rust over before it's actually used.
And the two rows of rear seats are removable should you need to use the Multivan as a delivery van. We did, removing the sixth and seventh pews, along with the middle seat in the second row to make way for a couch that needed relocating. To extricate the seats you merely fold over the back rest and pull the ripcord down by the floor. This releases the seat from the slides and you can then remove it, cube-like, from the vehicle, so long as your back is up for lifting 20kg items. They're not light but then again it's probably not something you will do that often. If so, it will likely as not be the hindmost pair for whatever you're transporting. For with that set-up there's 1860L of available space and it almost doubles to 3672L with the middle row seats gone. Or if you're clever and lazy, just fold all the rear seat backs flat and pile in your clobber on top. It's tall enough to do that!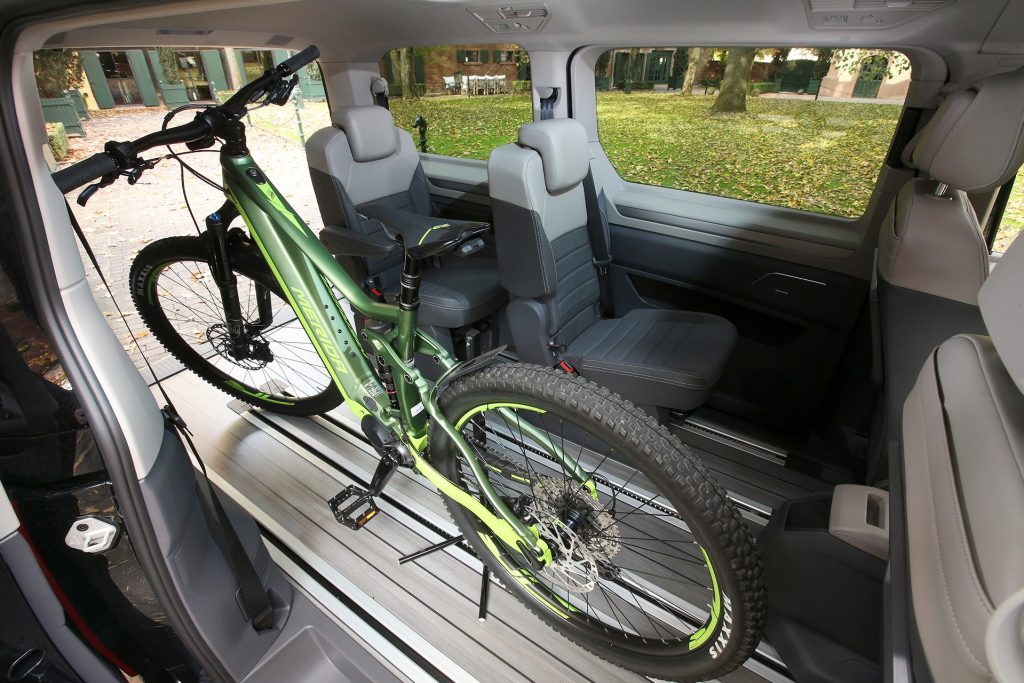 Even with all the pews in use, there's still 469L of luggage space available, more than in a Golf boot. Entry and exit are a snip too, with powered side doors and huge openings.
Adding further to versatility is a centre console unit that slides from the front to the rear seat rows, offering a couple of cup holders and an unfolding table system.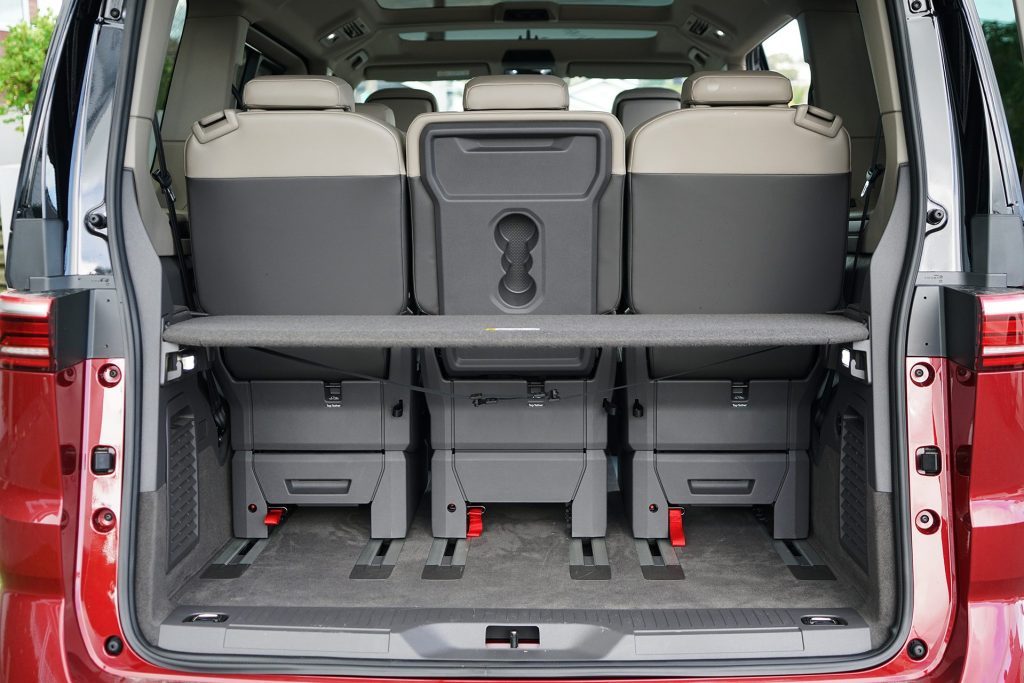 As mentioned, Multivan comes in Family and Energetic guises. The former costs $73,050 after the rebate while the better specified limited edition Energetic, this one, goes for $106,800 and is fee neutral.
The base vehicle is quite nicely specified, with a portable charging kit, Digital Cockpit Pro (four modes), a 10-inch infotainment screen which takes a while to get used to but is fine thereafter, power side doors and keyless entry.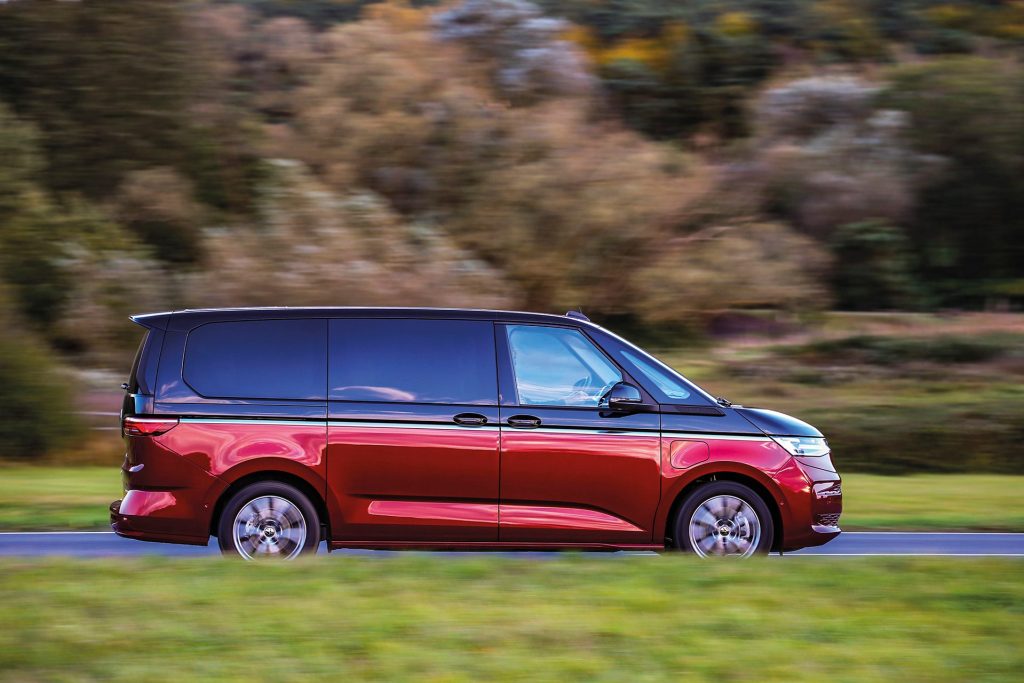 It misses out on adaptive cruise, blind spot monitoring and the powered tailgate of the Energetic but the rest of the latter's gear we'd say is nice but not essential (self parking, panoramic roof, fancy seats and lighting, that kind of thing). Go for the Family variant and take the rebate.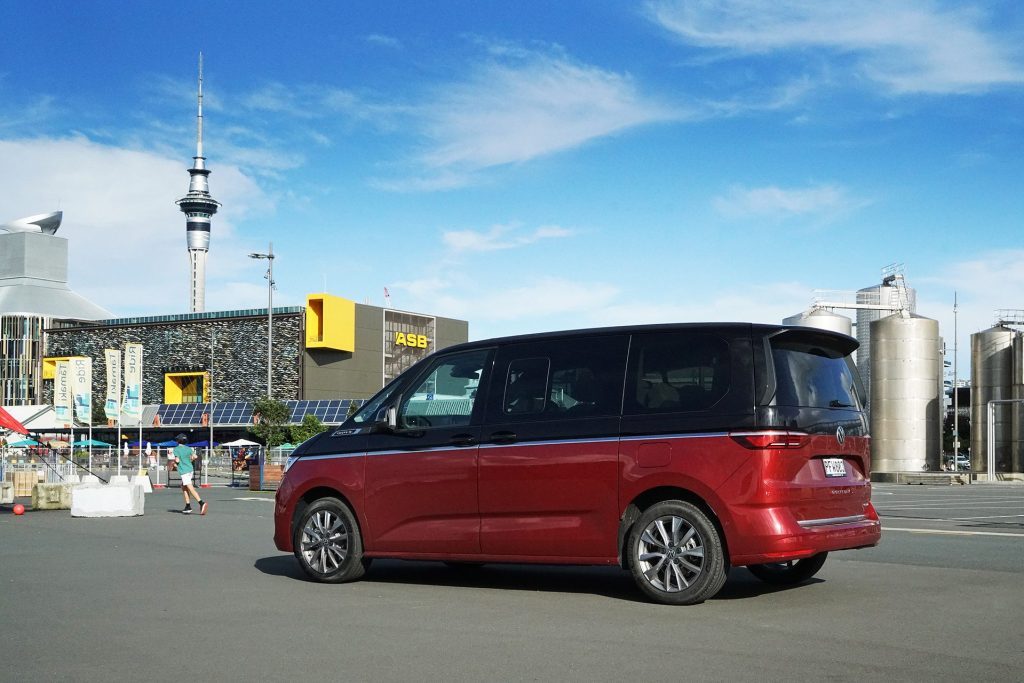 Get over it being a van too. If you need a seven seater, this is one of the roomiest about, one of the most versatile vehicles you'll encounter and, employed properly, will drink almost no fuel. Plus, it can do trips without having to stop for battery top ups. Choose Energetic if you've been lucky in Lotto and must have that two-tone colour scheme.
Or you can hold out for the uber-cool electric-only ID.Buzz.
Model
VW Multivan Energetic
Price
$106,800
Clean Car Discount
Neutral $0
Engine
1395cc, IL4, T, DI
Power/Torque
110kW/250Nm
Motor
single, 90kW/330Nm
Hybrid System output
160kW/350Nm
Battery
13kWh
Range
42km (WLTP)
Drivetrain
6-speed twin-clutch, FWD
Fuel Use
1.7L/100km
C02 Output
37g/km
0-100km/h
8.81sec
80-120km/h
5.69sec (163m)
100-0km/h
37.42m
Stability systems
ABS, ESP
Safety
AEB, ACC, BSM, LDW,
RCTA, ALK, AHB
Luggage capacity
469-1844-3672L
Tow rating
750kg (1600kg braked)
Service intervals
12 months/15,000km
Service plan
$1395, 3yrs, 45,000km
Warranty
5yrs, 150,000 km
ANCAP rating
5 stars (2022)
Weight
2204kg (claimed)