Sports cars aren't big sellers but that doesn't mean auto makers have forsaken them. Nissan certainly hasn't, with its new Z Coupe.
They used to be halo models for car manufacturers but some aren't bothering with sports cars anymore, offering tarted up SUVs instead as their brand heroes. But others are still making slick, stylish and speedy products that owners can admire and take pride in driving.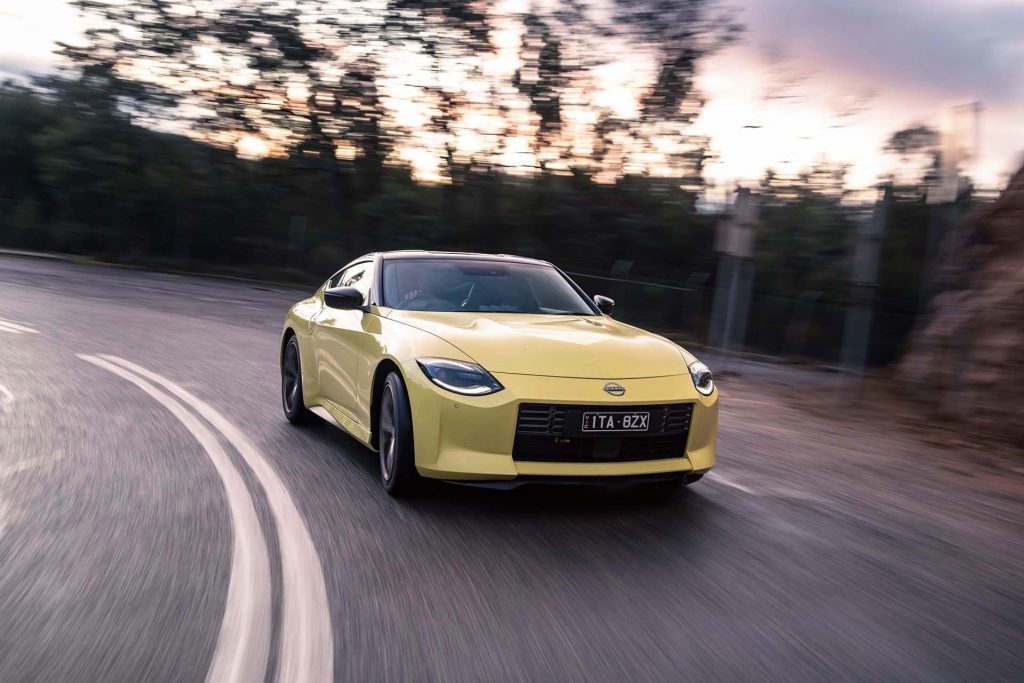 Nissan counts itself among these, and it has been producing drool-worthy models like GT-R and the Z car or Fairlady, for over fifty years. The latest example of the latter, the 370 Z replacement, is simply known as Z Coupe.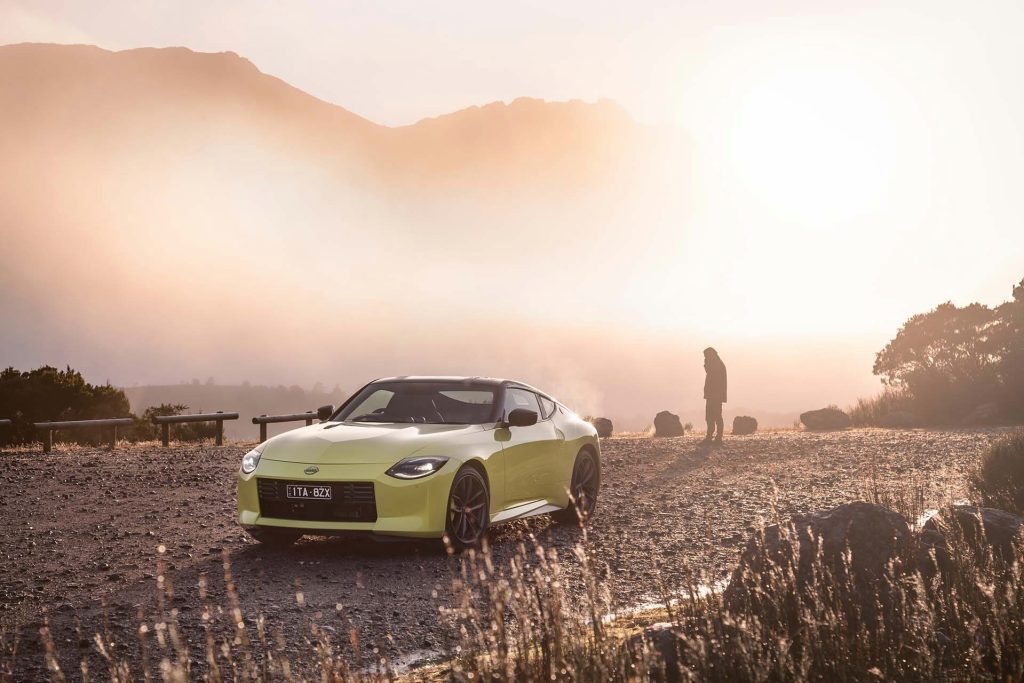 As we head inexorably towards a world that will soon be dominated by cars that whir rather than roar, the traditional ICE-powered sports car would seem to be an endangered species. Nissan doesn't quite see it that way and has conjured up a sweeter looking, harder running, and better riding Zed car, the seventh-generation set to launch. The limited edition Proto is a sellout on both sides of the Tasman.
We've just driven the regular model that's due to sell for $84,990 here, in both six-cog manual and nine-speed automatic guises and can report that all is well in the Zed world. Eager buyers will not be disappointed by what is a masterly evolution of the Z car.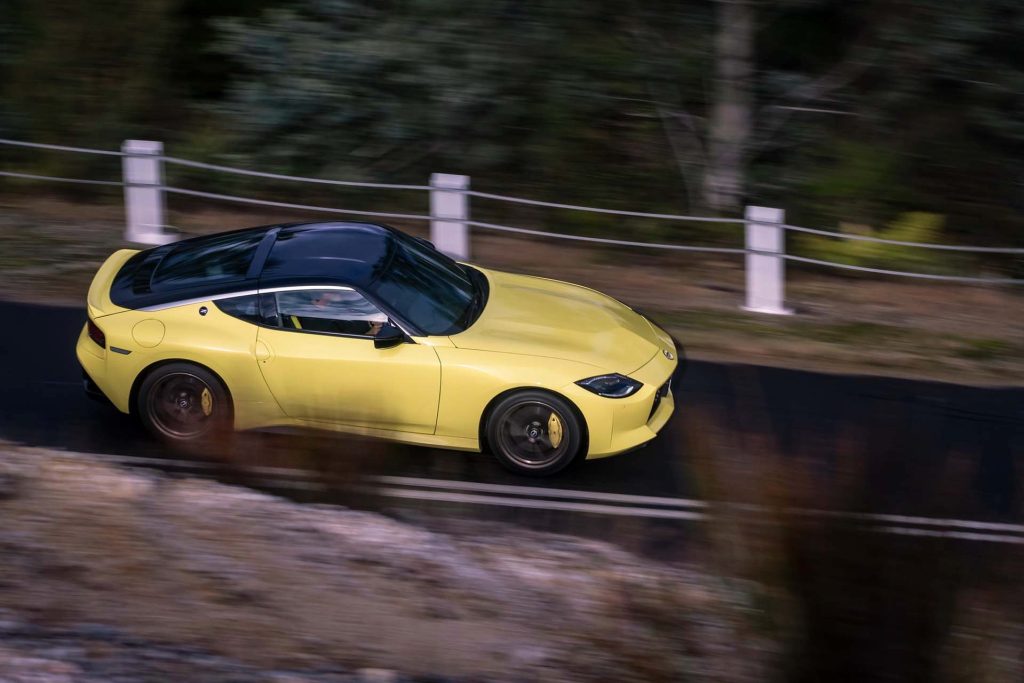 We particularly like how this new car presents in a styling sense, both sides of the glasshouse for this is a tasteful example of the neo-retro look. Program Designer, Director Shinichiro Irie, put it best: "We wanted to take tradition and combine it with modern technology, blending both in a balanced way that feels fresh but still has Z DNA at its core."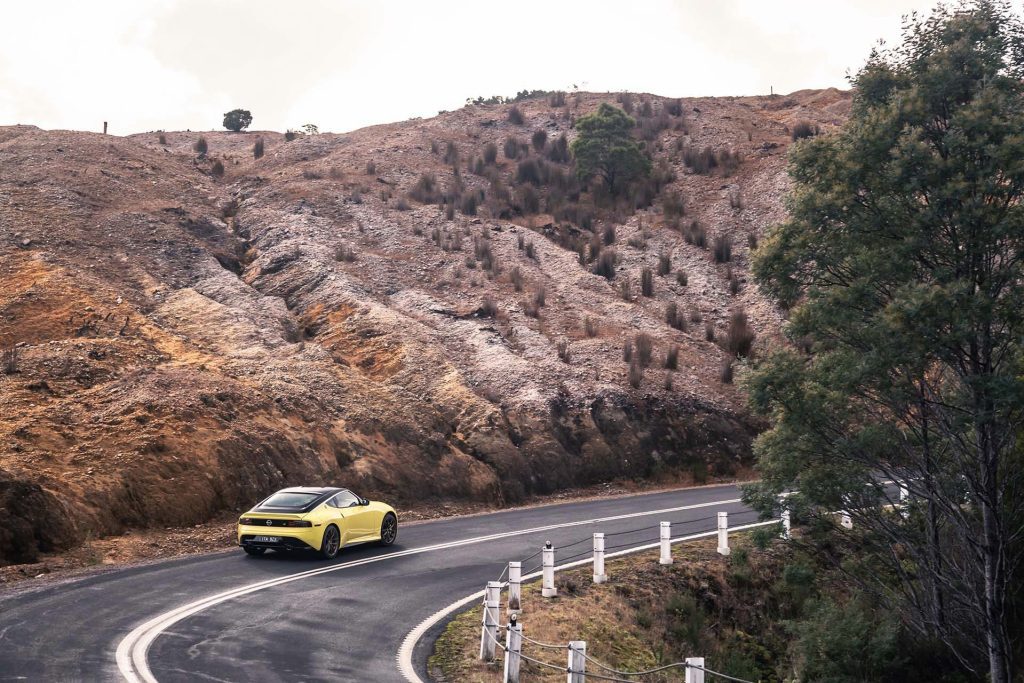 Subtle but serious reshaping
In profile this is unmistakable as the new Zed offering, the cab-rearward silhouette reminding of the original Fairlady, the 240Z. A stylish design flourish is the silver "Katana" roof sill insert that draws the eye to the roof outline, reminding of a samurai sword curve. Up front are stylish LED headlights and DRLs, with a rectangular grille like 240Z, while at the rear are twinned oblong-shaped LED taillights, a duck-tail spoiler and two exhausts. Vertically oriented door handles are new and black thin-spoked alloys hide red calipers. Identifying the Proto version are bronze-coloured Rays alloys and yellow calipers. This model is available only in Izukaru yellow, though the Zed Coupe can also be had in the sunflower hue. Other colours sure to be popular are blue, white and black.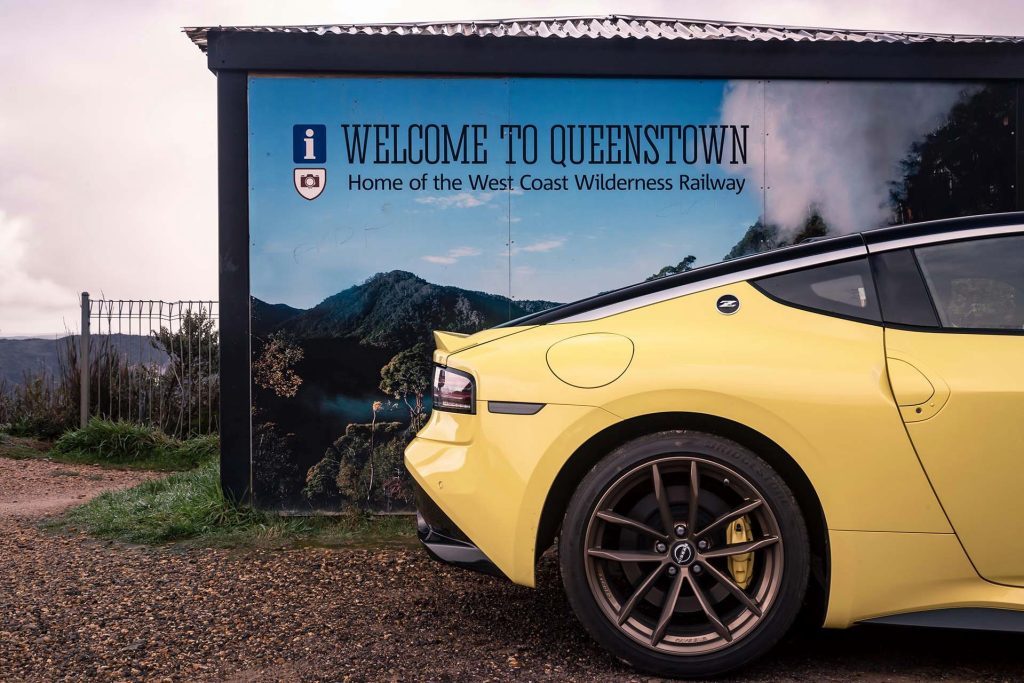 The interior is just as modern-retro as the exterior, with the dash-mounted trio of performance gauges a throwback to the original Z. An eight-inch infotainment screen incorporates wireless Android Auto and Apple CarPlay. There's no nav, and single-zone air is unusual for a car of this cost, so too a mix of powered and manual operation for the seats. Presumably these are an effort to contain costs. Given these cars aren't big sellers it's important to make a positive contribution on each one.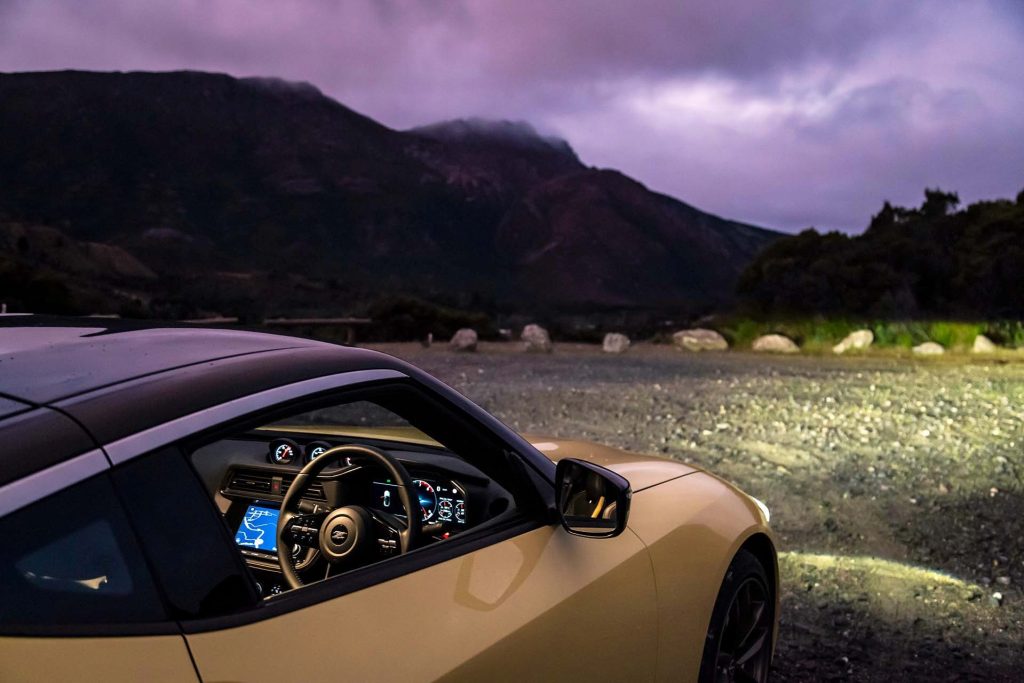 Stronger Chassis
Which may also explain why this new Z is essentially built on the same basic bones as its predecessor, with no real changes in critical dimensions. The chassis has been updated with increased high-strength steels and new alloy suspension components for the double wishbone/multilink set-up, along with monotube shock absorbers at all four corners, for better control and faster responses. There's also increased camber up front to help with stability and turning duties.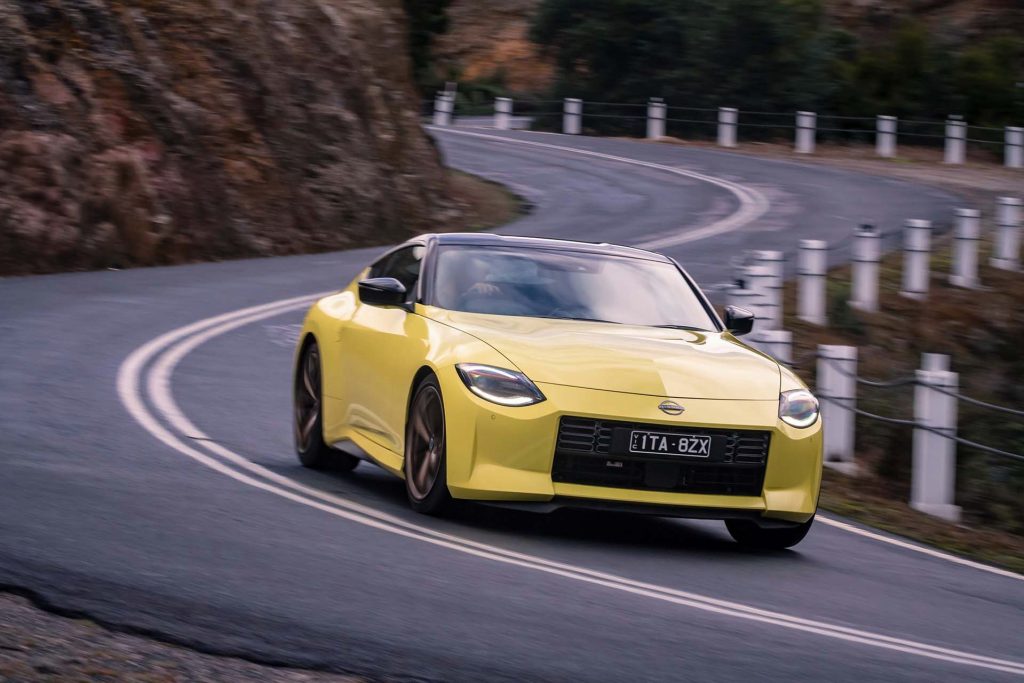 The luggage compartment is the same shallow 241L affair as before with strut towers and an aluminium brace intruding on the available space.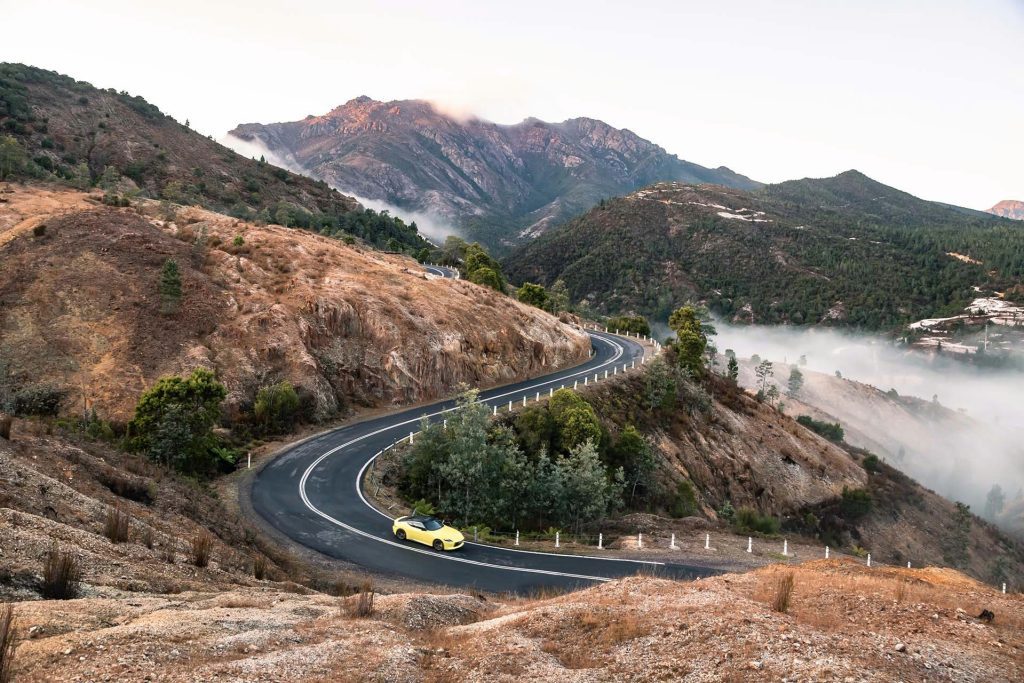 In behind the two seats is space for a small bag but accessing it is difficult. Ditto for entry and exit; this is a low rider so you need to have a good working core to extricate yourself from the interior. The seats though, finished in a mix of suede and leather, are excellent, well shaped, cosseting and last the distance thanks to a plush squab. There's also a lever for added lumbar support. Once you're set they feel great, providing you're not too tall, and can be warmed up with seat heaters, activated by old-school rocker switches alongside the twin cup holders in the centre console.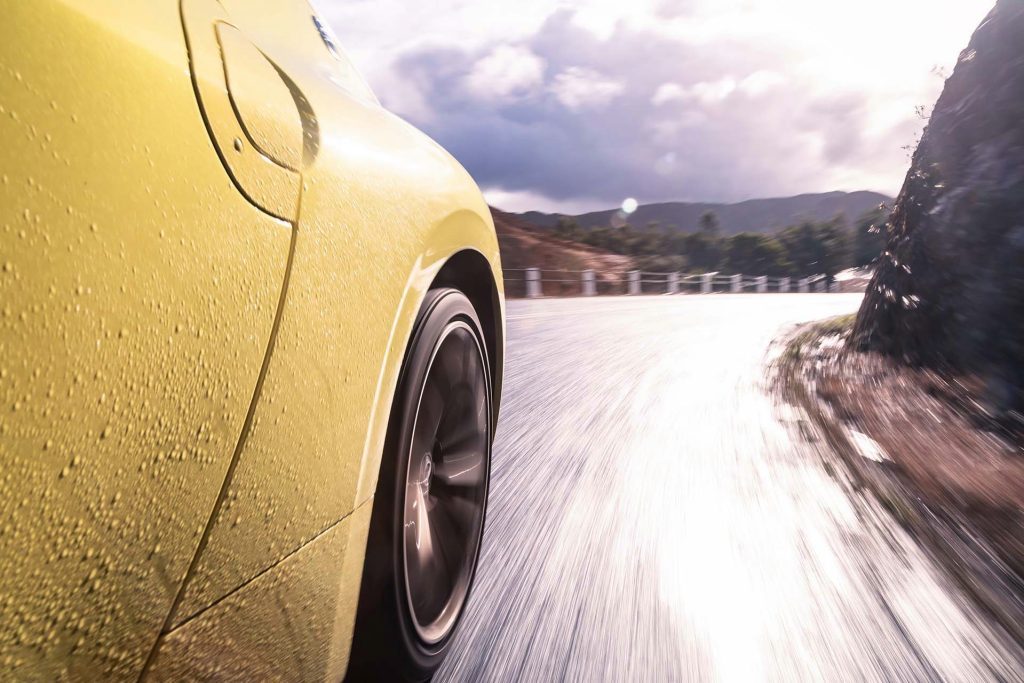 Powertrain rethink
Minor idiosyncrasies can be overlooked because the new Zed car really does get the important bits rather right. The major change is to a smaller displacement but turbocharged powertrain borrowed from the Infinity Q60. Power from the new twin-turbo 3.0 V6 rises by 22 per cent to 298kW while torque swells by 112Nm to 475Nm, and the peak is available from 1500rpm. Despite being roughly 100kg heavier overall (1600man/1633kg auto), power to weight rises by 13 per cent. Where the 370 (245kW/363Nm) really preferred middling revs before it fired properly, this is off and running almost immediately. But at the top end it still manages to hit 7000rpm, red shift lights blaring above the prominent rev counter in the Sports display. That also helps the manual hit 100 in second gear, aiding the sprint time.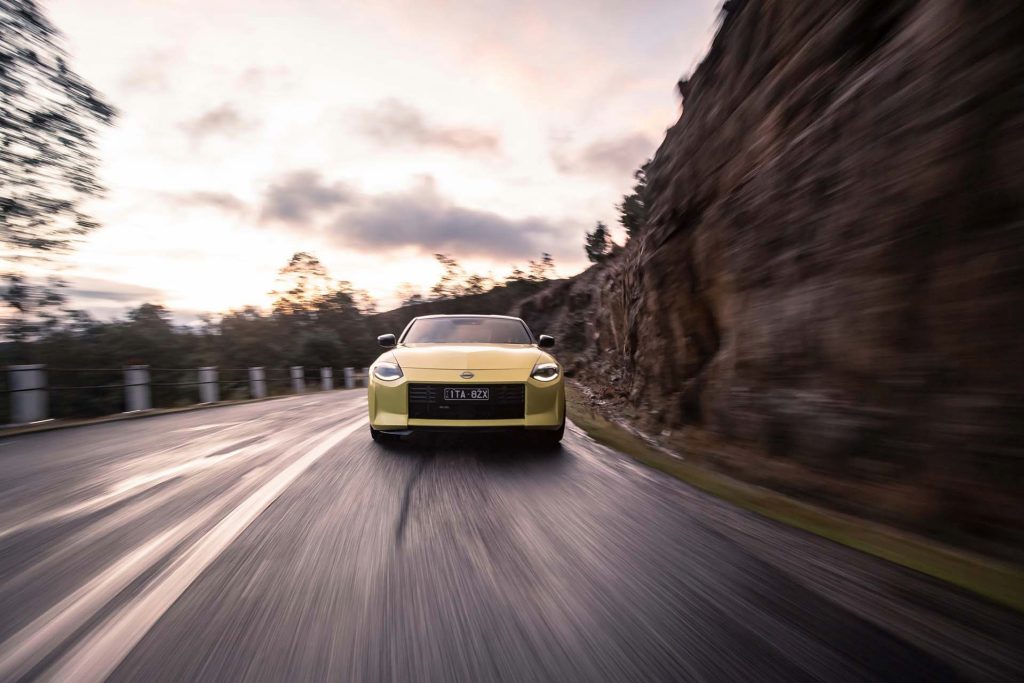 Weather bomb
Nissan had clearly hoped for decent weather during our first drive of the car, having hired the runway of a small airfield so we could check out launch control in a safe environment. Sadly it was raining Datsun cogs. LC comes as standard for both manual and automatic versions. We got one shot in each vehicle. The auto posted a 5.2sec run. Had it been dry, you'd probably have shaved a second off that, a substantial improvement on the 370Z. The manual launch I fluffed but essentially you select first, floor the gas, wait for the launch control sign, and sidestep the left pedal attached to the Exedy performance clutch. Electronics does the rest.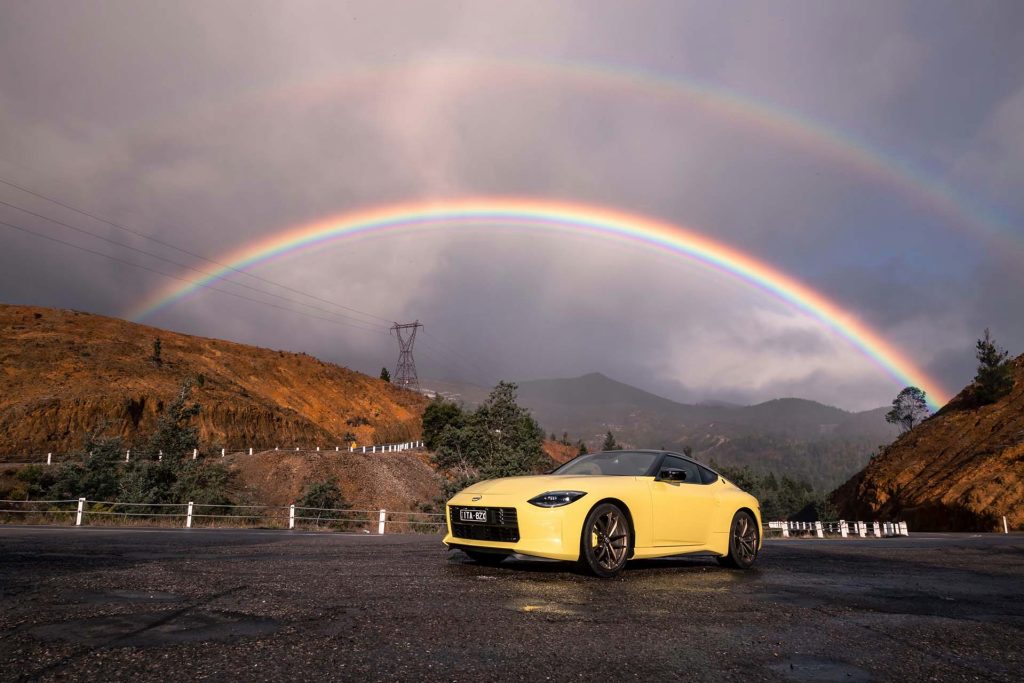 Quicker everywhere
On the go this is qualitatively so much stronger and fair flies using engine speeds from 3000-4500rpm. Sure, it's really quick going for gold with the shift lights blinking, and the exhaust (and speakers) making a deep V6 soundtrack. But there's also solid urge from below 2000rpm, the engine already brimming with energy. And in top gear that equates to useful pull at open road speeds. Here, the auto model is using roughly 7L/100km, and it's rated at 9.8L/100km (ADR figures) overall. The manual is shorter in the gearing, needing about 2200rpm for open road rates, and the mean consumption is a stated 10.8L/100m (370Z 10.6).
So this is quicker, and much easier to extract the performance from, with no detriment to fuel consumption. However, both will garner CCD fees; only the auto is listed at present with a $3852 extra to pay, the manual will be higher again.
It slows effectively too, with ventilated discs both ends, dual-piston calipers up front and just a tonne of bite, effective right from the top of the pedal travel.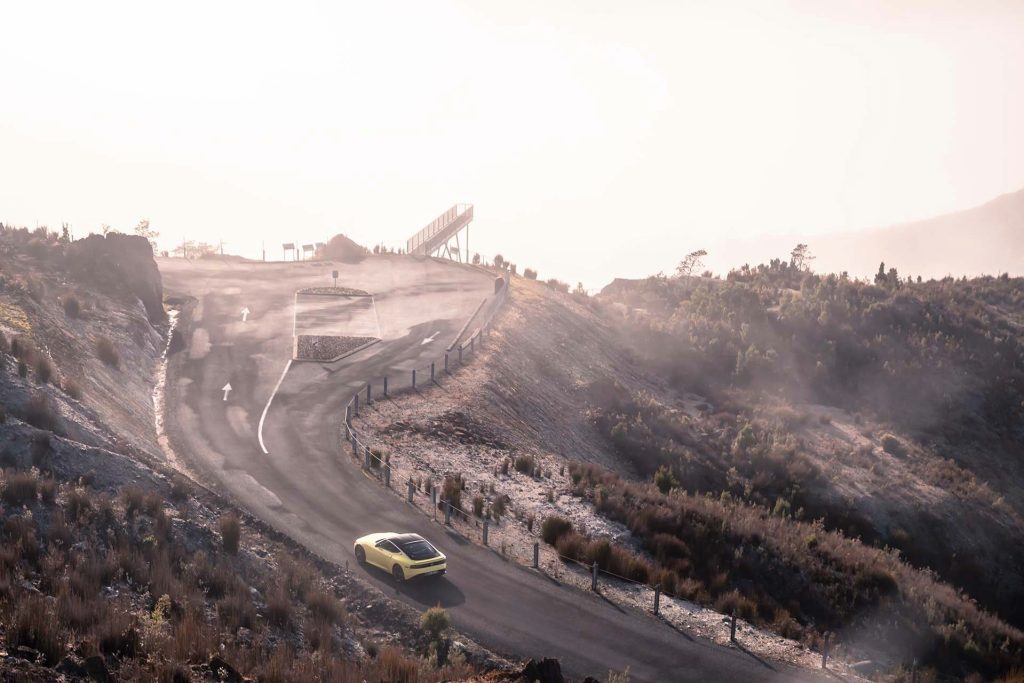 Handling better?
Perhaps it's a bit sharper in the turns because of changes to the front suspension, wider front tyres, and added chassis rigidity. But it's hard to know given the watery conditions. We appreciated the resolute steering column, not a hint of road shock reaching your fingers, and the weighting is good, meaty like the manual shift mechanism. This is such fun to use with its rev matching device that you just row it along for its entertainment value. In contrast, we didn't bother to engage with the aluminium paddle shifters of the auto because it has Sport and Normal drive modes and does everything so intuitively by itself. The former adds synthetic sound volume (a good thing) and gives the dynamic control system more leeway.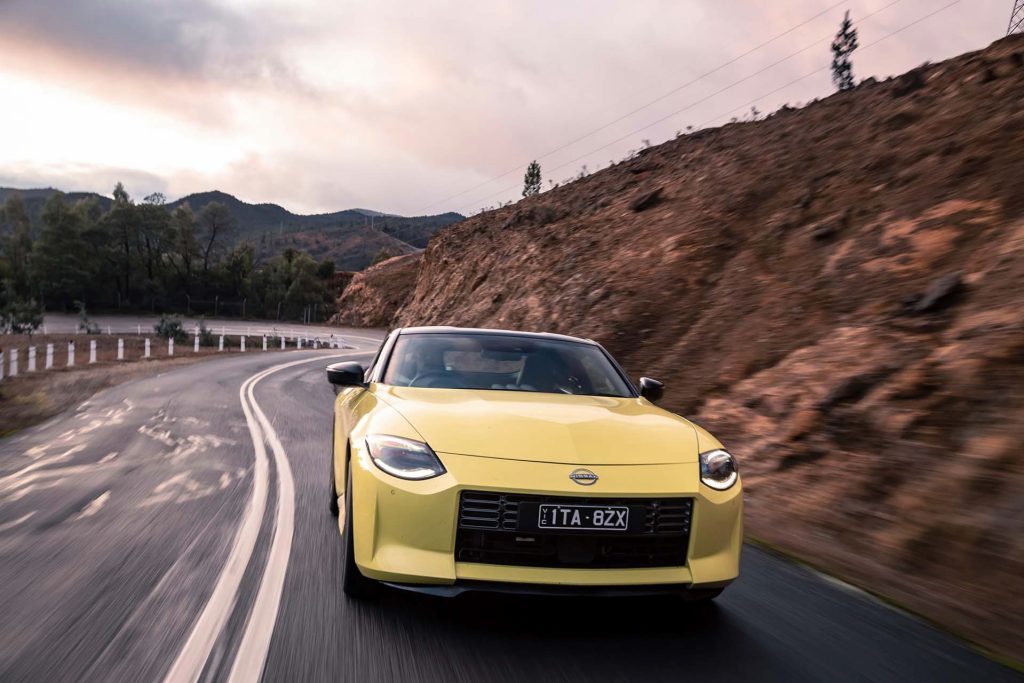 For day to day use, the auto is probably the better choice. For recreational use, the manual is the clear fave.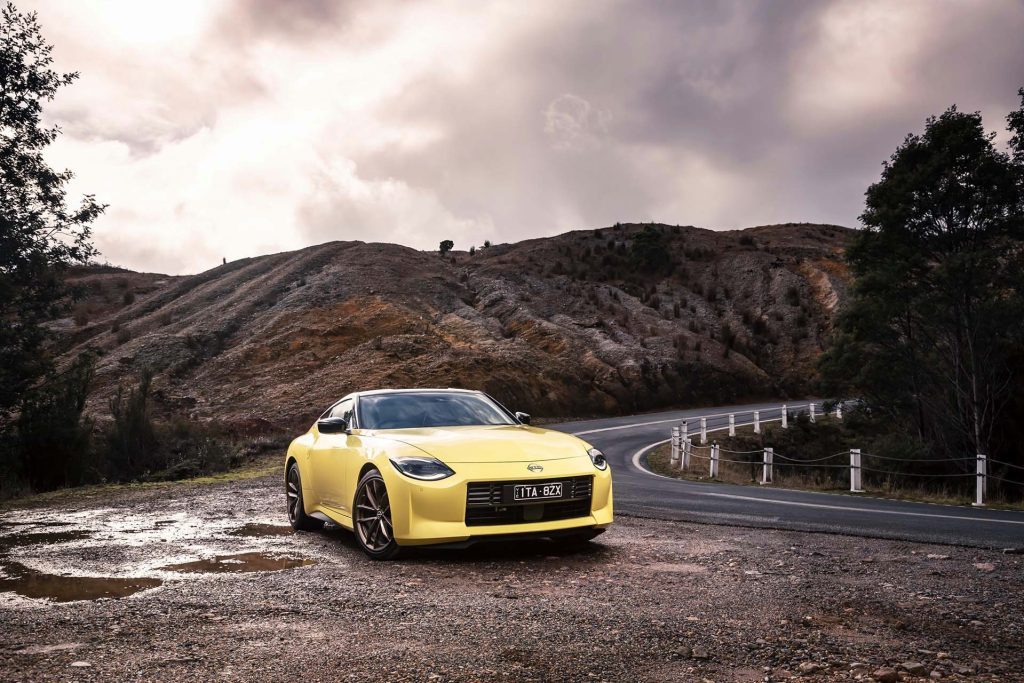 Ride quality the big winner
We noted a marked improvement to ride refinement. With extra chassis strengthening Nissan engineers have backed off spring and damper rates, and this rides in a manner you'd almost describe as sophisticated. Despite its lashings of quality low profile Potenza S 007 footwear, we only really noted a few instances of road roar during two days of driving, perhaps the active noise cancellation helping here. All the same, this is a far cry from the rowdy, bumpy memories of Zed cars from the past.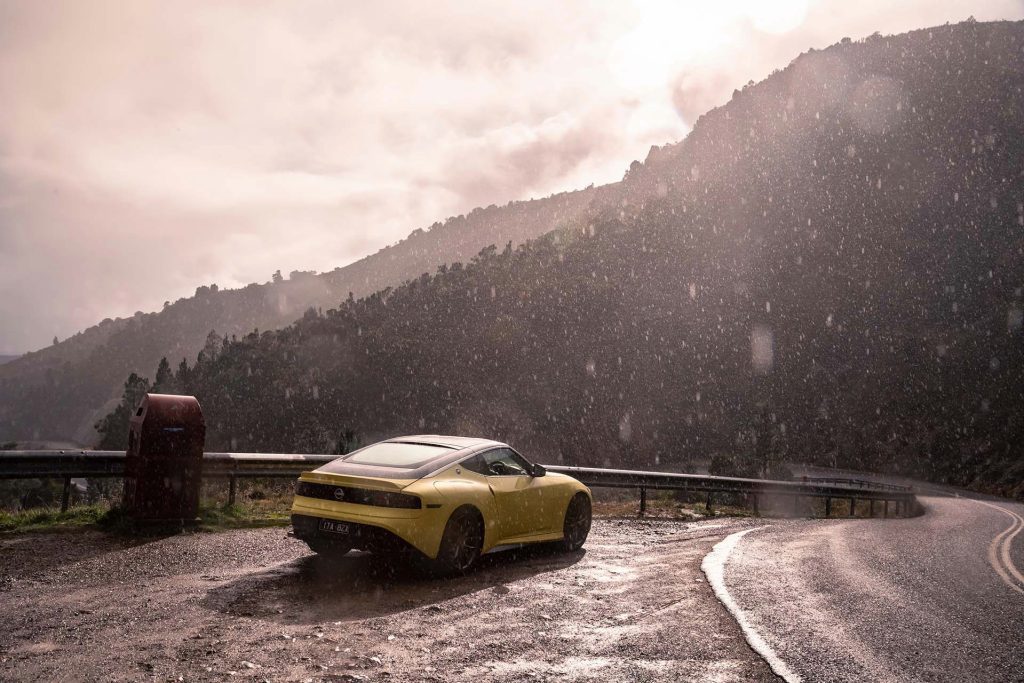 And as for safety features, everything you'd expect is present, important with its speed potential. Adaptive cruise gets a real workout.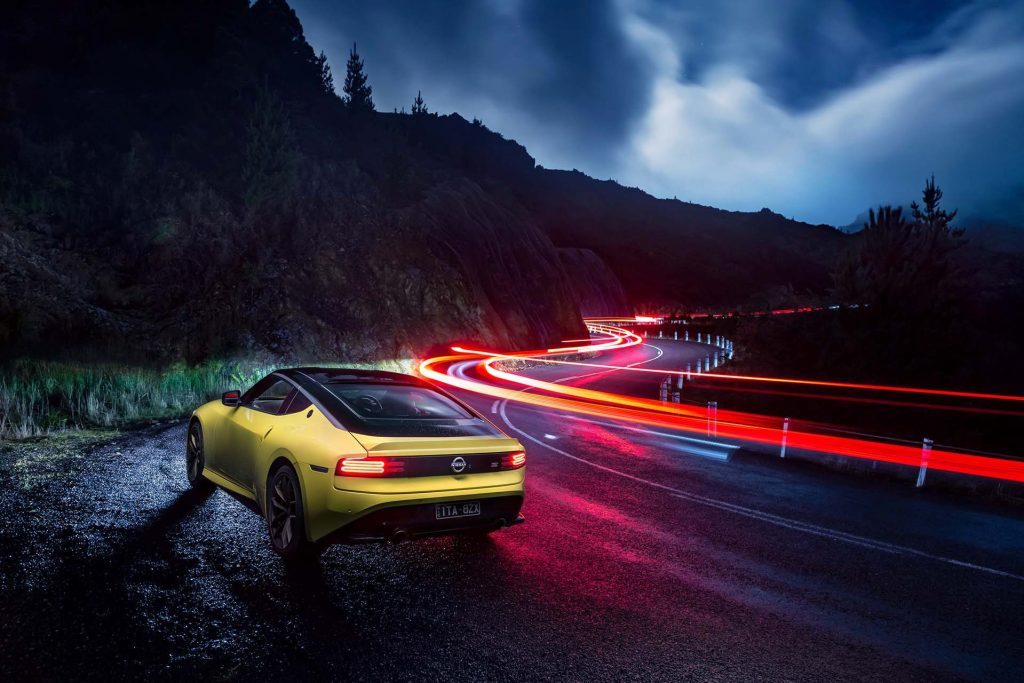 Up against its natural adversary, the Supra, this should prove roughly as quick but doesn't have adaptive suspension and nor quite the spec level. However, while both hark back to ancestor vehicles we reckon this looks better, as does its sticker price. Those who got in early and nabbed a Proto will feel well pleased when their mellow yellow collectable special is delivered.
Model
Nissan Z Coupe
Price
$84,990
Clean Car Discount
Fee + $3850-$5175
Engine
2997cc, V6, T, DI
Power/Torque
298kW/475Nm
Drivetrain
9-speed auto, RWD
6-speed manual, RWD
Fuel Use
9.9-10.8L/100km
C02 Output
225g/km
Stability systems
ABS, ESP
Safety
AEB, ACC, BSM, LDW,
RCTA, ALK, AHB
Luggage Capacity
241L
Tow rating
Not rated to tow
Service intervals
12 months/10,000km
Warranty
5 years/150,000km
ANCAP rating
not yet rated
Weight
1600-1633g (claimed)