What do you get when you install a compact 890cc engine in a lightweight trellis frame? A bike that looks and goes like a firecracker.
From the sublime to the ridiculous? That's almost what it felt like, climbing off the tallboy Tiger 1200 Rally Pro onto the seemingly tiny 890 Duke, superseding the 790 model.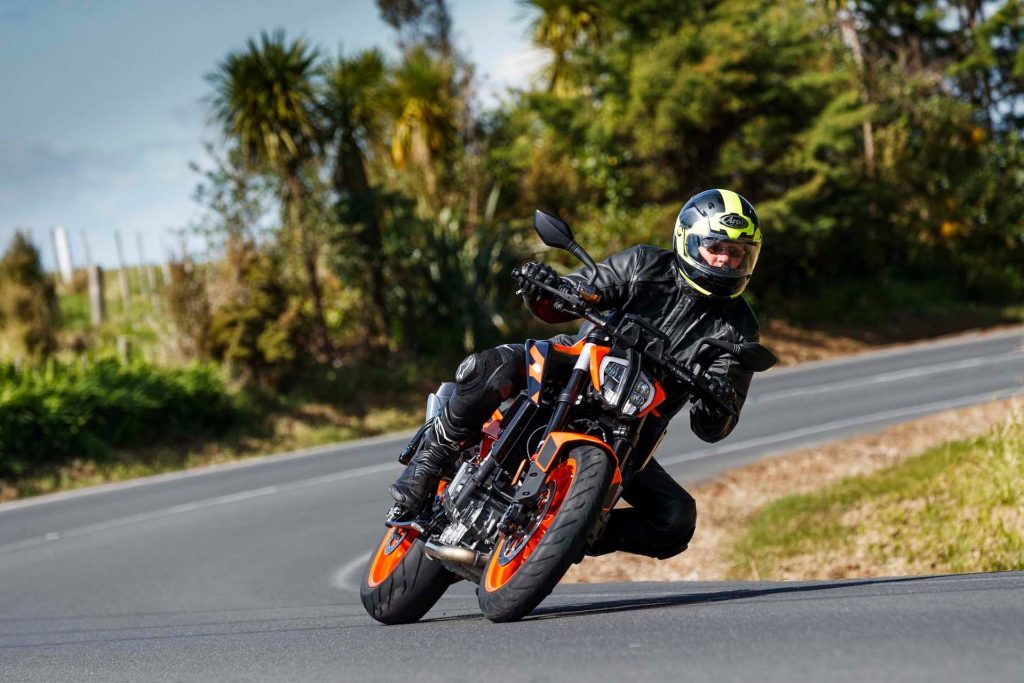 Tiny, you might be wondering, an 890? Why yes, it reminded strongly of sitting astride KTM's super-single, the 390 Duke.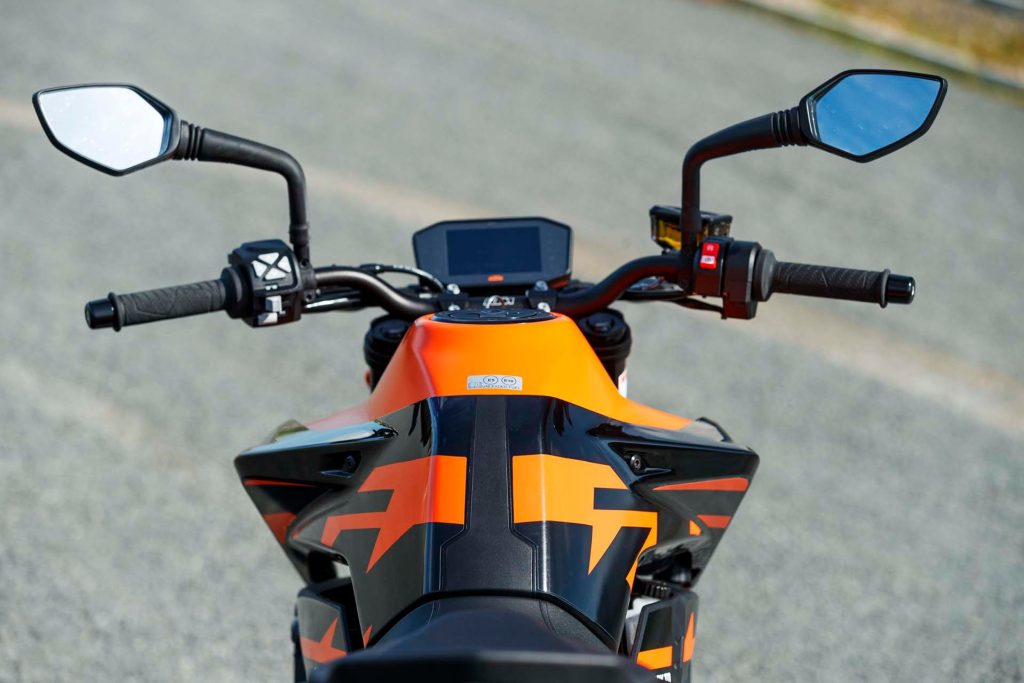 Below the 14L fuel receptacle resides an 889cc parallel twin poking out 85kW and 92Nm, featuring added flywheel effect which makes it haul away smoother from lower revs. The old 790 mill wasn't that happy below about 3000rpm but this will slug it out almost down to 2000rpm.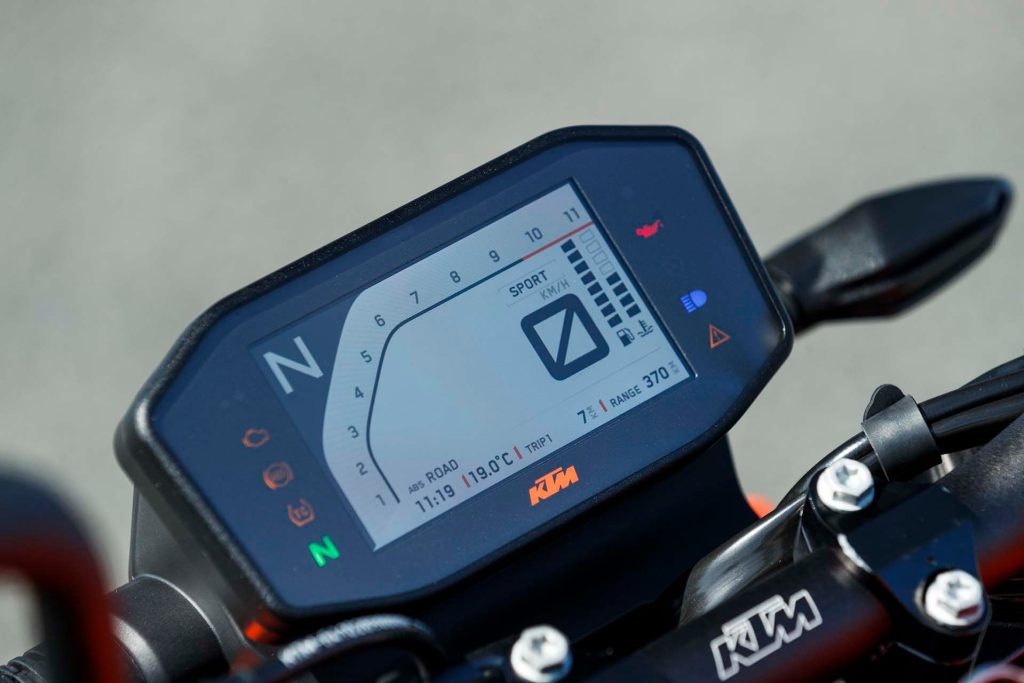 There's a small TFT screen and ignition block in front of you and frills seem few and far between; no cruise control, fairing, handguards or warmers, no quickshifter. Look a bit closer however and some trick things come to light. Both levers are easily span adjustable and there are three ride modes; Street, Road and Rain. There's also traction control, ABS and a supermoto mode where ABS is turned off at the rear wheel. So if you're up for it, you can steer it from the rear, which is why it was nicknamed The Scalpel by the firm. Not that you need to because it turns like an ace anyway. Cornering ABS is still fitted as standard.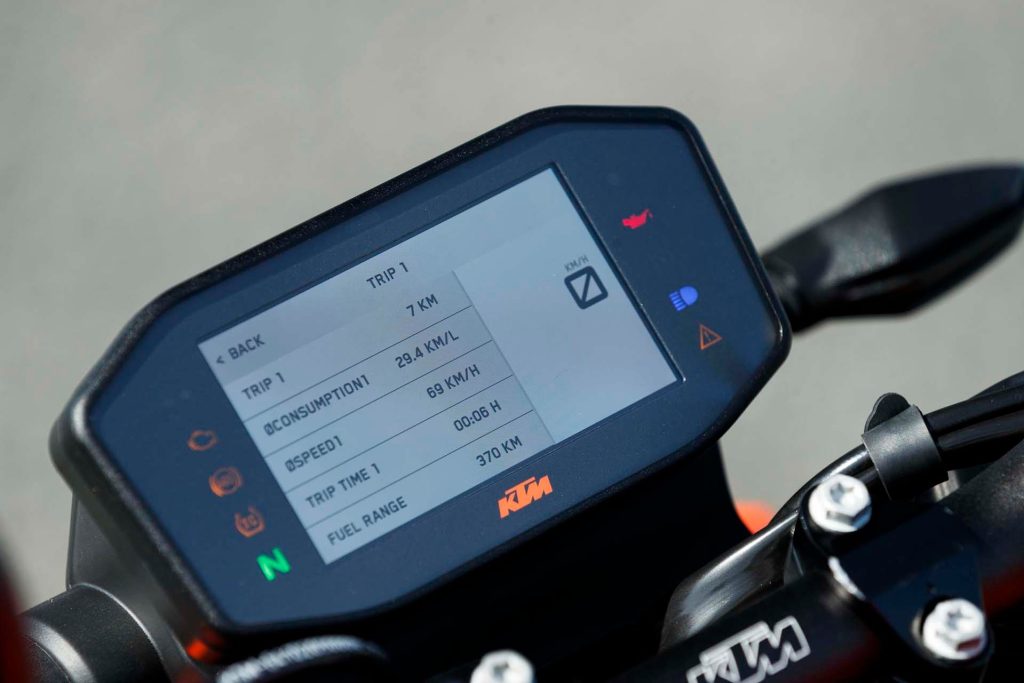 We've previously cited KTM as the absolute leader for logical arrangement of minor controls and nothing has changed. That said, I failed in efforts to turn off TC (it was obvious in hindsight). Anyhow, the difference to the performance figures is often negligible with TC off or on. In this case, when in Sport mode, it is on the least intrusive setting anyway.
KTM NZ has managed to keep the 890 Duke at a similar price point to the 790 when it debuted four years ago (formerly $16,999, now $17,849). Our's was actually $18,199 because it featured a GP paint finish.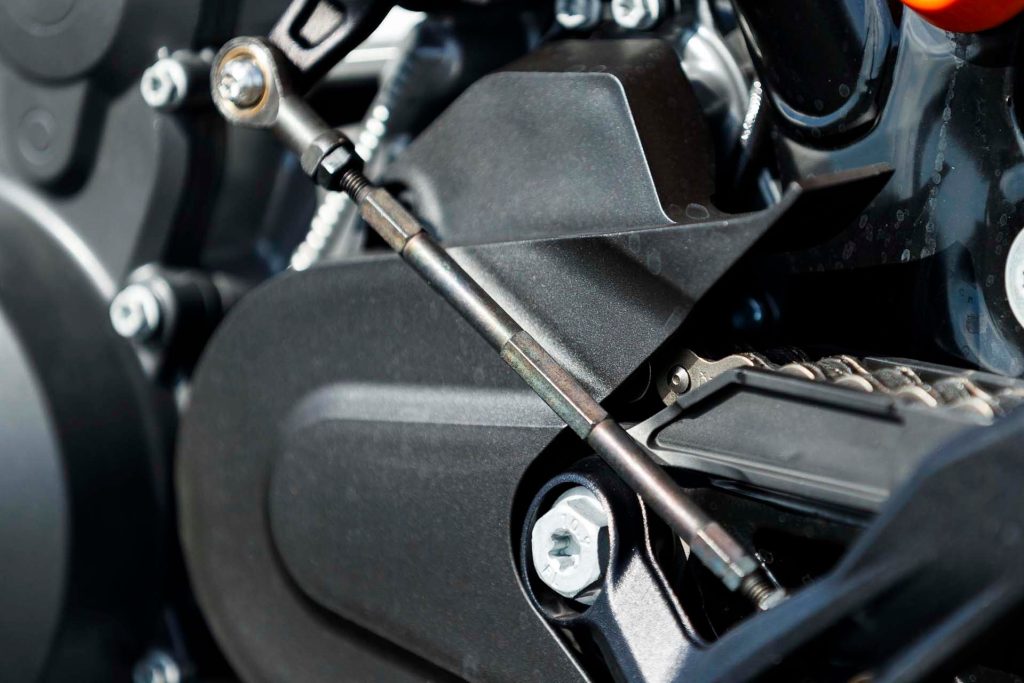 Ok, perhaps the 890 doesn't sport as much gear as the 790 but it has that improved engine. There's no longer a track mode and neither are there nine levels of TC, just two, on and off. You can pick these back up with the $625 Track Pack. There's no quickshifter either, but are all these missed? I thought I would really pine for it but no, though there's no doubt the shifts with the quickshifter sound cooler. There's a $1341 Tech pack that includes all the gear in the Track pack plus the Quickshifter.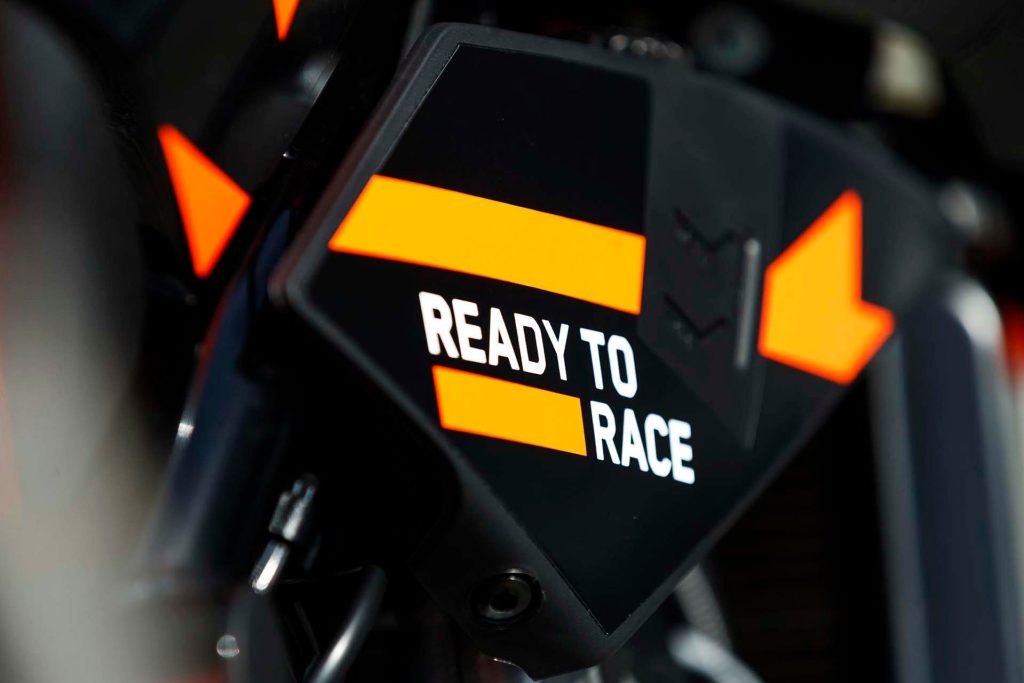 What astounds about this bike is its power to weight. Get this, it weighs just 188kg "Ready to Race", as KTM would have it. That's more like the weight of a typical 500-650cc machine. And because of its wide bars, compact engine and light weight, its lack of bulk is almost disarming (in a good way).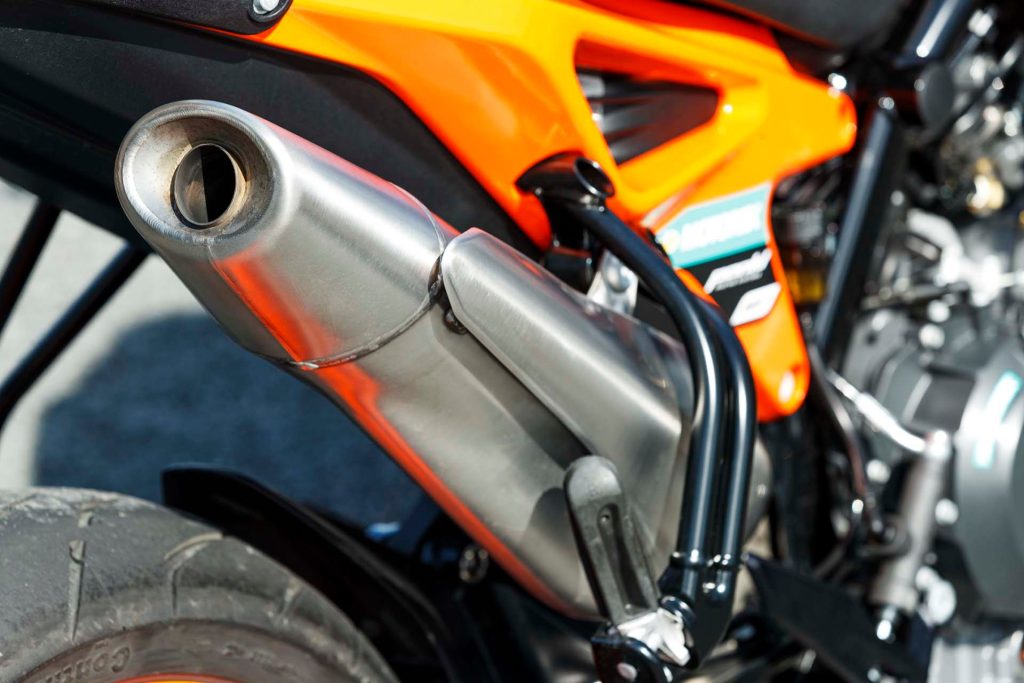 Wait until you wind on the gas; oh mother of Mary this is no 390 single. It pulls from down low nicely enough, the dragon awakens at 3000rpm and the fire issues forth by 4000rpm, which is precisely 100 in top. It doesn't quite run to that in first gear, but I'd read before venturing out that this is still meant to get to the metric tonne in 3.3sec. With TC on the lowest setting, we ended with a best of 3.4sec on chip seal, so the missing tenth should be gettable with TC off and running on hot mix. That's knocking on the door of litre superbike times, as also suggested by an 80-120 pass of precisely 1.5sec (in second gear alone, running into the 10,000rpm limiter). The former Duke 790 managed 3.6sec and 1.74sec, respectively.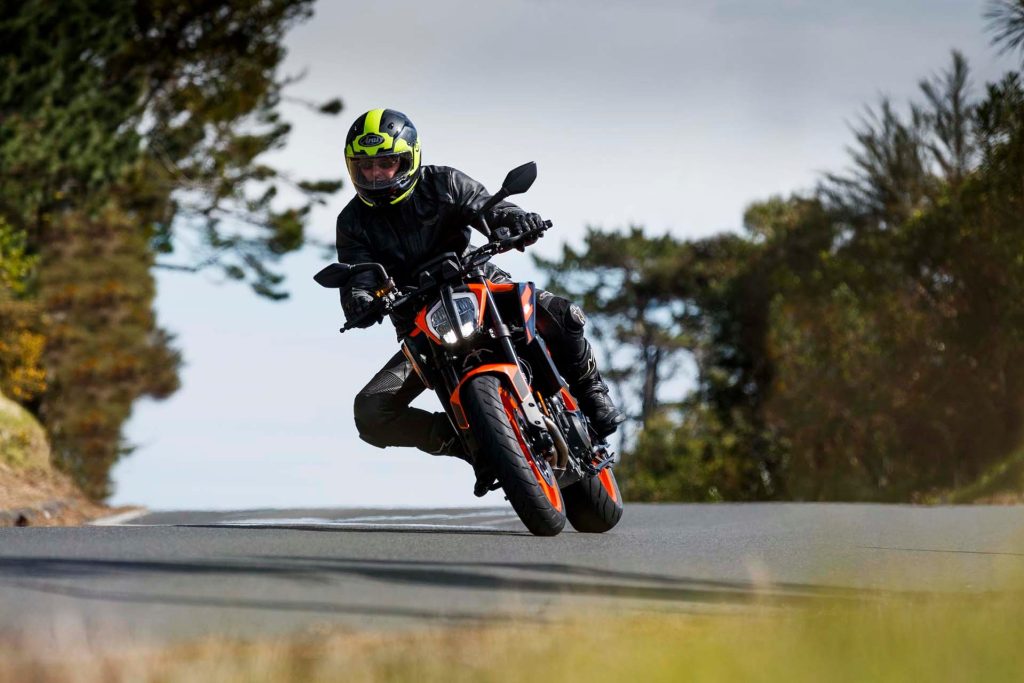 Engine vibes are kept pretty well in check too and while the mirrors are small they are clear and useful. Here's a nifty trick; if they come loose you can tighten them on the spot without needing a shifting spanner. How clever is that!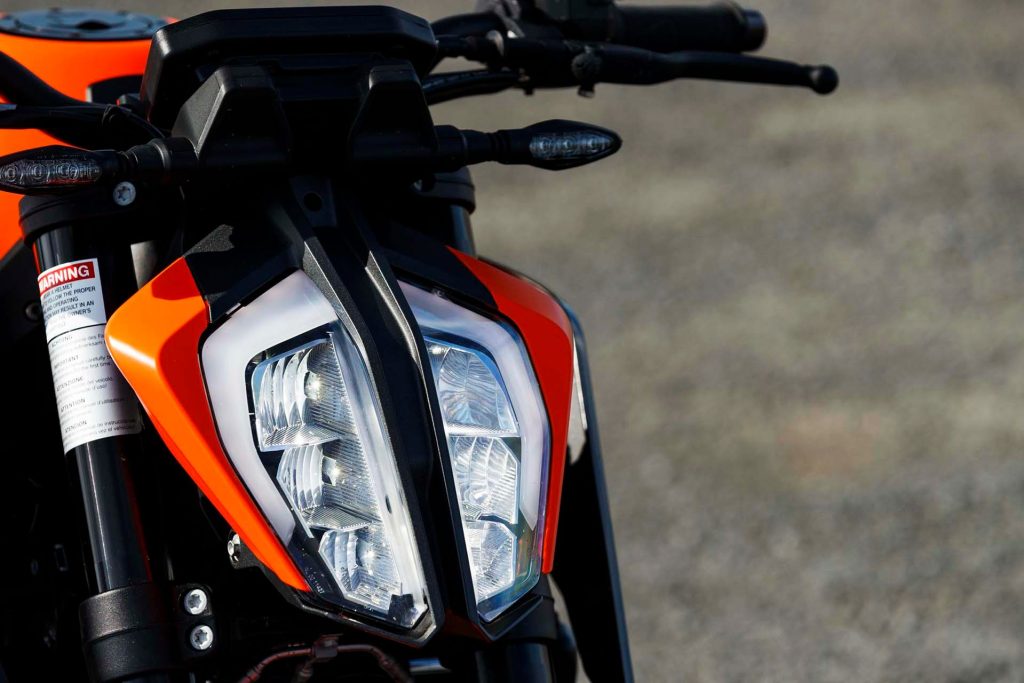 To my mind the brakes, now by Brembo, felt no different from those of the original middleweight Duke. This impression was reinforced by a 100-0 best just 0.5m better than before (42.47m). But they are strong in everyday use. With just 188kg to slow, you know the effect will be dramatic.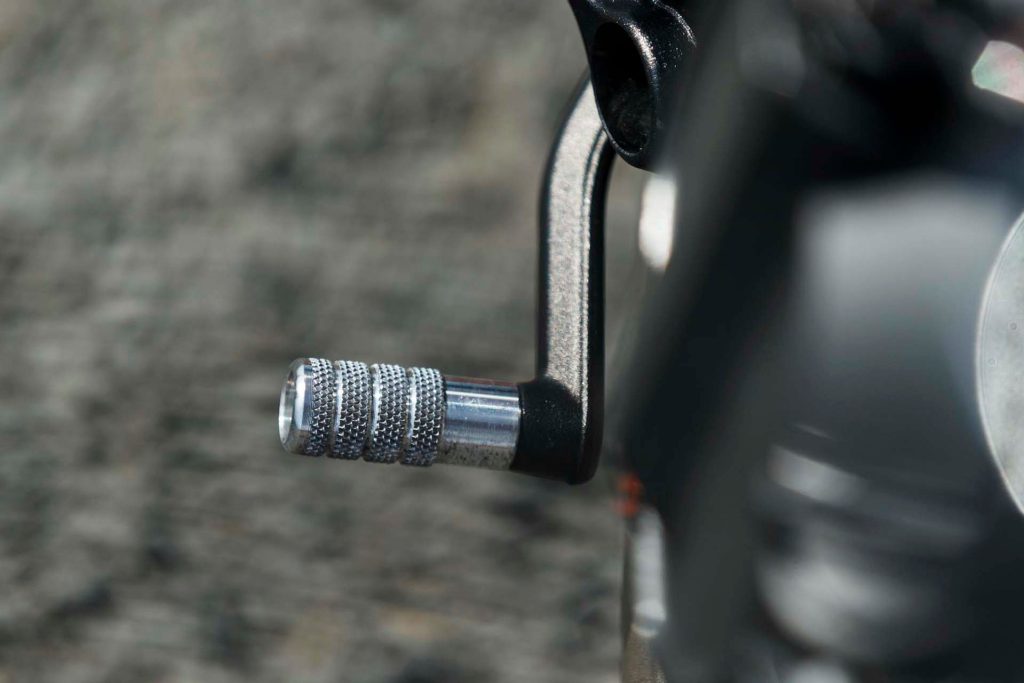 The lack of full suspension adjustability might suggest budget but it's WP Apex gear. While there's preload variability at the rear, we found the suspension pretty good out of the box, firm to be sure (like the seat, although there's a comfier option on offer) but the bike never wallows or does anything untoward through lumpy corners when bent over. And the standard ContiRoad tyres grip well too, encouraging greater corner entry speeds. We never touched down once on this either.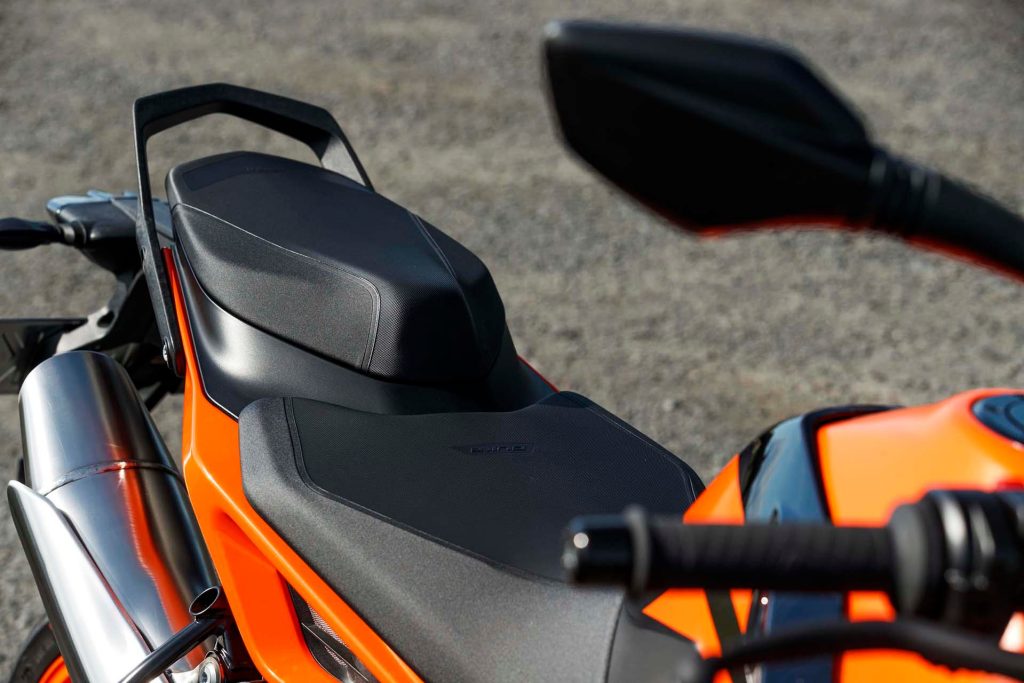 Being so light, line changes midcorner are a snip, even just with a hint of peg or bar pressure. This handles up a storm, the equal to Street Triples and MT-09s.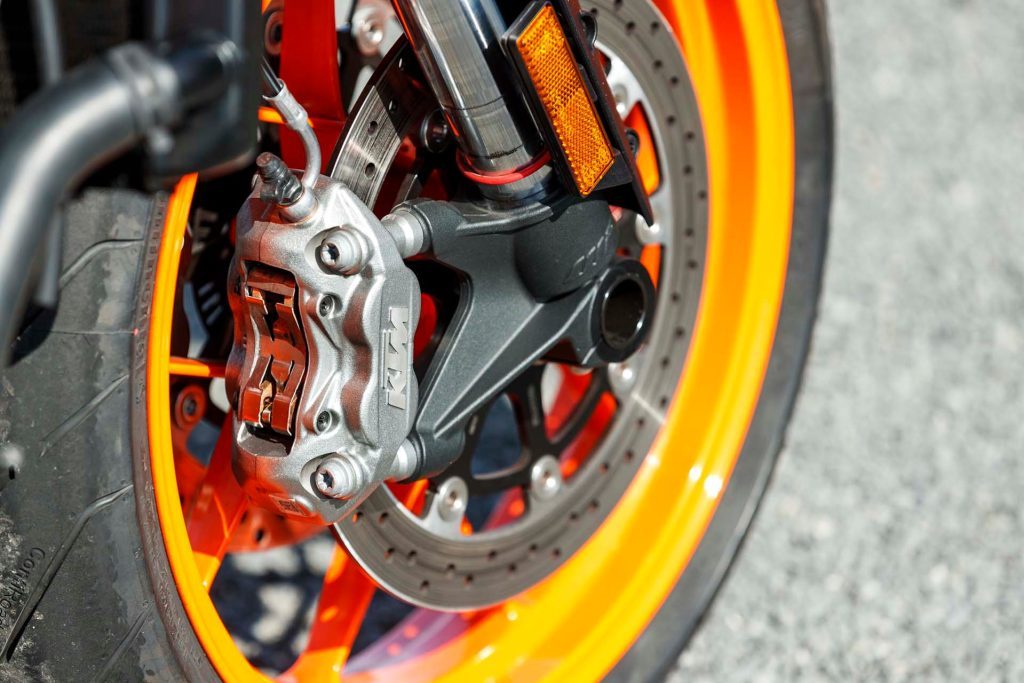 The riding position is so KTM-like, the bars close – there are four positions if standard doesn't suit – the pegs set back a little, and you feel like you're centred just above the motor and front wheel. So you get a good view of the action. The colour TFT screen, by the by, is highly legible, and contains most of the info you'd expect. DTE is also shown, along with how much of the 14L tank remains. On that, we saw fuel use of around 4L/100km, amazing given the performance on tap.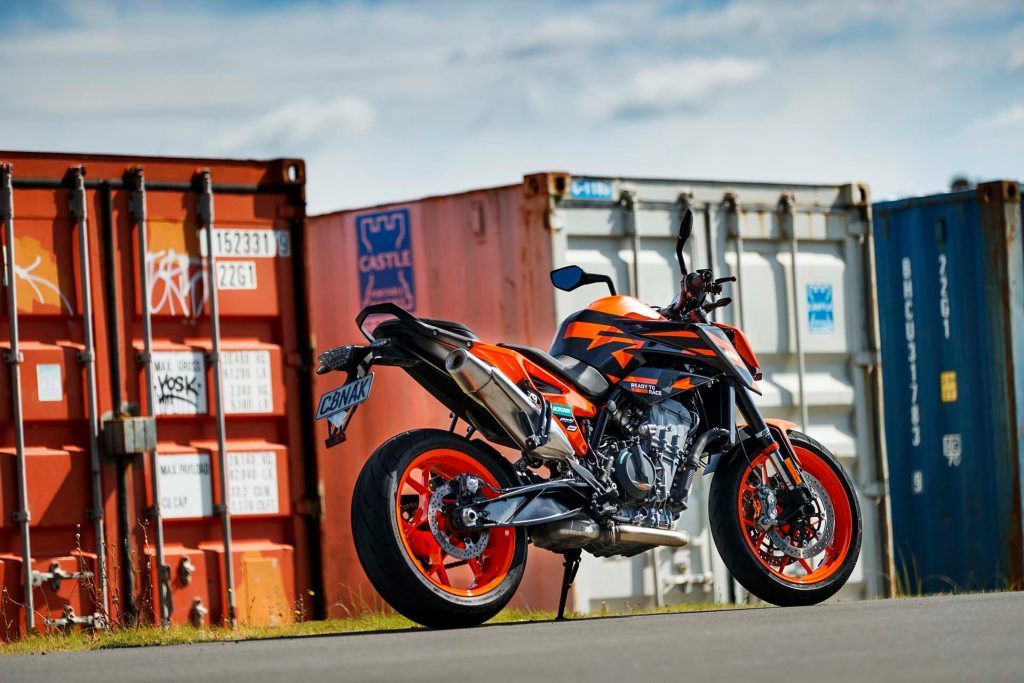 If you want the best from the Duke 890, you'll likely opt for the R (for Razor) variant at $21,199, with more sting from the motor, better rubber, stronger brakes, more adjustable and longer travel suspension, and things like Quickshifter and multiple level TC. It's probably worth the extra if you plan on taking it to track days. Scotch that; the extra $3k spend is a no-brainer, if you can stretch to it.
The only flys in the ointment here are Triumph's $17,990 Street Triple R,with fully adjustable suspension and quickshifter standard, and Yamaha's $17,299 MT-09 SP, a triple, similarly equipped to the Brit. They are all brill so you should sample the trio before deciding.
Model
KTM 890 Duke GP
Price
$18,199
Engine
899cc, liquid-cooled,
fuel injected, IL2
Power/Torque
85kW/92Nm
Transmission
6-speed, chain final drive
0-100km/h
3.41sec
80-120km/h
1.50sec (42.47m)
100-0km/h
42.47m
Safety systems
ABS, TC, wheelie control
Seat height
820mm
Weight
188kg (claimed)