The 790 was one of the most anticipated bikes of 2018, and is KTM's first attempt at a parallel twin. Of course it rocks, and is set to light up the middleweight class.
Time for a bit of a change from KTM it would seem, as it grows in confidence and stature. All Dukes past have been single-cylinder affairs, while SuperDukes have been V-twins. Now there's an interloper, the Duke 790 that covers the boundary area between little and big, commuter and roadburner.
Yet this new middleweight, that aims to take on the likes of Street Triples and MT-09s, uses a parallel twin engine. Both of its rivals sport in-line threes. So is it on a hiding to nothing? Well no for it produces similar power and torque outputs, it's well specified in the safety and electronics areas, and costs much the same as its British rival, at just under $17k. Its main competition is Yamaha's base MT-09, costing $14,500. That has slightly more power and a tich more torque (86kW/88Nm).
However, the KTM is lighter and even though a mere twin and down 48cc in capacity compared with the Yamaha it still pumps out 78kW and 86Nm. It's closer to the Triumph on output and weight but the Brit is more expensive, R and RS variants going for $19k and $21k, respectively.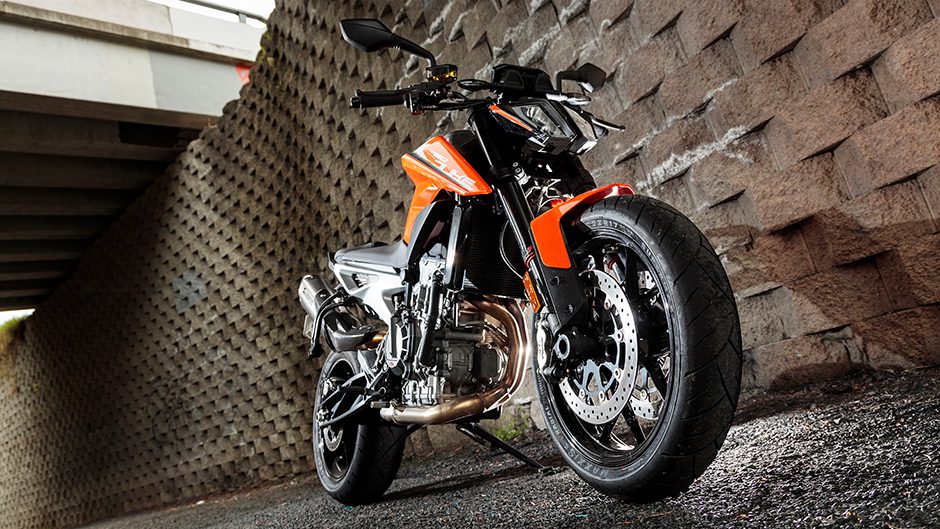 A twin of a different type
The twin-cylinder engine is obviously the most interesting aspect of the 790, given it is a brand new design. Why a parallel twin? Cost and size are primary reasons. They can be made incredibly compact, which this one is, and that gives the chassis engineers more freedom. In this instance, they've concocted a tight and light tubular steel dual backbone frame with the engine at its core.
With all its fluids the bike weighs in at under 190kg, and it feels lightweight to move around. You're likely thinking that a parallel twin is about as exciting as a wet A&P show, right? That's especially true when it comes to their bleating sonics. Well, it turns out they don't have to be.
This new compact LC8 twin sports 435-degree firing intervals. And that imbues the engine with an aural signature almost indistinguishable from a V-Twin's, its off-beat resonant growl punctuated by exhaust bangs on the overrun. V sporty, just like KTM's politically incorrect message at start-up: Ready to Race.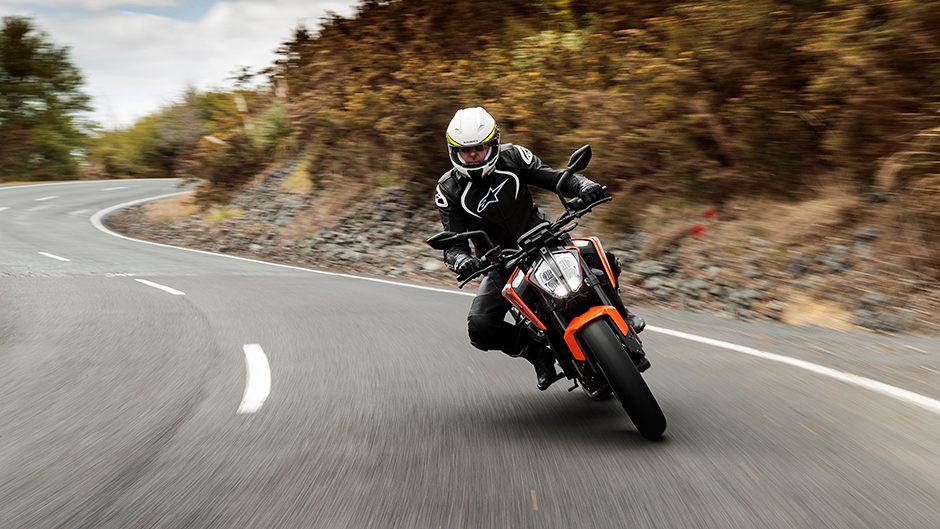 Also unusual for a parallel twin engine – it's virtually tingle-free, at least in its zone of typical everyday use, from 3000-6000rpm. Because you utilise the midrange so much, it seems easy on gas which is probably why KTM limited tank size to 14L. It's enough for a 250km touring range. We consistently achieved mean fuel use figures on the trip meter of 5L/100km or less.
The Duke 790 comes standard with a bidirectional quickshifter. We switched it out for about five kays but couldn't stand being without it so quickly reverted. There was the odd missed upshift but it's so light and breezy in operation that you'd not consider being without it on a daily basis. Down the 'box is a bit trickier; best shifts occur when blipping as you apply downward lever pressure. We downshifted conventionally most of the time instead, the clutch also effortless in its action.
Gearing is tall, 100km/h coming up at around 4000rpm in sixth but because of its bulked up midrange it manages just fine, top gear acceleration handy from about 85km/h onwards, and vigorous from 100km/h. But like many highly strung parallel twins, the engine isn't that happy hauling from below 3000rpm, except on a light throttle.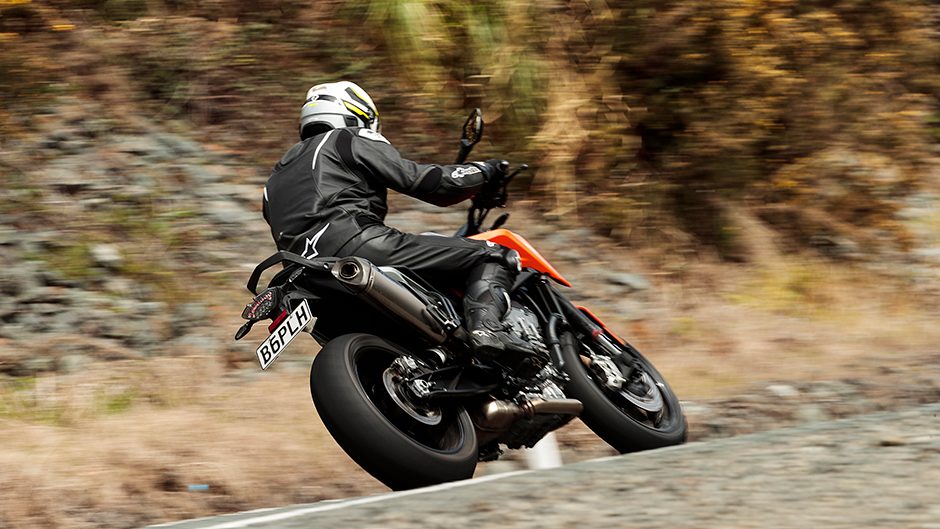 Best to keep things percolating above this point and from about 3500rpm it really begins to hit its straps. From 6000 it rushes towards the limiter at 9500rpm. I tend to ride most bikes using the midrange but this is such a firecracker of an engine that it kind of encourages you to hold on longer in each gear.
Twin that can ankle tap the triples
Full bore acceleration sees the 790 easily drop into the three-second bracket 0-100km/h but then you'd expect that from a lightweight 790 street machine. We managed a best of 3.60sec (which required an upshift to second), and that compares with 3.5sec for the MT-09 and 3.3sec for the Street Triple RS.
Both of these rev higher and are capable of hitting 100 in first gear. The KTM launches with the front end nicely grounded, its lengthy moulded swingarm contributing to that. Try to wheelie it with TC on and it cuts engine power, but with TC off it's happy to make like a unicycle. For the overtake we recorded a best of 1.74sec versus 1.64sec for the Yamaha and 1.56sec for the Triumph.
Where the others manage this in second gear, the Duke needed a shift to third. So it nips on the heels of its main rivals.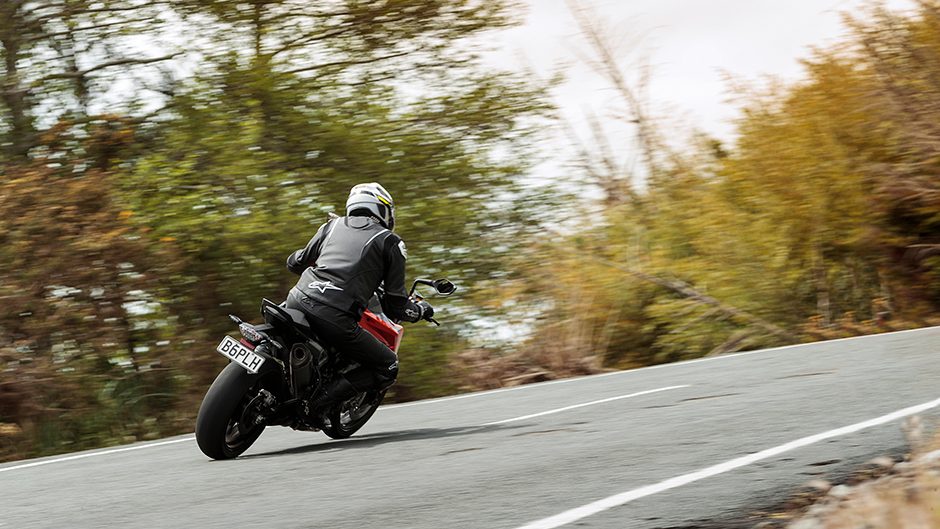 Lots of air
It's such a joy riding a lightweight machine that's set up to work well in a range of environments. There's lots of steering lock, making it easy to move about without the engine running, and there's plenty of bar leverage.
The seat is set at 825mm but there are lower seats available (780-805mm). Hop aboard and the riding position is typically KTM-esque, with no real stretch to the bars or pegs. The latter are set back slightly, supermoto style. And the tank is an ideal width, the knees locking you in place so the arms are relaxed on the go. It's an open, easygoing position, ideal for urban commuting and an easy bike on which to do that, given its heroic midrange thrust.
On the downside, there's nothing in the way of air protection, nada. That's fine on a still day, not so much when you're slogging into a head wind. Course you can always consider fitting a screen available as accessories via KTM. But if you're a licence loser, best to retain this inbuilt speed limiter.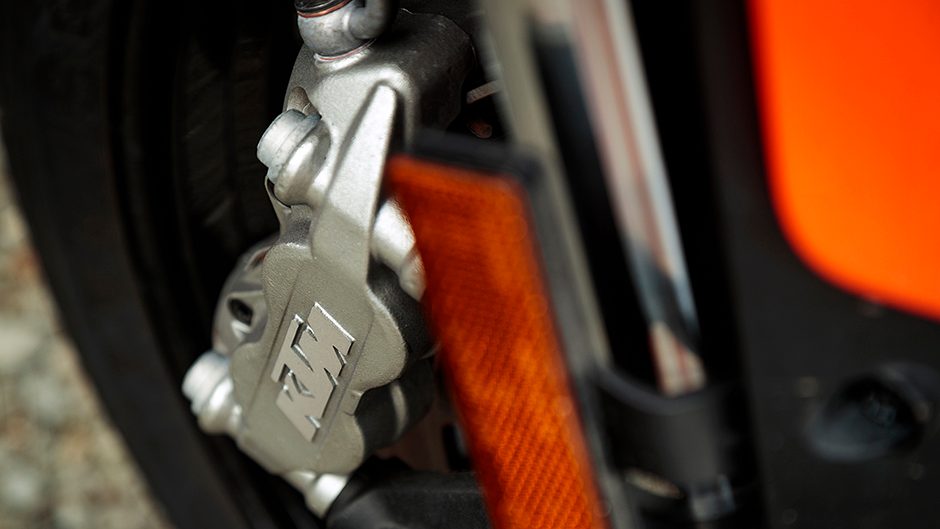 As to the ride on your favourite turf? They don't call it 'The Scalpel' for nothing. This is genuinely cutting edge, changing direction deftly and carving beautiful tight accurate lines.
Is there a catch?
To price the bike competitively KTM has had to make a couple of concessions, but electronics wasn't one of them. In standard trim it comes with lean angle-sensitive traction control and ABS, engine braking control, and four riding modes (Rain, Street, Sport and Track). A colour TFT screen shows the trip data you need, a fuel gauge, and is clear even in the full light of day.
Other bits include White Power suspension, LED lights, a steering damper, adjustable levers and radial brakes. The suspension may not be as adjustable as the opposition's, only for preload at the rear, but is well judged for a mix of urban and rural comfort and control. We were a bit surprised to find Maxxis rubber each end but it seems to stick well enough.
Brakes are KTM branded, the four-piston radial design (including radial master cylinder) emanating from J. Juan, a Spanish brake firm. They're entirely adequate, if lacking in ultimate sensitivity. They feel solid enough in use but fade with repeated application. Our best stoppie, a 43m effort, we achieved early on, and failed to match thereafter. But they're up to the task.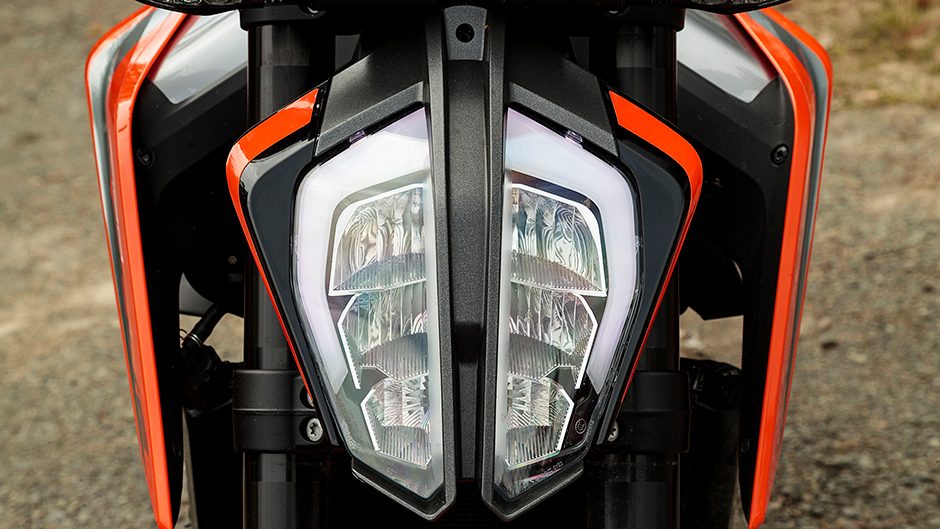 Where does it sit then?
The middleweight market continues to be somewhat overlooked here and in Australia. Kiwis view anything less than a litre with disdain. For those who can see past mere displacement, the Duke 790 is yet another sublime example of a well designed middleweight that do almost everything that a litre bike can, and some other things bigger bikes can't, plus it costs a bunch less.
The Duke 790 isn't quite the complete package. I'd probably want to fettle brakes and rubber, and perhaps add a screen, maybe a softer seat, but the basic bones of greatness are there. Stellar electronics, powertrain and frame make other mods easy.
Yes, it can be had in black, but you'd only ever buy it in KTM colours. It has been one of the most memorable rides of 2018. It will be joined by an Adventure 790 (ADV) version next year, optimised for touring.
| | | | |
| --- | --- | --- | --- |
| Model | KTM Duke 790 | Price | $16,999 |
| Engine | 799cc, liquid-cooled, fuel injected, IL2, 78kW/86Nm | Drivetrain | 6-speed, chain final drive |
| 0-100km/h | 3.60sec | 100-0km/h | 42.96m |
| 80-120km/h | 1.74sec (49.2m) | Weight | 188kg |