The eagerly awaited second-gen Ranger Raptor has landed Down Under. We trek to South-East Queensland to thrash it, slide it and jump it.
There's an old saying among petrolheads that there's no replacement for displacement. While we rated the original Ranger Raptor, it had its detractors, most of whom believed it deserved an engine gruntier than a two-litre diesel. It would appear that someone in customer relations at Ford took note of the whinging and they've endowed the latest Raptor with a stonking twin-turbo V6. With 292kW and 583Nm on tap, power is up by a whopping 135 units on the oiler while torque increases by 83 newts. But is this now a case of being too much of a good thing?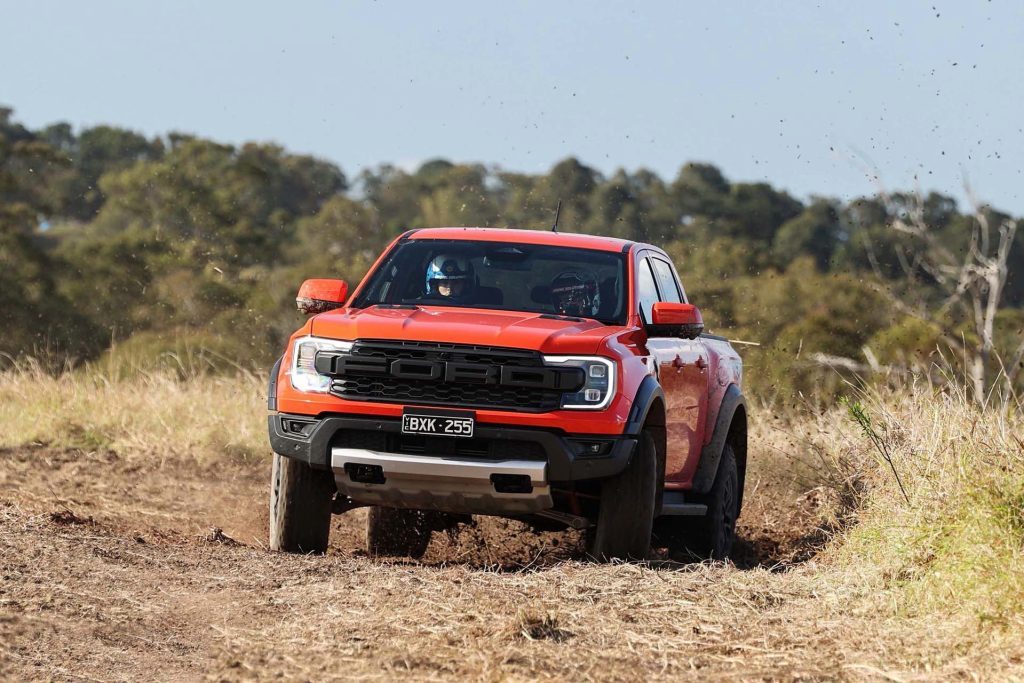 Over-engineered
This time around, Raptor was co-developed alongside the rest of the Ranger/Everest/Bronco range, all of which use the T6 platform. This gave the engineers more freedom when it came to producing a kick-ass truck. It meant that a bunch of changes (front wheels moved forward 50mm, chassis width increased by 50mm, rear suspension moved outboard of the chassis rails) were made to the Ranger platform in order to make the Raptor better. A 'hydroformed beam' (a space frame of sorts) in the engine bay frees up room for a wider range of powertrains, and this hints at electrification being added in the future.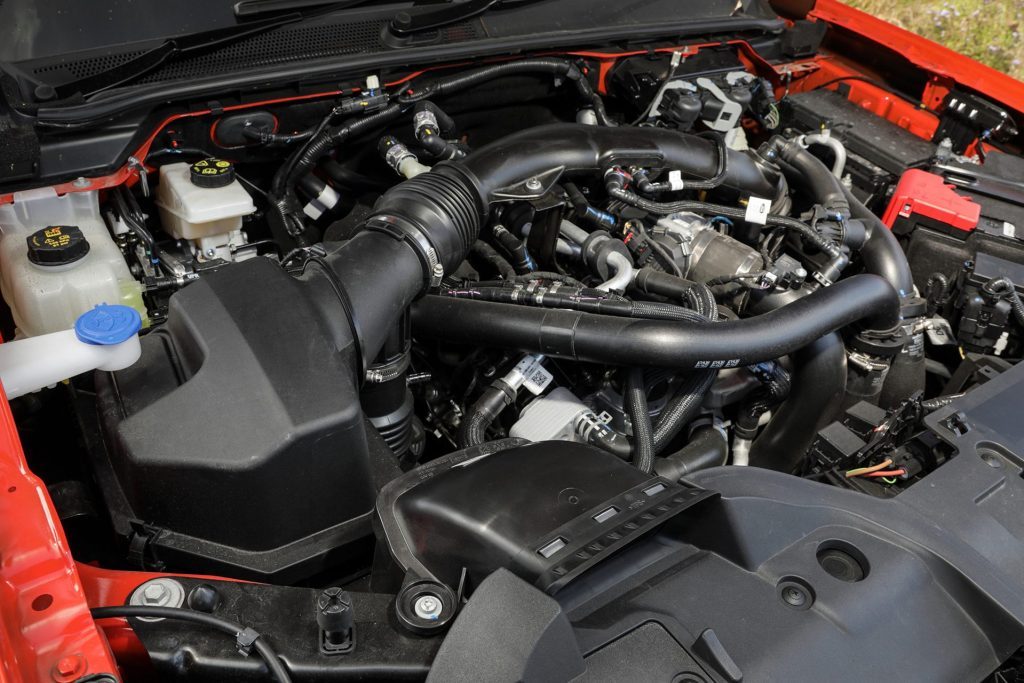 Raptor gets additional chassis tweaks in the form of extra reinforcing for the C-pillar, tray, shock mounts, a unique spare tyre carrier and 2.3mm steel bash plates for the underbody. The front bash plate is twice the size of that on Ranger.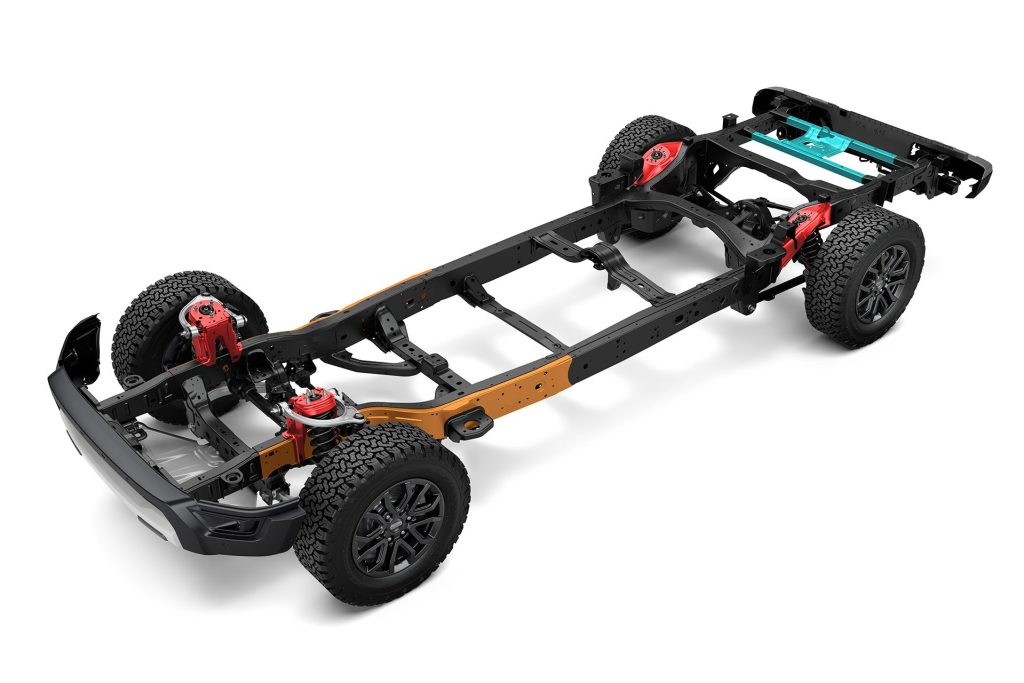 Bump and grind
It's the suspension that makes a Raptor a Raptor and for version 2.0 the majority of the components have been redesigned. There are new, lightweight upper and lower control arms and a refined Watt's linkage at the rear. Shocks are still by Fox but they now feature 'live-valve technology' which monitors both the driver and vehicle inputs 500 times a second, making adjustments in 'real-time'. These internal bypass units are filled with special oil to reduce friction and feature 'bottom-out control' which provides maximum damping force at the end of the travel to prevent the shocks from bottoming out. The system also works to reduce squat under hard acceleration.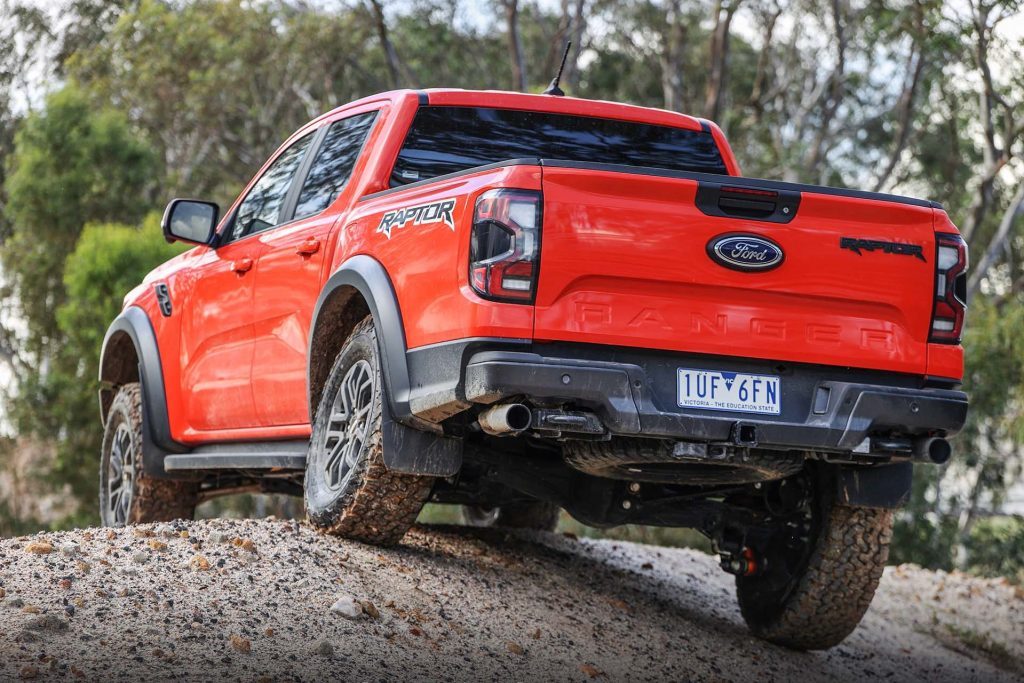 More power baby!
Gone is the bi-turbo diesel (it's still available in some markets) and in its place resides a twin-turbo V6 petrol engine boasting anti-lag tech. This rally-derived technology keeps the snails spinning for three seconds after lifting off the throttle, allowing for more immediate acceleration once the gas is reapplied. Thanks to a trick four-mode active exhaust, the V6 even has an impressive bark to back up the bite. The growl is at its loudest in the 'off-road only' Baja (bogan) mode. The engine (which uses a strengthened graphite-iron block) is paired to an updated 10-speed auto (the only option, as no one buys manuals anymore), and it's a beaut, the shifts fast and smooth. There are large magnesium paddles for those who want to take control but the 'box is so damn good they're all but redundant.
Looks meaner than a junkyard dog
New Raptor looks tougher than ever thanks to the aggressively styled front end with its distinctive 'C-clamp' LED headlights, pumped guards and that trademark oversized FORD grille. 'Code Orange' is the hero colour this time around, and we reckon it looks bloody good. If that seems a bit too fruity, there are four other options available at no cost.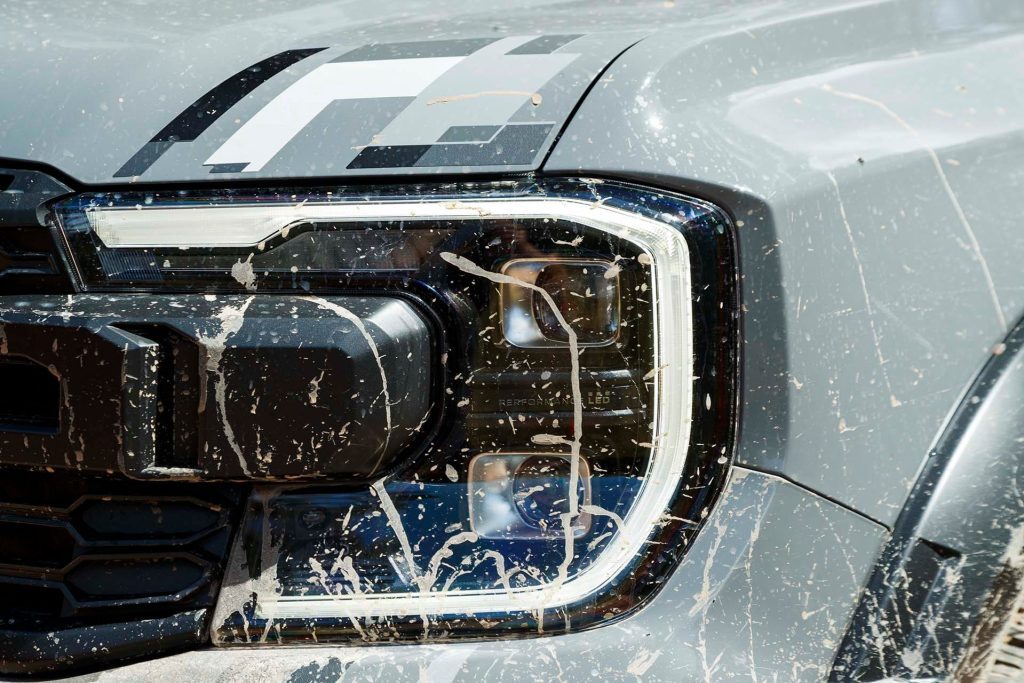 Raptorised inside
Special attention has been made to differentiate Raptor from its workhorse origins. There are brand new 'jet-fighter' inspired seats front and rear (with extra padding in the squab to make landings more comfortable), unique trim materials and steering wheel, padded door tops (front only), a massive touchscreen and digital dash, roof-mounted auxiliary switches, ambient lighting (ooh la la!), heaps of cool detailing and liberal splashes of orange paint.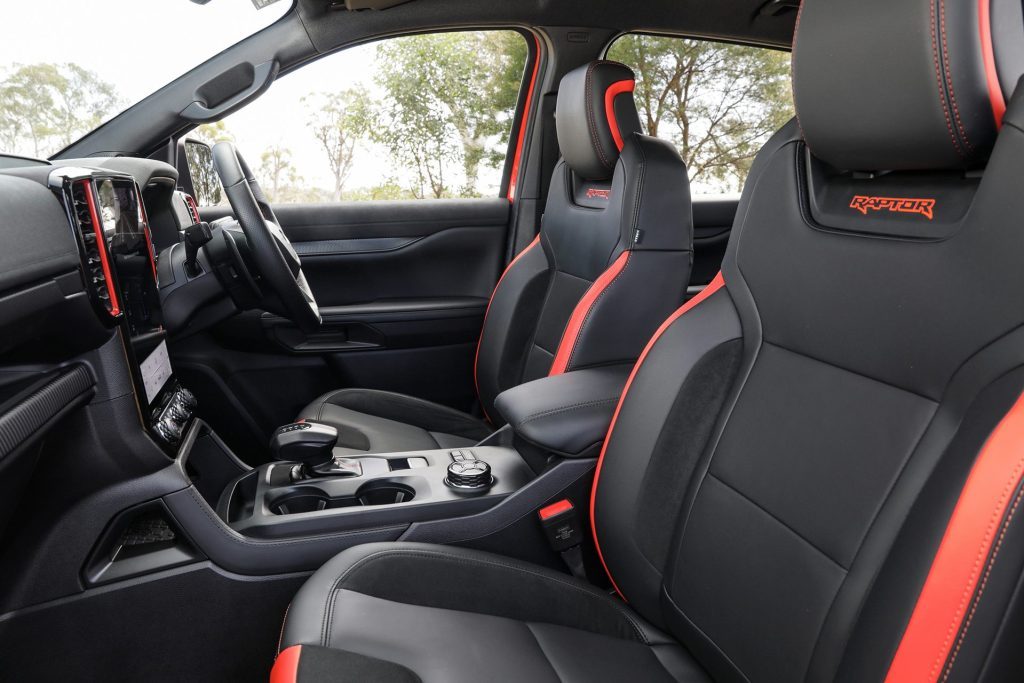 But how does it drive?
Before we get to that bit, Ford surprised us by letting us hot-lap the original Raptor (back-to-back testing is almost unheard of at a press launch) which reminded us just how good it was. We've always had a soft spot for the Raptor and this brief skid reminded us why. It is damn good, if a little underwhelming in the power department… We then swapped out of the old and into the new and excuse my language, but holy s**t!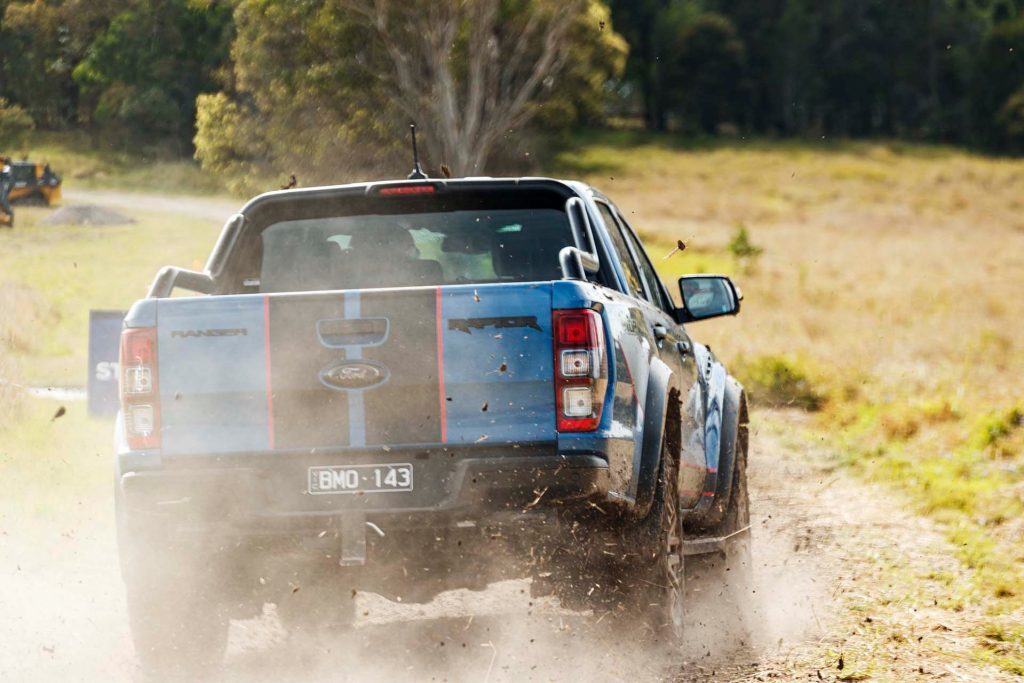 The whole package has been dialled up to 11; the steering, the suspension, the power. The noise! The angry growl from the exhaust is the first thing you notice when you prod the column-mounted start button (there's a quiet mode if you like your neighbours). Stomp on the loud pedal and torque delivery is damn near instantaneous, it simply grips and goes no matter how slippery the surface is beneath the BFGoodrich rubber. It genuinely shoves you back into the seat when you bury your right foot.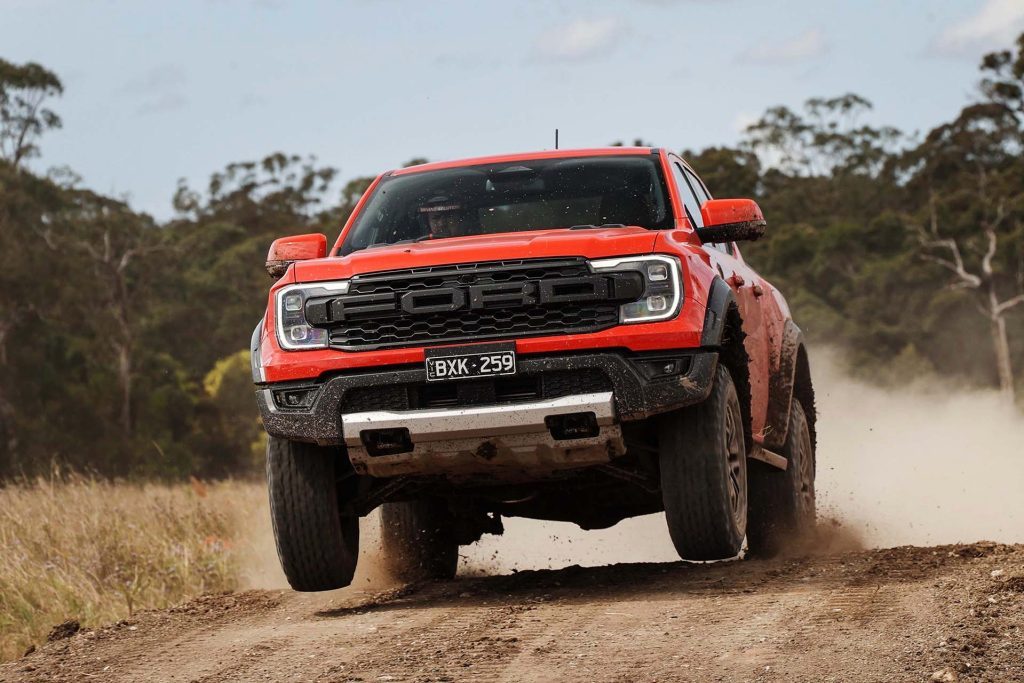 We were let loose on a high-speed off-road track with long gravel straights, a heap of twists and turns, deep ruts, super-slick muddy sections and even a yump. The Fox shocks do an incredible job of soaking up bumps that no one in their right mind would attack in a conventionally sprung ute at the pace we did. Hell, a stock Ranger would probably shake itself to pieces over the same terrain. With Baja mode dialled up (optimises throttle, engine, transmission, exhaust and shocks for max attack and backs off the safety nets) we had the Raptor sliding sweetly around the course (largely thanks to our skilled instructor telling us what to do, cheers James). The Raptor is extremely communicative (it has a new electronic power steering set-up), you get a real sense of what the wheels are doing and where the traction is at. And so the tail can easily be provoked to slide progressively and predictably, even with a loose nut like me behind the wheel. I could've spent all day lapping the track, it was that much fun. The most notable difference between the outgoing model and the new RR was just how much faster we arrived at the next corner and how much more opposite lock we were having to apply!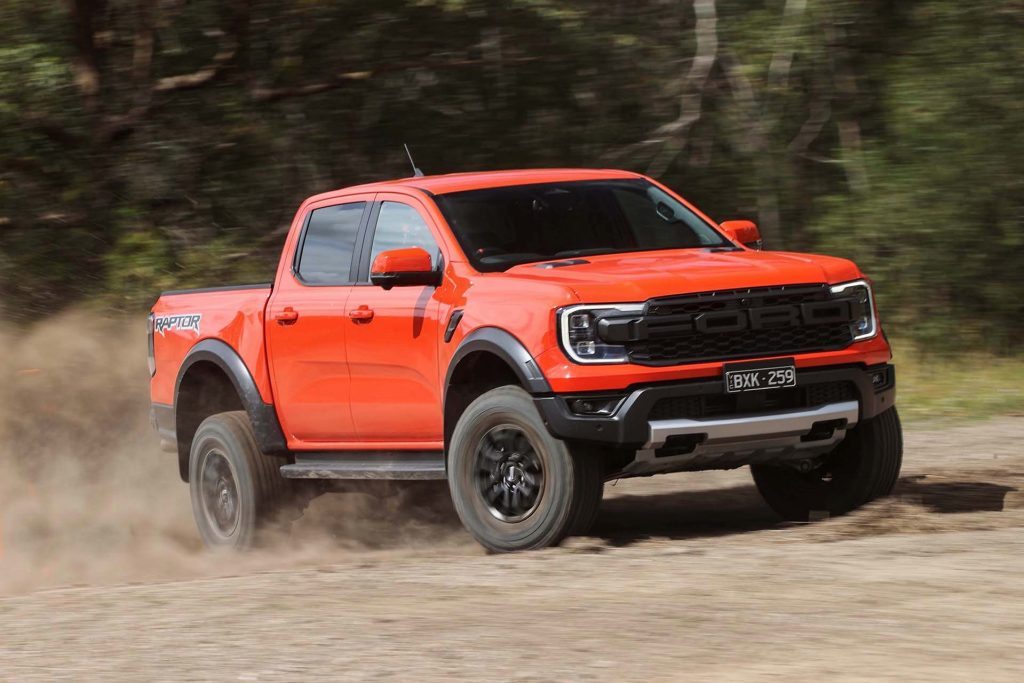 Next we got to experience just how much grip is available on slick surfaces with a trek through the bush. We never once looked like getting stuck, despite our over-enthusiastic use of the loud pedal. Should you do yourself a mischief there are twin rated recovery hooks on both ends. There are also diff locks front and rear for trickier terrain and these are activated through the dedicated off-road screen. A new feature is 'trail control', a function of cruise control that maintains a set speed (up to 32km/h) for hill descents or navigating tricky terrain without the need for pedal input from the driver.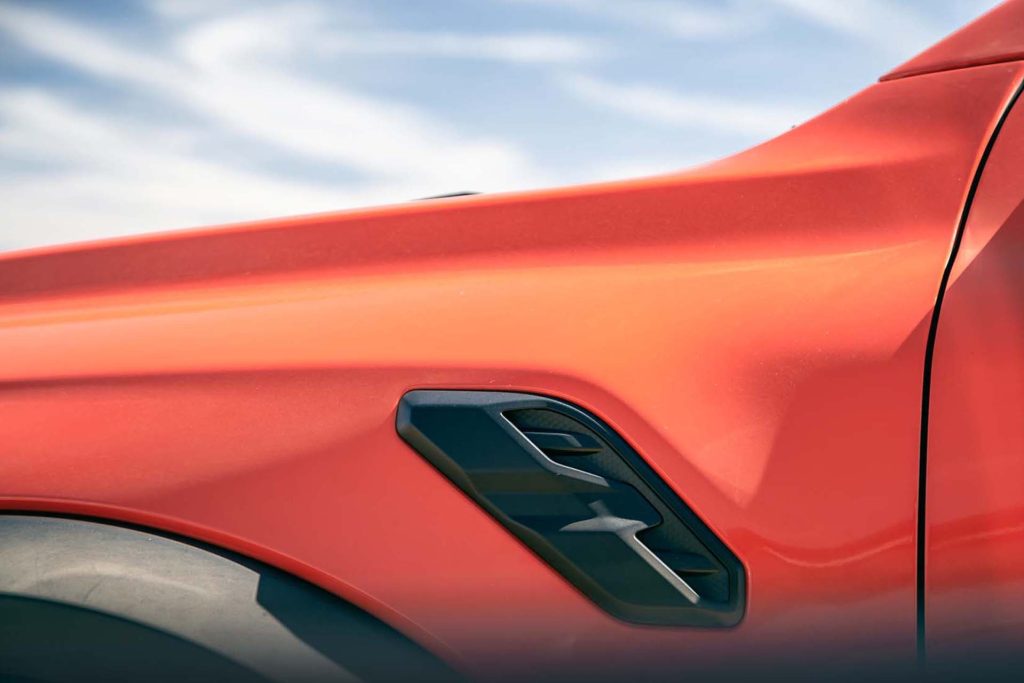 There are now seven drive modes (Normal, Sport, Slippery, Rock Crawl, Sand, Mud/Ruts and Baja) to suit all terrains, along with a user-customisable 'R' button (tunes steering, suspension etc) on the steering wheel. The four-mode exhaust also has its own button. Naturally, we spent most of the time with this locked to the loudest "off-road only" (yeah boy) setting!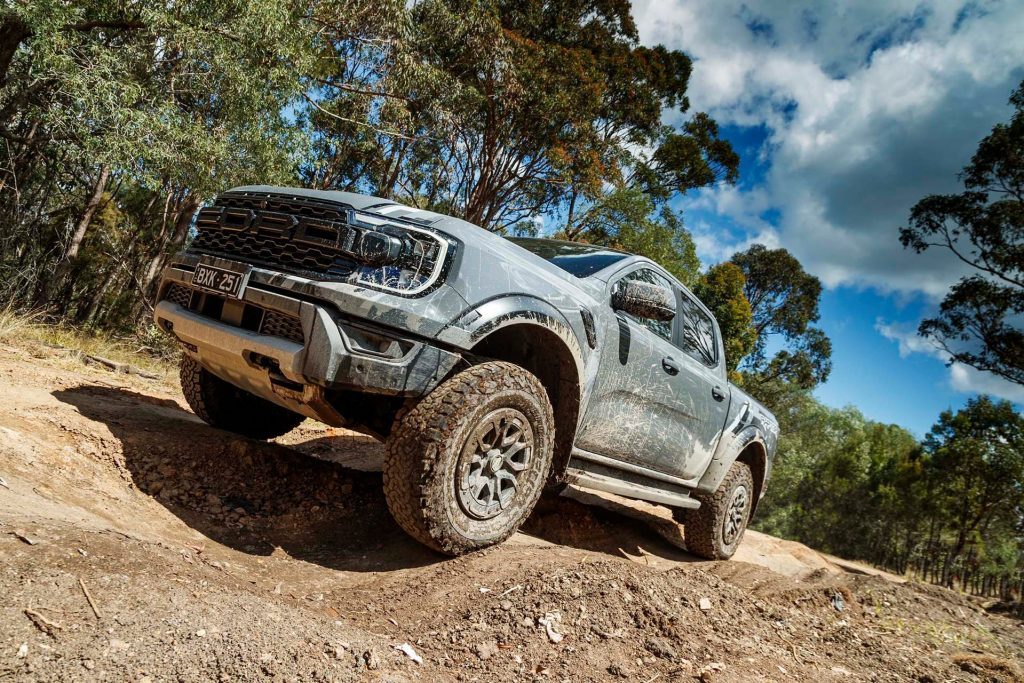 Our road drive was a little subdued thanks to Australia's love of speed cameras, but we get the impression that this will be a blast on your favourite back road. The new steering set-up is sweet, delivering plenty of feel to your fingertips despite the chunky tyres. The three-mode suspension works just as well on the road as it does off. With plenty of power on tap, this carves up twisty roads at a rate of knots no ute should. A switch to an electronic brake booster means the pedal feels more alive and responsive than before. I challenge you to drive one and not have a mile-wide grin on your dial.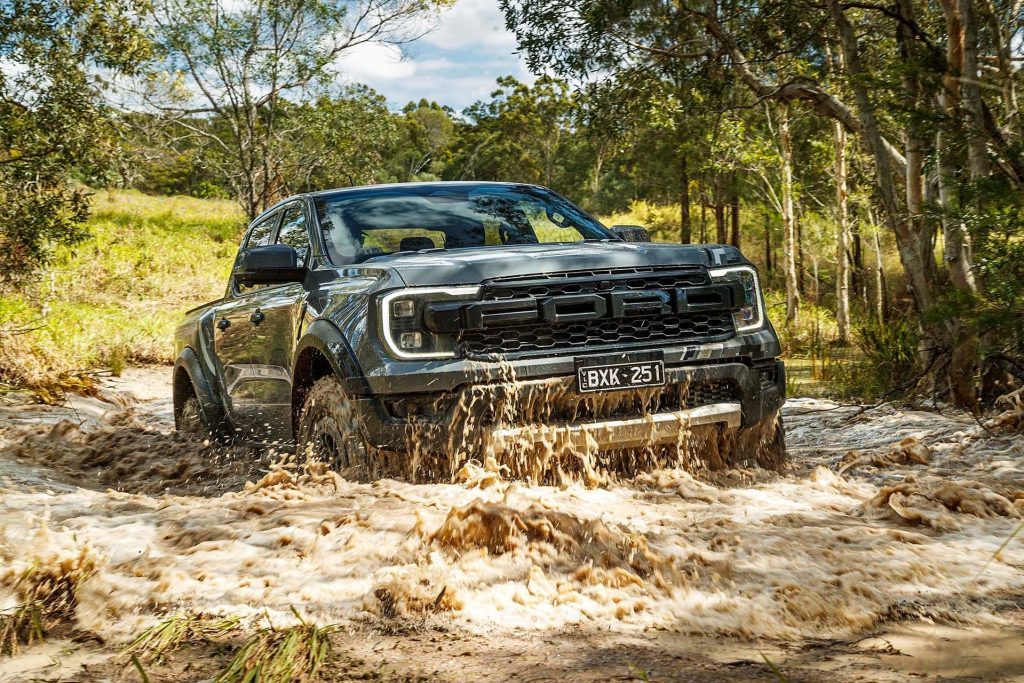 What's not to like?
Um, not a whole lot. It misses out on a few bits of kit compared with Ranger (and OZ-spec Raptors) like self-parking, the step in the rear bumper and the beadlock wheels. Towing capacity remains unchanged at 2500kg (down 1000kg on Ranger). Fuel use; we saw 12.9L/100km on our road drive, while the long-term average for the day's thrashing was in the nineteens. Ford claims 11.5L/100km overall. Its CO2 output of 262g/km means it cops the full clean car fee but that hasn't deterred buyers.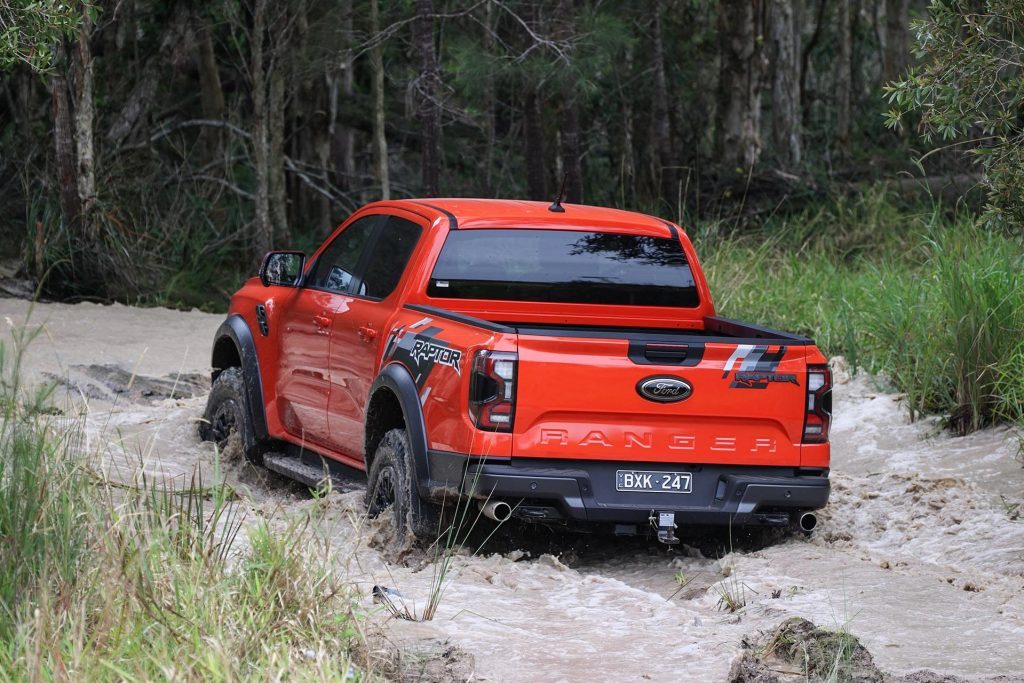 How will it fare in the real world?
The original Ranger Raptor was incredibly easy to live with and we reckon this one will be the same. It's just as happy going rip shit 'n' bust over rough terrain as it is nipping down to the dairy. If you've ordered one, you will not be disappointed. If you haven't, you might be. The waiting list is currently around seven months and thanks to the incoming Clean Car Standard, the price will almost certainly go up next year. Do yourself a favour and take one for a strop. Should a ute like this exist in these eco-conscious days? Probably not, but are we glad it does? Hell yeah.