Is the latest Aprilia Tuono V4 1100 still a wild child, or has it matured with age?
Aprilia's Tuono has always been somewhat uncompromising, and even in its latest guise, despite it bordering on being comfortable, it remains a mount that demands to be given its head.
It really does not appreciate being on a short leash.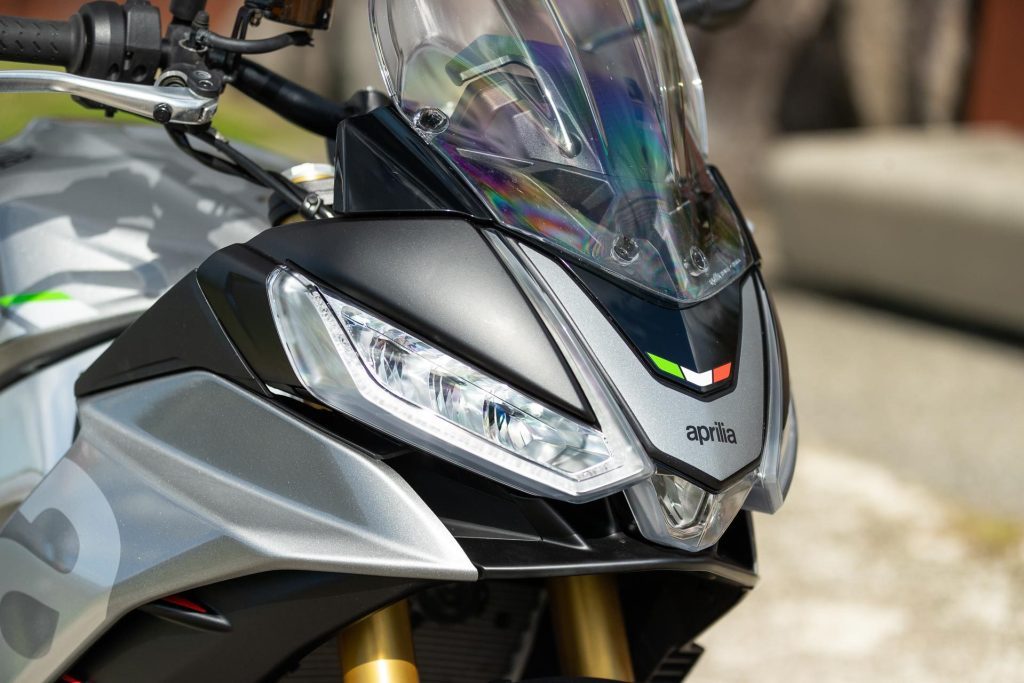 The original Tuonos, with the 1000cc Rotax V-Twin, were similarly inclined but came with a ride that was for masochists only; it was the proverbial filling loosener.
But when it went with the V4 things changed, and proceedings became somewhat more civilised. Not that they'd exorcised the demons entirely but it was certainly easier to live with.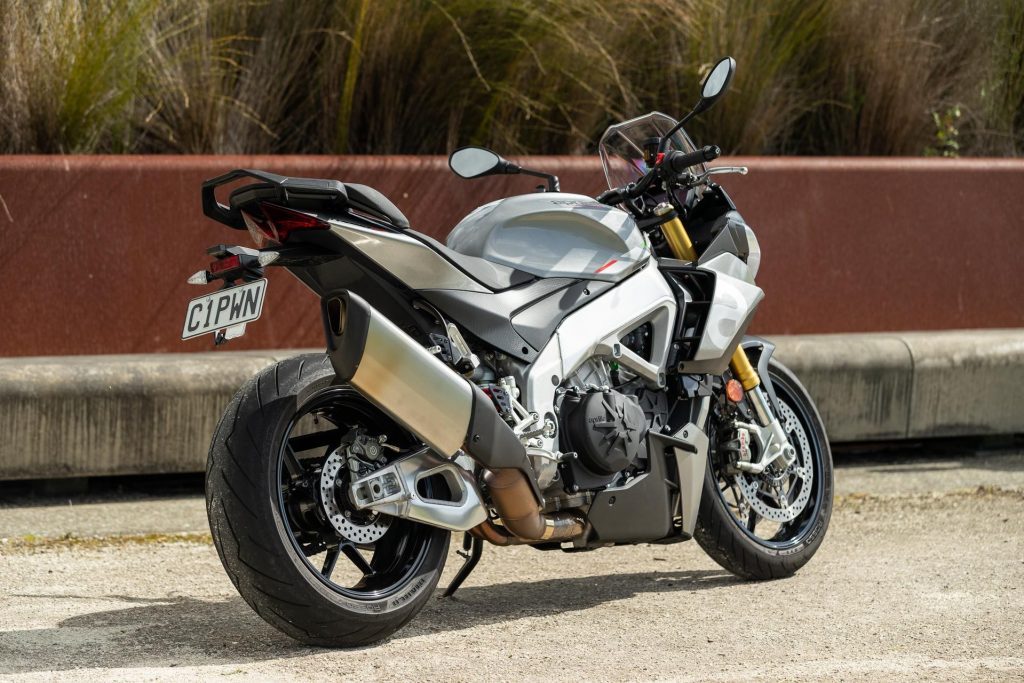 Now, in its latest guise, the firm from Noale has differentiated the sportier Factory bully boy from the base 1100 as seen here, more oriented to Sport Touring. Aprilia describes this bike as "a professional athlete in leisure wear".
The latest Tuono V4 1100 I could almost imagine folk touring on. The key words being 'almost' and 'imagine' but luggage accessories are available.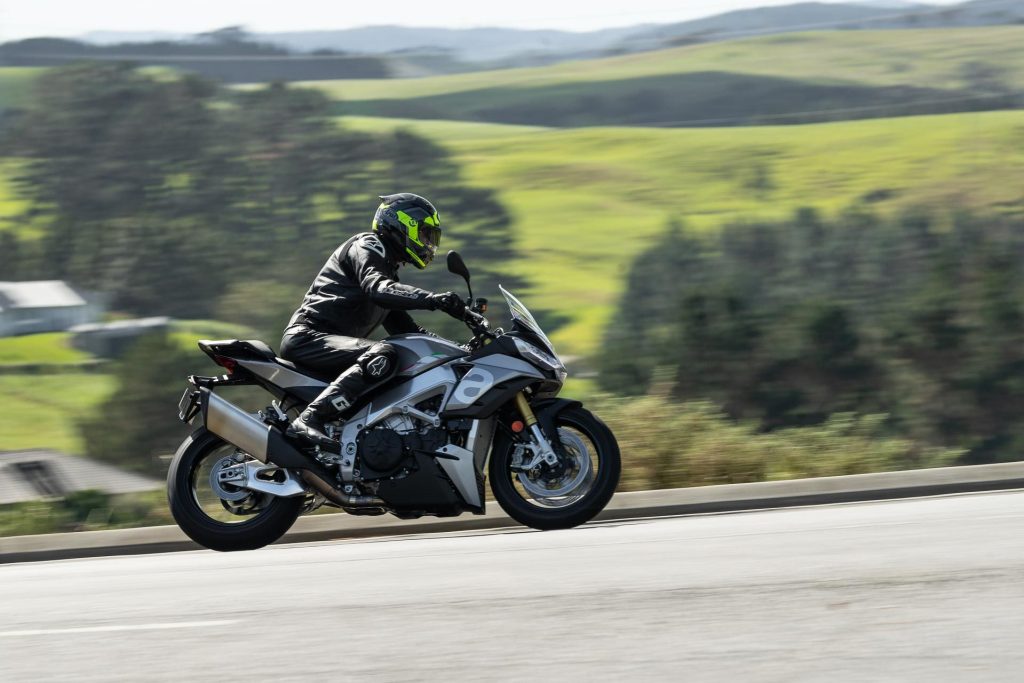 While the fully adjustable suspension can be tweaked to make it absorb all manner of bumps, it still comes with a riding position that's more jockey than long johns; it's a touch high in the pegs and a slight stretch to the flat bars.
That necessarily means doing over 100 to take the weight off your wrists. Above this the engine becomes almost silky smooth, the mirrors a lake and the powerband proper begins.
It's still a Tuono then. From that point it really picks up the pace and beyond 7000rpm to sign off at over 11,000rpm it's the usual four-cylinder litre-plus assault on the senses.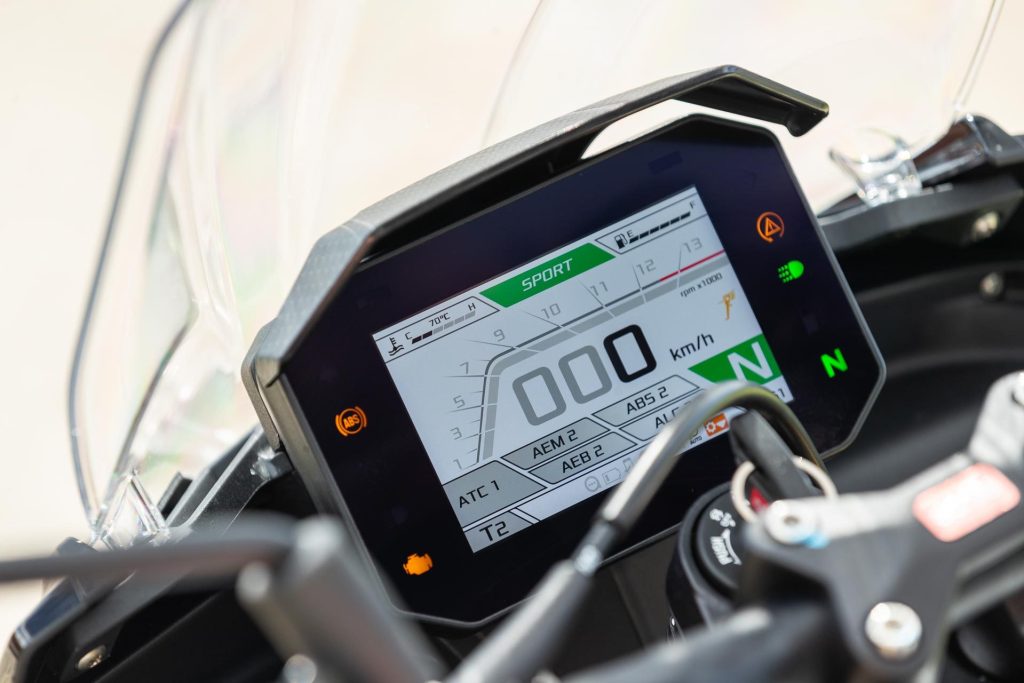 Inhaled air makes an AWWWWW noise and you're thinking, like the Just Juice ad, "it's good".
Up in the stratosphere the noise is very arresting. Want more of that? There's an Akrapovic slip-on muffler available. Want less? Just hit cruise control.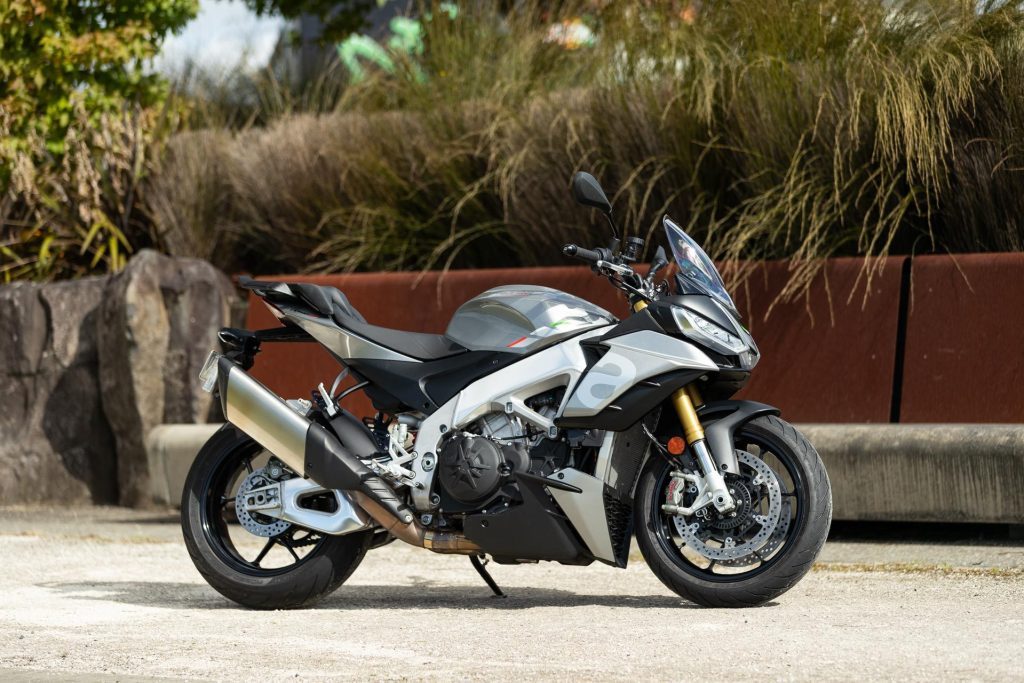 More rounded
Up front there's a decent sized flyscreen and there are winglets incorporated in the bodywork. Lights are new, triple LEDs with daytime running units.
It looks less naked than before, and with that change to a more sport touring orientation it feels more rounded than it ever used to be, though the engine is still thoroughbred in nature.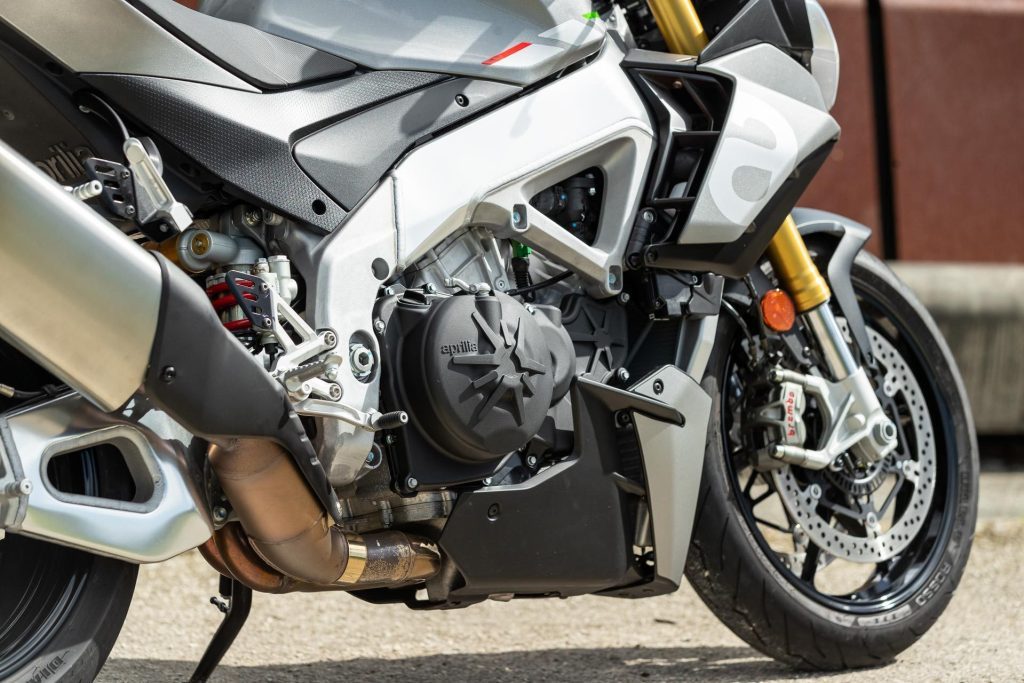 Certainly it doesn't enjoy hanging about town much as it's way too tall in the gearing for that – lane splitting in second gear feels like it is almost labouring.
No, this is really a sport tourer that thinks it's a sports bike mainly, sowing its wild oats and scaring the livestock.
The engine seems to have little in the way of flywheel effect; it just loves to rev and the quickshifter device that works in both directions makes achieving that easy.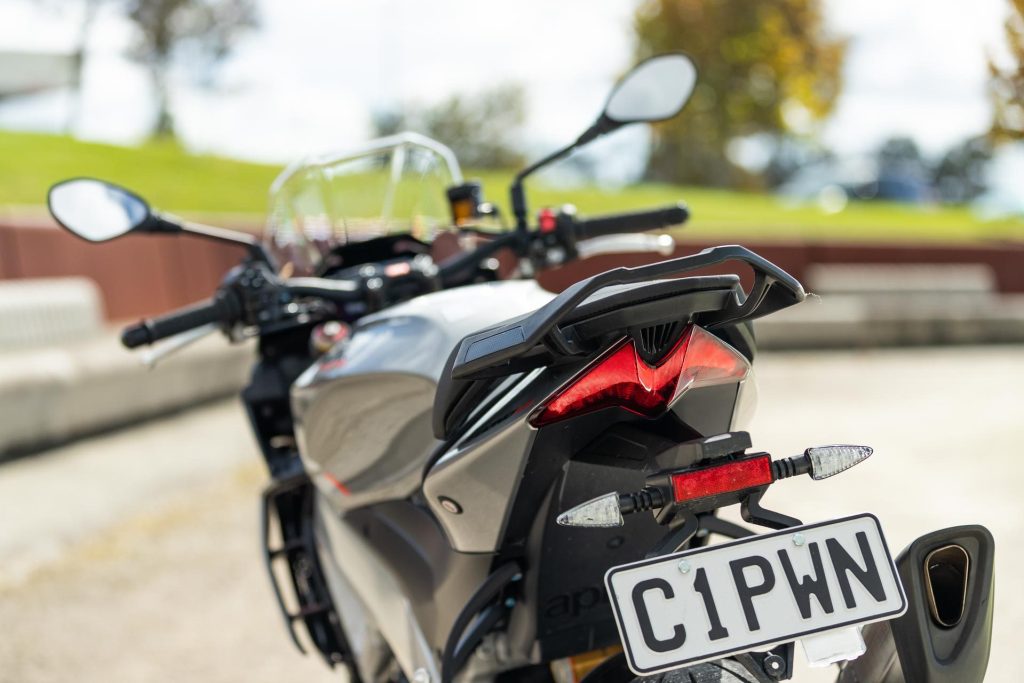 This is roughly as quick as it was before, according to our GPS device. With a little coaxing we are sure it would crack into the twos zero to 100 – we got 3.05sec – and completes an overtake in super smart fashion too, 1.3sec.
Brakes are as stunning as they ever were, adjustable at the lever, with a radial master cylinder and dinner plate discs are slowed by monobloc Brembos. About as good as it gets, this side of WSBK.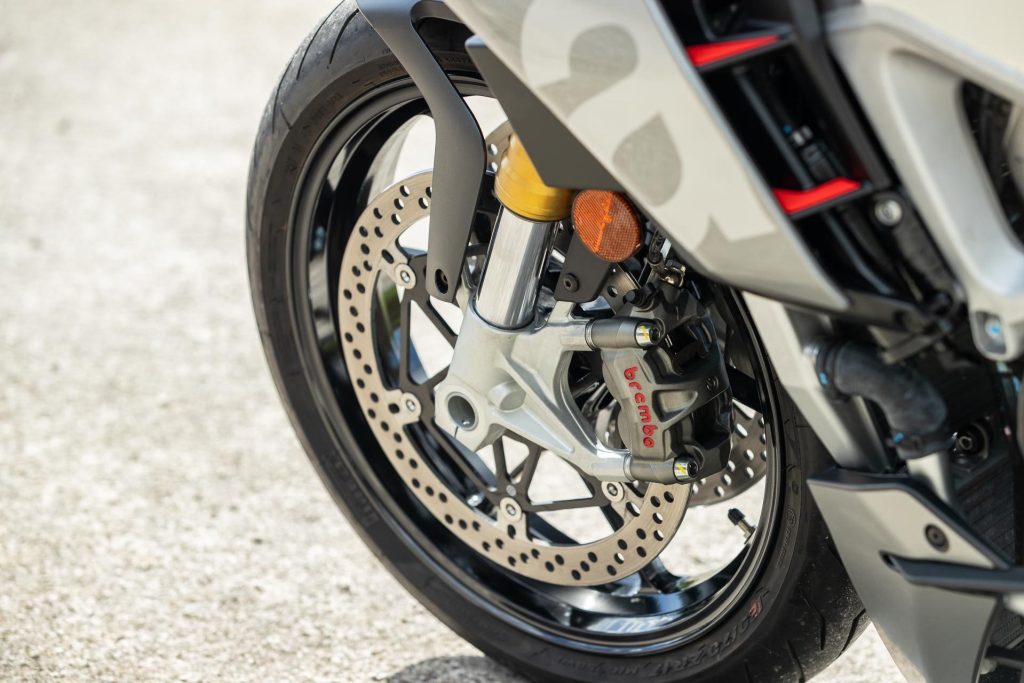 Safety aids enhanced further
And there are special backstops in case your heart gets the better of your head, the latest Aprilia Performance Ride Control package including just about every safety feature known to bike-oriented humankind.
In the set-up menu the abbreviations are listed at the bottom of the screen as you scroll through them and set them up.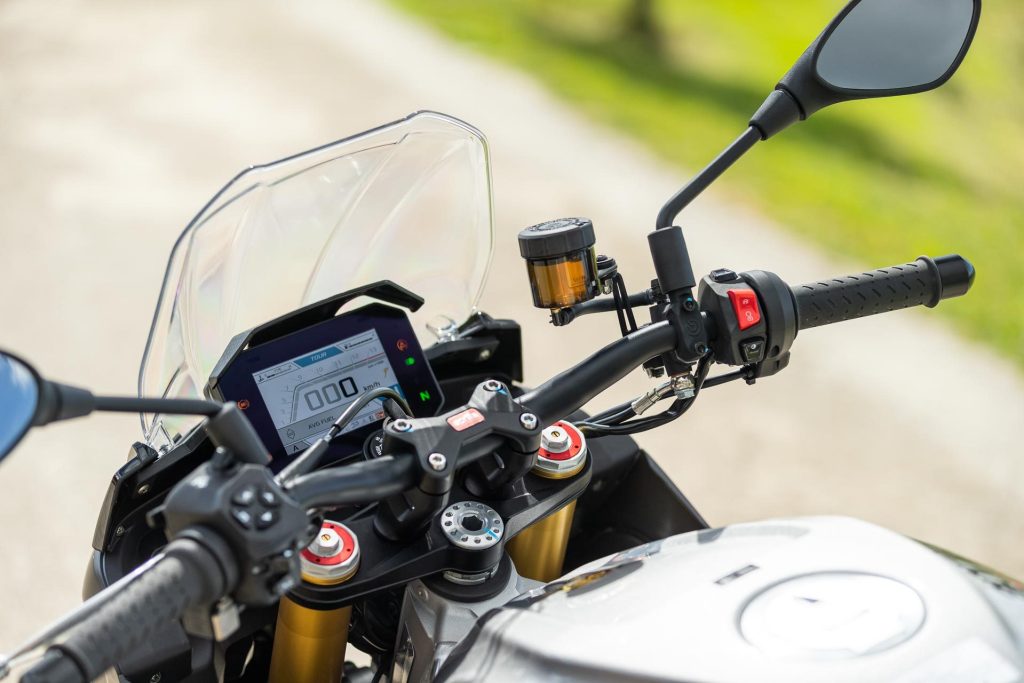 Things like Aprilia Launch Control, Aprilia Engine Braking, Aprilia Traction Control, etc. You can stop the front wheel rising up and the rear as well under brakes.
There are also three ride modes to scroll through and each of these has particular settings according to their use, like Tour (all the safety gear turned up high), Sport (less so) and User (choose whatever you want).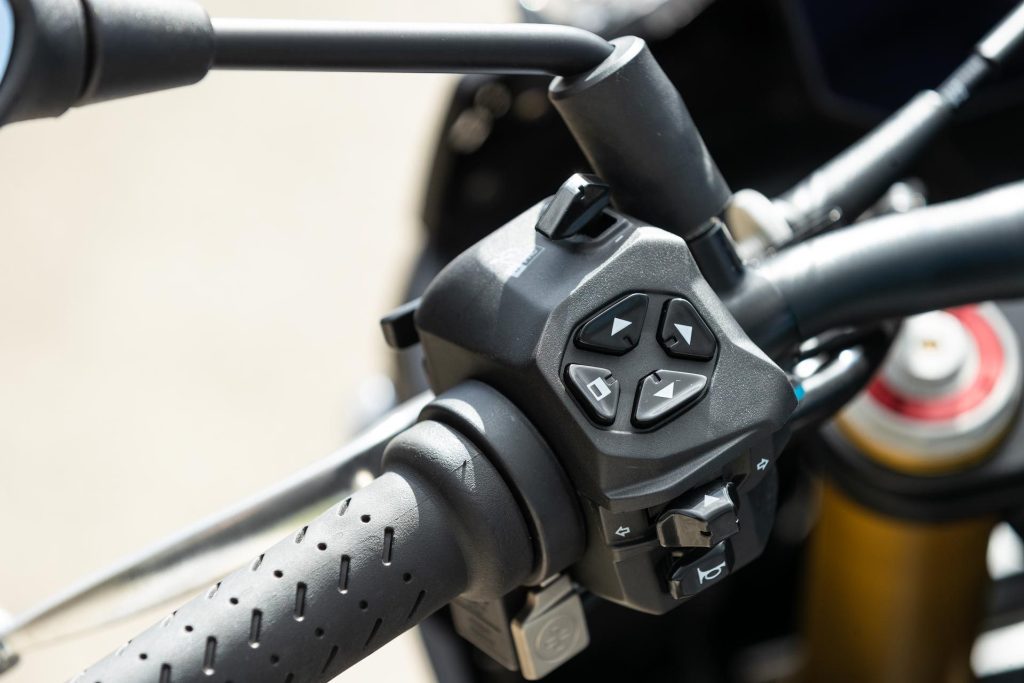 If you mess around enough, you'll uncover the Race settings as well. You can even change TC settings on the fly. The underlying electronics are updated, including cornering TC and ABS, and so too the vibrant TFT screen.
How do the two Tuonos differ?
The Factory version costs $31,990 and the base V4 1100 which you see here is $28,990.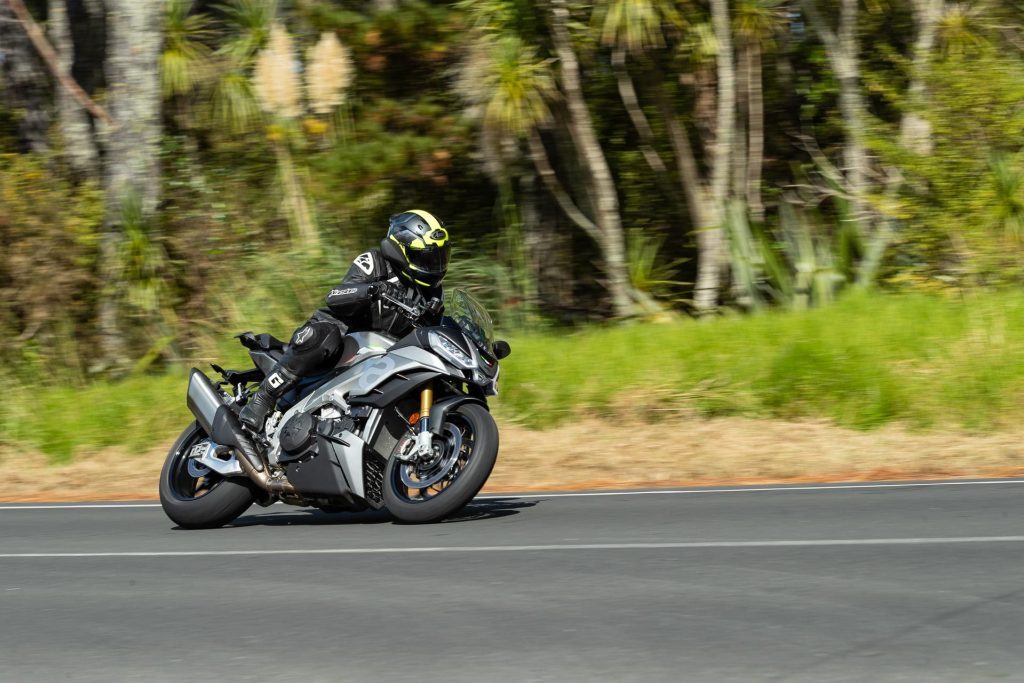 The Factory features semiactive Ohlins electronic suspension, a more aggressive riding position with even higher pegs and lower bars, a smaller flyscreen, a different single seat, smaller grab handles, a shorter top gear and stickier rubber.
The base 1100 is meant to be more demure, in grey or white, the Factory is sexier with its black and red contrasting paint job.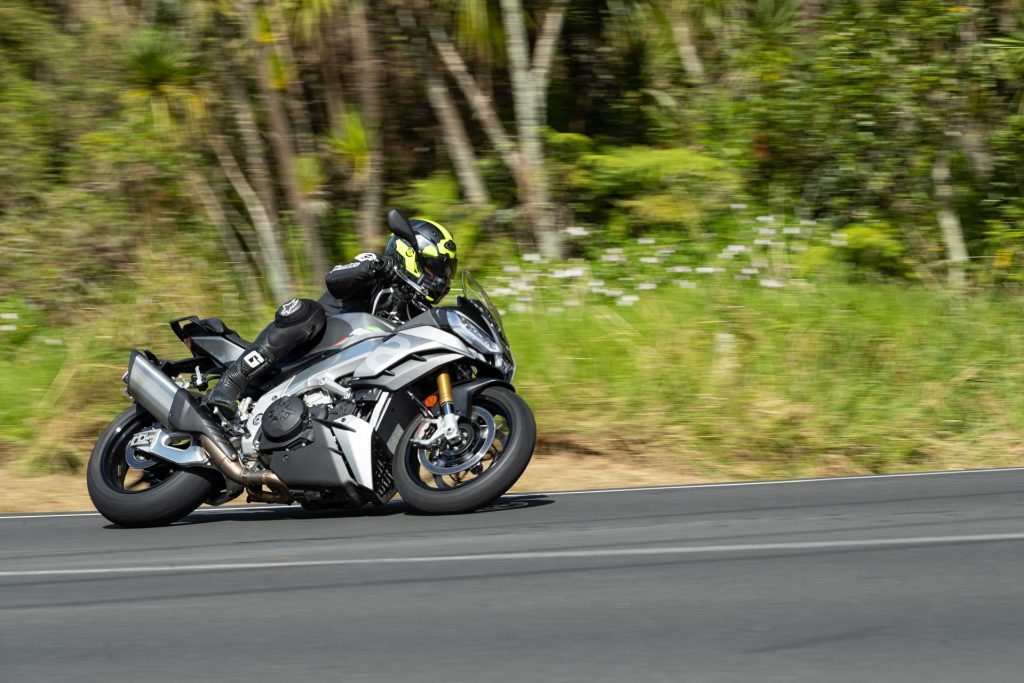 Even now at EuroV emissions status, there's 175hp and 121Nm on tap, as before, so this should keep pace with almost anything on two wheels.
Thing is though, the chassis and safety arsenal are so sorted that in all likelihood you'll be fine so long as you're smooth and not going completely mental. Only that engine/exhaust note does egg you on something terrible.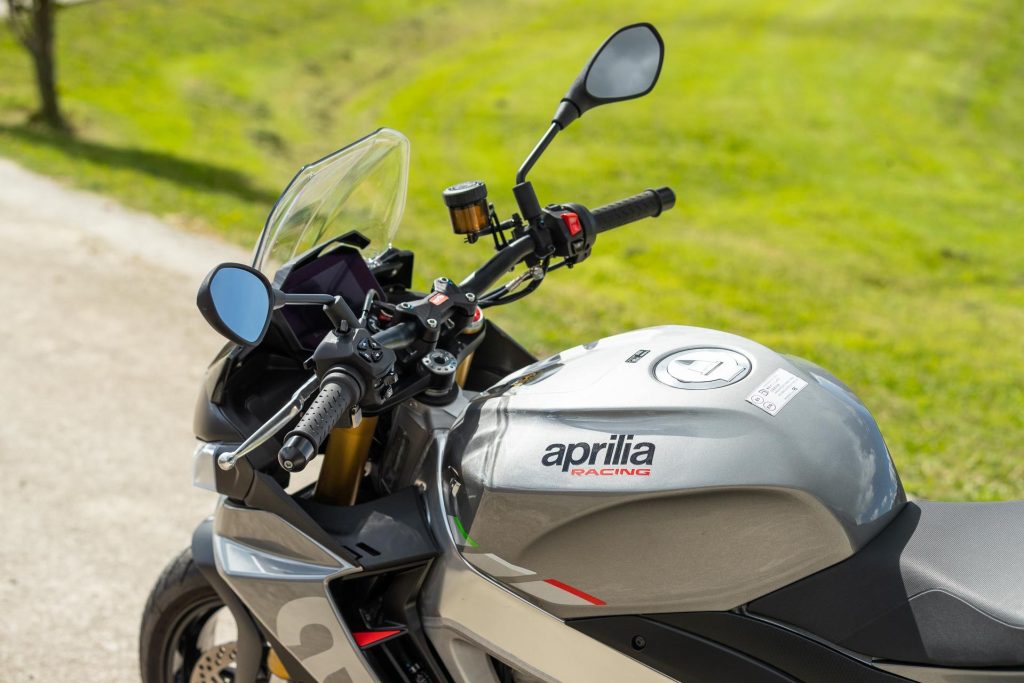 At low revs in the burbs it clatters unhappily at engine speeds below about 3000rpm. As soon as you hit the on-ramp though, it clears its throat, hitches up its skirts and is so out of there.
That's when you really want clear road ahead because even at 80km/h on many of our extra-urban thoroughfares it feels like it is labouring in top.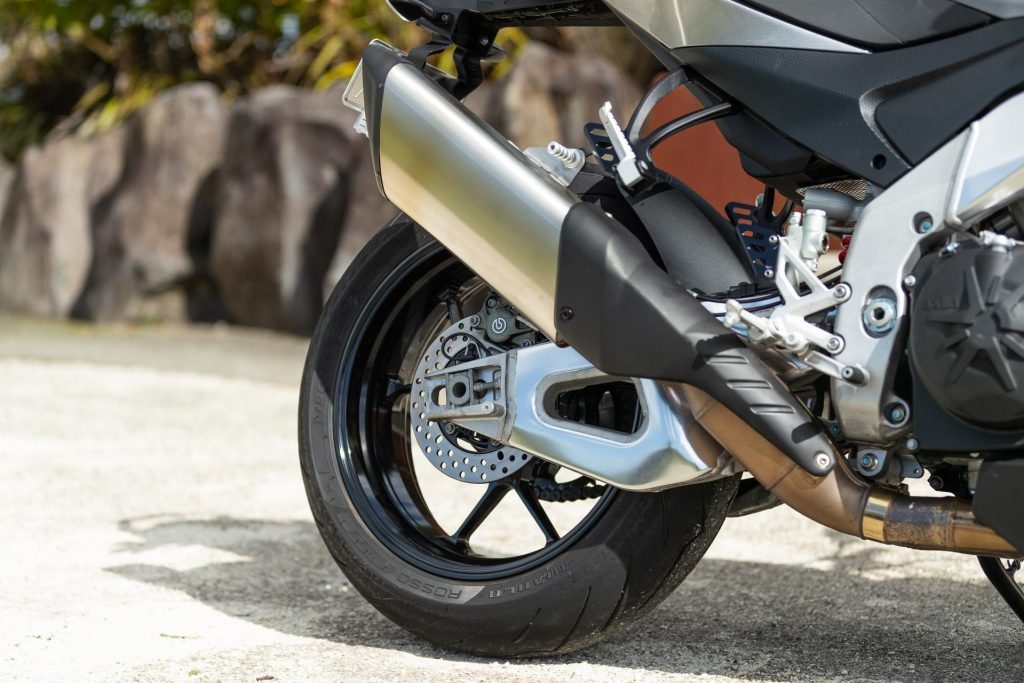 As if to prove the point, the tacho intervals are minuscule until you hit 5000rpm where they open up.
What's it like every day?
After an initial ride we dialed the fully adjustable suspension right back both ends, for compression and rebound, at which point it seemed just about right.
The seat isn't that plush but given there's not much weight on your sit bones because of the forward lean, it doesn't much matter. There's a gel option in any case.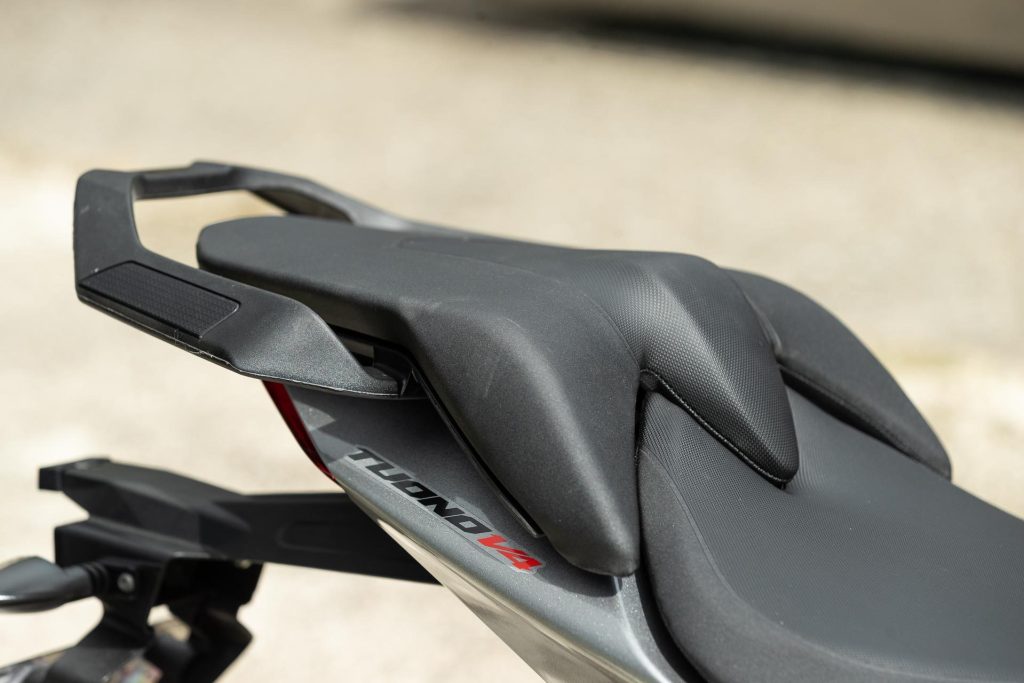 It's also optimised for jockeys rather than NBA players. Taller folk will feel like they're riding high, and those with size 14 boots might find the distance between your pegs and those of the pillion tight.
Other grumbles? It loves its hydrocarbons, and full lock isn't wonderful, making manoeuvring and turnarounds tricky.
Also, it only comes in this invisible grey colour or white, which seems a safer hue to us.
Much is forgiven on the go, however, the great and expansive rubber making the rider feel secure, the chassis optimised for effortless turning and stable tracking, the brakes up to competition standard.
While it's a wild ride, some may think it too much of a good thing. For $10k less there's the Tuono 660 which uses the front engine bank of the V4 engine, same bore, longer stroke.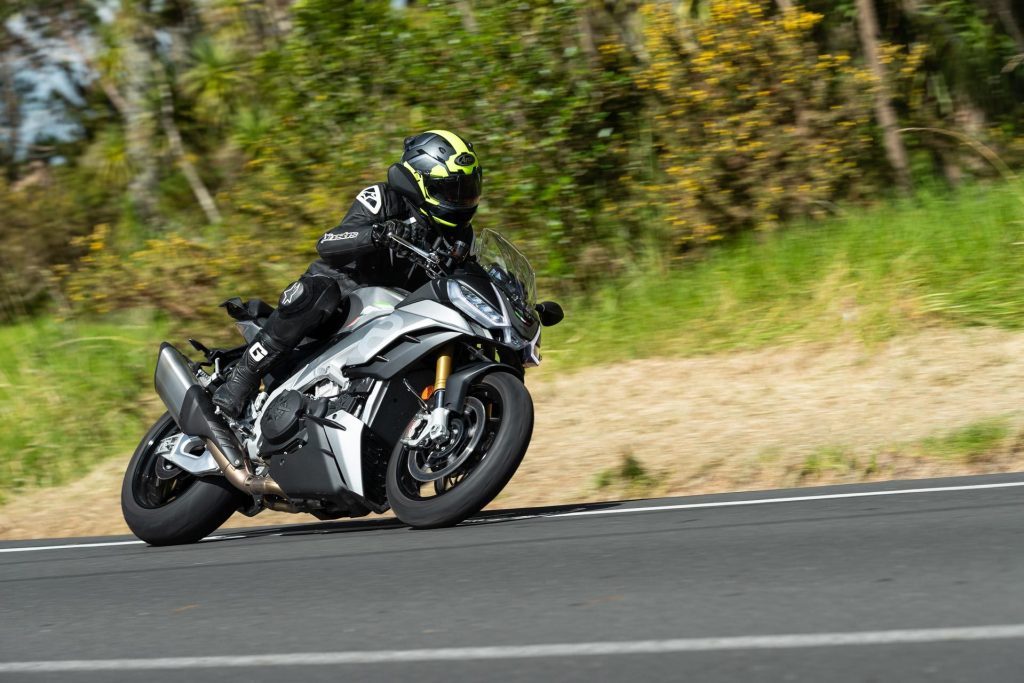 It too is a bit of wildcat but is lighter at 185kg vs 215kg for the V4, has a better lock, is happier in town running and, lack of quickshifter aside, is plenty enough for local roads.
It's more a matter of whether it's enough for your sport touring needs or ego.
| | |
| --- | --- |
| Model | Aprilia Tuono V4 1100 |
| Price | $28,990 |
| Format | Liquid cooled / fuel-injected / V4 |
| Engine | 1078cc |
| Max Power | 129 kW @ 11,000rpm |
| Max Torque | 121 Nm @ 9000rpm |
| Cylinder Head | DOHC / 16v |
| Gearbox | 6-speed |
| Drivetrain | Chain final drive |
| Front Suspension | 43mm USD forks, fully adjustable |
| Rear Suspension | Monoshock, fully adjustable |
| Front Brakes | Four-piston calipers, 330mm twin discs |
| Rear Brakes | Twin-piston calipers, 220mm disc |
| Safety Systems | ABS, TC, Wheelie control, Launch control, Rear wheel lift mitigation |
| Tyre Size | F – 120/70R17 / R – 190/55R17 |
| Tyres | Pirelli Diablo Rosso 3 |
| Wheelbase | 1452mm |
| Seat Height | 837mm |
| Rake/Trail | 24.8 degrees / 99.9mm |
| Fuel Capacity | 17.9 L |
| Measured Weight | 215 kg |
| Weight Distribution | F – 110 kg / R – 105 kg |