The Ford Ranger Raptor diesel is making a comeback. Apparently the move is due 'to popular demand from Raptor fans across the country'. And probably because the V6 Raptor now faces Clean Car fees of $6900 from July 1. While the fees on the new diesel Raptor aren't yet known, they'll still be high. For instance the Wildtrak with the 2.0-litre diesel moves from $2587 to fees of $5232 from July.
But anyhow, the Raptor 2.0 BiTurbo Diesel is available to order now from any Ford Dealership, with first arrivals from October 2023 onwards.
What's the price of the Ranger Raptor Diesel?
Glad you asked. It's also a bit cheaper than the gas gobbling V6, at $86,490 versus $95,990.
It has a slightly different engine from what is in the aforementioned Wildtrak, it being a Euro 6 compliant unit using AdBlue to clean up the spent gases. As such it has 'a power output of up to 150kW and 500Nm of torque from 1750 rpm' . No consumption or emissions figures are to hand, but they'll be better than the 3.0-litre twin-turbo V6, which devours premium at an official rate of 12.8L/100km. During our time with the beast, it routinely burnt through as much 20L/100km on average. The diesel will not be as quick of course, or sound nearly as good.
All the other Raptor hardware is in place with jump-ready Fox shockers, big BFGoodrich rubber and pumped out body work.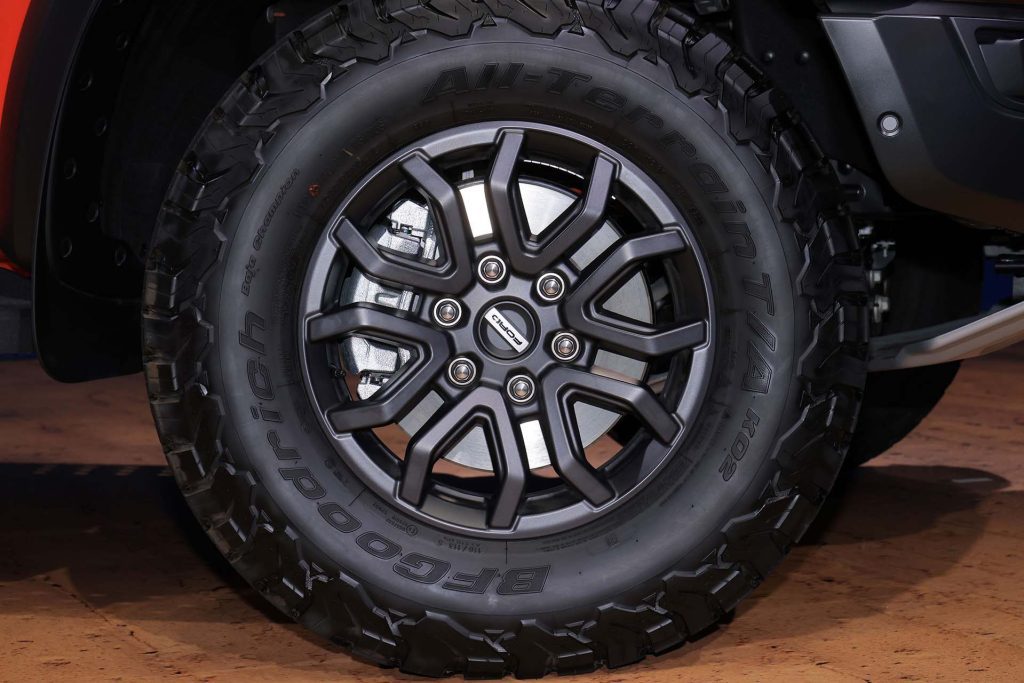 "The Next-Generation Ranger Raptor has been much sought after since its launch last year. Many of our customers have also been asking for the return of the BiTurbo," said Ford Marketing Manager, David Herbert. "We are responding by adding the formidable, tried and tested BiTurbo Diesel engine variant to offer another option for Raptor customers and off-roading enthusiasts. Also with the Clean Car Scheme at the top of many minds, Ford's BiTurbo Diesel is an excellent option to avoid the higher fees. It remains one of the cleanest yet most capable powertrains available in New Zealand."
More Ranger line up changes
Ford NZ is also changing up the Ranger line up for Model Year 24, with those models arriving from October 2023.This includes the Ranger Sport dropping the V6 and moving to the BiTurbo diesel powertrain, which will be available in both RWD and 4WD.
Meanwhile the Ranger XL models will now come standard with towbar and Integrated Brake Controller.
| | |
| --- | --- |
| 4×2 | |
| RANGER DOUBLE WS XLT 2.0D 10A 4X2 | $57,490 |
| RANGER DOUBLE WS SPORT 2.0D 10A 4X2 | $59,990 |
| 4×4 | |
| RANGER SINGLE CC XL 2.0D 10A 4X4 | $56,490 |
| RANGER SUPER CC XL 2.0D 10A 4X4 | $59,490 |
| RANGER SUPER WS XL 2.0D 10A 4X4 | $60,490 |
| RANGER DOUBLE CC XL 2.0D 10A 4X4 | $59,490 |
| RANGER DOUBLE WS XL 2.0D 10A 4X4 | $62,490 |
| RANGER SUPER WS XLT 2.0D 10A 4X4 | $64,990 |
| RANGER DOUBLE WS XLT 2.0D 10A 4X4 | $67,490 |
| RANGER DOUBLE WS SPORT 2.0D 10A 4X4 | $69,990 |
| RANGER DOUBLE WS WILDTRAK 2.0D 10A 4X4 | $75,990 |
| RANGER DOUBLE WS WILDTRAK X 2.0D 10A 4X4 | $80,990 |
| RANGER DOUBLE WS WILDTRAK 3.0D 10A 4X4 | $83,990 |
| RANGER DOUBLE WS PLATINUM 3.0D 10A 4X4 | $88,490 |
| RANGER DOUBLE WS RAPTOR 2.0D 10A 4X4 | $86,490 |
| RANGER DOUBLE WS RAPTOR 3.0P 10A 4X4 | $95,990 |