Disclosure: I've long been a Jazz fan, more the car than the music genre. Right from the launch of the original it inspired with its all-round abilities and practicality, the Magic Seat still part of the fourth generation model that debuted last year.
Honda is slow to full electrification, with none here yet but has been offering hybrids for some time. The latest electrified Jazz is rather more sophisticated than the original. Instead of having a helper electric motor, the latest variant, the e:HEV, has a 1.5 petrol engine that drives a generator and there's a dedicated propulsion motor. It works in several different ways, always chasing efficiency.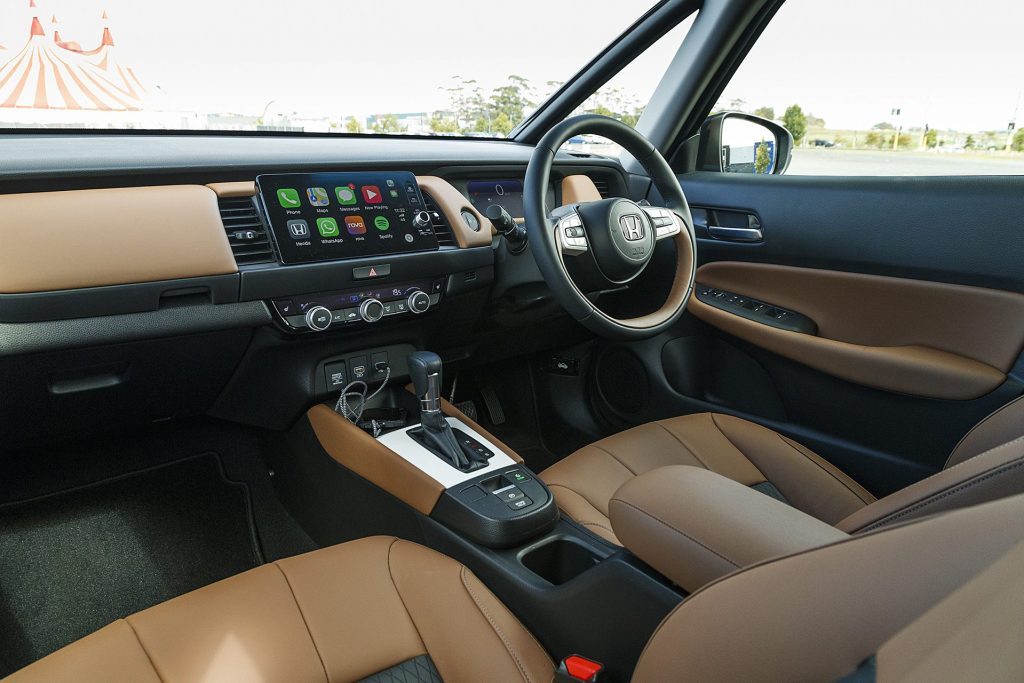 Luxe e:HEV hybrid is the sole electrified Honda Jazz. As a hybrid it is somewhat similar to Nissan's Note e-Power except that the engine can directly drive the wheels on occasion. The Atkinson cycle mill is running much of the time because the lithium-ion battery sited under the boot floor is tiny, under 1kWh. That also means EV intervals are necessarily short, a few kilometres at best. The battery robs the hatch space of 55L, so it's down to just over 300L. Its Magic seats remain, however, as you can see here with one seat base flipped up, the other stowed down. And there's still an almost flat space of 1200L after folding both seats completely, down about 100L on the regular Jazz.
There are three modes in which the hybrid works and you can watch that on screen because you cannot manipulate them. The software determines the most economical method depending on the circumstances. In town and under light loads it runs in EV mode. Hybrid running is common, and when a cog shows in the energy readout, the engine is driving the wheels directly. The only aspect of the drive you can manipulate is selection of B mode, which ramps up regeneration, and replaces braking at times.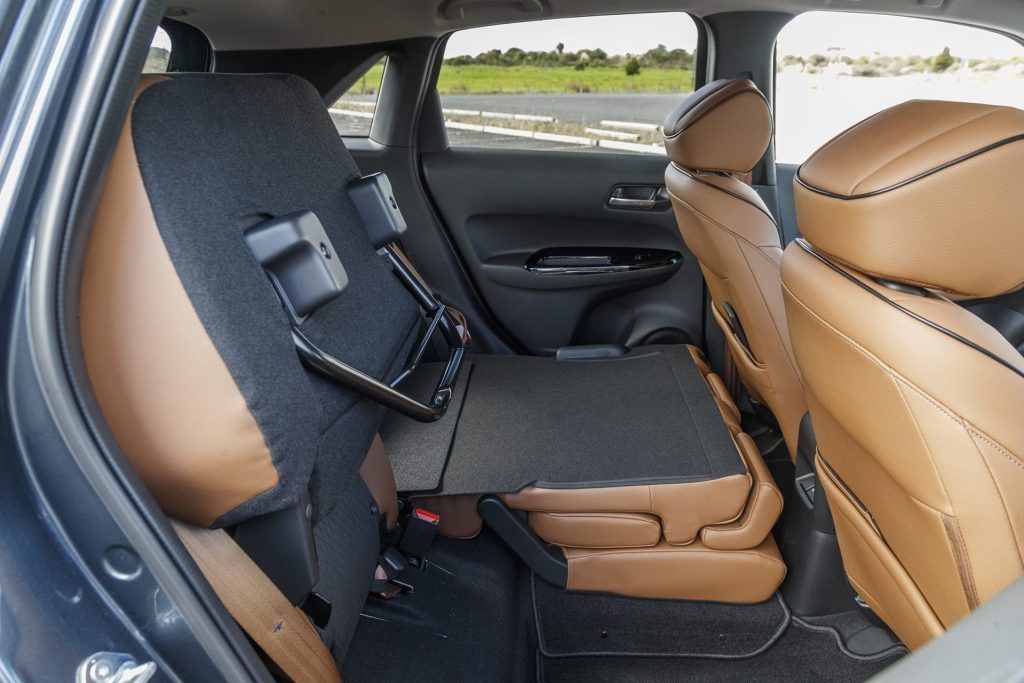 We drove it on the open road mainly, up SH16 and saw figures in the low fives. Honda reckons on 3.8L/100km overall because in town it can get down into the 2s if you're careful and it will even do that on the motorway at speeds up to about 80km/h.
Apart from the engine occasionally buzzing away to recharge the battery, this is like a regular Jazz to drive, only you will get up to 900km between refills. No range anxiety here, and no plugging in either.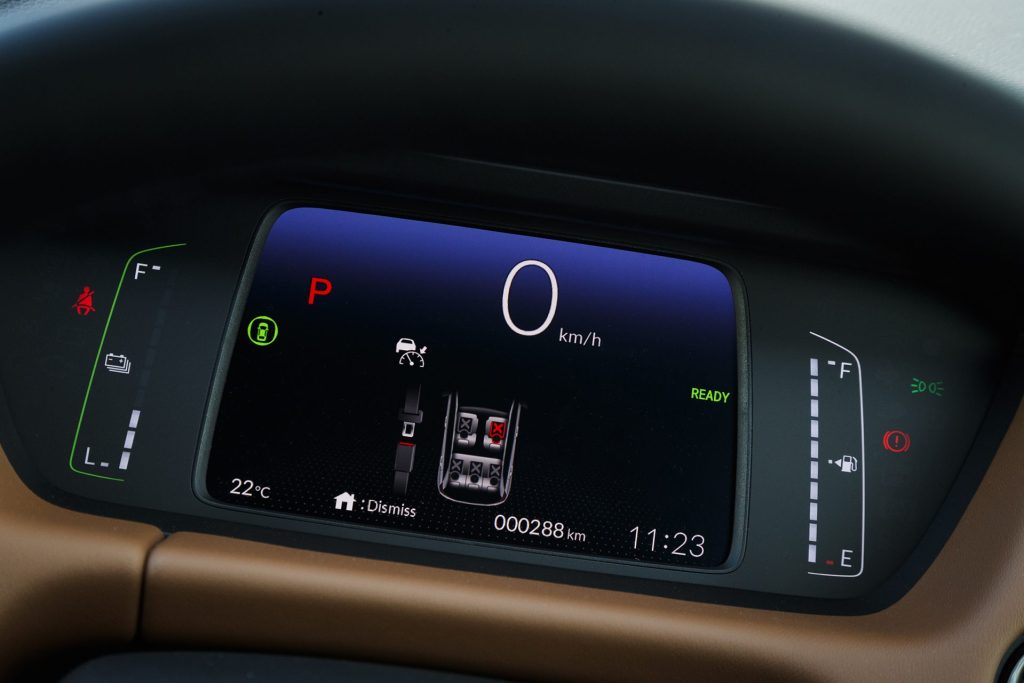 Like the latest Yaris, Jazz seems a class above in the way it feels and goes. For this has a ride quality to it like no Jazz before ever had and you really notice that most in rural running. Extra chassis strengthening means easier suspension settings. The ride and handling mix is better than before, and the Turanza rubber keeps things hushed. A mean of 73.4dB was achieved over some pretty harsh new chip seal; for the most part readings didn't exceed 70dB.
Not only is it quiet in the conventional way but the cabin is also completely without buzzing or squeaks, something that SH16 can highlight rather quickly. Moreover, the doors shut convincingly, like in something more expensive. On the drive, out rambling, the Honda Jazz hybrid is really quite fun, with nippy steering and handling that's aided by independent wheel slowing (torque vectoring by brake). It's not the quickest thing around, despite getting off the line in sterling fashion thanks to its 80kW/230Nm propulsive motor. It hits 100km/h in a bit under 10sec, but kind of feels quicker than that. Pushed hard it performs mock upshifts to make it seem more conventional.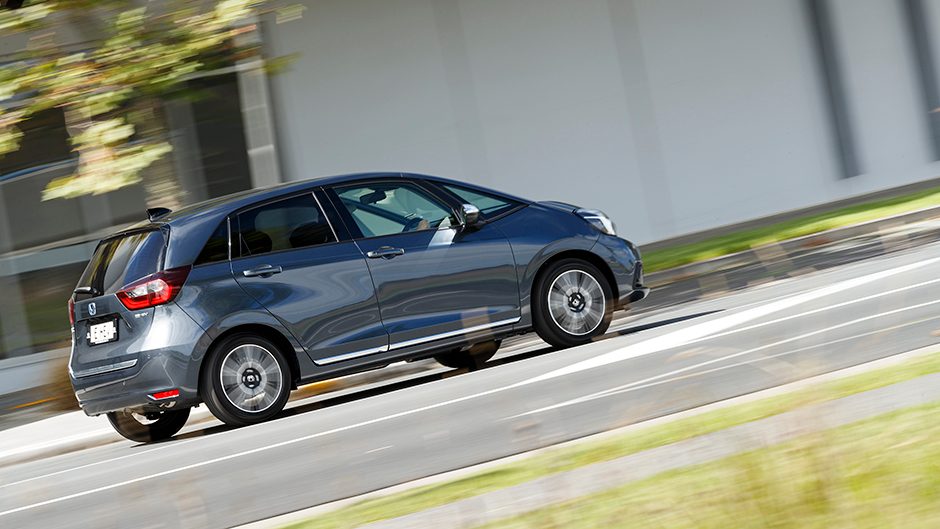 What else? Some here didn't appreciate the hue of the fake leather, tan seemingly too yesteryear. Black is evidently an option. The driver's seat is okay but could do with more lumbar support. A pity it isn't adjustable.
We appreciated the wide screen outlook up front, the enormous windscreen augmented by big fixed quarterlights. That said, the A pillar is split in two, one quite narrow but the hindmost one rather thicker. Still, a view to cherish.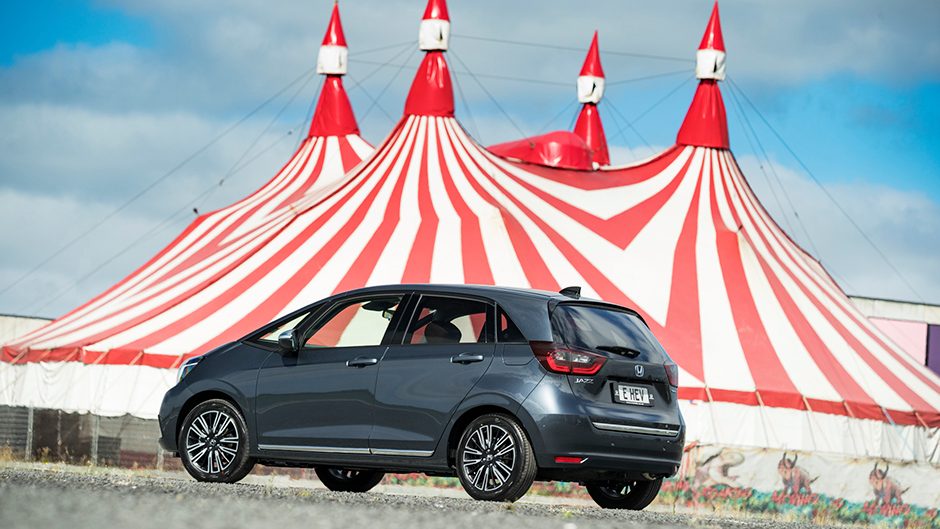 We also appreciated the keyless entry and pushbutton start, along with the adaptive cruise, even if it does cough out below 30km/h. There's lane departure warning and lane keeping too, not to mention AEB and forward collision warning, all part of the Honda Sensing Safety suite. The missus looked for the heated seats switch but couldn't find it, despite it being right there alongside the climate controls. Other handy items include auto highbeam assist, the natty two-spoke steering wheel, rear USB ports and attractive two-tone alloys.
This goes for $35k plus $800 for ORCs. With the $4140 rebate the bottom line is $31,660. That's roughly the same price as the slightly raised Crosstar crossover alternative which has no hybrid powertrain available, and lacks the active safety gear.
| | |
| --- | --- |
| Model | Honda Jazz e:HEV Luxe |
| Price | $35,000 |
| Clean Car Discount | Rebate – $4140 |
| Engine | 1498cc, IL4, hybrid |
| Power/Torque | 72kW/131Nm |
| Drivetrain | single-speed auto, FWD |
| Fuel Use | 3.8L/100km |
| C02 Output | 87g/km |
| 0-100km/h | 9.55sec |
| Weight | 1203kg (claimed) |
You may also like…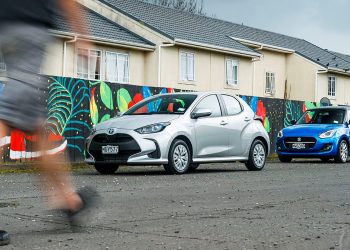 Small cars are usually frugal runners. Yet now there are new Yaris and Swift petrol electric versions to trim fuel...
Selling small cars is a hard task. So manufacturers are repackaging them as SUVs to meet demand. Here we compare...