New Jazz has arrived, the line-up trimmed to three, one a hybrid offering. Here we evaluate the Crosstar, the taller middle model.
So Honda New Zealand eventually confirmed the arrival of the latest fourth-generation Jazz. There's a smaller range on offer now but that's understandable, given declining hatch popularity. But Honda has been clever in providing a high-rise option that's mechanically the same, bar chassis settings. Called the Crosstar, it comes in just one $30k guise, running the same naturally aspirated motor and front-drive set-up as the base Life hatch.
No doubt it will prove the most popular, despite it merely being a slightly different looking variant of the hatch with body cladding, different bumpers, and added fog lights and roof rails. Nevermind though because the taller versions are what the people want, with that easy access, added visibility and practicality, and the look.
The Crosstar rides 28mm rides higher than the two other Jazz models, facilitating access for those with hip or back issues, though lack of lumbar adjust isn't so helpful. Upholstery is waterproof, making it easy to clean inside if there are spills or the dog jumps in with wet paws.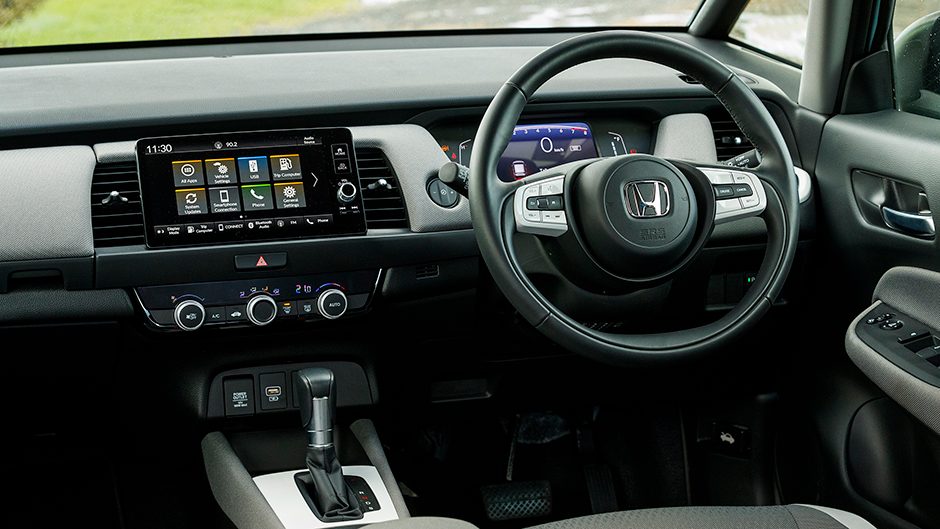 Room with a view
The supreme visibility is undoubtedly the first thing you notice about Crosstar once you're seated. Instead of having a conventional A pillar this has a pair of them, both quite thin, and there's an enlarged quarter light glass panel between them. The screen seems almost wraparound in nature.
It's much the same story when you peer out back for the upright rear screen also seems similarly oversized. Easy action, low profile rear headrests help improve the view. Epic visibility always leads to fewer unintended interactions with others on the road too.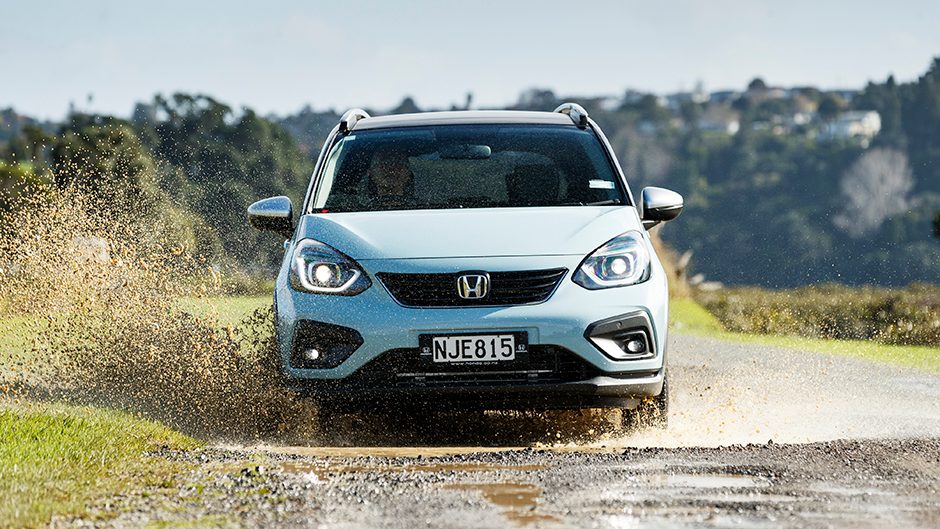 Magic stuff
And while we're in the back, Honda has retained the Magic seats that are a Jazz byword, squabs swivelling up to lock in place against the seat backs for taller bulky items, while the rear seats roll over to lie almost totally flat. That's thanks to the squabs lowering as the seat back folds on top of them.
So you're left with a particularly practical hold if you have a mountain of stuff to move. The exact size is unclear – Honda reckons they will release the Crosstar figures in July which sounds batty to us, given it's already on sale here – but the the top-priced $35k Jazz Luxe with its hybrid powertrain offers 304L expanding to 1200L so Crosstar will have a touch more (no underfloor hybrid battery).
It's also rather well done inside. The quality of components puts it on a footing with Yaris, even if there's lots of hard plastics about. The fact it's reasonably hushed also speaks to efforts Honda has made to rein in road noise but, like all small cars, chip seal isn't handled so well.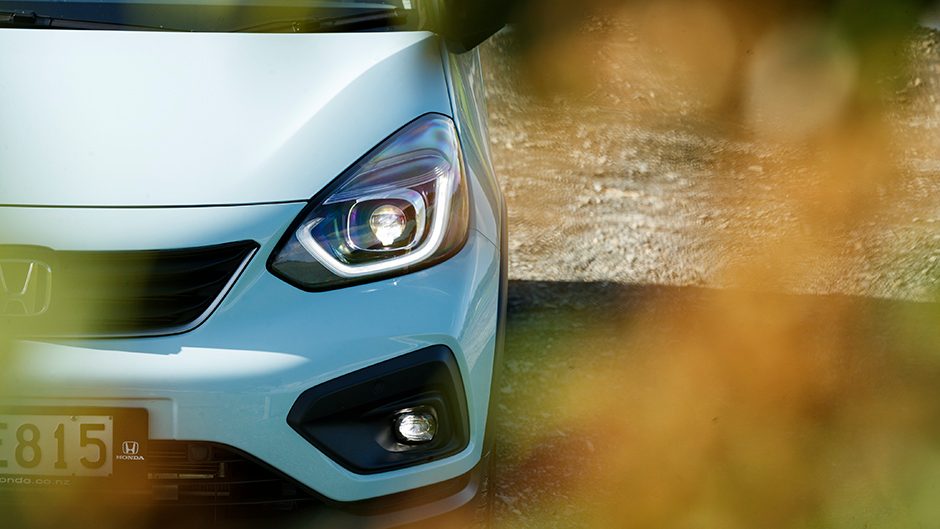 Pod style
The design of Jazz has always been one of those like it or not types of polarising vehicles and you'd have to say that the new hatch and Crosstar carry on in that vein. It's pod-like but that makes it spacious, the rear being standout, with good room for two adults and an inbetweener.
The new interior rocks, especially the revised instrument panel. It's one of the smartest digital designs I've encountered, instruments looking crisp and cute, square in shape which is novel, with its wee tacho strip along the top, the red 'needle' seemingly self-suspended. Below that is a digital speed readout and then you can choose what you want to display on the info screen. We opted for average fuel use and distance to empty. On highway drives low fives is possible. With a 1.5L naturally aspirated four, similar to the previous generation but updated and a long legged CVT, the trippy suggests you've got about 700km of range to a 40L tank. Urban driving takes it into the low sixes where it stayed. Even when pushed you'll not often average into the sevens, unless you use the Sport transmission mode and forget to switch back to Drive.
Overseas, most countries get the e:HEV two-motor hybrid drivetrain and that may come here eventually, demand and cost permitting. As it is, the top hatch model, the Luxe, has a claimed overall fuel use figure of 2.8L/100km (CO2 of 64g/km).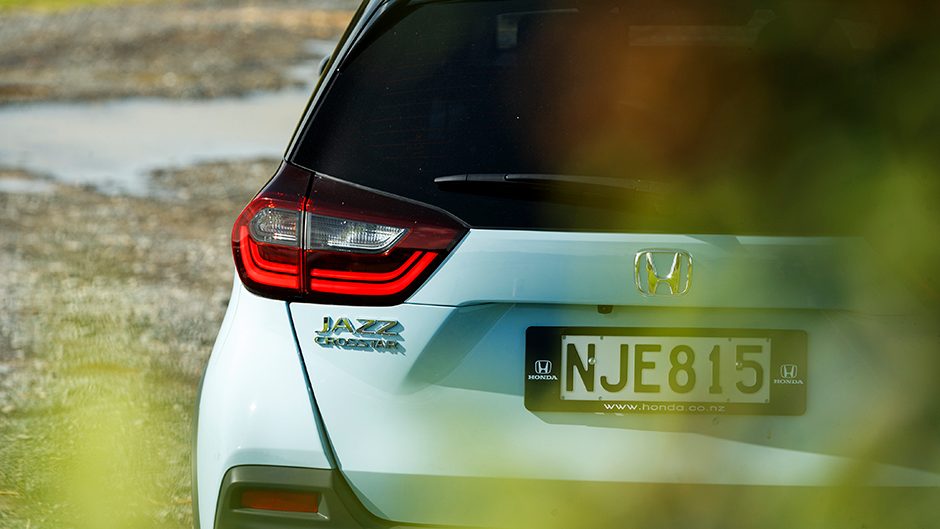 Bespoke suspension tune
Kick it into action and it warms to its task quickly, the CVT, light weight and non-turbo mill making T-intersection take-offs breezy. Everything about the vehicle is easy for town driving, including its 10.6m turning circle.
Honda engineers have devised a special suspension tune for Crosstar to control the body roll but also ensure enough suspension compliance so that it doesn't feel too busy. They've largely achieved this but rough roads give the torsion beam rear end a fairly tough time. We drove this via some relatively smooth but testing rural ridgerunner roads and it proved fun to pedal, light and accurate to helm, with respectable disc brakes. Even the Enasave ecorubber works quite well, holding on determinedly in damp road conditions.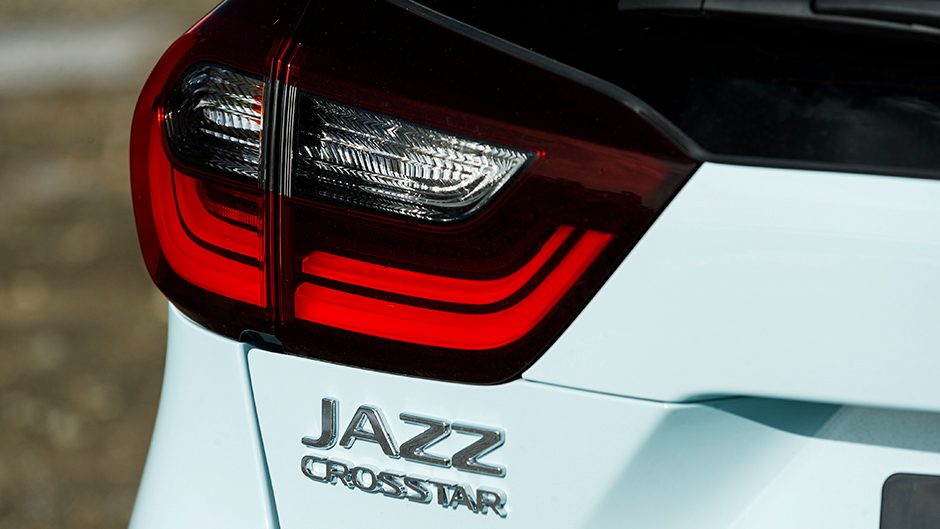 Active safety AWOL
Luxe comes with the Honda Sensing Tech package but the Crosstar doesn't, so it misses out on adaptive cruise control, collision mitigation and all the lane keeping/departure/assist jazz. There's no blind spot monitoring either but it does get front and rear parking sensors, a decent reversing camera with guides and, handily, self locking as you wander off. Comfort entry and pushbutton start are also present, as are LED headlights and DRLs, privacy glass, alarm, an electronic parking brake with autohold, and wireless Apple Carplay. There's manual cruise on the wheel, a leather-bound two-spoke item, and conventional HVAC controls. The touchscreen is pretty simple to master.
You can choose the cheaper option Jazz Life hatch and save yourself $2000 but we'd opt for the Crosstar any day, resale being a prime consideration. Honda reckons Jazz will become its best seller, and we'd be surprised if the Crosstar isn't the most popular model. Hopefully, they bring in the e:HEV variant too, if it can halve fuel economy without costing a stupid amount more. It will need to be around $35k to compete with primary rival Yaris Cross GX hybrid.
| | |
| --- | --- |
| Model | Honda Jazz Crosstar |
| Price | $30,000 |
| Engine | 1497cc, IL4, EFI, 88kW/145Nm |
| Drivetrain | CVT, front-wheel drive |
| Fuel Use | 5.8L/100km |
| C02 Output | 133g/km |
| 0-100km/h | 9.89sec |
| Weight | 1123kg |