Named after an area on the big island of Hawaii famed for its coffee, Kona is a double shot in the arm for Hyundai with two drivetrains available. We test the big kahuna of the range.
Over the New Year holiday period we drove the top Kona, the 1.6T Elite AWD, which costs $41,990. There's also a lesser specified version, the base Kona 1.6T AWD and that goes for the same amount as the front-drive Elite 2.0L version with six speed auto, at $36,990. Clever model and price overlap we reckon.
While there are some pros to going AWD (better off-road and wet weather ability) the main con is the extra weight and drag of the four-paw drivetrain. However, being performance and dynamics oriented we'd say if you take any pleasure from the simple act of driving then seek out the 1.6T versions of Kona. Not only do you get extra grunt, go and grip but also better handling. It's enough to make the Kona amongst the best (though also amongst the most expensive) in its compact crossover class.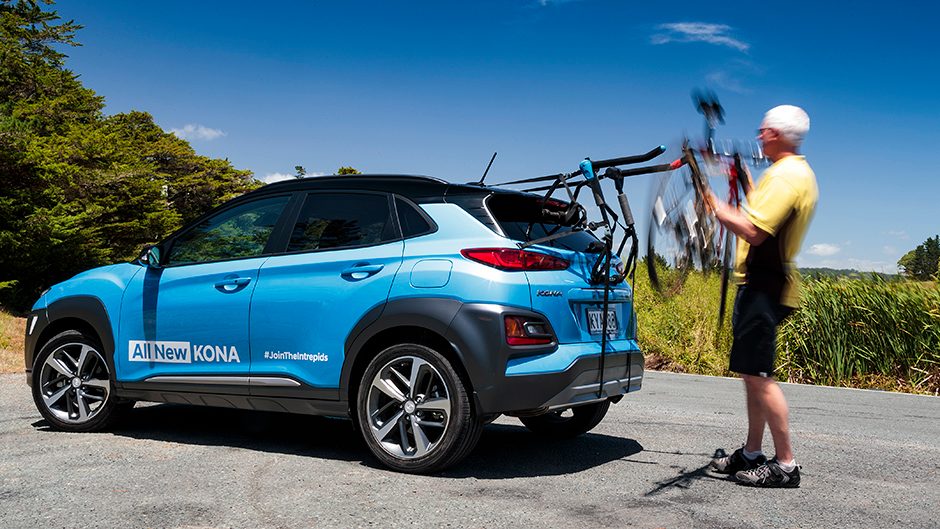 The icing is the seven-speed dual clutch transmission which is not only much quicker shifting than the six-speed auto but also dithers less. If you're value led, go for the base model 1.6T, though most will probably think it worthwhile spending the extra $5k upgrading to the Elite model on account of the gear added, including leather trim, LED headlamps, head-up display and more.
Our initial New Zealand experience with the Kona was driving the Elite 2.0L which we reckoned was about on a par with Honda's HR-V, though the latter we found more interesting on a few fronts. So the 1.6T Elite is $5000 more expensive than the equivalent 2.0 model but it's worth it for the extra performance alone. And remember, you don't have to spend a cent more than the 2.0 front-drive Elite version if you're prepared to take a hit on the spec front, to sit on manually adjusted seats with cloth trim, that sort of thing.
It's a neat strategy; a base and better specified version of two different units, with prices overlapping so you have a choice between performance/dynamics and spec, depending on your priorities. HNZ staff reckon that the Elite 2.0 version will be the top seller overall but we reckon it isn't the best, having now driven both of the Elite variants. Give us the big dog (or little if you check displacement) any day.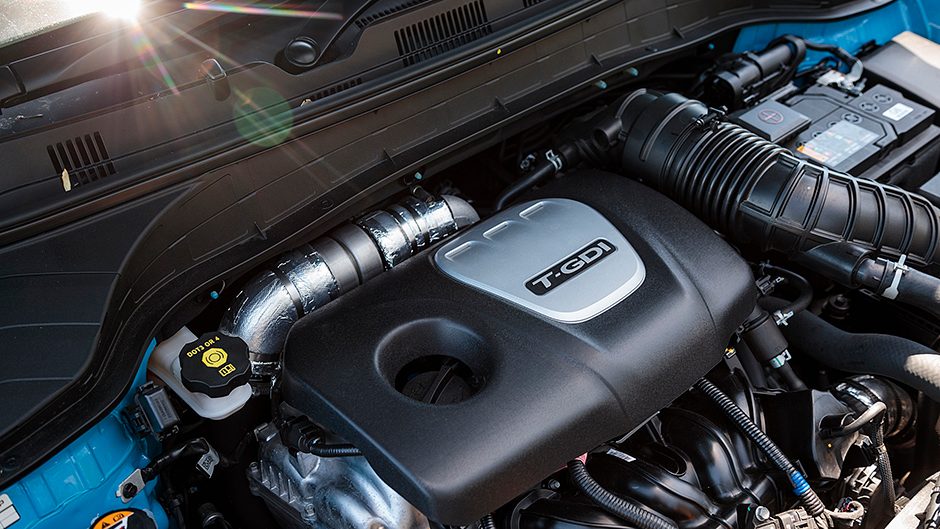 The most noticeable aspect, naturally enough, is performance, and it's not just because of the shift to a stronger turbocharged engine. For the go-hard 1.6 engine is linked to a double-clutch transmission that cog swaps so much quicker than the regular six-speed auto. Any lift in output is therefore magnified. And there's really a significant hike in torque, even if the power jump is more modest.
Remember, we're going from a 2.0L naturally aspirated engine to a 1.6L turbo so on the face of it you'd think the two would be much of a muchness, but not so. The former is good for 110kW at 6200rpm whereas the blown engine stumps up with 130kW at 5500rpm. The real beneficiary is torque, up from 180 to 265Nm and instead of requiring 4500rpm for peak twist it's on tap with the turbo from 1500-4500rpm.
Not only that, but the smaller engine supposedly uses less juice, the average of 6.7L/100km comparing with 7.2L/100km for the 2.0L. And that's confirmed by trip computer data; we had to get serious to extract more than 10L/100km from the turbo, yet we hit just under 14 at worst with the 2.0L. We noted slightly better long term averages with the 1.6T as well, around 8.0 vs 8.2, and lowest instantaneous figures also favoured the smaller more potent engine. So efficiency seems better in the stronger but smaller engine that works better at lower revs, which is probably what you might expect.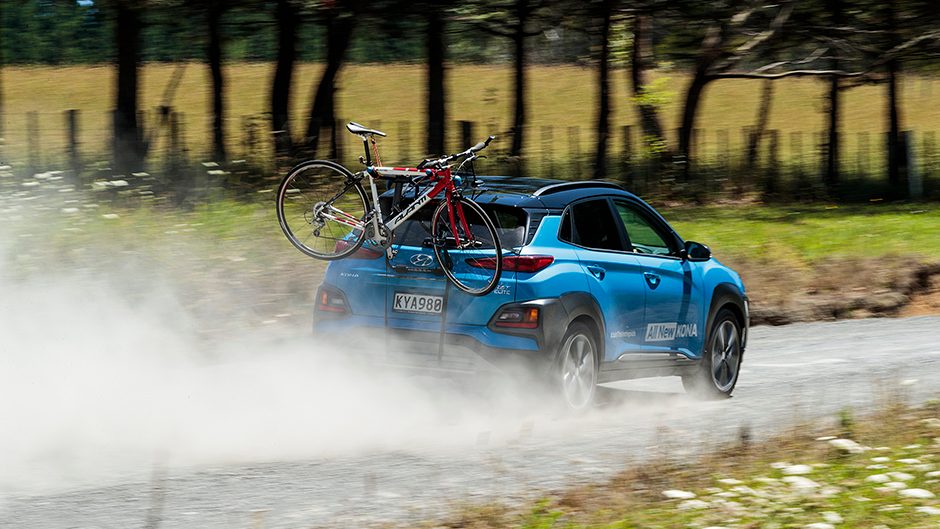 The added bonus is vastly better performance. Naturally enough the 4WD variant gets off the line a bit better, but it certainly slays the 2.0L thanks partly to its much quicker shifting transmission. We easily achieved the claimed 0-100 of 7.9sec, with a best of 7.7sec, fully 2sec quicker than the Elite 2.0 model, and the disparity for the overtake was even greater, the difference being over 2.5sec (4.9 vs 6.6sec). That's despite a weight disadvantage of 110kg. The 1.6's uprated brakes function particularly well.
Because of the extra grunt at real world revs, the Kona potters around town easily in the Comfort mode, and also drives just fine out on the highway, shifting responsively to throttle inputs. That means Sport you can generally reserve for perhaps one-up driving or roads that matter. This third mode (there's Eco as well) essentially turns the transmission into a six-speeder because it won't hook seventh until you're well past 100km/h. There are no shift paddles, perhaps the one item we kind of missed. But you can drive it in Sport handily by shifting between MS and D gates, hooking seventh manually, and then a flick of the lever left means the rest are again available automatically.
This thing can hike for a compact crossover, and there's simply no need to go beyond about 4500rpm. That's fortunate as the last 1500 or so are a bit rowdy. At one point the other half asked what the noise was, and I replied, 'that's the engine, darl'. For the most part it's fairly hushed then. Except for tyre roar, arguably the least endearing aspect of the top Kona. It's perhaps understandable, being fitted with 235/45R18s, same as the Elite 2.0L, but over the harshest chipseal the in-cabin noise levels interfere with audio playback.
Still, you don't get some of the best dynamics in the class without decent amounts of rubber, and this thing really can get down through the turns. It's not that big, being slightly shorter and wider than a CX-3 but with more rear seat stretch space. At just 4165mm overall, Kona is genuinely compact and a U-turn requires just 10.6m of space. That makes it really easy to place on road, aided by quick, well weighted steering (2.6 turns between locks).
Don't expect stellar off-road ability here, with just 170mm of ground clearance, and nor should you get excited about an elevated driving position. We kept well back when following a Q7 and still couldn't see much, but then that's probably true for most vehicles. Entry and exit are easy, facilitated by touchpad proximity locking and the driving position is fabulous, with great all-round visibility.
Both 4WD variants get multilink rear suspension, and the extra surety of this, chassis and suspension stiffness, and all-paw power are readily apparent in corners. You have to be ruthless to get any ESP intervention, at least in the dry. Ride isn't bad either, a touch firm for smaller, sharper bumps but good overall.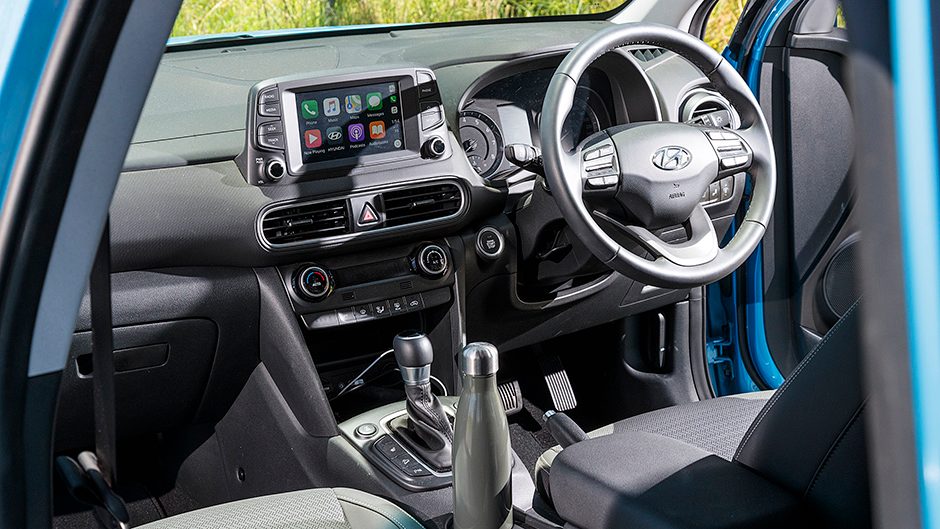 Elite has no sat nav, except via Smartphone, nor paddles or active cruise control, all missed, but is otherwise well specified, especially on the safety front. All variants get AEB, forward collision warning, lane keeping, RCTA and blind spot warning. Aside from features already mentioned, Elite adds LED headlights, heated and powered front seats, wireless smartphone charging, parking assist both ends, driver attention warning and high beam assist.
Then again, the base 4WD 1.6T Kona is mechanically the same as the Elite, misses a few mod cons, but still costs no more than the 2WD Elite version at $36,990. Either way, we'd advise these over the naturally aspirated alternatives.
| | | | |
| --- | --- | --- | --- |
| Model | Hyundai Kona 2.0 Elite | Price | $36,990 |
| Engine | 1999cc, IL4, 110kW/180Nm | Drivetrain | 6-speed auto, FWD |
| Fuel Use | 7.2L/100km | C02 Output | 169g/km |
| 0-100km/h | 9.7sec | Weight | 1359kg |