We wrap up our time with the Hyundai Ioniq with a warts and all report on a life (well a few months at least) spent on volts.
With high-octane running through my veins I like my cars low, loud and fast. But not one to shy away from trying new things, I was game to give an EV a go for a few months to see if maybe high voltage could replace gas burning horsepower on my driveway one day.
From the outset I wanted to make this long term test as realistic as possible, and to me that meant no tedious 'hypermiling' (accelerating at a glacial pace, driving under the speed limit without the air-con on) techniques to maximise range and not going out of my way for free power. Hyundai quotes Ioniq's range as being over 200 'real world' kilometres so I wanted to find out how the EV worked with my driving habits and lifestyle, and whether or not those two hundred or so kilometres were indeed possible in my world.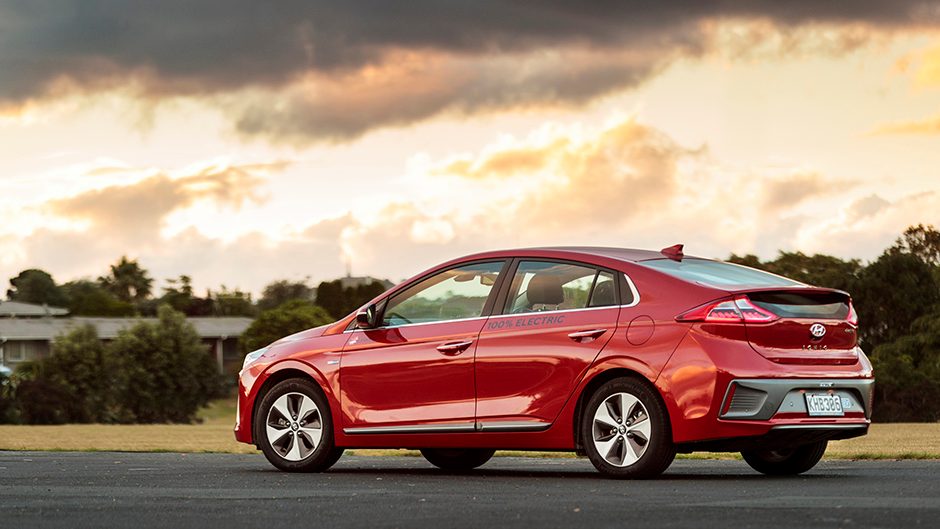 The daily grind
My commute totals 38 kilometres (higher than the national average according to EECA) and consists of motorway miles and urban running. Despite the variation of conditions and speeds I found that a week's drive could be completed on a single charge, albeit with little range to spare for lunch pickups or beer runs. It's best to get into the habit of plugging in whenever possible.
We found the lack of noise took some getting used to – the car is just so quiet, it actually has to emit a synthesised noise at low speeds to warn people of its presence. The downside is that road roar is more pronounced at highway speeds, and the lone cabin rattle was more apparent. We found the hatchback body style to be practical with plenty of storage and enough space for all the gear needed for a weekend away.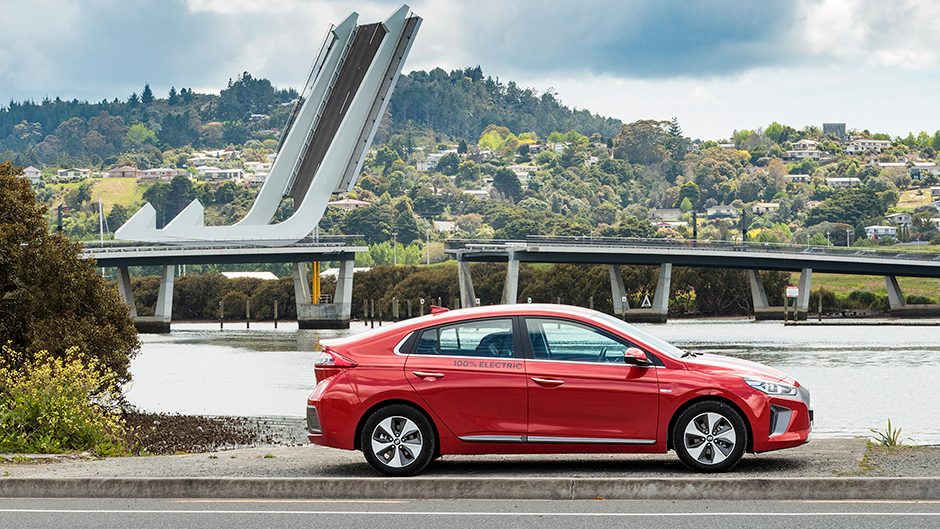 Talking the talk
One thing which surprised was the level of interest that this car generates – I'm talking near supercar levels here – except no one was interested in how quickly it will surpass the speed limit, no siree. The main thing EV people obsess about is range.
Using public charging stations gave me the chance to talk with plenty of EV faithful, most of whom were pretty taken with the 'dai. It was also interesting to hear their reasons for going electric. One bloke in particular had his heart set on a Prius (really?) but drove out of the car yard in a Leaf. Just wanted to do his bit for the planet he reckoned. I even joined some EV internet groups but didn't learn too much there, other than the fact that there seems to be an awful lot of smugness among 'EVangelists'.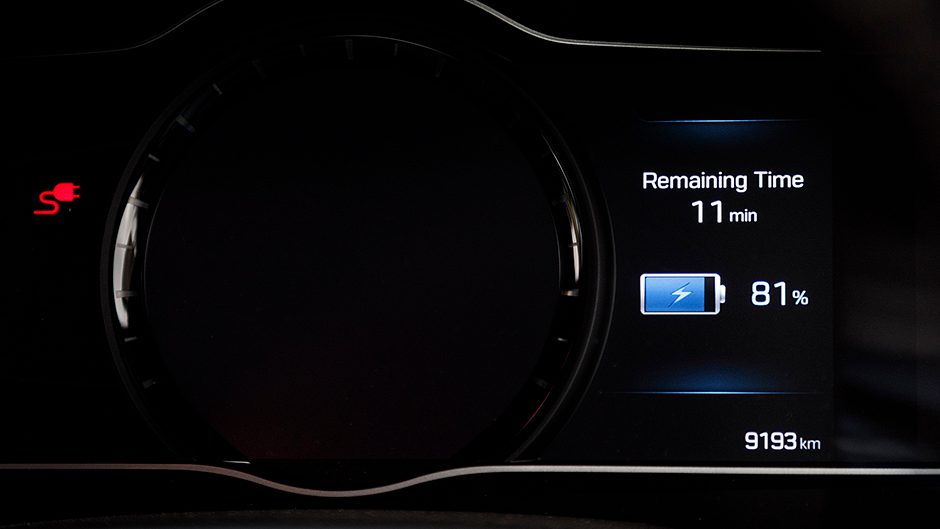 Added ev-ness
Aside from some styling details, the Ioniq EV is similar to the hybrid to look at. Inside, the biggest difference is the push-button gear selector which we found easy to master. There's a few ev-centric features such as a 'driver-only' setting for the air-con (helps reduce its draw on power), seat heaters for all (Elite model only – potentially reduces power used to heat interior), questionable brown trim on the dashboard and flappy paddles for the regenerative braking. The large (Apple and Android compatible) screen is chocker with information on range, charging times and how much juice the various systems are sucking.
The air-con had the biggest draw, the range dropping by as much as 40km when on its coldest and windiest setting. More typical usage saw a drop of around 20 klicks. In place of the fuel gauge is a range indicator which fluctuated between 228 and 240kms when fully charged. This usually dropped off a little once driving but otherwise proved accurate.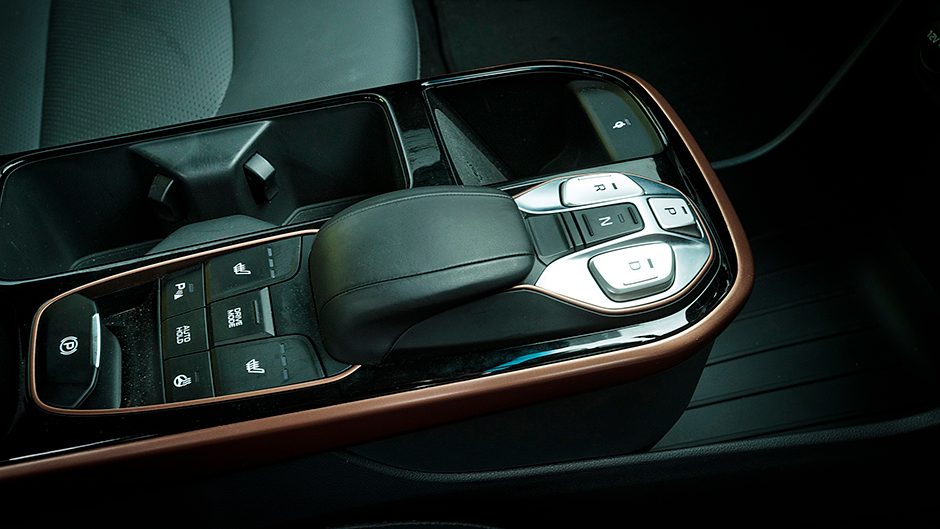 There and back again?
We took the Ioniq on several road trips, a few of which were at the limit of the range. These were undertaken as we would have done in a conventional car; three-up with a boot full of clobber, radio and air con switched on, speed limits adhered to and slow pokes passed wherever possible. Our first roadie was to Whangarei, a round trip of over 340km. Some planning was required to locate charging points along the route to ensure that we could get there and back in a day.
The PlugShare app proved invaluable and inbetween topping up at the DC charger in Warkworth and bludging some power from our friends, the trip was a success, albeit with a stop each way – something we wouldn't have done in our own petrol-powered car. We also realised that when stopping at service station-based chargers it's all too easy to fritter away your fuel savings on overpriced pies and drinks. Doh!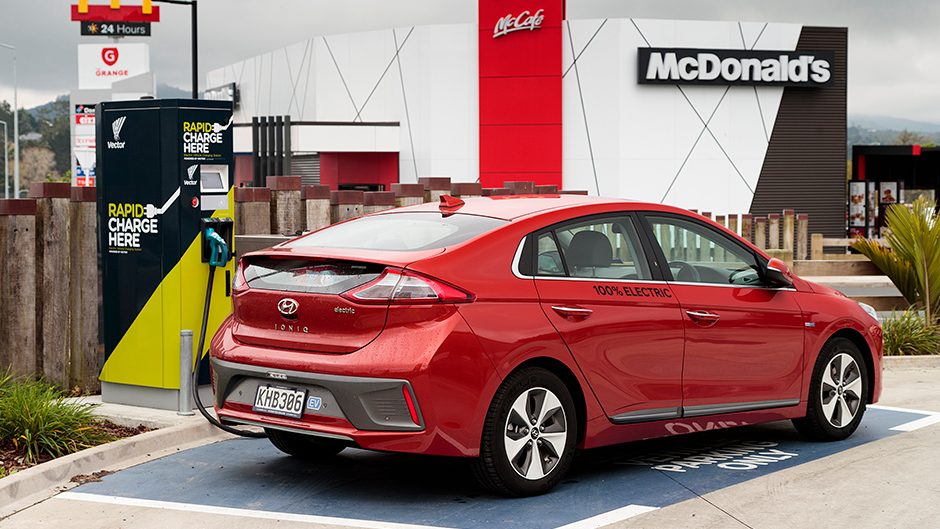 My parents live two hours from Auckland, but in the opposite direction, so another weekend saw us head south. This trip highlighted a drawback of EVs; the recharge time using a conventional power point. We arrived in the wop-wops with around 30km of range to spare (after travelling 165km), but after a spirited blat around the block to demonstrate the electrifying performance to Dad, this was whittled down to a single digit. Once plugged in to the home socket, a recharging time of 19 hours was displayed. Yikes.
Without sufficient range to drive into town, we had no choice but to charge the slow way. Thankfully we had planned to stay and had nowhere else to be. There is a fast charge station in Te Awamutu, but stopping there would have meant a detour and added almost an hour to our trip (longer if the charger was occupied) – hardly ideal with a truculent two-year-old on board. Of course, in a few years' time, this will likely be less of an issue as range increases and charging stations in both public areas and private residences become more commonplace. There's still plenty to think about in this regard though. How will people without garages or a dedicated off-street car park get their electricity fix?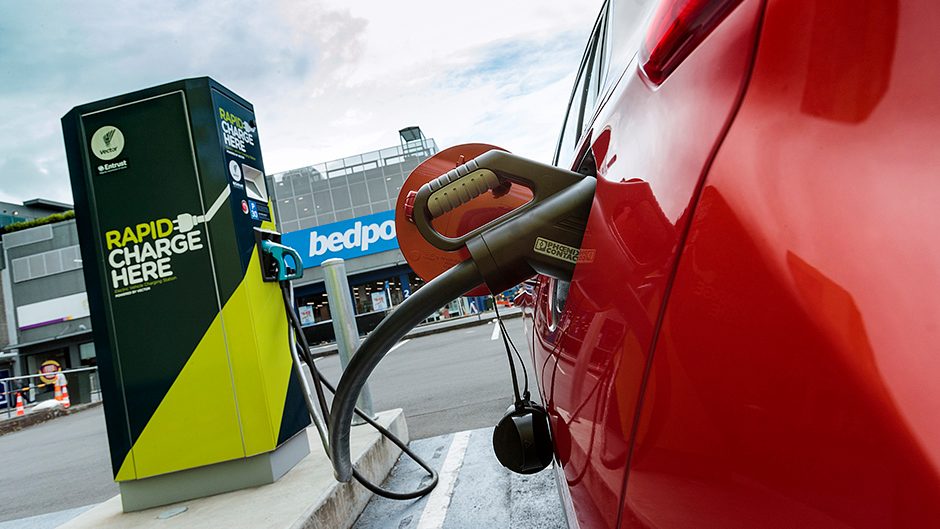 Running Free?
We've mentioned running costs previously and discovered that they're very low. Consumables such as tyres and brake pads aside, Ioniq owners face no exxy scheduled services during the car's life. And of course, no wallet-draining trips to the local servo.
With charging points sprouting up across the country, many of them free to use, it is possible to clock up decent distances without having to dip into your pocket. I logged over 900 kays of free running, achieved by religiously plugging in at the office, supermarket, as well as while visiting friends and family (send bills via NZ Autocar HQ). I could have gone further, but that would have meant going out of my way to visit charging stations and this was not something I was prepared to do (I did however meet people who do this).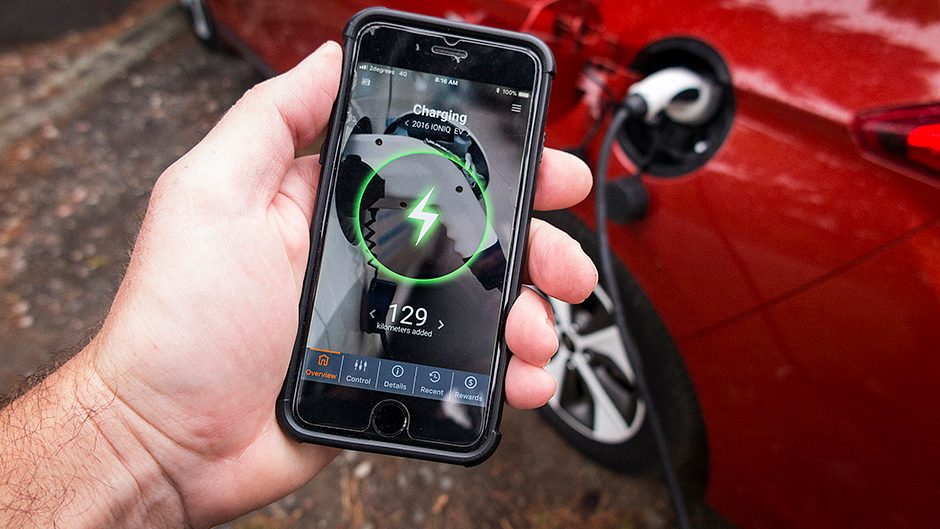 To keep track of our power usage, we used a power meter that measures the kilowatt hours used by whatever it's plugged in to. The Ioniq's portable charger also has an app for this, but we found it glitchy, so stuck with our $20 doohickey. We pay a flat rate for our electricity so the cost of charging 'our' Ioniq was on the high side. However, many power companies offer cheaper night rates, or even EV specific plans, meaning it is possible to charge for less.
The Ioniq also has a timer that allows users to charge only during off peak hours, potentially making the savings even greater. Our cost for the 3500km we travelled was just $1.90 per 100km. Even when the government decides to add RUCs, an EV will still be much cheaper to run than a petrol or diesel equivalent.
On the charge
Push button gear selector aside, the Ioniq EV is conventional to drive. There are three modes to fiddle with; Eco, Normal and Sport. No single mode made a significant difference to range when driven in a normal manner. Eco blunted the throttle response a little too much for our liking so we spent the majority of time in Normal. Acceleration in Sport isn't ludicrous by any means, but it is impressive. Stomp on the, er, quiet pedal and the instant torque delivery imparts a sensation similar to that of a theme park thrill ride (minus the screams) – it's genuine push-you-into-the-seat-back stuff.
However, once on the go, the thrills aren't so forthcoming, the car generally lacking in any real driver involvement. The electric steering provides little in the way of feedback and the brakes are numb and a little snatchy at low speeds. This lack of interaction isn't just a quirk of the Ioniq, rather something we've encountered in all of the EVs we've driven – including the much hyped Tesla Model S. We think it's time the pointy-heads figure out how to engineer driving enjoyment and character into an EV. We know Hyundai is capable of such sorcery – the i30 N is proof of this.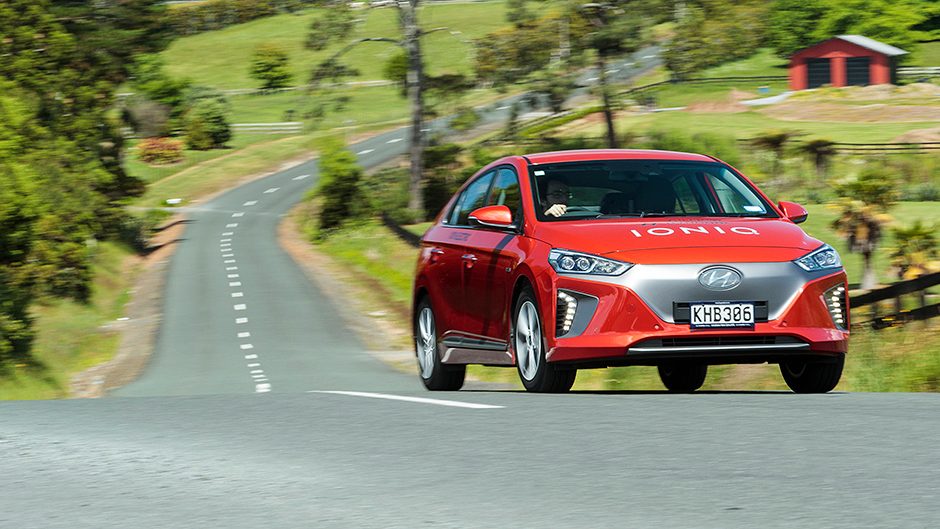 To eke out the best range we experimented with regenerative braking by paddle and coasting (akin to slipping the gearbox into neutral). The paddles are a bit of a gimmick that owners will probably grow bored of (we did), but given that careful modulation of the brake does the same job, it's much easier just to tread lightly on the stop pedal. Hyundai recommends the regen setting is left on one or two, which applies a little bit of brake – much the same as engine braking in a conventional car (the highest setting almost feels like you are standing on the brake pedal).
Turning the regen off altogether allows the car to 'coast' with almost no resistance from the drivetrain. The Ioniq will glide along in this mode for ridiculously long distances, but as there is no onboard computer that specifically records how much energy is saved or gained through these driving techniques, it was hard to gauge which method was the most economic.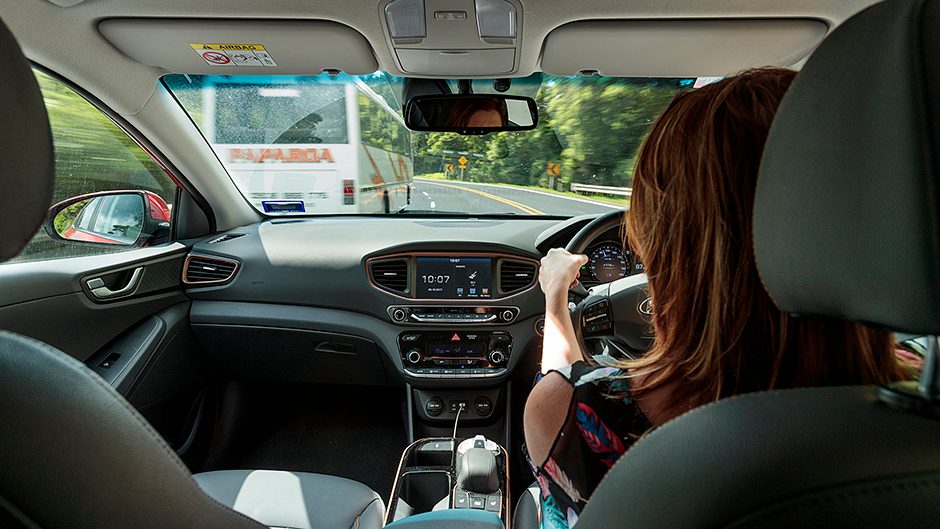 Evangelistic tendencies
So am I a convert? Yes and no. It's easy to see what all the buzz is about, but the EVs currently available aren't going to work for everyone. Cost will be the biggest barrier for most, followed by range and, to some extent, the seemingly obligatory oddball styling. That may change when Hyundai reveals the Kona EV later this year. Said to have 'impressive' range (reports suggest over 300km), and all wrapped up in a funky SUV body this will surely sell faster than bacon and maple-syrup topped hotcakes – if the price is right.
Overall this was an eye-opening experience, one that reinforces that this type of propulsion is the way of the future whether we like it or not. If my own car wasn't so thirsty and impractical (read fun), then an EV would easily work as a second car for our family.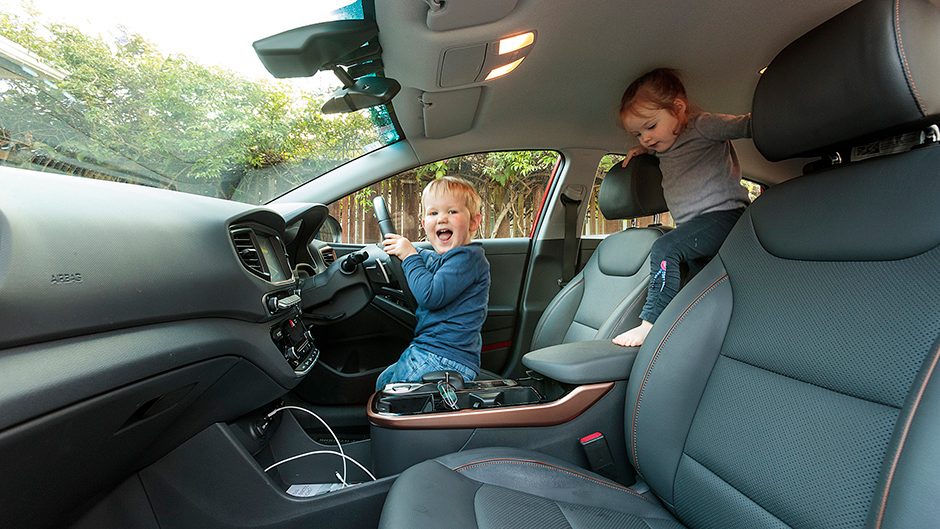 The Ioniq's most impressive aspect is its ability to travel over two hundred clicks in one hit without any tricks. That the range is easily achievable and repeatable shows that Hyundai is headed in the right direction and will be one to watch in this EV space.
Facts and Figures
Kilometres at start/end: 8647/12,192
Distance travelled this month: 1236km
Number of free charges this month: 4
Number of paid charges this month: 5
Charging cost this month: $26.82
Total distance travelled: 3545km
Total free charges: 18
Total paid charges: 13
Total charging cost: $67.51
Price per 100km: $1.90
Claimed power usage: 11.5kw/h
Actual power usage: 12.1kw/h
We like: Priority parking and free power at the mall
We don't like: The brown interior trim