Nobody ever really thought about doing an entry-level middleweight sport tourer but given what an overachiever the MT-07 is, and the $18k cost of the Tracer 900, Yamaha figured why not a Tracer 700?
It's not often that a company creates a sport-tourer using a 655cc engine, but that's exactly what Yamaha has done, using the MT-07 LAMS bike as a platform for a taller machine with long distance pretensions. They've even added a 3L bigger tank (17 all up), soft panniers, extended suspension travel and a touring screen. Bugger me if it doesn't work a treat too, providing you're not demanding total sport and no touring creds.
Even then it's hardly a fail either, unless you view something with a top speed of a bit over 160km/h as not worthy of the sport tourer label. Certainly in theory it will easily and comfortably chew up long tracts of, say, the Australian interior – they get the same model as us – sitting on 140 without a care in the world. All this from a LAMS legal machine. Learners, once relegated to underpowered 250cc dung heaps, are now able to buy mounts that will not only see them through their initial riding period until they get their full licence, but beyond that as well.
Providing you're not power obsessed or a badge snob, and can tolerate a machine that sips into the 3s at 100km/h, there's no reason why you should feel duty bound to upgrade with the change of licence status. We shouldn't be surprised that the Tracer 700 is a good thing, even if the name is a misnomer. Down our neck of the woods, the bike uses the 655cc engine whereas in Europe it gets the 689cc unrestricted engine, adding 20kW extra (55kW or 75hp) developed at 9000rpm, and is good for 68Nm at 6500. Here and in Australia, the bike is limited to the LAMS version which is good for 57Nm but developed at a friendlier 4000rpm. Peak power of 38.8kW or 52hp arrives at 8000rpm, which is low in the motorcycle world.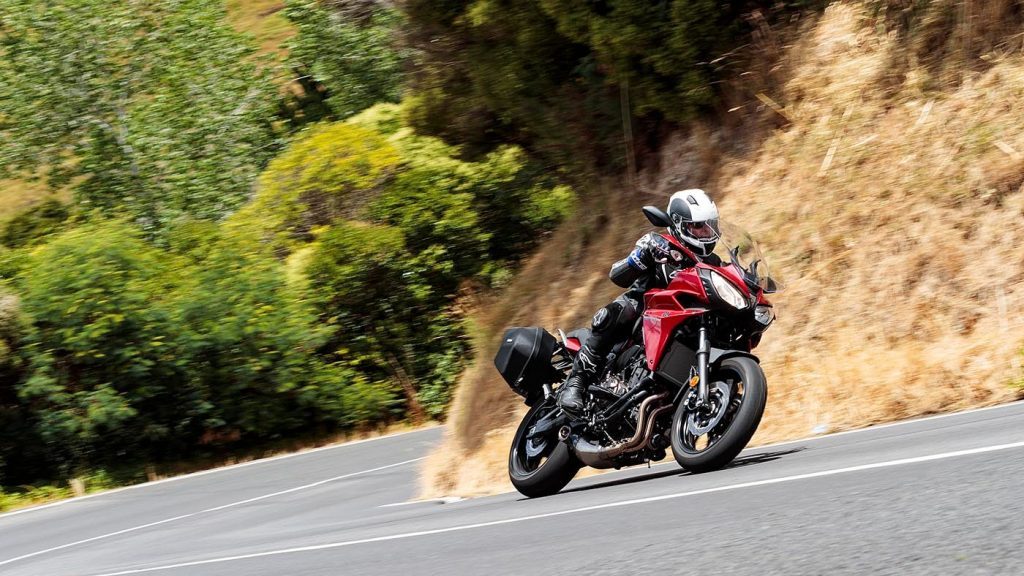 During performance testing I got the feeling that holding out for the 10,500rpm redline was just slowing the headlong rush. Be that as it may, it still managed a 0-100 time in the high fours. How does that compare with the lighter base MT-07? It managed 4.72sec, and an overtake took 3.53sec, to the Tracer's 3.93sec. The reason for the difference? The MT-07 is lighter by 22kg at 177kg, while Tracer gearing is also a bit longer.
But it never feels like it's dragging its heels. With peak torque arriving at 4000rpm, or around 85km/h, oftentimes a downshift isn't necessary to overhaul stragglers, and if it is one downwards click of the lightweight lever is plenty to get the job done. Tracer the smaller is particularly laid back at 100km/h, pulling just 4500rpm in top gear, sixth. Pity the LCD screen is so tiny though, nothing like its big sib's model of clarity. That said, only the numerals for the tacho are scarcely discernible, and since you're upshifting using the midband, there's not that much of a need to know how quickly the engine is reciprocating.
Other relevant info is all there, including gear selected and digital speed readout, along with instantaneous and average fuel use. There's even a fuel gauge. All you really need then for touring.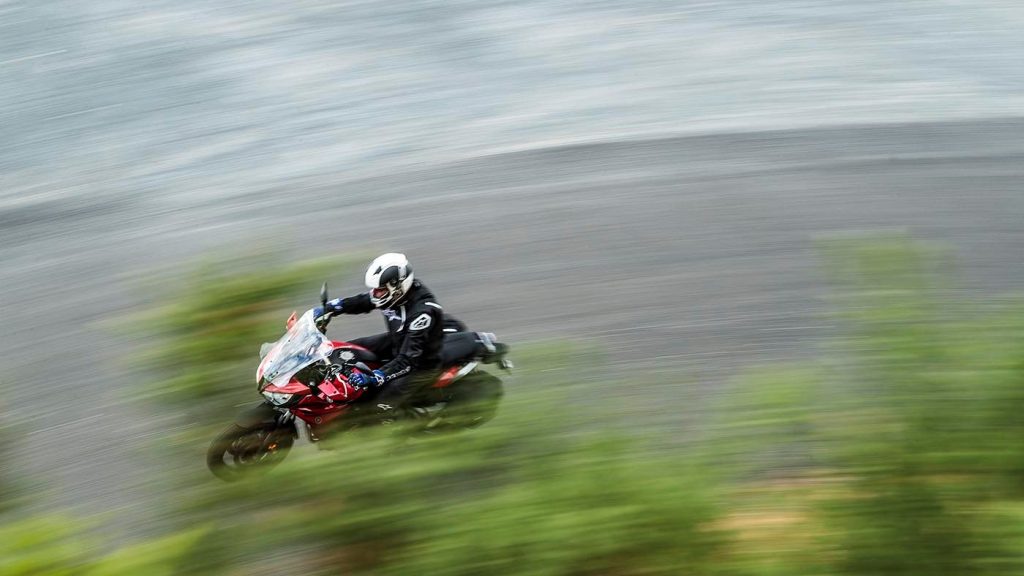 The question on everyone's lips – will Yamaha ever relent and bring in the high power version like they get in Europe? Don't rule it out, because they did with the standard bike so no reason why they might not with the Tracer 700 (which would take on the HO for high output designation). Otherwise, they may arrive from Japan as used imports.
On an everyday ride, especially in town there's just no point in using anything other than middling revs where it feels best, punchiest. The uneven 270-degree firing order of the parallel twin was chosen because of the noise it makes and also for enhanced cornering traction, adding confidence to the ride. Plus it means TC isn't really needed. And that's abundantly clear once you jump on and get used to the Tracer 700. Like all MT bikes, its light weight is key, and while it is only just the right side of 200kg, it feels agile and easy to manhandle in the garage, with a sensible lock making turnarounds a snip. The wide bars help.
Hop aboard and it just feels right too, the hips not too flexed, arms not too outstretched. The screen is manually adjustable but it's not something that's easy to raise on the move. Simple enough to drop it down though, where it's best. Like many screens, there's a bit of wind noise from the edges. It almost doesn't matter what shape is chosen, for they all do it to some degree. We found at its lowest setting it still offered generous wind protection. Mention of that, the Tracer 700 also comes with hand guards which feature integrated turn signals. A slotted bar cross piece allows fitment of a GPS device or mobile phone.
The chassis itself is not quite the same as the MT-07s, being longer in the swingarm by 50mm adding stability, without detracting from the agile, carefree nature of the naked bike. The MT-07 is a seriously great wheelie machine, but the added length of the Tracer makes the front-end more grounded, not that it won't still hoist the front, even in second gear. The rear sub-frame is beefed up too, on account of the standard soft panniers, 20L apiece, while the monoshock has 12mm more travel. Rake increases slightly to 25 degrees but the trail in unchanged. The upshot is that the Tracer 700 is still very much the tarmac gymnast, while adding a bit more stability to the mix. It's simply an unmitigated joy to thread through a winding road, the steering so light and tasty it almost drops into turns by itself.
And while it holds a line well, you can also modify it easily should the need arise. Plus it feels light, and well tied down with decent Michelin Pilot Road 4 rubber as standard. It's only when you go to slow it that the major difference between this and the Tracer 900 which uses radial brakes up front and bigger discs too becomes apparent. The 700's 282mm petal discs are gripped by four-piston calipers and while they work well enough, don't have quite the bite of the radials. That's in part reflected by a best emergency stop from open road speeds of 43.62m.
Helping is lever adjustability but of all the bits and pieces on the Tracer 700 the brakes are probably the weakest link. And even then, they're not bad. Certainly the suspension, like that on the MT-09 Tracer, is a step up from the base bike. Without touching it (and you can't do much except adjust the preload at the rear anyway) it feels about right for general Kiwi conditions, soaking up most of the road lumps and dents without complaint.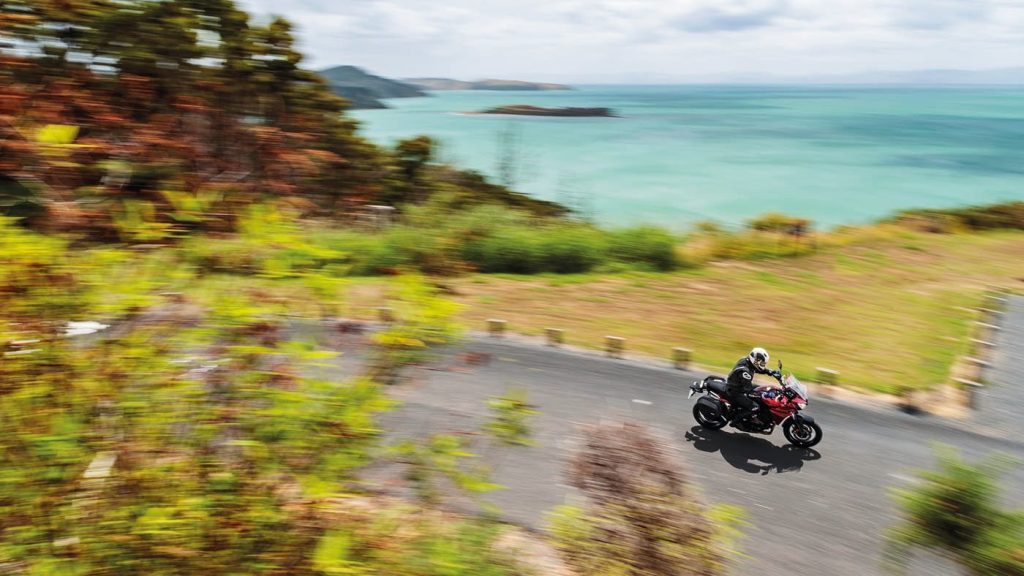 Initially I thought the seat was one of those examples you keep sliding forwards on, into the tank but on a longer ride we didn't notice that. The seat height is quite elevated at 835mm so it won't fit all builds but a couple of hours in the saddle and I had no aches or pains. Nor should we have as our particular model sported the comfort seat. Yamaha seems incapable of stuffing up with its MT line-up. Or put another way, the MT bikes seem to get most of the important things right, including price.
It used to be that you'd never dream of holding on to a learner bike for any longer than you needed to but the latest crop don't really even feel hamstrung in any way. That's especially true of the MT-07 and now the Tracer 700.
Normally it costs $13,999, but for summer you'll only pay $12,699. It may not sport riding modes or traction control – ABS is the sole safety feature – but given most sport tourers cost the wrong side of $20k, it represents a damn fine option for those not wanting to immediately default to an adventure bike and who might value a sweet mix of haste, handling and economy rather than wanting superpower and excess weight for their touring mount.
It's a truly amazing package for the impecunious tourer.
| | | | |
| --- | --- | --- | --- |
| Model | Yamaha Tracer 700 | Price | $13,999 |
| Engine | 655cc, liquid-cooled, fuel injected, IL2, 38kW/58Nm | Drivetrain | 6-speed, chain final drive |
| 0-100km/h | 4.81sec | 100-0km/h | 43.62m |
| 80-120km/h | 3.93sec (112m) | Weight | 199kg |