A rather pleasant surprise was the Astra Sportwagon LT. For a little background, Holden's smallest load lugger is the third body shape available in the Astra line-up following the debut of the hatch and sedan. Despite it coming with European Car of the Year status, it has been a bit of a struggle for Astra in the market, registering under 1000 sales this year, though the wagon variant only arrived in November.
But it's a sector under stress, many potential sales registering instead as compact SUVs, where pricing is similar, broadly in the thirties, and models like Sportage, Qashqai, CX-3 and XV are going great guns. However, not all want to be sheep-like in their buying decisions, and for such individualists who decide a practical wagon that's both town and country friendly is more their thing, the Astra wagon offers a pair of options.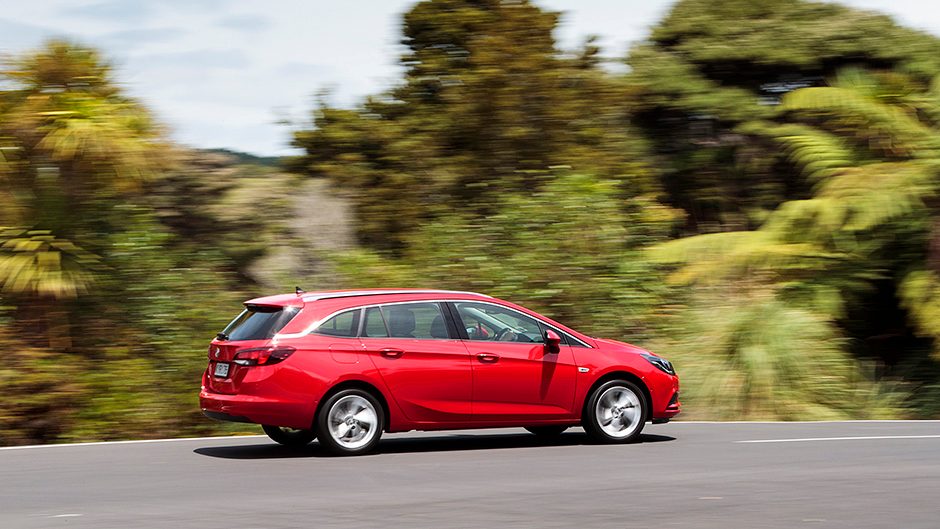 There's an entry-level LS specification model, costing $35,990 while for an extra $4000 one can opt for the better specified LT variant. They share the same 1.4-litre turbocharged engine married to a six-speed auto with an MS gate but no paddles. Each comes with passive entry by key pad and pushbutton start while down the back end the power tailgate can be operated hands free. They also feature Apple CarPlay and Android Auto, while digital radio ensures greater station choice.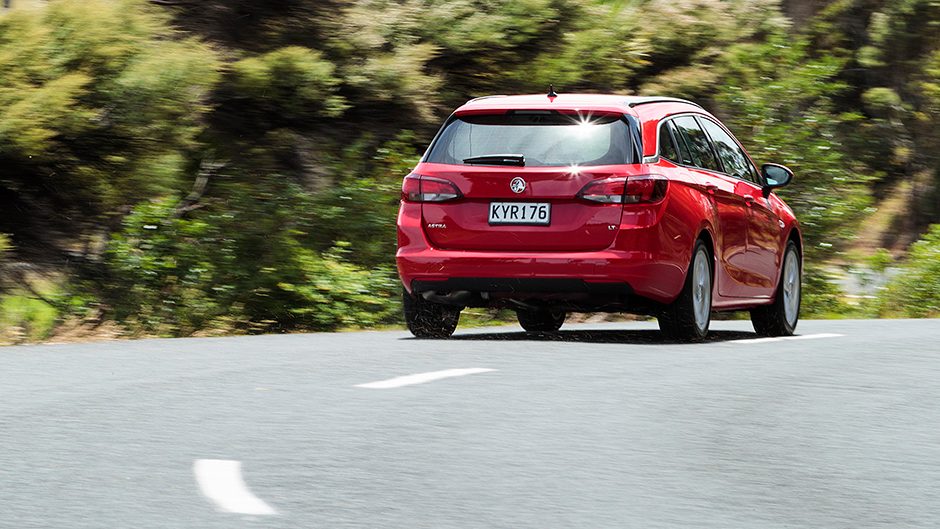 Space is obviously crucial in this sector, and the Astra Sportwagon offers 540L of luggage area with five seats in use, and 1630L after split folding of the rear seats. It's an almost flat load area that results too. Room in the cheap seats is surprisingly generous, with lots of knee space on offer, plenty of head clearance. So you should not feel hard done by if the purpose of buying a compact wagon is primarily load or kid carrying.
Nor will you likely complain about use in town. Not only does this have a great turning circle of 10.9m but also it auto parks if you're worried about scraping those shiny new alloys when squeezing into a tiny space. Not too tiny mind you because it measures up at 4.7m, yet weighs in at just 1351kg, and that's key to its performance.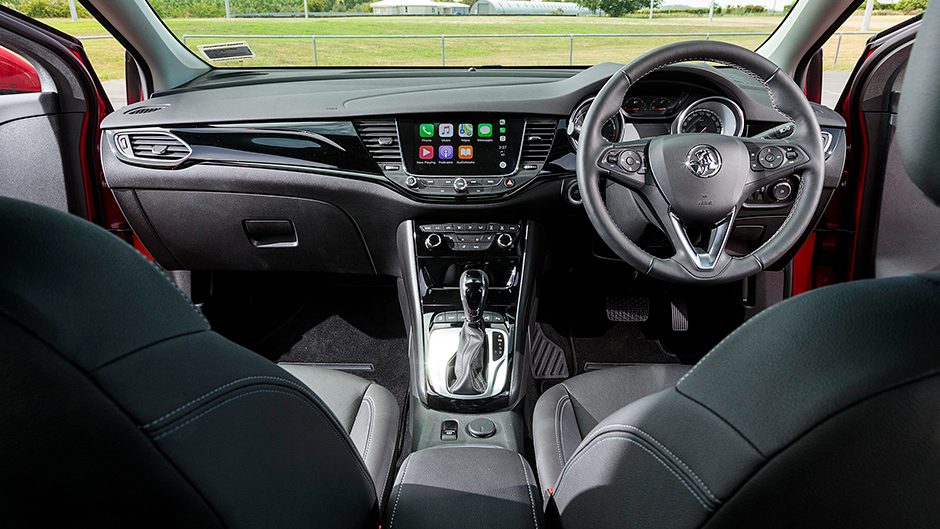 The 1.4L turbocharged four creates 110kW and 240Nm, and that's enough shove to hustle it to highway speeds in 8.7sec. Performance isn't blistering but in Sport mode there's a bit more enthusiasm, certainly more than overweight Cruze could conjure, and overtaking is achieved easily enough in six seconds or 172m. Moreover, this has a useful amount of urge without having to rev the lungs off the thing, and in round town running it performs well enough without having to resort to the Sport button. Holden claims a mean fuel use figure of 5.7L/100km and while we didn't quite achieve that, certainly it seldom moved out of single figures for consumption. It's also quiet on the go, no dB in excess of 73, and most in the low 70s bracket.
But what we thought most impressive was how this took to our reference hill road, the suspension tuned just right for a mix of control and resilience, with just a hint of pitch at times. It has one of the most even weight splits we've encountered for a front drive vehicle, with just 56.4 per cent of weight balanced over the front axle and this shows in turns, refusing to understeer when punted into corners carrying too much speed, the Turanzas helping keep the show on the road. We were pretty much gobsmacked to be honest. The helm feels lightweight and natural in its weighting too, even if not a whole lot from the tyres makes it back to your fingers.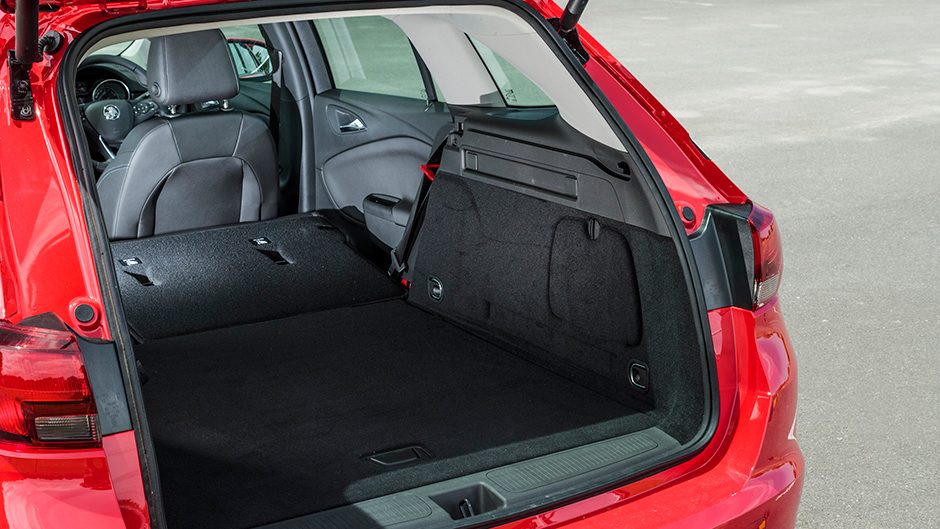 In terms of spec, it's about right, though we do miss not having active cruise in cars costing anything more than the Suzuki Swift RS at $26k which features this handy safety item. Still, the Sportwagon part compensates with AEB, a forward collision warning (audio and visual), a tailgating lamp and even an item in the info screen that tells you how many seconds adrift of the car in front you might be. You can therefore get a better idea of precisely how far the closing distance is for the two-second rule.
On the downside, photographer Tom was scathing about the "one megapixel resolution" of the reversing camera (and he's right) but at least the LT features parking sonar both ends. It also has well shaped, if firm, leather clad seats with heating elements, powered lumbar support, comfort entry, idle stop, and an electronic parking brake that releases automatically regardless of whether or not you're belted up. There aren't too many competitors in this segment either.
Golf and Focus wagons are similar in price but can't match Astra's pace. Nor its three years of free servicing as part of the warranty.
| | | | |
| --- | --- | --- | --- |
| Model | Holden Astra Sportwagon LT | Price | $39,990 |
| Engine |  1399cc, IL4, T/DI, 110kW/245Nm | Drivetrain | 6-speed auto, front-wheel drive |
| Fuel Use | 5.7L/100km | C02 Output | 132g/km |
| 0-100km/h | 8.68sec | Weight | 1351kg |