Hawking large cars is getting ever more difficult but that's not to say the space is dead. Remember the Ford Mondeo?
Well some clearly do as there were just under 900 sold last year, which isn't bad going but that's just one-half of what the Focus achieved and one-tenth of what the all-conquering Ranger racked up.
Be that as it may, Ford is attempting to rekindle interest with a wagon that's a little bit special thanks to its ST badge. Before you get carried away and race down to your Ford dealer, it's not a juicy, go-fast ST, like the Focus variant. Rather, it's what they call an ST Line, a mildly curried version. Think of ST Line as being much like Audi's S Line jobbies; sportier looks and suspension but with a regular powertrain. Although in the case of this Mondeo, the engine is at least rather interesting given it's Ford's twin-turbo 2.0-litre diesel which mixes up 154kW with 450Nm of squirt from 2000rpm.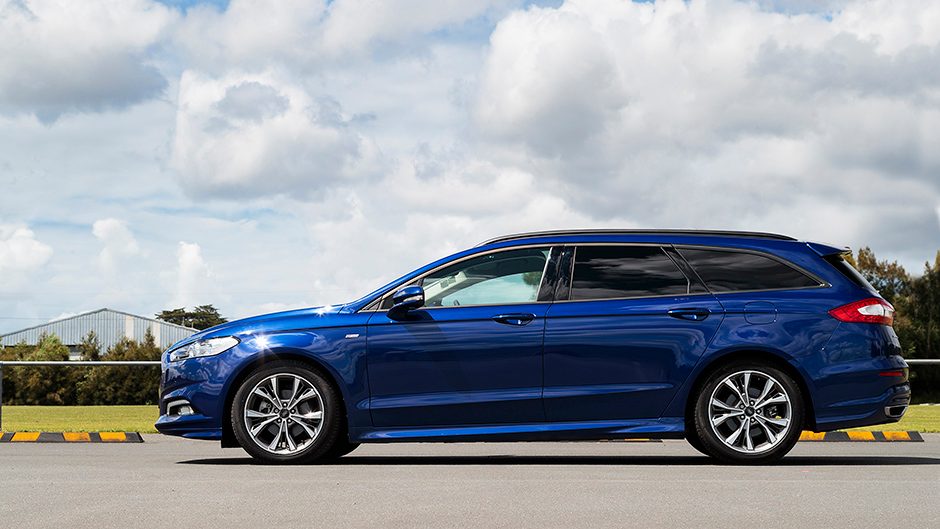 The ST Line treatment blacks out the chrome exterior detailing and adds a new-look grille and light treatment up front. Sporting springs lower the wagon by 10mm on 18-inch alloys donning Michelin Primacy rubber. The interior gains sports seats clad with a mix of cloth and leather, there are alloy pedals (they are alloy accents essentially) and unique trim bits.
It's initially a limited run model priced at $54,990, which is almost as much as you'll pay for the better specified Titanium hatch. While the ST Line is intended to give the Mondeo range a bit of a kick along, Ford will be looking to add other ST Line variants in due course. In the UK, most models include an ST Line version, even the likes of the EcoSport. The next confirmed ST Line is the Endura, the Anglicised Edge that's here later in the year.
Mondeo used to be one of the dynamic masters of its class, but the latest generation has moved more towards refinement, safety and space, as you might expect of a car that Ford USA took the lead in developing. Those traits are still strong in the ST Line but it's a mite more interesting to drive. The steering is light on weight and the road sense is slight, yet it's not completely remote with enough sensation there to help point the wagon around assuredly. The level of control is good for what is a sizeable estate, and as Ford's sports suspension set-ups tend to do, it works best with a bit of pace on board.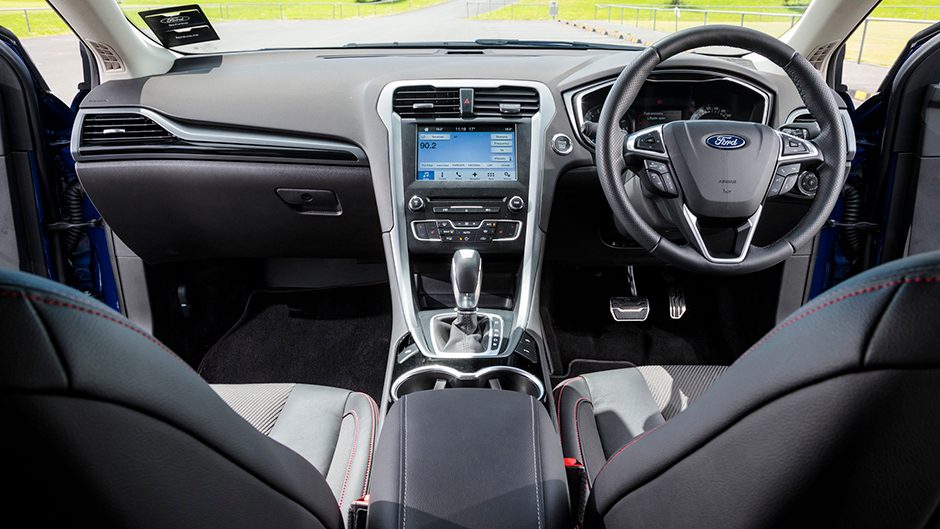 With a mix of good rubber and that aforementioned body control, this gets through the bends in a satisfying manner, and with a hand from the electronics via the torque vectoring function, it fends off the urge to understeer nicely. While the ride has more of an edge to its character it's still quite civil and the suspenders are able to deal with all manner of bumps.
The engine isn't quite the ball of muscle that its numbers suggest, but then Mondeo is a weighty proposition, all 1700kg of it. While those kilos aren't too telling in the bends, they do take a little of the shine from the engine's potential. With twin turbos, there's not much in the way of lag, and the midrange is meaty. It can rev to just past 4500rpm and still feels strong as it reaches its change-up point. There's a minor torque reaction up front when the throttle is pinned down hard but nothing horrendous, while the TC system is well tuned to calm spinning wheels rather than bringing progress to an abrupt halt.
The six-speed twin-clutch mixes equal measures of smoothness and haste to its shifts. The S mode does as intended so the paddles aren't much use. Gearing is quite tall and so at times when you think the 'box should drop a cog, it just won't and you have to be content with the engine hauling off its midrange.
The diesel is reasonably quiet while we saw fuel use figures in the sixes when cruising the motorway, climbing as high as 10L/100km when exploring its extremes, and so an overall figure in the sevens seems reasonable for a more usual mix of driving. The rest is typical Mondeo fare; it's big, comfortable and easy to drive.
Space isn't an issue with a huge hold, and there's lounging room aplenty in the back seat. The overall cabin design hardly excites but is functional, and most of the convenience and active safety features you'd hope to find at this price point are present, bar a smart key.
So with appetites suitably whetted, we look forward to the arrival of more ST Line Fords in the future.
| | | | |
| --- | --- | --- | --- |
| Model | Ford Mondeo ST Line  | Price |  $54,990 |
| Engine | 1997cc, IL4, T/DI, 154kW/450Nm | Drivetrain | 6-speed twin-clutch, front-wheel drive |
| Fuel Use |  5.0L/100km | C02 Output |  129g/km |
| 0-100km/h |  7.84sec | Weight | 1714kg |