Like its Shiver sib, Aprilia's mechanically similar supermotard gets a stroking to 900cc, and other mods to make it more emissions friendly. It's now also the lone motard in the range.
How much in a name? Considerable, at times. The Edsel never did very well, though it was hardly a catch, which explains a lot. What about this machine? Well it's the opposite, with a good look but an unusual name. Not the Aprilia bit which rolls off the tongue rather gracefully, but the Dorsoduro bit. For the life of me I cannot remember the name of this motorcycle from one day to the next. I'm forever calling it the Dursodoro, and can only remember its handle using a mnemonic; the o comes before the u. And then I'm never quite sure whether the final o is meant to be an a or not. Aarrgh.Hence the Durka Durka title.
That I never forget, thanks to the Team America film, but whatever, this bike has a VERY confusing title. Its meaning makes more sense, being named after a region of Venice, the term meaning 'hard ridge'. The reason Aprilia named it thus is because of the seat. Take a look at it closely. In the middle of that long thin monoseat is a cling-on strap for the pillion passenger who is never there. Said strap is located precisely where a taller person's seat bones are positioned.
Hence the hard ridge which results in endless wriggling on the go. If the strap wasn't there, this would be one of the more comfortable motard pews. But it is, so it is isn't. For the DD is a motard, and being a big example I guess you'd call it a supermotard. And it seems all such machines have super-uncomfortable seats. That's because motards are essentially motocross bikes with road tyres. And motocross bikes have seats just like the DD's.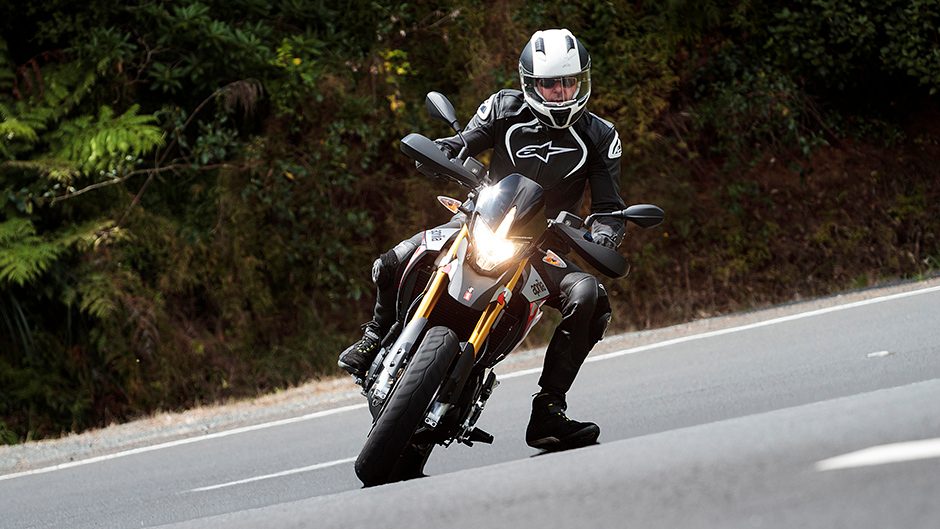 Riding the Aprilia away from the pick up point I was instantly reminded of my old Aprilia Falco which was frankly unhappy under about 4000rpm. It's not that the 900 won't pull from ridiculously low revs for a V-twin – it's smooth and willing from about 2000rpm – but on a constant throttle below 4000rpm it seems to surge, as if it's saying "don't cage me in". So it's happy place is not in city streets.
A pity that because it's tall, something that's again typical of the breed, what with its motocross genes, and you get a good view of what distracted drivers in tin-tops are doing around you. Funny thing is, the new Dorsudaro is actually best at moderate speeds, with utterly fantabulous pull at 100km/h in top gear.
It's sheer grunt from 4000rpm is intoxicating. And that's part of what makes this motard super, its get up and go. Its predecessor, a 750, was no slouch, getting to 100 in under four seconds but its 900 replacement has more firepower yet. Funnily enough it doesn't actually have a whole lot more power (1kW) or torque (up 14Nm) numerically – 70kW/95Nm – and maybe that's reflected by the fact that its best overtaking time was no improvement on that of the 750, around 2.2sec. That's a bit shy of what the best litre twins do, but don't think for a moment that this is wanting on the performance front. The ease with which it overtakes in top gear is simply astonishing.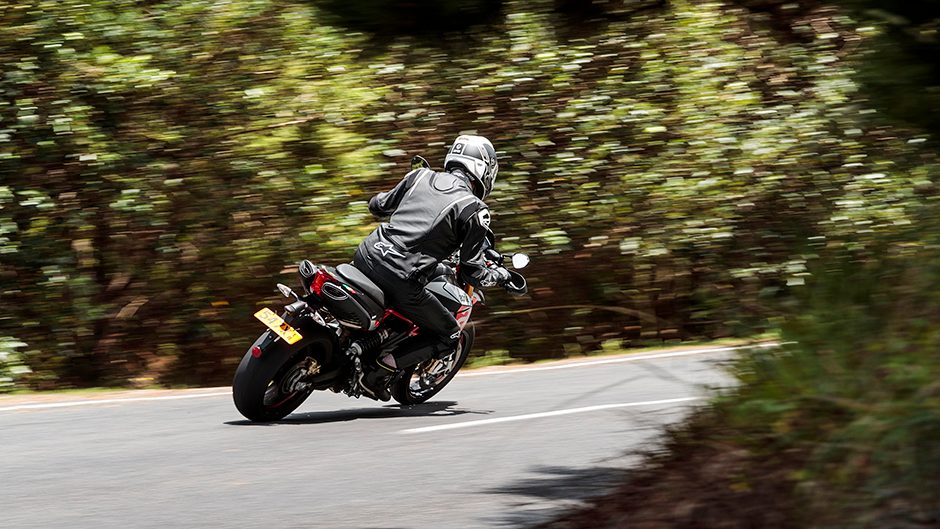 Most motards are maniacs, and that's what is kind of attractive about them. As a breed they're not big here, and perhaps that's because Kiwis are a bit staid and serious, on the whole. But if you want a dose of adrenaline each day, a motard will most certainly do that for you. A recent study undertaken in conjunction with Ford suggested sporty cars will give you a couple of buzzy moments each day, comparable with what you'd get from a roller coaster ride (which of course takes you nowhere).
To be fair, Ford should have compared the fizz of its Focus RS or Mustang with what you'd get from a sports bike. I'd suggest there would be significantly more buzz moments, by an order of magnitude, than with a sporty car. Probably a few more hair raising moments too. Anyhow, motards generally bring out the maniac in motorcyclists. Sadly the DD doesn't. Well it does a bit but not enough. And there's a reason for that; it's simply too heavy to rate as a proper motard.
A good comparison might be a gymnast. Generally they're compact and lightweight for a better sense of movement through the air. It's the same with motards. The best ones are lightweight and nimble, and experienced riders can almost make them talk, transitioning smoothly from stoppie to wheelie and back. The DD weighs in at 220kg so it would take someone with special talent to achieve that feat. Not that all motards necessarily have to be gymnasts and this one is simply one of those big grin-inducing bikes that will give you a lift on a fine day.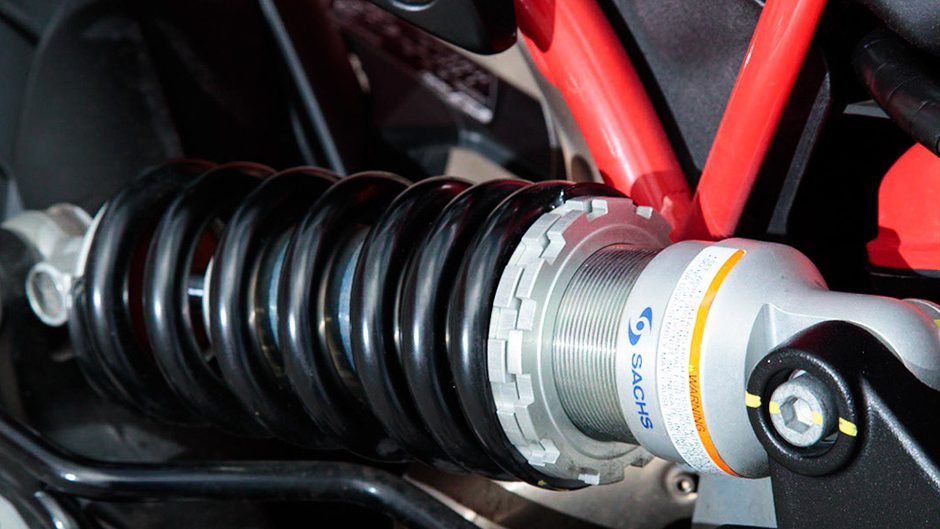 Some reviews have mentioned its brakes aren't quite up to the challenge of reining it in. I'm not so sure about that; they need a bit of activation – as does the clutch lever and the shifter feels like it needs a decent lube – but the stoppers have good bite and we managed a 100-0 stoppie in 42m. The rear contributes well too.
This really isn't a bike for the faint hearted, all the same. You ride tall in the saddle, sitting at 870mm, and those much less t han about 180cm tall might well have trouble sitting astride the bike. Its side stand is also not the easiest to use, mounted roughly six inches aft of where it might ideally be sited. And that makes it a touch tricky to park. When manoeuvring you feel the weight of the bike too.
Swinging a leg over though is easier than on some tall machines, nothing much to get in the way other than the seat. The exhausts exit up high, explaining some of the extra weight but are reasonably well integrated so you don't notice them much, and certainly you don't seem to clout them when getting a leg over. They could be more menacing aurally though. We really liked the new TFT info screen, a square-shaped offering. The tacho figures aren't huge but grow slightly as the needle hovers over them.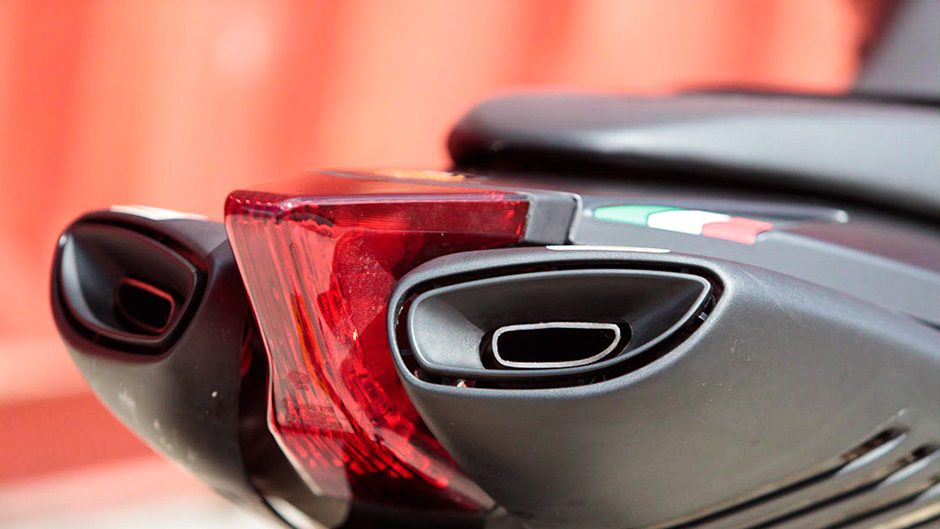 At 4500rpm the DD is rolling along at an indicated 110 which is more like 103 in reality. At that speed in top the engine is genuinely smooth – we noted little in the way of vibes – and the mirrors likewise. Well the left one at least, the right kept rotating around and was largely a pain the whole ride. And being a motard there's no practical storage area anywhere, no tool kit, no underseat cubby. They tend to be minimalist machines. Even the tank is a rather exasperating 13L.
As to competition? The corresponding Hypermotard goes for $21k and this is over $4k less at $16,790. It's also quicker and comfier than the outrageous 701 Supermoto single by Husky.
Providing you think of this not so much as an acrobat but an entertainer with an odd name, perfect for a short blast on a cloudless day, for some it might well prove just the ticket.
| | | | |
| --- | --- | --- | --- |
| Model | Aprilia Dorsoduro | Price | $16,790 |
| Engine | 896cc, liquid-cooled, fuel injected, V2, 70kW/90Nm | Drivetrain | 6-speed, chain final drive |
| 0-100km/h | 3.52sec | 100-0km/h | 42.29m |
| 80-120km/h | 2.27sec (65.33m) | Weight | 220kg |