Holden is on a new model binge at present, Captiva gone and replaced by Equinox. We put it to the test against another popular medium, Nissan's top X-Trail Ti.
For those of you with a cosmic bent, Holden's new SUV, Equinox, will surely fire the imagination more than its oddly named predecessor, Captiva. Where the latter evokes images of passengers locked inside a vehicle, its replacement looks outward on a grand scale. Literally, Equinox derives from Latin, meaning equal (length) night, ie, night as long as day. It's when the equator tilt aligns exactly with that of the sun, occurring in March and September, Autumn and Spring, respectively. Heavenly stuff.
Equinox, manufactured in Mexico, replaces the five-seater Captiva on account of being a five-seater itself and while it shows some GM styling similarities, especially on the inside where pretty much every surface you don't sit on comprises dark hard plastics, the rest is fresh and fizzing, especially what's under the hood.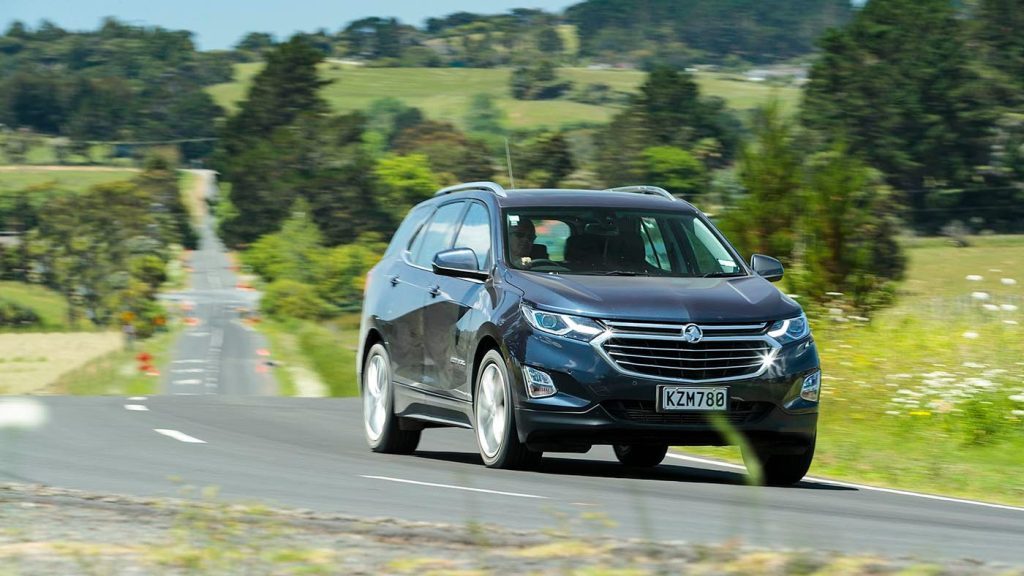 The Equinox is from the Chevy GM stable, tweaked for the Antipodes by Holden, chiefly suspension and steering calibration. It is now in its third generation, sporting a new chassis and optimised aeros, including active grille shutters (Cd of 0.336).
The range topping LTZ models are powered by a modern 2.0L VVT four with a twin-scroll turbo attached. It's good for a healthy 188kW and 353Nm, the latter from 2500-4500rpm. Plus, it's hooked up to a nine-speed automatic and the entire vehicle weighs some 150kg less than it used to.
Holden rates it as the quickest vehicle in its class. The Captiva V6 took a tad under 10sec to accelerate to 100km/h, whereas this one chops it out in 7sec flat. It's every bit the rocket on the overtake too, and if anything its main performance issue is ease of speeding because gearing is so pole vault tall.
The main reason for the powertrain change was not to create a Speed Racer SUV as such, but to eke out decent performance and fuel economy. We'd say mission accomplished there too, for Equinox can run in single figures for fuel use, yet when extending itself barely gets above 12L/100km. Okay, so that's according to the trip computer, but we brought along a Nissan X-Trail Ti for comparison purposes and at times its average was in the 14s. However, driven easily at 100km/h, it drinks into the sixes.
Propelled by a naturally aspirated 2.5-litre four, it needs to rev much harder to keep the Equinox in sight, explaining the higher fuel use figures. Even then, it's outpaced, though with only 126kW and 226Nm that's not unexpected. Almost three seconds slower to 100, it's also over two seconds adrift on an overtake. Around town when the torque disparity isn't as obvious, it still feels like it needs to be encouraged along compared with the effortless Equinox. If you don't hoof it when in a hurry X-Trail keeps falling back into the low 2000rpm zone where it lacks torque, whereas the turbo of the Holden is right on the case at such revs.
Putting this into broader context, most of its other rivals would struggle to keep pace with Equinox, apart from Ateca 2.0 FR 4Drive which also features a 2.0L turbopetrol. It takes a Tiguan TSI R-Line to beat the Equinox in a drag race and even then the Holden is a bit quicker 80-120. Moreover, the VW costs $67k whereas the Equinox comes in at $10k less. You can also buy a lower spec version of the Holden with the same powertrain (LT) for $44k. There's bang for buck going on here.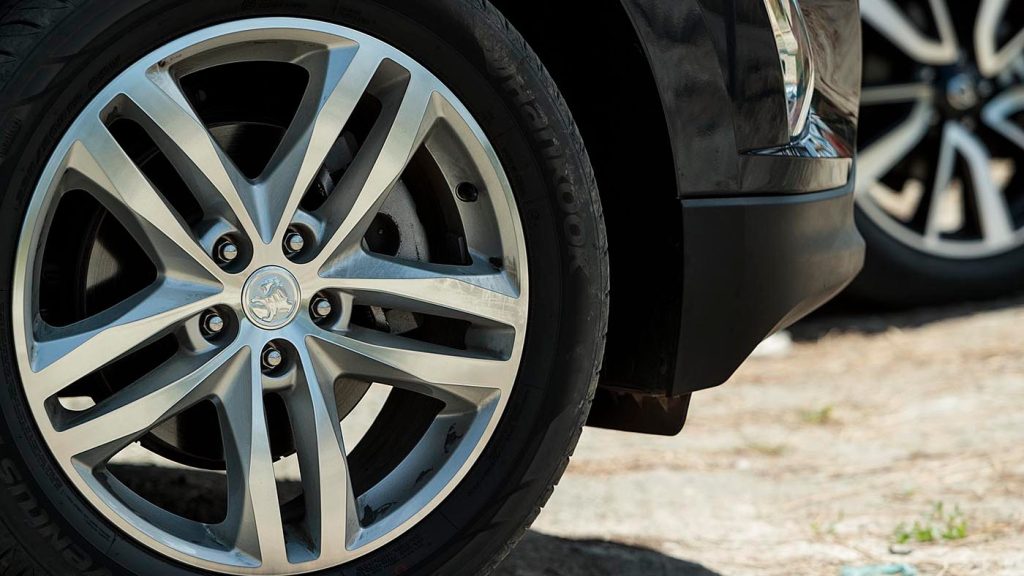 The nine-speed auto certainly helps get the best from Equinox. There's something rather quaint about a modern vehicle with no engine modes, adjustable suspension or paddles, just an odd +/- rocker switch on top of the gear lever, aimed more to stop the engine hunting when towing rather than as an alternative to paddles. But the auto copes awfully well on its own; just add the right amount of throttle pressure and it responds appropriately.
There are a few suspect aspects to Equinox, though some of these are subjective, like styling. The front is nicely aggressive but there's a bit of a rear end disconnect, like the aft part is grafted on. And the interior, like Captiva's, is a hard plastic fest. You can't level the same accusation at the X-Trail, most of its clearly visible finishings in better quality soft plastics. And as a whole it is more aesthetically pleasing, both sides of the glass. The X-Trail shows its age with a too-small, low res centre screen.
Functionally, both are decent examples of the breed, with easy split folding, not quite flat in either case, powered fifth doors and with hidden compartments beneath the floor, the X-Trail's good for wet or dry gear. Accommodation in the rear is slightly better for the Nissan, with added head and legroom.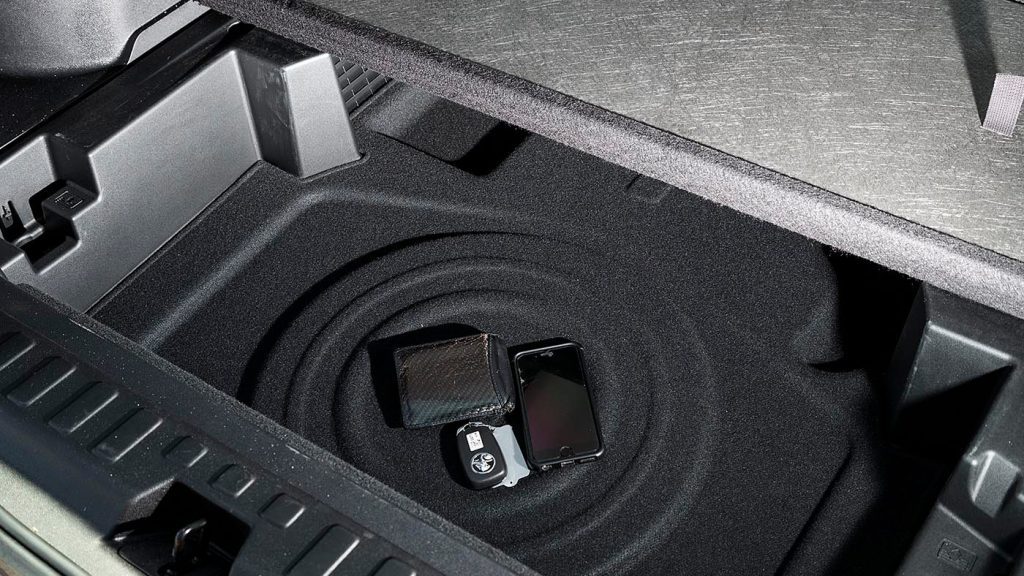 Moreover, its rear seats slide fore and aft, whereas those in Equinox are fixed. Both however, have flat floors, which makes the middle passenger's ride more bearable. For load space, X-Trail evidently swallows 565-945L of stuff, the Holden 846-1798L, clearly calculated differently, presumably the former to the window, the latter to the roof. For towing, the AWD Equinox is capable of hauling braked loads of 2000kg, while X-Trail, with a CVT, comes in at 500kg less.
In terms of a drive experience the GM product rides on a new chassis, and would run circles around the old Captiva, even if they're large ones because both this and X-Trail have city-unfriendly turnarounds. We were pleasantly surprised at how well Equinox threads a path down twisting seal roads, aided by passive torque vectoring. It doesn't lean too much either, and the steering feels natural, without the all-too-common digital weighting blues. It's not especially talkative, but then what is in the class?
If anything, the vehicle's capabilities are a bit too good for its rubber, the Ventus Prime 2s squealing their discontent in the dry even before the ESP light begins to flicker. We appreciated the work done by Holden in setting the vehicle up for local conditions, its handling and ride mix really well judged.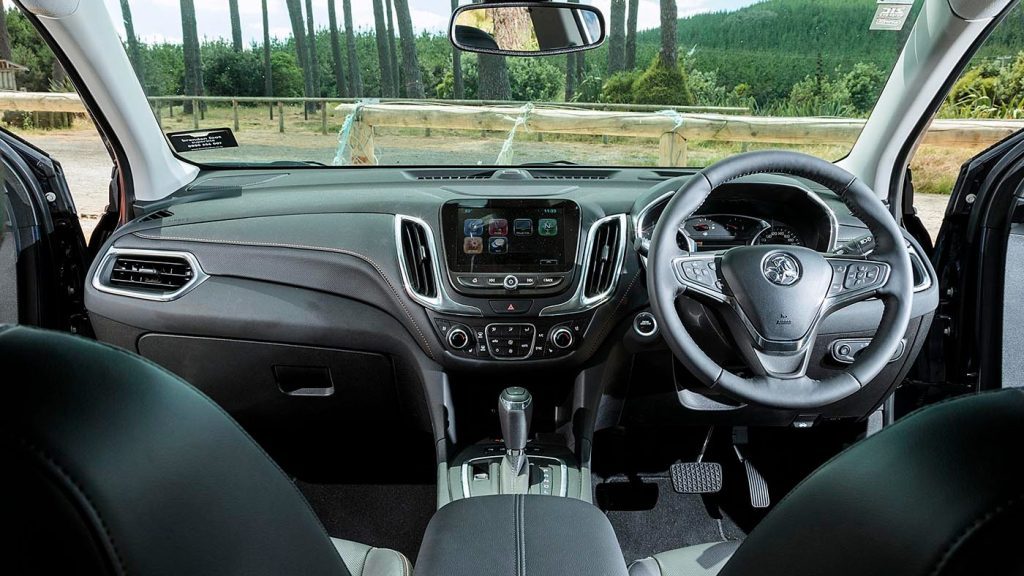 It's quiet on the go too, perhaps in part the result of noise cancelling technology (detects hum and engine noise at high revs, and produces sonic countermeasures through the speaker system). We recorded average in-cabin SPLs of around 70.5dB but then so did X-Trail. Other features in Equinox that are new to Holden include wireless phone charging, a gesture control tailgate, ventilated front seats and rear seat heating, and the dual panoramic sunroof.
Having driven the Equinox we jumped into the X-Trail the following day, and this proved roughly as effective over similar terrain, also with a form of torque vectoring. Performance from the naturally aspirated mill pales by comparison but that's expected.
In terms of specification, the pair is almost identical. The LTZ-V is the top range Equinox, and costs $57k which compares with $53,290 for the X-Trail Ti. Given the added performance and the slick nine-speed automatic in the Equinox, most would probably bridge the price gap happily, even if active cruise isn't on the menu where it's present on the Ti, along with a stop and go function. Instead the Holden makes do with whole mess of warning systems that forewarn you of hitting something by activating a vibrator in the seat base. It's alarming to begin with but you soon get to enjoy it, er, get used to it. Unfortunately it's a bit hyperactive, and roughly two out of about every three activations are false positives.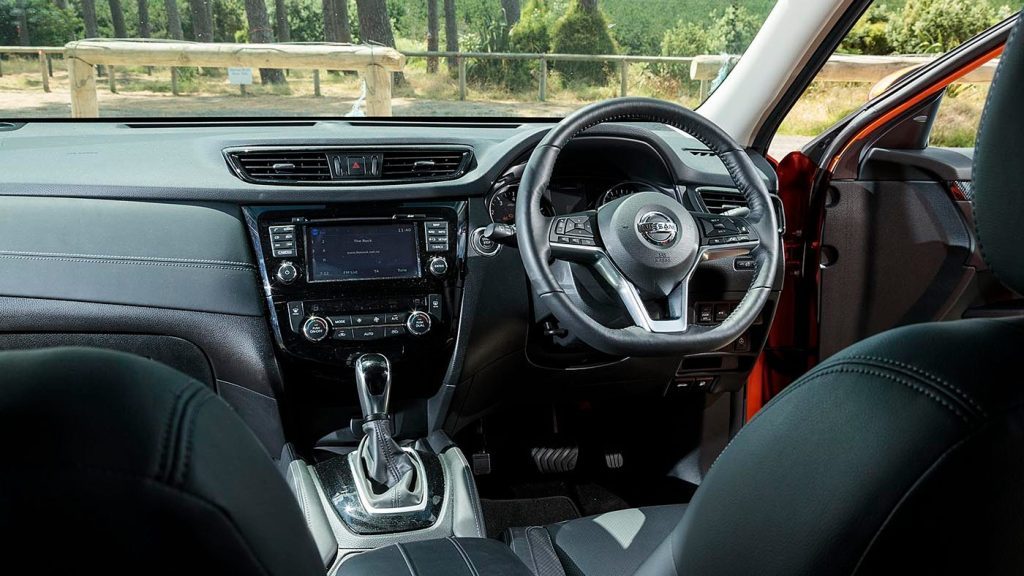 The Equinox has an electronic parking brake, much superior to the foot-activated item of the X-Trail. However, the left foot rest of the American vehicle is a stretch compared with the gas pedal, so you find yourself sitting a bit awkwardly where both are better spaced in the X-Trail. The Holden has a couple of USB ports in the back, and a toasty wheel for those harrowing winter days, also common to X-Trail. Up front Equinox has a well integrated sensibly sized centre console screen that shades the too small, low res item of the X-Trail, rendered even smaller by its split screen view but the bird's eye view camera is appreciated.
The top of the line LTZ-V model gets plenty of safety and convenience kit. Regarding the former, there are six airbags and two Isofix fittings, autonomous braking and forward collision alert, along with a tailgating indicator, lane departure and lane keeping, and blind spot monitoring with RCTA. Figure also on autodipping headlights and a recently awarded five-star ANCAP rating.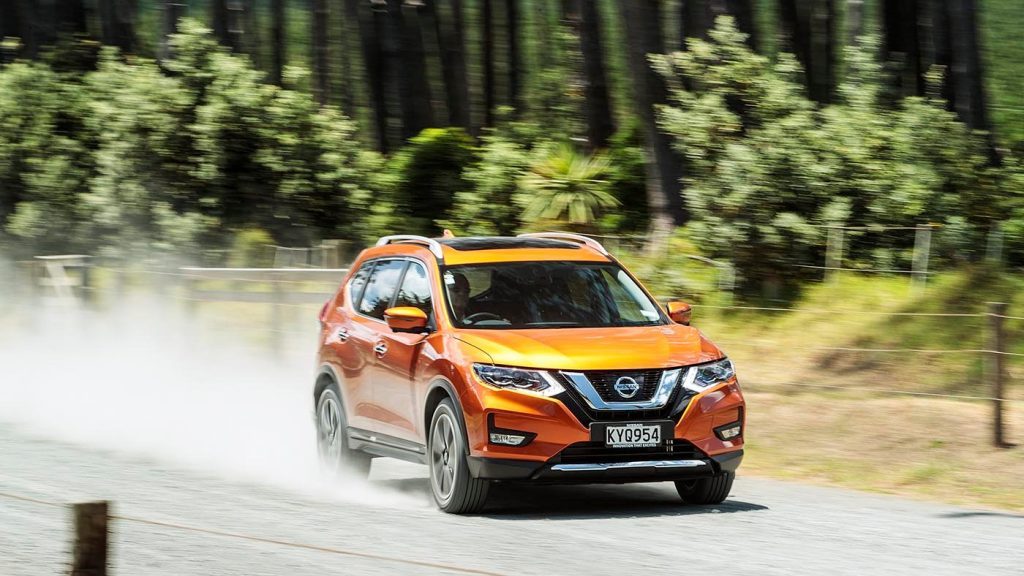 Convenience items include front and rear parking sensors, dual zone air, hi-def rear view camera with guides, self parking for the incompetents, wireless phone charging, a larger eight-inch central screen, 19-inch alloys, remote start, LED headlights, and embedded satellite navigation. There's also a premium Bose sound system, and MyLink infotainment with Apple and Android phone connectivity. We appreciated that the doors fully cover the sills, which prevent messy trouser legs during wet weather. Rounding out the list are leather upholstery, a dual panoramic sunroof, and comfort entry with pushbutton start.
One final thing; Equinox has a loud warning bong at start-up that had us baffled for a time, until we discovered that buckling up before starting the engine mitigates the issue.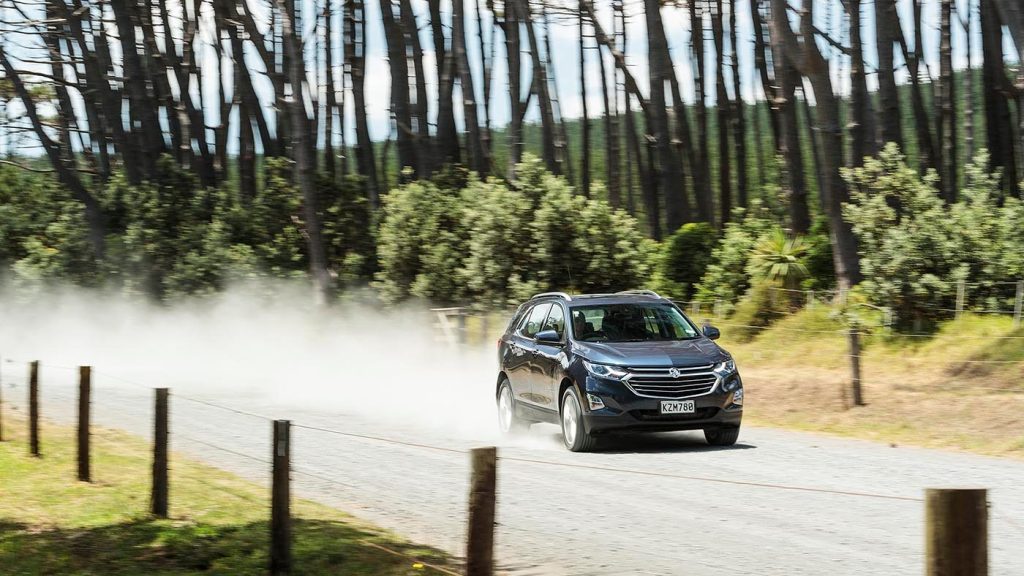 All new Holdens now come with a three-year warranty that includes free servicing, and roadside assistance in that timeframe. It's a bit more expensive than the Captiva was, but Equinox is a decent step up on it in most of the areas we'd deem important, and also edges the X-Trail here.
| | | | |
| --- | --- | --- | --- |
| Model | Holden Equinox LTZ-V | Price | $56,990 |
| Engine | 1998cc, IL4/T, 188kW/353Nm | Drivetrain | 9-speed auto, AWD |
| Fuel Use | 8.4L/100km | C02 Output | 196g/km |
| 0-100km/h | 7.0sec | Weight | 1735kg |
| | | | |
| --- | --- | --- | --- |
| Model | Nissan X-Trail Ti | Price | $53,290 |
| Engine | 2488cc, IL4, 126kW/226Nm | Drivetrain | CVT, AWD |
| Fuel Use | 8.3L/100km | C02 Output | 192g/km |
| 0-100km/h | 9.83sec | Weight | 1630kg |