Peugeot has reimagined its new 5008, no longer a dowdy MPV and it lands as a spunky seven-seater SUV. Does it have the substance to stand out in the crowd?
Anyone remember the last 5008 from Peugeot? Thought not. The previous number was a Eurocentric people mover and as sensible as MPVs are, no one here wants to buy one as a new vehicle. We are not the only market that prefers SUVs to people movers, and with Peugeot now taking a wider view in its product planning, looking further afield than down the Champs Elysee where it's headquartered, the 5008 for 2018 is defined as a seven-seater SUV. Given this is a new concept for the French, have they got it right?
If you're thinking this looks like a stretched 3008, well you're right. Using the same EMP 2 platform, the 5008 gets a stretch job and is 196mm longer overall than the five-seat 3008 with 165mm added to the wheelbase. This sees it gain bigger rear doors for better access to the cabin where you'll find ample leg room and three separate seats. More sheetmetal has been tacked on to the rear with the roofline extending to a less rakish tailgate to give those in the third row more head room, and there's more boot space too. So it's a bigger, more practical 3008, and though it doesn't look quite as sleek, crucially, it's not going to be perceived as a people mover.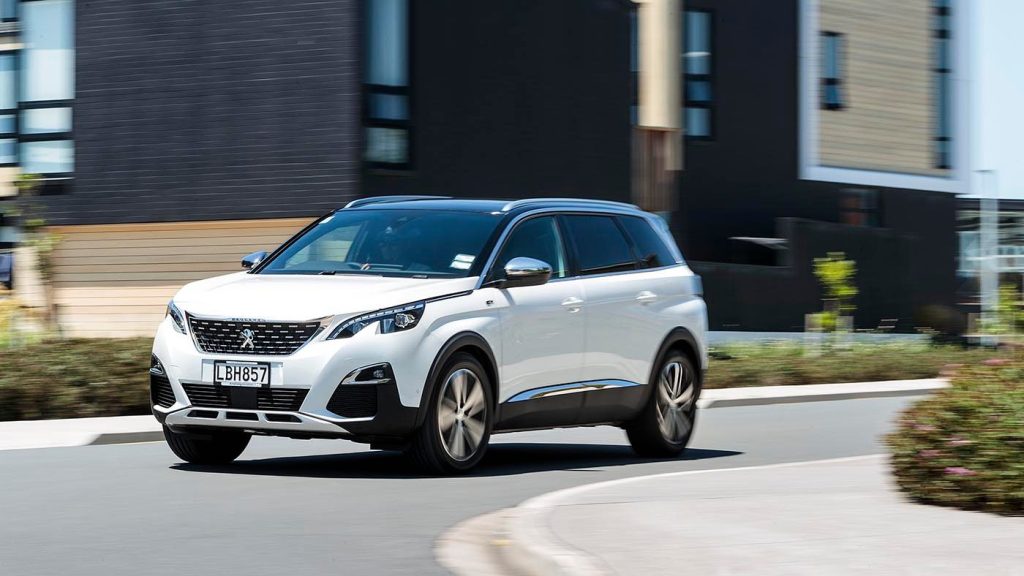 It's on sale here now, starting at $47,990 for the Allure and this GT model is $10k more. The Allure uses Peugeot's 121kW/240Nm 1.6 turbopetrol with the six-speed auto and, like the 3008, 5008 is a front-drive prospect only. As in the 3008 range, the 5008 GT variant also uses the 133kW/400Nm 2.0-litre turbodiesel, again paired with the six-speed auto.
Standard stuff includes full length curtain airbags, blind spot monitoring, lane departure warning, AEB, parking sensors front and rear and a back-up camera. Peugeot's configurable digital dash and eight-inch touchscreen infotainment system feature in both models and come with sat nav and Apple and Android smartphone linking, dual zone air, smart key and a wireless chargepad. Specification differences see the GT add a few advanced safety features such as adaptive cruise, forward collision warning, improved AEB (operable up to 140km/h), self parking and front and rear cameras.
It also gets 19-inch wheels (Allure has 18s and Peugeot's Grip Control, a traction control system to assist progress in slippery conditions) and Alcantara trim, the driver's seat with massage function, lumbar support and electric adjust while Nappa leather is an option. There are full LED lights, a powered tailgate, and added exterior and interior bright work to mark it out as the top model. A three-year/10,000km warranty is standard. We can't think of anything significant missing from the list; there's even mood lighting, high beam assist and puddle lamps projecting the Peugeot lion. So it's well equipped at a price putting it right amongst the key competitors like high-end Kodiaqs and Santa Fes, though the Allure asks more than the likes of X-Trail ST-L and CR-V.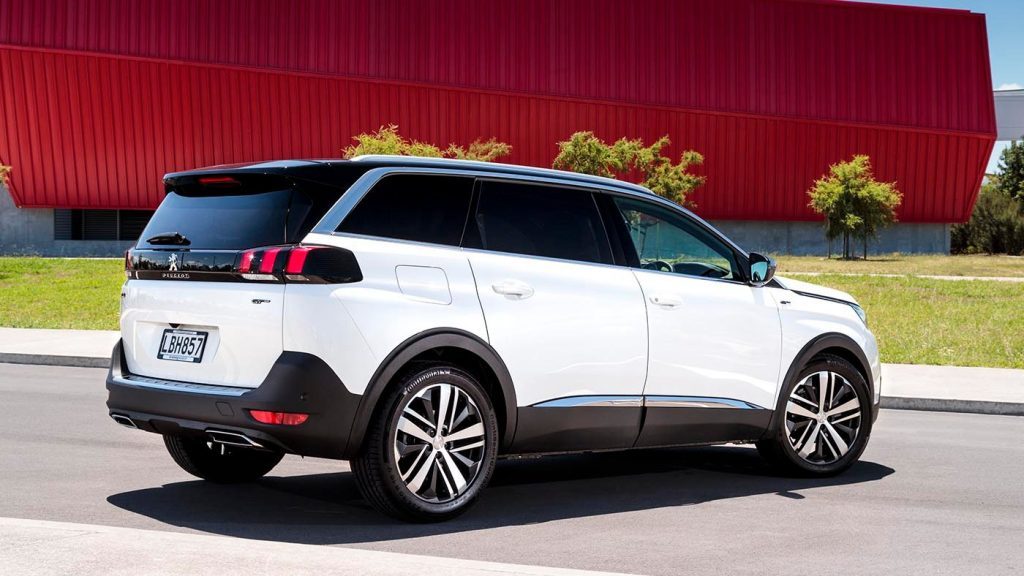 Peugeot is keen to push the 5008's in-betweener SUV sizing; it's not as hulking as Highlanders or CX-9s. In fact it takes up less road space than a Mazda6 sedan, being 224mm shorter and just 4mm wider. It's claiming class rights for boot size, measured at 702L, thanks to a low-set, flat and wide space with good length. The load height is quite low, which some will appreciate, and the tailgate doesn't rise up too high either, good for small garages, but even those of average height will have to duck under it when loading up.
The impressive boot space is possible thanks to the ultra-compact nature of the sixth and seventh seats. These can even be removed completely. We aren't sure why though as this only creates extra underfloor storage rather than significantly increasing the boot volume. While the seats can be removed, the anchor points and seat belt buckles remain in place, but as photographer Gasnier says, 'it's French, it doesn't have to make sense'. (He's British by birth so there's centuries of antipathy there.) The boot floor itself is a little flimsy as you need to first fold this over on itself to get at the third row, but the seats pop up easily enough, and the removal process is straightforward, aided by the lightness of the chairs.
As to seating space, those in the second row can stretch their legs out and the recline function adds a little more lounging comfort while also affording more headroom as this tester was fitted with the glass roof which eats into headspace. The three individual seats all slide on rails, and fold down flat easily enough, though we still managed to jam a finger between the seats as they sprang forward so watch your digits. There's a flat floor so three across is doable, but lacking the ultimate width of a full-size SUV, meaning adult trios will be snug but little ones will fare better. And it's a kid-only zone in the boot, both the access and legroom lacking for full-size types.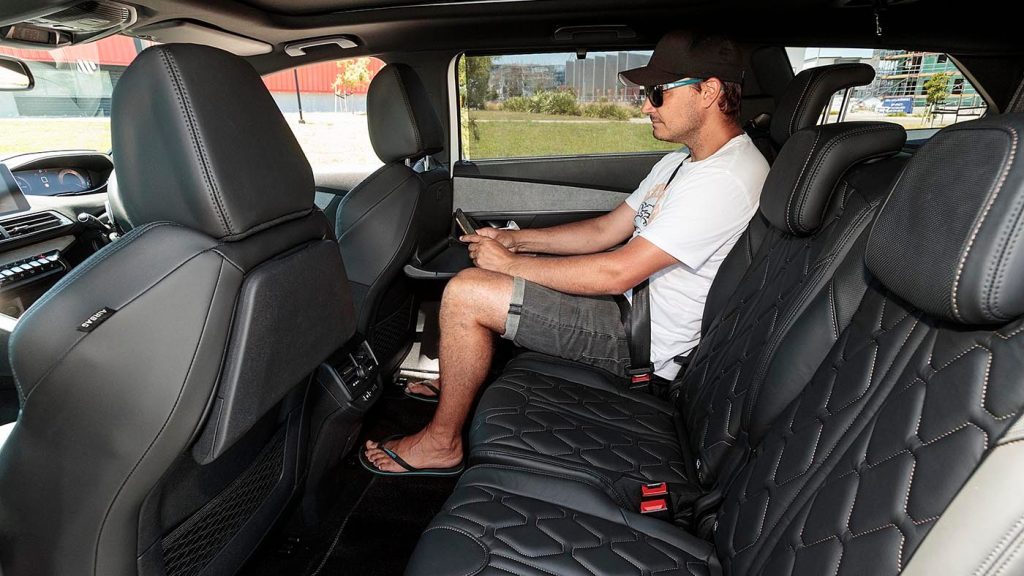 For those who will be ferrying kids things like window shades, tray tables and three sets of Isofix points will be appreciated, and the little darlings will love stashing mum's things in the secret hidey holes under the floor. Though there could be more cupholders and charge points, the seating layout is versatile with all sorts of configurations to accommodate loads and people, including flipping the front seat forward for long loads, like your old Malibu.
And how does it go on the drive to the coast? Guess you wouldn't be surprised if we told it was kind of like the 3008. With the added wheelbase it's not as lively in the turns but the added stability seems more appropriate here. The ride on the 19s gets a pass mark. Only the short, sharp bumps are really noticeable but it doesn't quite have that long-travel, soaky suspension Peugeot fans of old might expect.
There is road roar over coarse chip seal at 100km/h too but the generous swags of Conti rubber plant it well in the bends, the inevitable understeer building progressively and easily managed, much like most in the class. The torsion beam rear end isn't prone to wander around over the bumps so the steering is accurate, if overassisted. It's when you're in the bends you wonder about the compactness of Peugeot's wheel in something like this. Sometimes you want for a bit more leverage and resistance but otherwise it promotes a relaxed driving position for commuting.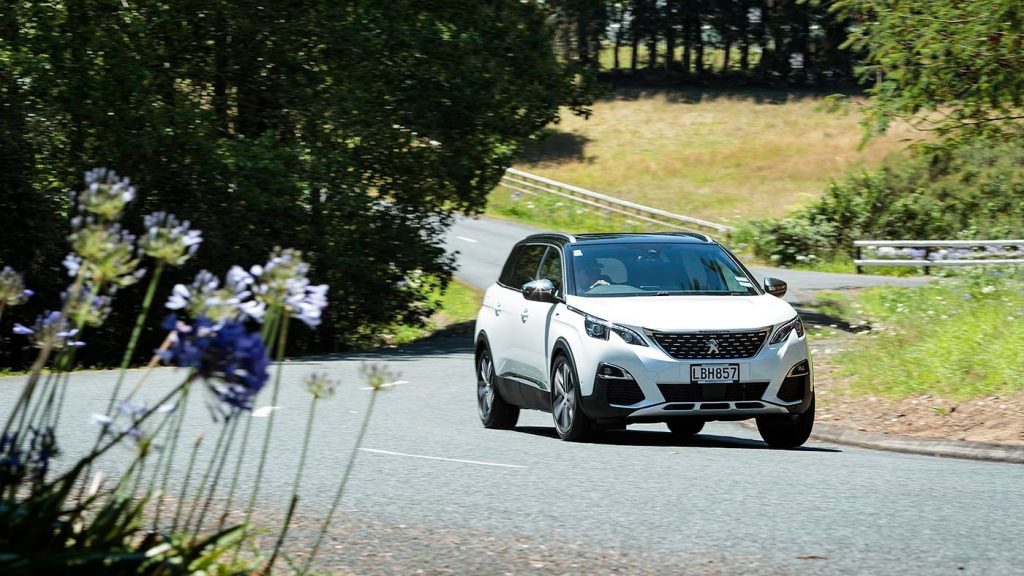 The Sport button firms the action at the wheel a notch while the auto becomes more enthusiastic as well. Not sure about the synthesized engine note however. The oiler is rather hushed otherwise and full of go from 1500rpm, revving with an unGaelic-like enthusiasm for work towards 4500rpm where it remains strong. There is the occasional torque steer and wheelspin when you overindulge in the lower gears but otherwise the drivetrain performs well. While rated at 4.8L/100km, expect eight point something in reality.
Commuting is a relaxed affair where the quick steering and light assistance are appreciated, there's good outward vision and the auto and diesel work harmoniously with no waiting for gears or for the turbo to do its things. And with the air con working overtime in the summer heat, the infernal stop/start system seldom kicks in. We did find the blower to be a bit noisy when cranked up past 50 per cent but the AC gets the cabin icy cold. Given the dimensions, turning circle and cameras, parking is easy too.
Like the outward appearance, the interior is swish, particularly with the upgraded leather trim, the soft Nappa leather fancified with elaborate detail stitching. This and some of the other interior decorations are bit like glitter boobs, pleasing to the eye though some just can't resist the urge to touch and passengers often paw at the surfaces and buttons. Not only is the interior visually pleasing but also functional, the controls, displays and systems all easily fathomable, which is not always a given in French cars, while the build and quality are vastly improved on previous efforts.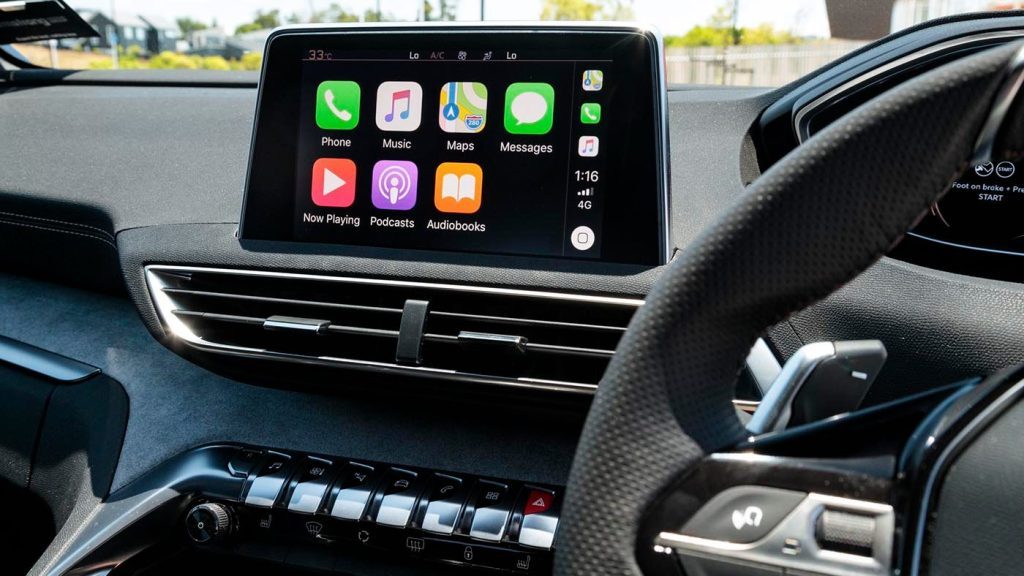 The 5008 has gone from unloveable MPV to a competitive and attractive seven-seat offering in this new generation. Much like the 3008, the design is a draw card, but there's added practicality here, for not a great deal more outlay. It's yet another choice in the land of seven seaters, and worthy of further inspection if you don't need or have the space for a full-size SUV.
| | | | |
| --- | --- | --- | --- |
| Model | Peugeot 5008 GT | Price | $$57,990 |
| Engine | 1997cc, IL4, TDI, 133kW/400Nm | Drivetrain | 6-speed auto, FWD |
| Fuel Use | 4.8L/100km | C02 Output | 124g/km |
| 0-100km/h | 9.34sec | Weight | 1723kg |