Now into its second generation, the RS 5 coupe adopts new chassis and powertrain tech, making it sharper, quicker. It's also better specified and less expensive. Is there a catch?
People are demanding better value nowadays, and the car companies are obliging. Back in 2010 when we compared the BMW M3 with the RS 5, both cost around $190k. Expect to pay less for Audi's second-generation model, much less as it happens ($152,900, $20-$22k below what an M4 or AMG C63 Coupe costs), and this version is quicker, as well as being better specified, particularly on the safety front.
It's bigger on the inside too, though don't get too carried away there. Entry into the rear seats remains undignified for adults, even if compact examples do actually fit back there now, providing they aren't too demanding of head room. And there's only a pair of passengers, mind. Overall length (4723mm) is greater by 74mm, some of it ending up in additional rear seat knee room.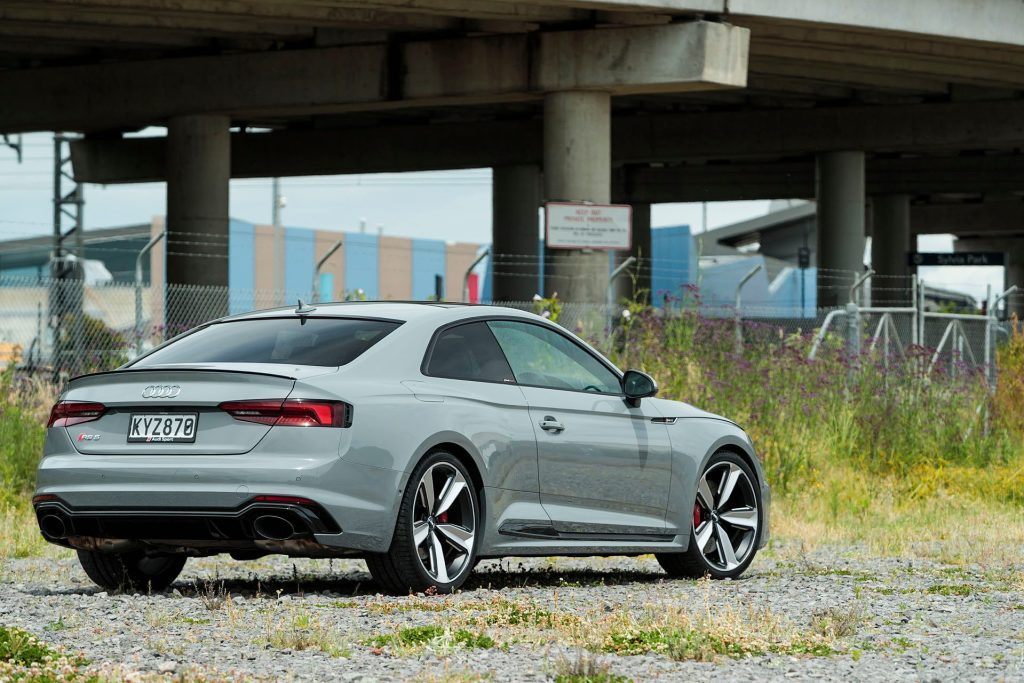 Audi hasn't messed too much with the external design which was a strength of the original. In fact this new one is even smarter, with an enlarged single frame grille, a wavy swage line, pumped guards that extend 15mm further each side, and special aero aids (air slots) up front. There are matching faux vents on the rear. Humongous oval tailpipes sit either side of a substantial diffuser, and therein lies another substantial difference; this don't sound like the original.
Like the S5, the RS 5 has undergone an engine change, only this is more momentous, ditching the 4.2L atmo V8 for a much smaller twin-turbo V6. The idea is that with peak torque developed lower, it revs less and sucks less fuel, the theoretical average dropping from 10.5 to 8.7L/100km (197 vs 246g/km).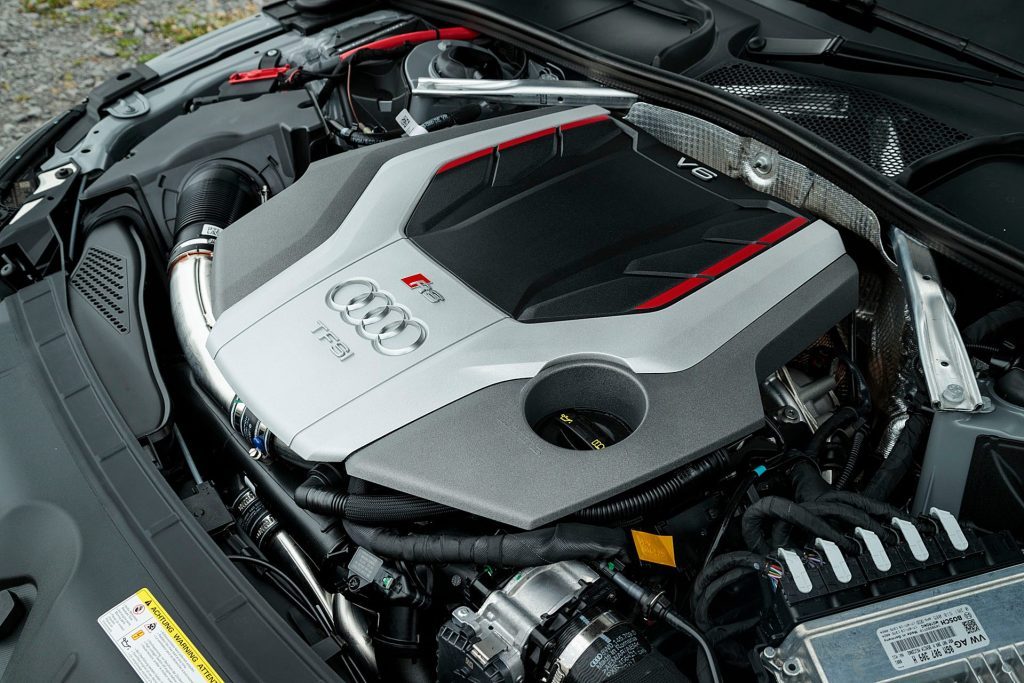 Recall that the V8 of 2010 produced peak power of 331kW at a howling 8250rpm. Nothing much has changed in that regard, at least for the former figure, still a rampaging 331kW, only now it arrives at 5700rpm. With the parallel turbos it's the torque that beefs up considerably, by 170Nm, topping out at 600Nm from 1900-5000rpm. That compares with 430Nm previously and that only became available at 4000rpm.
The V8 made a memorable noise, no denying. The latest isn't as exotic nor as brash, the turbos hushing the throughput of spent gases. However, the free-revving 2.9-litre V6 hums a rather tasty tune of its own, and it's certainly richer when the S for Sport transmission mode is activated, the sports exhaust adding dB, or when Dynamic mode is chosen.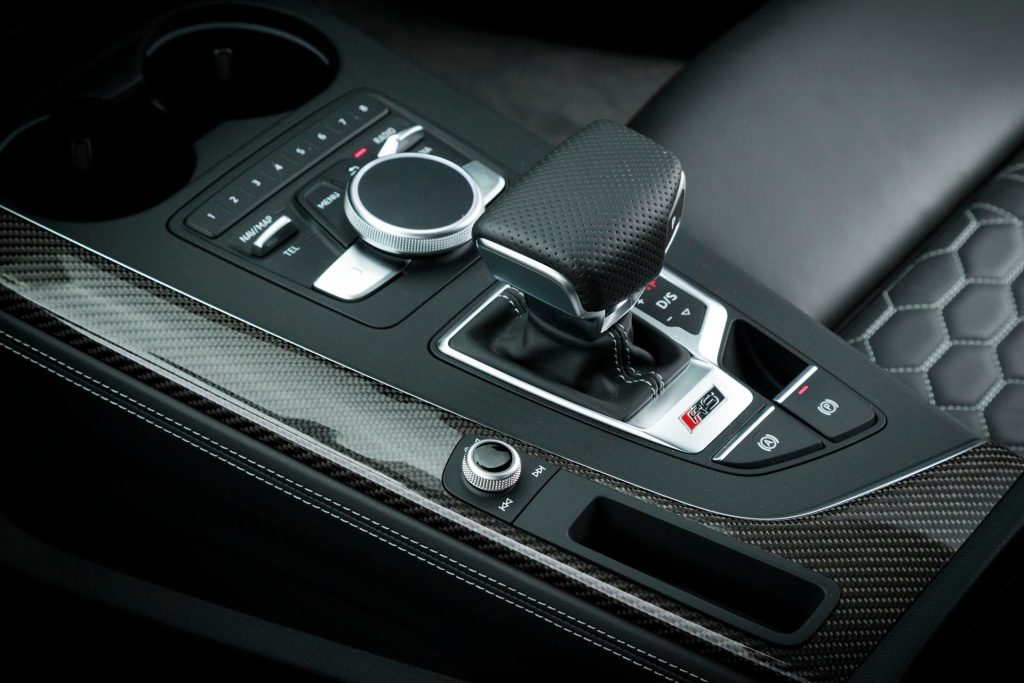 On that, this is clearly designed as a left hook model, for things like the Drive Select buttons and the MS gate are all ergonomically awkward to reach. Even the pushbutton starter is a bit of a stretch. The MS gate on the shift lever is pointless here too, not only because it's closer to the passenger than the driver's side, but also because it's incorrectly oriented. Or put another way, orientation is opposite to that of BMW's. Why? Just because; Audi and BMW have history. Never mind though because the standard paddles are still in place and for once that's something the car companies do agree upon, left paddle down the 'box, right up.
So what else is different about the new RS 5? Well, the most significant aspect is the change from a seven-speed twin-clutch transmission to an eight-speed auto, because the former can't handle the added torque of the twin-turbo engine, and the Group's eight-speed twin-clutcher is reserved for Porsche at this point. Given autos generally don't shift as quickly as twin-clutch designs, you might think that acceleration is relatively unchanged, the extra torque compensating for the slower shifter. You'd be wrong about that though.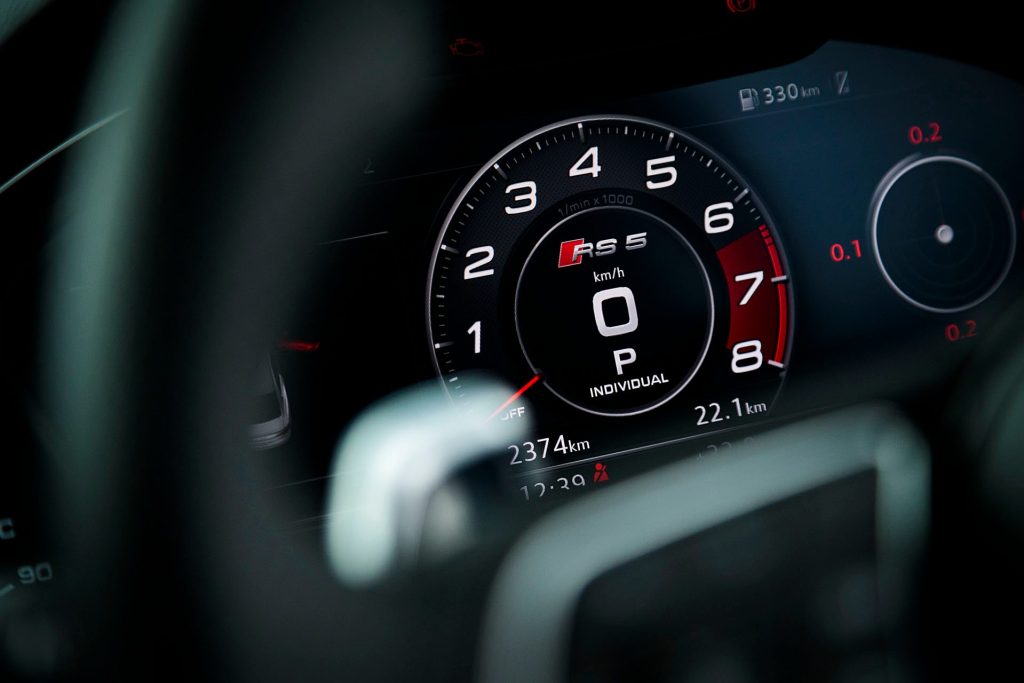 The eight-speeder, a development of the S5's, is a lightning-quick cog swapper. Moreover, the latest version of the RS 5 has gone on a diet, thanks to its new MLBEvo platform shared with Panamera, only the diet wasn't an especially effective one. Audi reckons 60kg has been shed from the model, half of it in the engine swap. Previously, the RS 5 scaled up at 1807kg, this time a trimmer 1777kg, down by half of what was quoted. Still, it's movement in the right direction. The weight split still isn't ideal though, with 59.4 per cent of weight over the front axle. Would this be relevant on the drive? It certainly was last time we drove the RS 5 which was shown the way by the V8 M3 of the time.
In concert with suspension changes, the CEO of Audi Sport GmbH, Stephan Winkelmann, described the RS 5 as "the GT of RS models". He said "it's a car that can be a genuine performance GT on the one hand, and that transforms into sports coupe at the push of a button." Presumably that's the case for the one with the optional sports differential. For there's still the understeer at the limit that the original exhibited, at least in ours without the active torque vectoring. It's money well spent if you want to extract the best from the chassis, though the downside is that rear tyre wear will likely be greater.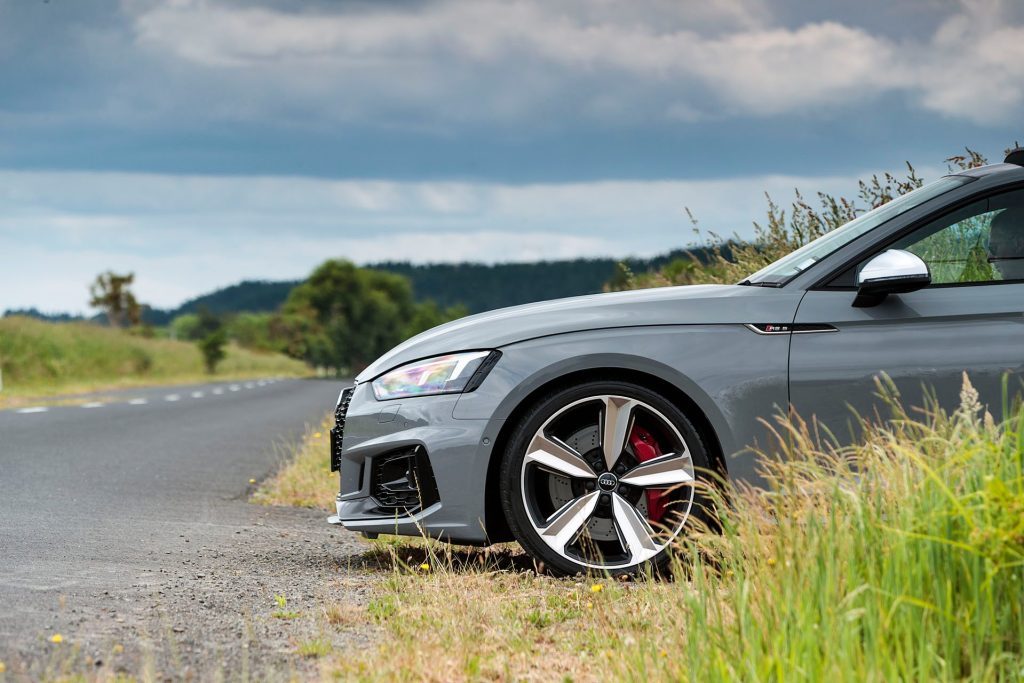 Helping with dynamics is a suspension change. It's out with the trapezoidal link at the rear and in with a five-link design, while the front end has been tweaked compared with the original. Tune is RS sports firm, but there's also adaptive damping using Dynamic Ride Control (DRC). This uses diagonally linked dampers with central valves that regulate or equalise the oil flow. Advantages of the system include better control of pitch during braking and acceleration, and improved roll resistance. Moreover, Audi claims a better balance of comfort and dynamics with the latest generation of DRC. Even in the Sport setting we felt the ride quality wasn't unfriendly towards occupants, and in Comfort it's just that.
Getting the power grounded is the latest quattro drivetrain, its 40/60 front to rear split variable to as much as 15/85, while torque vectoring by brake helps curtail understeer. Through twisting roads we plied the potent brakes, with six-piston calipers up front, take a bit of a beating; they work to help the car round up into corners and sometimes smoke when you stop for a break.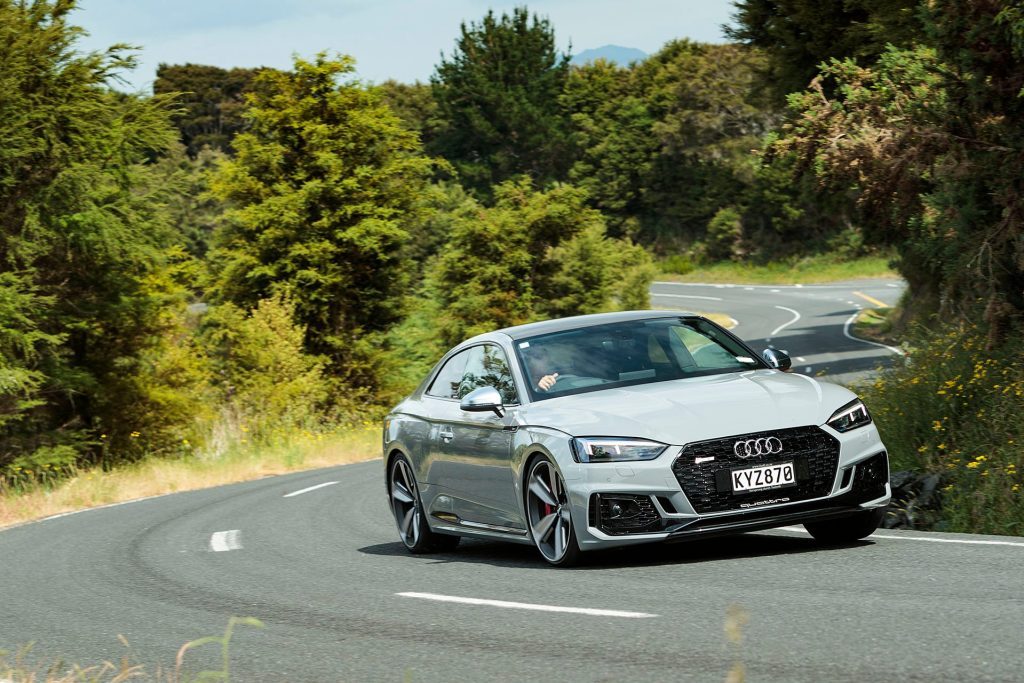 How's it go then? The drama of the original is retained, sounding rather racy, especially when wound out in the closely stacked lower gears. For the engine spins to 7000rpm thanks to the relatively short stroke dimension for a turbo's mill, and the transmission flicks through the cogs with oiled precision. The exhaust barks nicely on upshifts too.
Can this thing hike? On my word, can it? Think neck jarringly quick. Despite not having launch control per se – it still zips out of the blocks with 3500rpm showing – it comfortably aced its 3.9sec 0-100 claimed figure, upshifting almost as quickly as a twin-clutcher. That's quite an improvement on the 4.6sec time it registered in 2010, and it's around 0.8sec faster than rival M4 according to our figures. Eight gears help ease fuel use too. Even at its worst we couldn't coax it beyond 18L/100km and most of the time it was down around 11-12L/100km.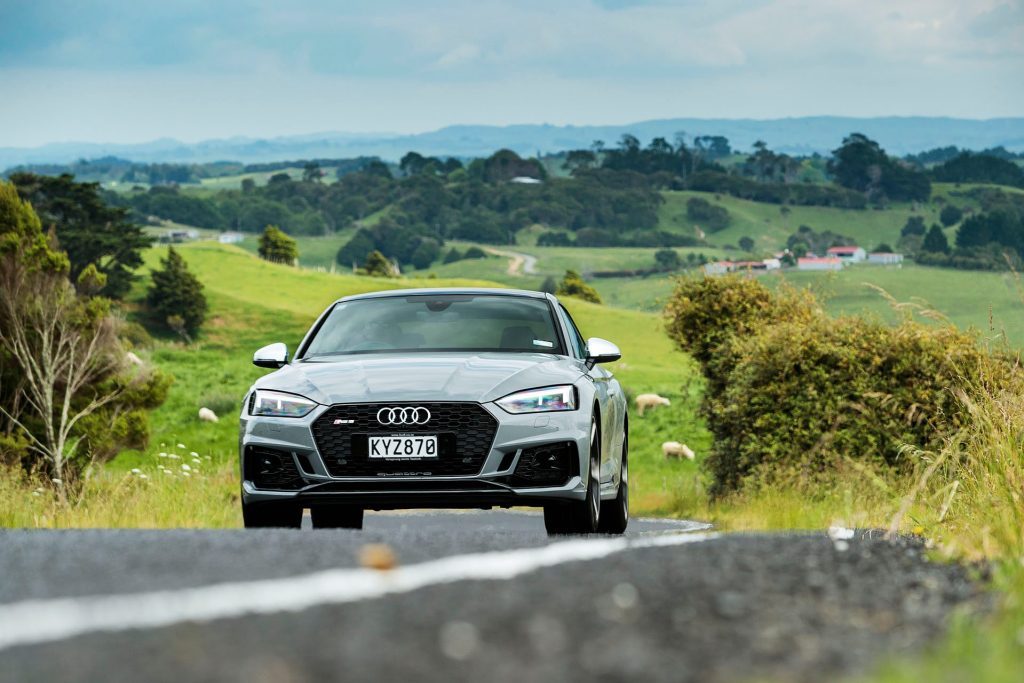 So in a straight line this is a rocket. We imagine it would run into its 250km/h governor fairly hard and you therefore appreciate the dual speed readouts, one centrally in the middle of the tach, and one just above in the head-up display. Yet it's also surprisingly refined on the go. There's never a whole mess of exhaust or engine noise making its way through to the cabin. A saving grace is the strangely absent road roar; we recorded a mean SPL of around 72dB in cabin, pretty respectable given the ultra-low profile PZeros beneath. Guess that's what Winkelmann's GT comment was all about.
However, while there's masses of mechanical grip the handling isn't especially adjustable, despite a variable torque split. Likely as not it would round up into corners better with the active torque vectoring rear diff. As it is though, this displays either neutrality or understeer when pushed, and it doesn't react much to a lift off either, presumably because of its frontal weight bias. Best then to set entry speed exactly and blast out early, at which this is masterful.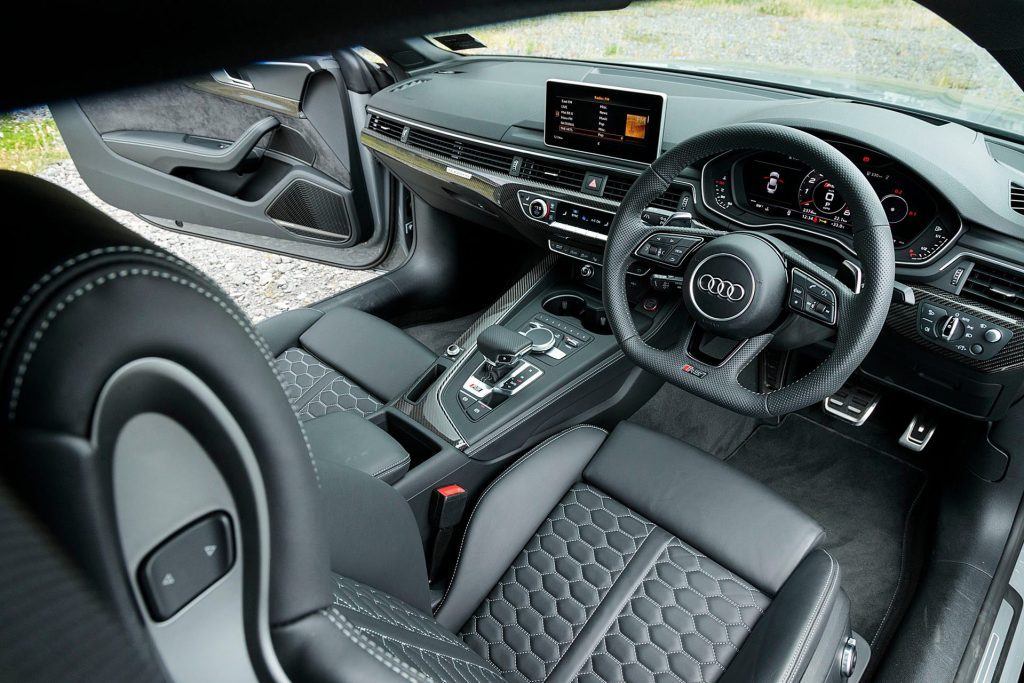 There's no doubt value has improved over the original. You want for little here. The cabin features powered, heated and massaging sports seats finished in Nappa leather, Isofix, three zones of air, Audi's Virtual Cockpit with G meter, B&O 3d sound, comfort access and start, and MMI nav plus relayed on an 8.3-inch high res screen. All the active safety gear is present, along with matrix LED headlights and a 360-degree camera.
This then is a comprehensive update of the original RS 5, and is a vastly improved value proposition, especially against its close rivals. It's qualitatively similar to drive to the gen 1 edition, only even better tied down and substantially quicker down the straights. If you're a quattro and RS 5 devotee, it's a definite step up. But for dynamic purity it's hard to overlook the M4 mauler from Munich. And if you're a practical type, the RS 3 Sporthatch has a pair of extra doors, more useable load space and is just a poofteenth slower but costs $50k less. However, it's not anything like as stylish as the RS 5, for which you pay a premium.
| | | | |
| --- | --- | --- | --- |
| Model | Audi RS 5 Coupe | Price | $152,900 |
| Engine | 2894cc, V6 TT , 331kW/600Nm | Drivetrain | 8-speed auto, AWD |
| Fuel Use | 8.7L/100km | C02 Output | 197g/km |
| 0-100km/h | 3.79sec | Weight | 1777kg |