The new Elfin MS8 Clubman is as light as a butterfly, yet stings like a bee. With a 245kw Holden v8 for motivation, this Aussie sportster can out-punch a supercar.
An Elfin is meant to be a small, spritely creature possessing magical powers. Well, in the case of the MS8 Clubman, it's grown a beard and muscles, stuck a slab of beers under one arm, and gone out on Friday night hunting she-Elfin. In other words, this is one very grown up little car! It's loud, it's fast, and it's challenging to drive at pace. It might look a little like a Lotus 7, but this fella's packing a V8 engine and a power-to-weight ratio in the supercar leagues. Acceleration? Try a 4.7-second 0-100km/h and an 80-120km/h TED of 2.3 seconds. Want to go through some back issues and find out what can do better? I'll shortcut it for you: in the April, 2004, the Porsche 911 Turbo and Ferrari 360 Modena F1 both undercut it by a few tenths to 100km/h, but neither could match its TED. Nor could they match its incredible power-to-weight ratio of just 3.57kg/kW. Yep, very grown-up. You might remember the Clubman and its sister-car, the Streamliner, from the Melbourne International Motor Show last March. The two dual-seat sports cars took pride of place on the Holden stand, the lumpy thump of their V8 engines shattering the humid morning air of the annual media day. They were quite simply a sensation, combining modern-retro styling, pure race-oriented engineering, and the 245kW Gen III Chev small-block drivetrain straight out of the Holden Commodore SS. Holden didn't own these cars, mind you, but it contributed plenty of the mechanicals to the project when eager-beaver staff from the styling and engineering departments got involved in their creation as an after-hours project led by former design boss, Mike Simcoe.
That Friday morning, as multiple Bathurst winner and former Elfin race driver, Larry Perkins, blipped the throttle, and Simcoe gave the media the rundown, two men were standing in the background: Bill Hemming and Nick Kovatch. They are the 50:50 owners of the tiny concern that is Elfin Sports Cars. And since the hoopla died down, they have been working hard to bring the dream to reality of building and selling these cars. Not too long after you read this, Hemming and Kovatch should be watching the first two production Clubmans approach completion at Elfin's small Braeside factory in Melbourne's south-eastern suburbs; soon after, they should be nervously handing over the first two sets of keys. By the end of 2005, some 25 buyers should have taken delivery, predominantly of Clubmans, with the first Streamliners being built in the second half of the year.
When Hemming and Kovatch first bought Elfin, their plans were nowhere near as radical and grandiose as this. Really, as race enthusiasts, their primary goal had simply been to save Australia's most famous independent race-car builder from keeling over. Elfin was actually created back in 1957 in Adelaide by Garrie Cooper, a brilliant engineer and more than capable race driver. Out of a modest factory in the suburb of Edwardstown he produced 250 sports and racing cars, over 27 different models, for legendary names in the sport like Frank Matich, John McCormack and even James Hunt, the 1976 F1 world champion, who made a one-off appearance in a Formula 5000 race at Winton (of all places) back in 1978. But when Cooper prematurely left us at the age of 46, so did a lot of the Elfin magic.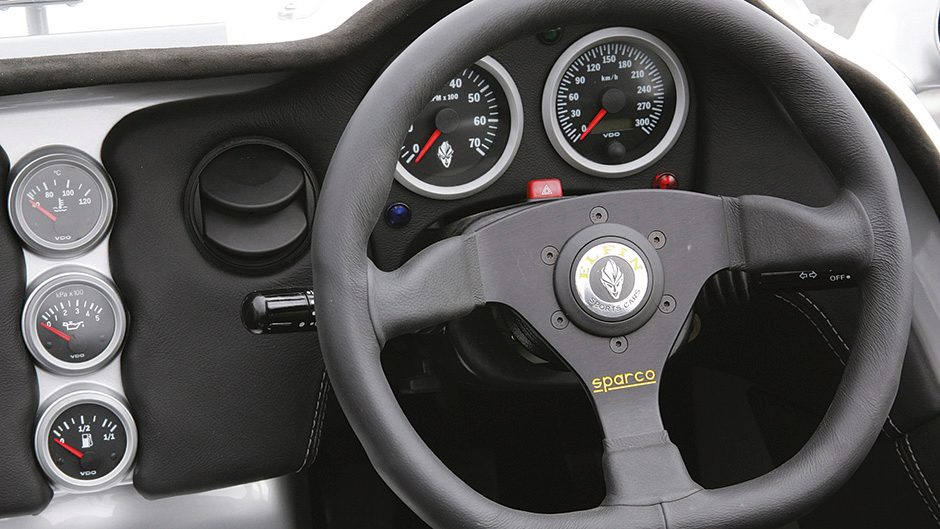 It was struggling badly when Hemming and Kovatch took over in 1998 and shifted the factory to Melbourne, determined to rejuvenate the marque, their first initiative being to revive the four-cylinder Clubman Type 3 sports car. But once Mike Simcoe walked in the door three years ago, all that changed. He arrived anonymously, purely interested in buying a Type 3. He soon revealed himself, and after talking to Hemming and Kovatch about their plans, offered to redesign the traditional Clubman body to give it a more contemporary edge. From this point, the project began to escalate, first with the original four-cylinder engine scrapped in favour of the old Ecotec V6, and then the Gen III V8. That prompted Elfin to decide to design a totally new, square, tube-steel spaceframe chassis to fit within the new body.
Late in 2003, with the Clubman design and engineering project well advanced, the decision was taken to design a modern interpretation of the classic Elfin Streamliner body, tailored to the same chassis. Little more than 20 examples of this enclosed aero-bodied sports car, prized by collectors, were designed and built between 1960 and 1963.
Designed by Kovatch and his chief engineer, Arthur Neill, both cars share fundamentally the same chassis, drivetrain and suspension, draped in GRP panels. The engine, six-speed Tremec T56 gearbox and limited slip differential all come straight from Holden. The Streamliner, with its wider nose, also takes the standard radiator. Suspension is via double wishbones all round, the front pair a sexy chrome moly aerofoil design. Add in Koni coil-over shock absorbers, fully adjustable rose jointing throughout, and Elfin's own uprights, which adjust for camber, caster and toe, and the racing focus is obvious. Steering is via a rack and pinion system sourced from the UK, while the steering column comes from Holden, and the sexy, flat-bottom steering wheel from Sparco.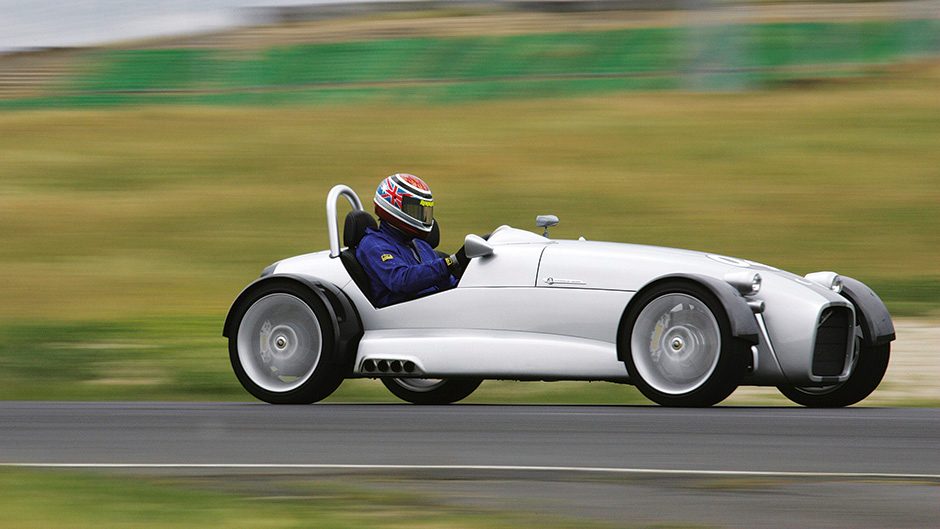 The braking package comprises Holden-supplied slotted and ventilated discs (at 343mm, the front discs come out of the HSV options' bin), mated to Elfin alloy billet-machined six-pot callipers up front and four-pot callipers at the rear. Housing them are 18-inch wheels and, in road-going form, 235/40 tyres. ABS and traction control will provide some artificial assistance in terms of grip on production cars. However, there's no such assistance for us when we get to sample the very first pre-production prototype at Melbourne's Calder Raceway. And, oh joy, it's wet.
But you feel instantly more comfortable when you slide into the car. It is a surprisingly easy fit. People with full-size legs, not only midgets, qualify to drive. You do feel like you're sitting way back but that's an impression that is gone once you are on the move.
Next up is the quality of the interior itself. A beautifully simple design by Holden's Warrack Leach (Max Wolff of SSX concept-car fame did the exterior), there are speedo and tacho gauges behind the Sparco wheel, while three small dials run vertically down the centre of the dashboard, which is covered in black leather. There's more leather on the seats, which feature mesh grates between the panels on the cushion. The backrest is heavily bolstered but due for a re-profile for production. There aren't too many familiar Holden items in the cockpit, but the handbrake is one. The interior is only an entrée to the array of sensory sensations that are about to assail you. Turn the key and the air is filled with a chunky exhaust note that forms an almost physical assault. That's because the prototype is fitted with racing-style side pipes rather than the street-legal items that exit through the rear end. It's so brutal and thick that you expect it to take three-dimensional form and drop in blocks around the car. Bathing in that noise, the expectation is it will be a difficult chore engaging gears, co-ordinating the clutch and getting moving without stalling. But the fact is, it's very easy, reflecting the Commodore origins of the driveline. But once you're up and away, any connection with Holden's staple sedan fades quickly. Get in a straight line and go, and the MS8 leaps like it's been electrocuted, the connection between throttle and rear wheels almost direct. No worries about criticism of the Gen III engine's lack of low-down torque in this application…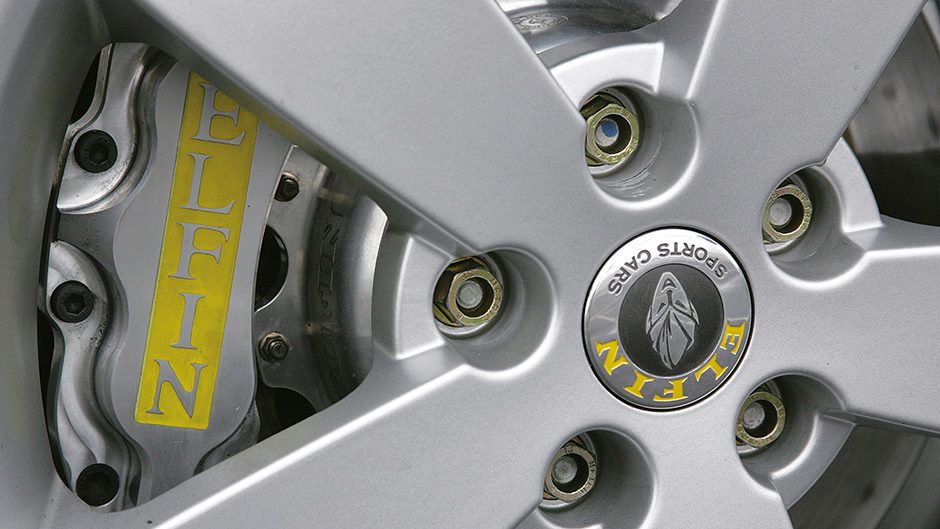 The whole experience is accentuated as your head is buffeted around because the tiny aeroscreen is doing absolutely nothing to deflect wind flow. Just as weird is your right elbow flapping around in the breeze outside the bodywork. It's primal stuff.
Driving it at Calder was an intoxicating experience. On a slightly damp track there was absolutely no drama in inducing wheelspin in fourth gear on road tyres. Provoking the rear-end to move about under acceleration was similarly accessible. Accelerate, step, accelerate, step. Not that we were about to go drifting on a damp Calder with Elfin's one and only running Clubman…
But the 50:50 weight distribution ensures this is no wild and uncontrollable beast, at least in the dry. Instead, it steers accurately and quickly, and delivers plenty of feel in a race-car like fashion. There is no power assistance, which means the steering feels a bit heavy, but in a 10-lap stint it was never bothersome, more part of the he-man persona. You are always aware that there is a lot of power lurking there. It requires a reasonable degree of respect and a little skill from the driver to access the performance potential. The brakes, for instance, take some getting used to. Not because they lacked power – just the opposite – but no assistance meant there was no real modulation or progression: simply whack the middle pedal and get to trust the fact that the car is sucking down hard and fast every time.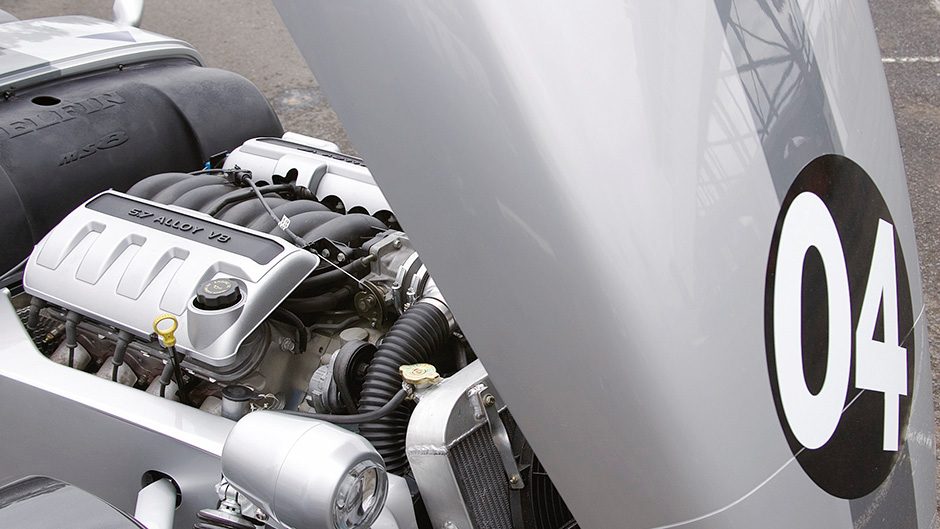 And with 240km/h-250km/h – according to the speedo – easily obtainable on the Calder front straight, there was plenty of need to use them. Aiding that process was formidable engine braking. Heel and toe changes were easy to reproduce, thanks to the well-designed pedal box, while it's amazing what a difference a shorter gear lever makes to the accuracy and speed of changes.
No doubt this will be a great club or Targa racer, but how would all this go on the public street? It would not be everyday transport, but it would unquestionably attract attention with its wonderful combination of modern and classic looks, and certainly deliver massive thrills on something like the Great Ocean Road. And that's the beauty of the Clubman. It is focused and it doesn't pretend to be anything else. Good on it for that. It deserves to be a success simply on the basis of the quality, but also for Bill Hemming and Nick Kovatch as a reward for their determination to keep a great Aussie name alive.
Murph on Elfin
Kiwi V8 Supercar ace, Greg Murphy, drove the MS8 Clubman recently at Calder and came away a fan. Here's what he had to say: "Jumping in it the first time, it was fantastic; it was a really neat little race car. My first impressions were that it was a miniature Panoz. When the Streamliner comes on-stream that will be just like driving a Panoz. You are sitting way over the back axle, engine in the front – it even sounded like it. "First off I drove it on road tyres and, with the torque, it wanted to wheelspin everywhere so it was pretty lively, but I think we could have tuned it to give it a bit more rear grip. But you could drive it pretty easily on the throttle; it was very responsive. "Then we put the slicks on and that changed the balance of the car awesomely. It introduced some understeer…which was a little bit surprising, I wasn't expecting that. Again though, it was very easy to drive and it responded to the throttle very well. You could really throw it around and attack it."
| | |
| --- | --- |
| Model | Elfin MS8 Clubman |
| Price | TBA |
| Engine | 5667cc, V8, EFI, 245kW/465Nm |
| Drivetrain | 6-speed manual, rear-wheel drive |
| Fuel Use | N.A. L/100km |
| C02 Output | N.A. g/km |
| 0-100km/h | 4.71sec |
| Weight | 875kg |