Two wheels good, three wheels better? That's what Yamaha thinks with its Tricity and Niken offerings. Now there's an in-betweener, the Tricity 300. Is it Niken junior or Tricity on 'roids?
First there was Tricity, then Niken and now Yamaha has released the Tricity 300, essentially a big luxo version of Tricity, at a half-way house price. Think of the Tricity 300 as a three-wheeled maxiscooter. It dwarfs the baby Tricity 125 and is also 90kg heavier. Because it can topple over at rest, it has a Standing Assist button. This prevents it from leaning when stopped, so you can sit feet up at the lights, which car drivers behind won't quite believe. Hit the gas again and the verticality device cancels automatically.
Two front wheels confer advantages like better front end grip and stopping power. Another Tricity 300 plus is that it's legally a trike so you can ride it on a car licence. Because it rides like a motorcycle you must countersteer into corners so some motorcycle experience is an advantage.
Bikes like Tricity help to get folks out of five-seaters and onto a more compact conveyance to reduce congestion and emissions. This can lane split like a bike but you need to take care. On the motorway the rear wheel bangs over cats eyes which you feel through the not especially accommodating rear boingers. Up front, however, four fork tubes flatten the bumps much better.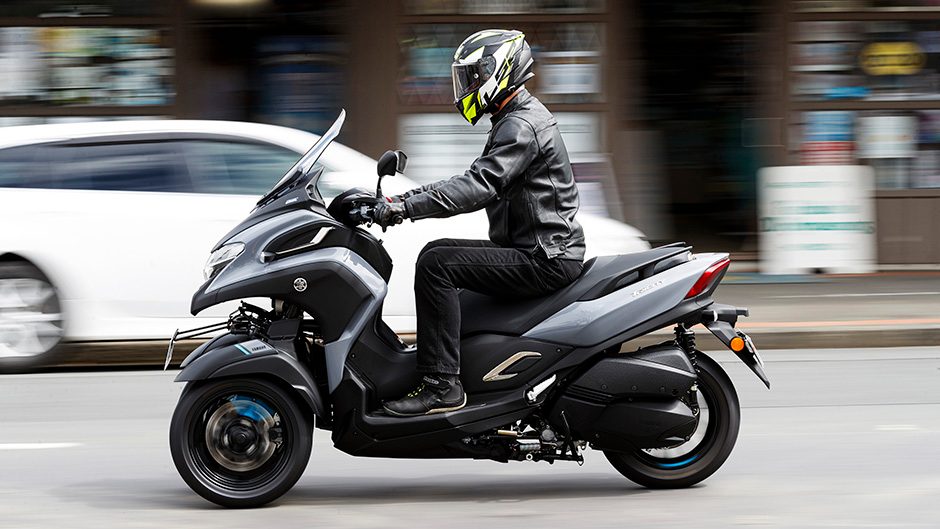 Tricity 300 is priced similarly to the 400-500cc maxiscooters, even if the engine isn't as sizeable (292cc, 21kW/29Nm). Moreover, everything is doubled up at the front adding weight, cost and complexity. The original Tricity, a 125, weighed about 150kg; this is 236kg which weighs upon it literally. It takes 14sec to reach 100km/h, and twice that for an 80-120 overtake. You therefore need to pick passing opps judiciously. But it cruises effortlessly at 100, using 3.5L/100km on the flat, for a range of 300-350km from its 13L tank. A refill costs roughly 20 bucks.
With larger scooters, CVTs can cause vibration under power, something you notice here. While Tricity 300 handles the open road okay, it's best on smoother surfaces; it can get a bit of a wallow on through bump-strewn corners. Round town, the Tricity 300 really feels at home, the acceleration off the mark sprightly up to 50km/h. You don't notice the budget shocks as much either.
The added grip of an extra wheel up front gives it outstanding road holding. We did the photo shoot with the odo showing 40km but could get enough lean on, around 42 degrees, to scrape the standard-fit centre stand. That's front end confidence for you!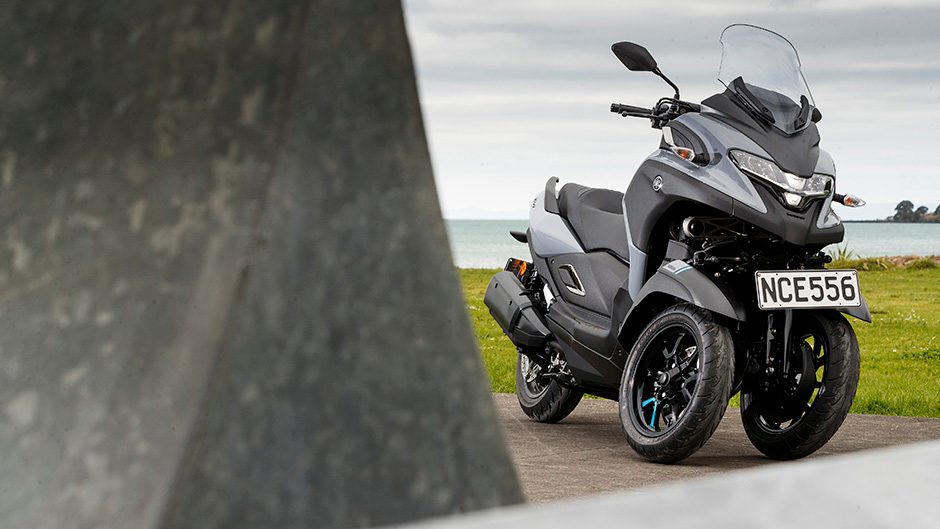 Stopping ability also improves thanks to a greater contact patch. The 300 features unified brakes. Hit the rear one and you get a bit of front stopping power as well. Flex your forearm muscles to the max and you should match our 100-0km/h figure of 37.63m, similar to a small car's.
Another benefit of that bluff front end is weather protection which is fabulous, even in heavy rain. The big screen is sorted too; no noises, no buffeting. It even clears water off your visor efficiently.
The 300's a practical thing, able to gobble my full face helmet and backpack under the seat (43.5L), so supermarket shop-ups for one are on the cards. A proximity key is a nice feature too. You can operate the rotary switch that locks the steering, opens the seat, and fires the ignition without slotting the key into anything.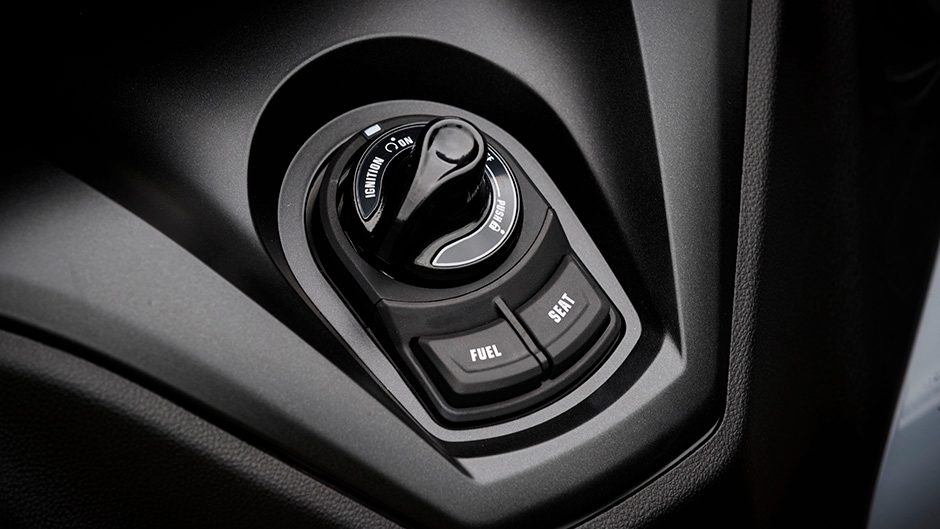 At $12,999, it's an expensive means of achieving added front end stability that some might not need. For $8399 you can buy much the same thing minus the front end sophistication in the XMax300. It weighs just 180kg, so will be livelier all round, and cheaper to run. It even has TC as standard. However, most car drivers won't want a bar of that for licence reasons. Otherwise, you can spend half as much and get a similar leaning three-wheeler town concept in the Tricity 155.
How does this $6299 model compare? Well, it's nothing like as quick with only 11kW and 14Nm, taking forever to get to 100km/h (33sec). However, 0-50km/h takes just 4.6sec. On the motorway it will cruise at an indicated 105km/h providing there's no headwind.
It's not as fancy in the build or spec department; instruments are more basic, the screen offers next to no protection and the seat isn't as well padded. Underneath is a small but deeper space, large enough for a helmet or backpack but not both.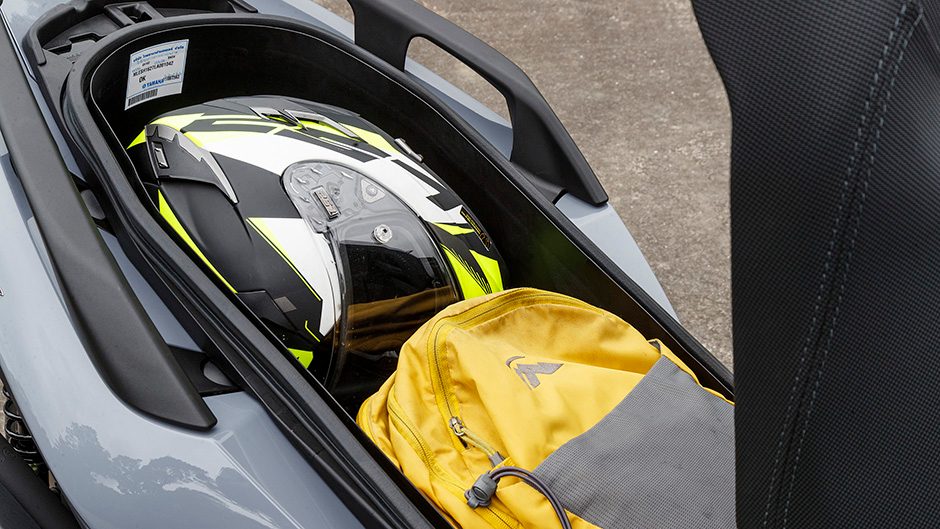 This new version gets an LED headlight and also has a pointless parking brake. Maybe in Wellington it will get some use. Tricity 155 isn't as sophisticated up front as the 300. Out of town it doesn't deal to sharp bumps as well but then its wheels aren't as big (13s vs 14s). However, it is easier to mount, with much lower set foot boards. It too has linked brakes that work nicely, and being lighter you don't need to bring as much lever pressure to bear.
Handling and stability remain the highpoints for the baby Tricity; it feels well stuck up front in the dry but you do pay for the added security. You can save yourself $1600 by opting for the similar (but two-wheeler) NMax 155 instead, costing $4699. However, for that you will need a bike licence whereas the Tricity 155 you don't, and those with a car licence may well think that cancels out the extra you pay for the three wheeler.
| | |
| --- | --- |
| Model | Yamaha Tricity 300 |
| Price | $12,999 |
| Engine | 292cc, liquid-cooled, fuel injected, single, 20.6kW / 29Nm |
| Drivetrain | CVT, belt final drive |
| 0-100km/h | 14.00sec |
| 80-120km/h | 24.61sec |
| Weight | 235kg |